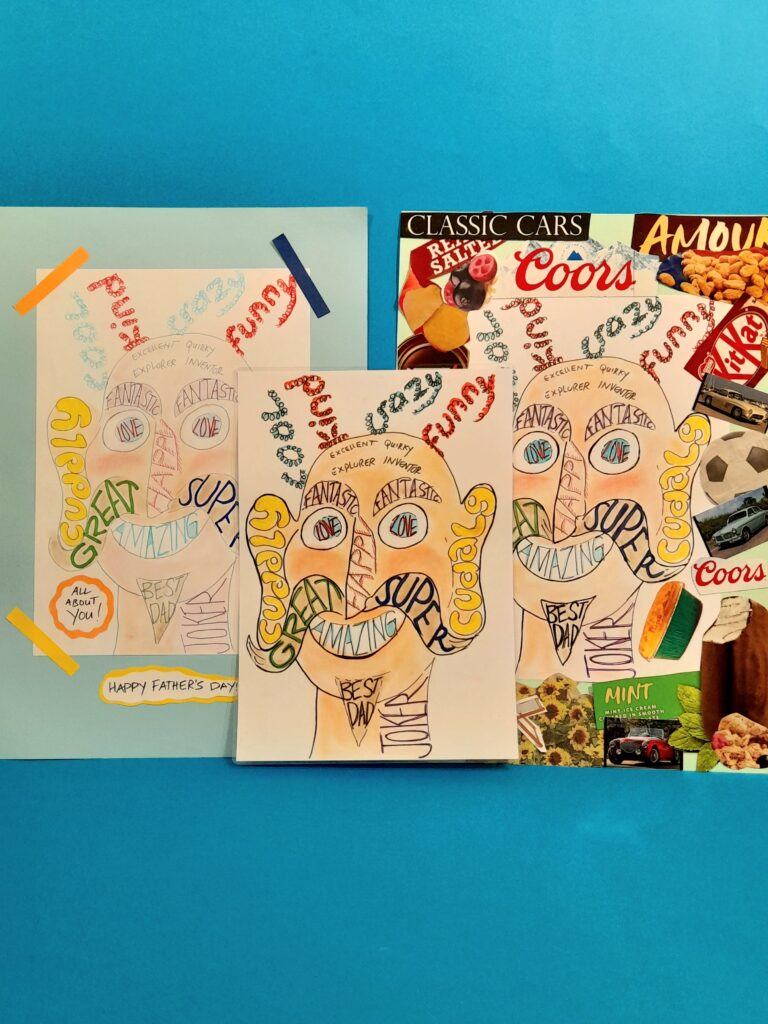 Have you thought of crafting a fun, zany WOW word portrait of your Dad?
Crafting something fun for dad!
As Father's Day

is coming up on the

18th of June,

(in the UK) there is nothing nicer for them to receive something specially hand-made for them!
BE ARTISTIC!
It's a doddle where you can either find something to gift them with that they need, require, wanted, or simply a refill.
What about surprising them with something a bit different?
All ABOUT DAD!
Have you thought about crafting a crazy, and not run-of-the-mill

presentation of your Dad?
So in this post, I will be showing you a Father's Day Craft For Kids that will not only use
some of your recycling,

but a fun activity for your kids to do!
Maybe you still want to buy a Father's Day gift anyways, but this could be the little bit of icing on the cake, so to speak.
Dare to be clever, have some fun, and be witty? You would be using elements of food packaging, newspapers, and magazines that are a plus so no more expenditure and I will be showing you later on what to do with all these bits and pieces.
Your kids will have a challenging task ahead of them! There are three stages within this activity.
FIND.
In the first part of this activity, all you need to do is find a picture of your dad's face as a reference or work from memory.
SCRIBBLE WORDS!
The second part is to write down any WOW words that describe your dad, like Cool, fun, kind, and so on, then have a play in writing them in different styles.
Then colour Dad's face, and WOW words using felt tip pens and chalk.
LOOK FOR!
The final part is to have a look around and start to gather bits of packaging that reflect Dad's flavours, tastes, or interests!
For example, anything to do with his football team, a beer or coffee he drinks bits from a newspaper he reads, or sections of a magazine he has an interest in, like gardening information and so on.
I gathered as much that I could find, but not anything live as it would perish, so stick with images or anything that is symbolic of your dad.
I looked around and found lots of references that reflect a Dads interest, for the purpose of this activity.
Your kids can have fun and get their thinking heads on, in the process to seek and find, questioning and even discovering lots more about their Dad, and simply by asking some of these questions!   
Hey, what's dads fav. colour?

What's his special treat?

Does he like a certain fruit?

Does he prefer tea or coffee?

What papers does he read?

Is he into football?

Has he got a sweet tooth?

What hair products does he use?

How would you describe him?

Has he got a hobby?
Fancy being artistic? This is where your kids can have a laugh, they get to draw a funny version of their dad's face. It doesn't have to be perfect, but how they see him, emphasizing his features.
In the process of this Father's Day Craft for Kids, they would have fun sticking bits of text, pictures, or graphics that represent him.
They will get to hunt around finding anything that shouts out DAD, and use it for their creation! I will show you later what to do.
So within this whole activity, your kids will get to craft an artistic representation of their Dad's face, by being inventive!
For the first section of this activity, they need to start off with a blank canvas, then they need to roughly pencil in an outline of their dad's face, and then use a black fine felt-tip pen to go over it.
HOW TO DRAW?
If your kids find it hard to visualize their dad's face then grab a photo of him and then they can replicate it, but exaggerate his features, for example, oversized eyes and ears, heavy eyebrows and a longish nose, a largish mouth, a big classic moustache (handlebar) and finish off with a pointed beard for fun!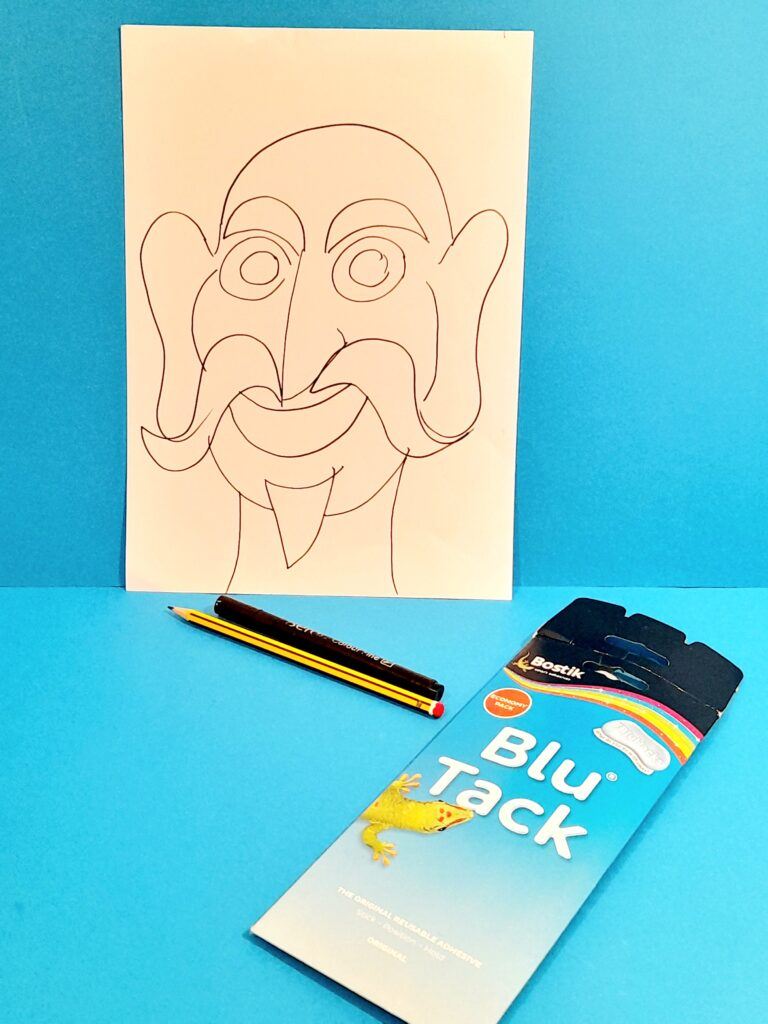 Here is an example of what I mean.
Once you have an outline of a face, you can Blu Tack it onto a window and trace over it, using this easy technique allows the daylight to help you see through the image, then you can refine it and improve it accordingly.
(Also use this method to trace in all the WOW words later on).
Ok, we know it won't look exactly like your Dad, but instead, it will be a representation of your Dad, but a zany quirky artistic version!
So all the WOW words will describe your Dad's character, and each word will represent his eyes, nose ears, and so on! 
In the second part of this activity, think of all the words that are characteristic of your dad, and write these words down.
Words like:
Cool, Fab, Smart, Happy, Funny, Practical, Amazing, Loving, Kind, Selfless, Caring, Brilliant, Clever, Funny, Spontaneous, and so on.
Practice writing them in different styles, like in bold, italic, or b u b b l e writing, oversized, small, or condensed.
WHAT TO DO?
Take one word, like 'Cool', and repeat it to form a facial feature or it can be written quite large but in a shape of a nose or part of a cheek. or curly hair and so on.
As an alternative, you could also print these words out in different fonts, then cut them out and use these printed words as part of your dad's facial features.
Have a go practicing your curly wurly text so when you are ready you can apply your different styles later to his face.
Look at what I did from start to finish, which could be one version of this activity that you can do.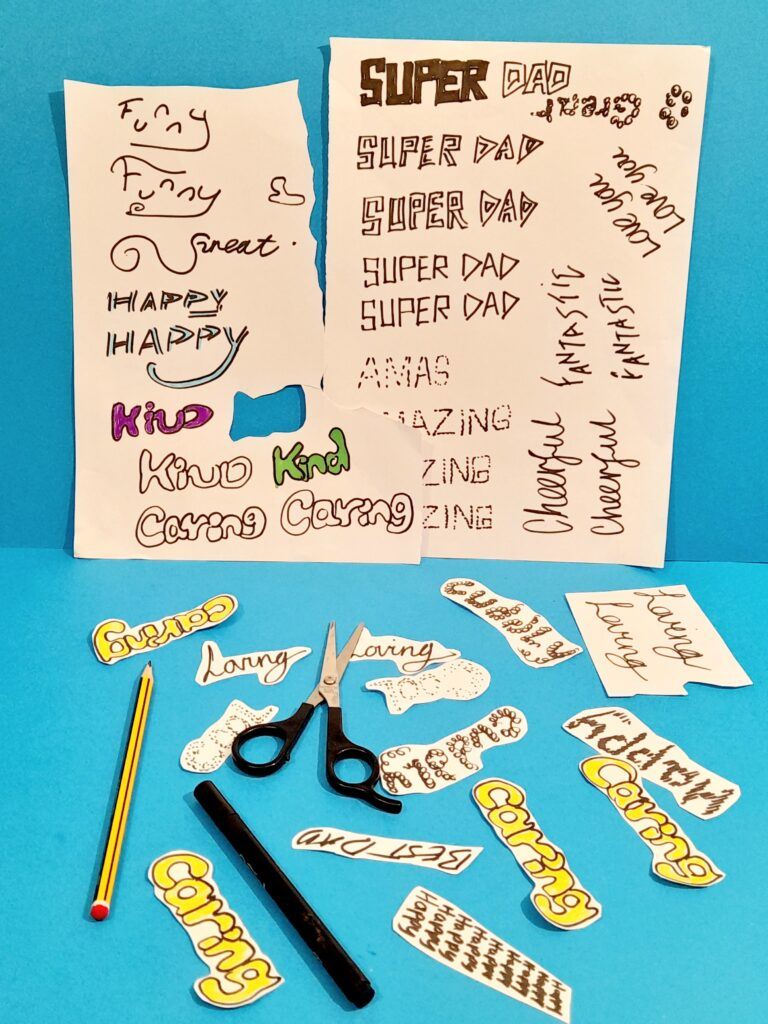 I played about with writing all the WOW words, cut them out, and coloured them in, to see what colour works.
Later I will trace them off within the face so each feature will have a different text style.
Once you have all your WOW words figured out you can draw them onto the face like I show in this image.
Stick another A4 sheet of white paper over the top of Dad's face,
(see first image)

with Blu Tack, slide WOW words underneath and trace them onto the top sheet curl, bend, or extend to fit them in.
Once you have added all your text within all his facial features, you are ready to colour in all parts.
This will bring to life your Dad's face and it will look quite artistic.
Use whatever resources you have, I used felt tip pens, and for subtle skin colour I applied chalks.
WITH ALL THE BITS AND PIECES.
Then with the third part of this activity, all the bits and pieces you have collected, cut, and lay to the side, will be added later around the sketch of your Dad.
LET'S PUT EVERYTHING IN CONTEXT!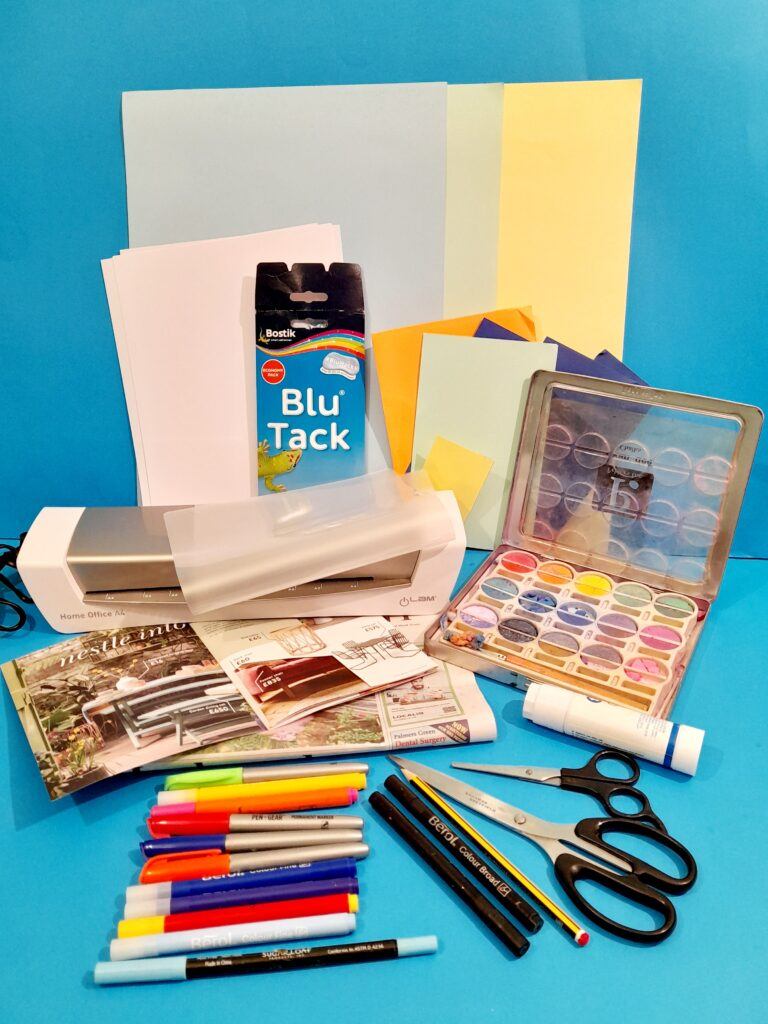 RESOURCES!
A3 coloured cards.

3-4 sheets of A4 white paper/Rubber (not shown)

Some coloured off-cuts.

Coloured chalks.

Coloured felt tip pens.

Black fine felt tip/pencil.

Large/small scissors.

Glue stick/Blu Tack.

Laminating machine/1 pouch.

Newspapers/magazines.

Different food packaging (not shown to find later) that reflects Dad.
Let's see this from start to finish!
Hey there, when you click on links in this post and you make a purchase, I may earn a small commission that l can use towards resources (other than throw-outs) for project making within my website😀
HAVE YOU THOUGHT OF SOMETHING  ALONG THE SAME LINES AS A PORTRAIT?
Perhaps you are still looking for something a little bit different?
Maybe on the same lines as a portrait of your Dad?
Something zany, but unique and personal to that person? 
Take a look at PopArtYou! There they provide superb artistic portraits of any members of your family in historical wear giving that royal look.
PICK ANYONE FAMOUS!
You choose who you want them to portray, provide a picture of in this case your Dad, and let's say you want him to be… 'Napoleon' then they will paint him into that outfit with historical surroundings.
WHAT A SURPRISE!
It truly has that
WOW

factor, and will make anyone smile, and giggle and you would probably get the reaction you didn't expect!
So Grand, so Noble, so Majestic! It's truly a cool way to gift your Dads with such an amazing and excellent piece of artwork!
This is the reaction you would get, from such an unexpected gift! ⇑
In the second video, more on how PopYouArt work and how easy it is from start to finish when you decide to go ahead with a super portrait of your Dad!

as Napoleon or any other famous character of your choice!
SET IT UP!
You can provide a photo of your Dad with a member of your family,

in a group setting, or even with your loved pet!
INTERESTED?
Then do jump in and take a look you won't be disappointed!
Check out the comments below on what they say about their portraits! ⇓
PAINTING OF A FRUIT FACE!
This reminds me of a famous painting by Giuseppe Arcimboldo, a Renaissance artist who painted Fruit Face portraits.
Better known as Vertummus painting, this is a painting of Emperor Rudolph II painted in such a way that it represents the Roman God of metamorphosis, in nature and in life.
This portrait was composed of fruits, vegetables, and flowers these symbolize perfect harmony and balance with nature, this was the artist's point of view that depicted the reign of Rudolph.
This is an example of what you can create, only we have used WOW words instead of fruits, vegetables, and flowers.
Also in this activity, you have expressed more about Dad with pictures of his favourite things framing his face. 
CHALLENGE YOUR KIDS!
You could challenge your kids to pick a couple of fruits that Dad likes, and draw them quite big as if it's his face, and then add just a few smaller fruits for eyes, mouth, and so on, that could work as an activity!
There are three ways to present this piece of work you choose which one your kids prefer to do!
Make some copies of the black and white drawing before it is coloured in.
KEEP IT SIMPLE.
First, colour the face in and stick it onto an A3 piece of coloured card as it is, decorating it as you like, I put corner strips and added

Happy Father's Day on it

.
SURROUND FACE.
Secondly, with one of the copies, colour it in with bright colours, then stick it onto an A3 sheet of card, then glue all around Dad's face cut-out pictures of his interests.
TABLE MAT.
Laminate the coloured face and then he can use it as a table mat!
   

SOME TIPS!
TIME TO FIND!
The difficult part is for your kids to find bits and pieces to use for this project, but if you sit down and write a list of Dad's interests, then try to find anything that resembles each artifact that can be used for the portrait.
NO A3 COLOURED CARDS.
If you do not have A3 sheets of card, then you can just stick with A4 and draw a much smaller version of Dad's face.
Or all cuttings can be stuck on another sheet of A4 paper and have two sheets to give Dad.
PRESENT THEM IN A BAG!
Or glue all the cuttings on bits of recycled brown packaging card, cut them out, and pop them into a fancy bag, that way Dad can pull out different cuttings and it would be a surprise!
TO CONCLUDE!
In this post, I show different ways for your kids to craft a fun, crazy portrait of Dad's face.
YOU CHOOSE!
Keep it simple or go wild by adding any of Dad's throw-outs around a portrait of his face and anything else that reflects his character.
QUESTIONING AND QUIZZING!
It's down to your kids how unique they make it, with a little help from Mum, and definitely some interrogating going on! Like, 'Tell me more about Dad.'
CRAFTY COLLECTION!
I hope this post has inspired your kids to get cracking and start to make notes! and
don't let Dad throw away any of his rubbish!
So
keep hold of lots of scraps

that could be used for this fun activity!
Check out some previous Father's Day projects that might be of interest to you!