Look out spiders are back!
In this post, we are going to make two Spiders! (Arachnids).
I will show you how to craft a basic spider for the younger kids, and a more advanced spider for the older kids! 
HALLOWEEN FUN!
These are two fun activities for your kids to dive into and make for the lead-up to Halloween!
What you need to find are cardboard inner tubes, and some thick black yarn, to make our Incy
Wincy Spider activities!
In October it's Halloween season and spiders are in abundance. High and low, on windows on trees, plants on washing lines, on door frames, and on cars, in our gardens on bushes and branches, and just simply in your face!!!
COLD WEATHER!
When the weather gets cold, they venture inside your homes, finding cracks and crannies in corners or high up to take comfort and spin their webs.
How eerie, so let's keep this in mind when making our spiders from inner tubes. We can make them hairy and scary and creepy.
CRAZY MIXTURE!
Large ones small ones, and ones with long legs and short legs, black, brown or green ones, some with a bit of red or white striped ones, tiny ones even Incy Wincy Spider ones! So cute…Nooooooo!!!
WHAT ABOUT SPIDERS?
Did you know spiders have up to 8 eyes, sometimes 6 or fewer eyes, but they are always even in numbers? They also have poor eyesight so they rely on vibration, taste, and stimuli to navigate and find
their prey.
LET'S REMINISCE!
I remember doing a lesson in school, where we had to look for mini beasts in our school garden, and I discovered a spider cocoon on a leaf.
WHAT I DID NEXT!
Carefully I priced it off and took it to school to analyze it under a microscope. There was a light directed on it so I could see more clearly.
As there was a fair amount of heat generating towards it, I detected tiny black dots inside the cocoon, noting these were baby spiders.
SPIDER MUMMY!
So being the carer of a new responsibility, I took it home with me in a container. It wasn't until I reached home that there was activity in my school bag, having had a look to my surprise the cocoon had hatched and tiny baby spiders were crawling all around my school books, inside my bag.
QUICK, QUICK!
I rushed into the garden and carefully took my books out shaking my bag over the nearest bushes, never contemplating anything like this to happen. 
Happy and sad at the same time, almost like letting go of baby birds back into the wild.
MOTHERS PRIDE!
The next day I rushed out into the garden to see if there was any evidence of the day before and to my surprise, there were tiny little webs everywhere, with the morning dew dripping and gleaming from their tiny little creations.
HOW I FELT!
I felt like a proud Mum and so please they survived this escapade! Who would have dreamed this would have been the outcome, from one small cocoon!
It is a memory I will never forget and had loads to write about and so ecstatic with my findings.
ARE YOU READY TO CRAFT SPIDERS?
So let's get back to the craft in hand. Incy Wincy Spider Activities!
I am going to show you two options, an easier cardboard tube spider, and a woolly spider.
I made these two videos,

showing how to make each spider, so enjoy!
First, let's look at how to make the tube spider, check out this video:-
Below is what you need and how to make!
RESOURCES!
Kitchen towel inner tube.

Scissors/sellotape.

2 googly eyes.

Black shredded tissue paper.

Black acrylic paint.

PVA glue.
THE MAIN BODY!
Cut the inner tube in half. Make a mark with a pen 20mm wide and 50mm/60mm in length for the front part.

Squeeze the tube together holding firmly so that you can cut front and back at the same time.

Mark up 4 legs on either side and cut parallel to each other.
WHAT TO PAINT!
Now paint the whole tube black, the outside, and the underside of the legs. Leave to dry.
CRINKLY HAIR!
Glue around the top head area and add shredded tissue, cut to neaten strands.
ALL FEATURES!
Glue on googly eyes where you like, and shredded paper on the legs and bend legs to shape.

Cut 2 pointed fangs and stick them on the underside of the front panel of the tube.

Cut a smiley face from a pink card and stick it above the fangs.
SOME TIPS!
You can use 2 toilet roll inner tubes, or kitchen towel and cut it in half.
EASY CLEAN WIPES!
Hands will get a bit tacky, and bits of paper will stick to your hands, so have a wet wipe to clean up after.
HANDY SELLOTAPE!
Use sellotape to secure fangs on the underside of the tube.

Also stick some sellotape to the underside of the legs as they may have become fragile, although the acrylic paint would harden them a bit, when dry.
HOW TO USE SPIDER!
This spider makes a great singing partner to the song,

Incy Wincy Spider! Or Halloween decorations!
HERE'S THE INCY WINCY SPIDER NURSERY RHYME!
♩♬ ♬♩

 The Incy Wincy Spider went up the water spout, down came the rain and washed the spider out!
Out came the sunshine and dried up all the rain, and the Incy Wincy Spider went up the spout again

♩♪♩♬

 
This is an animated version of the Incy Wincy Spider, for the younger children!
Below is an up-beat version by Lenny Pearce!
I thought the older kids, might prefer this funkier version of the Incy Wincy Spider, and might amuse you too!
IMAGINE WHAT HAPPENED LATER!
The Incey Wincy Spider grew up to become a Bigsy Wincy Spider! Even bigger now and more ferocious and full of attitude and glorious for it!
More scary, hairy, and more daring with more eyes on you!
HERE IS THE SECOND OF OUR VIDEOS WITH A WOOLLY VERSION, MORE ADVANCED!
RESOURCES!
Black thick yarn 100g (to make a pom pom)

4 black pipe cleaners/1 long piece of thinner yarn.

4-6 googly eyes.

4 strips of double-sided tape.

2 toilet paper inner tubes/kitchen towel inner tube.

A piece of white card for fangs.

Scissors/elastic band.

A piece of black card 50 mm x 70 mm.
     HOW TO MAKE THE POMPOM!
Put 2 inner tubes together and secure them with an elastic band around the middle. Then start to wind the wool around the middle part at least 100 times.
Now wrap the single yarn around the ball of wool, and pull tight to secure it. Pull out the tubes, carefully and tighten even more the single yarn tie into a bow.
With scissors run it into the loop part and cut the loop creating a fringe on either side. Now spread the wool and fluff it up, making a puffy pom pom ball.
Trim odd bits and fluff it up more. Cut around to form a round ball.
     

NOW THE LEGS!
Take the piece of black card and stick 2 strips of double-sided tape on it. Line up the 4 pipe cleaners evenly and center. Press firmly. Cut the sharp corners off the card.
Now apply 2 further strips of double-sided tape on top of the pipe cleaners and then stick on the underside of the pom pom.
     

EYES AND TEETH!
Prepare the googly eyes, by sticking double-sided tape on each eye, trim and stick to pom pom spider here and there.
Run some double-sided tape near the edge of the white card.
Cut 2 fangs, make sure the tape is halfway down the fangs.
Stick each fang on the card under the pom pom spider and bend them accordingly.
Finally bend the legs to shape. Trim unnecessary bits of yarn to neaten off.
    Now you have your big mature spider!
   

SOME TIPS!
KEEPING IT CLEAN!
Avoid PVA glue, as it can be quite messy, especially when working with wool.
USE SOLID TOUGH CARD!
Try to find a solid piece of card to attach legs onto it as the pom pom spider may cave the weaker card in.

No strong card, then find some packaging card and layer it up until it's tough.

Stick together with a glue stick or double-sided tape.

Then paint your choice of card in black.
ALTERNATIVE GOOGLY EYES!
You can find googly eyes with adhesive already on them, they might be easier to work with.
CHECK AND RE-ATTACH!
Occasionally check googly eyes, as they may hang off if the spider is shaken up a lot. The same applies to the rest of the pom pom spider, secure legs on black cardboard.
FOR SPOOKY EFFECT!
For Halloween scenery, you can spread cotton wool giving it the feel of spider webs.
Hey there, when you click on links in this post and you make a purchase, I may earn a small commission that l can use towards resources (other than throw-outs) for project making within my website😀
ARE YOU LOOKING FOR SOME SPIDER FUN?
BAKER ROSS has a variety of fun craft projects for your kids to keep them busy!
Paint, bounce, decorate, weave, sew, bead, or dangle, you won't be disappointed in the different spider activities they are offering!
Below

are three examples, simply jump in and check them out! 

⇓⇓⇓
Your kids will be entertained for hours!
Here are just a few to prize your eyes over!
These are great for your kids to develop fine motor skills, concentration, and working with pattern-making.
Keep their little hands busy with products from

BAKER ROSS!
ARE YOU LOOKING FOR HALLOWEEN THEMED BOOKS?
Check out books and pieces, they have a cool selection of entertaining books for kids!
Their range of books starts from:-
0-6 mths-indestructible and chew proof. 6-12mths  12-18mths,  18-24mths,  2-3yrs,  3-5yrs, and  5+ yr olds.
All ages are catered for, with great deals and offers! Jump in and take a look!
FOR YOUNGER KIDS!
In this post, I put together two videos showing how to craft a cardboard inner tube spider, which would be a fun project for younger children.
FOR OLDER KIDS!
In the second video, I show how to craft a fluffy pom pom spider. This is a little more advanced for older kids and it could be Incy Wincy Spider all grown up lol?
FINAL NOTE!
So, I hope you enjoy making these spiders with your kids, thinking ahead before Halloween is once again upon us!
No excuse these projects are both fun to make at anytime!
Happy Crafting!!😄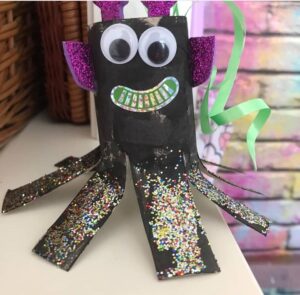 I would love to see your take on an Incy Wincy Spider!
So do send me a photo of your creation and I will add it to this post!
From a relative's daughter age 5.
HERE ARE A FEW MORE HALLOWEEN PROJECTS!
You might like to jump in and take a look. These are super alternatives for you and your kids to craft.
Ghost out of cardboard inner tubes.

Mummies out of cardboard inner tubes.

Halloween coffin and spooks out of treat boxes. 

A spooky glowing Witch out of Plastic Milk Bottles!