The mummies are coming!!! Its quite hard not to look at cardboard inner tubes again, they are so versatile and easy to turn into something and here we are again. This time I have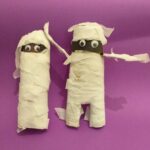 converted and recycled cardboard inner tubes into two types of MUMMIES!  Whether it be Halloween or simply for fun, all you need is white crepe paper, kitchen towel inner tube, some pva glue, googly eyes, bit of black paper scissors, sellotape and a measuring tape.
Kids love spooks and this is an addition to our monsters inc. We have looked at Ghosts made with cardboard inner tubes, now we shall look at mummies. Here I shall show how to make two versions, a very simple one and the other with just a little bit more to it with legs and arms.
 I will demonstrate in easy to follow images, showing how you can knock these out quite quickly, only thing is allowing to dry in between stages to set.
Before we start why are mummies called mummies, have you ever given it some thought…..well the name comes from mummifying Egyptian kings, princes or high priestesses or any Egyptian who could afford to be preserved for the after life. Mummies don't really attack, their story is more of vengeance, or revenge. They would be preserved in this way, because they believe in keeping the body intact to be transported to the after life. In a gruesome way all the entrails or moisture was removed that's all the inside bits of the body and leave the hard casing that's the outside of the body, then embalmed in oils and finally wrapped in cloth. This was an Egyptian ritual carried out during that period of time.
Here are a series of 17 images showing from start to finish how to make our mummies.
RESOURCES.
White crepe paper. Cut into stripes of 10mm wide.
1 kitchen towel cardboard inner tube.
PVA glue/glue stick.
Scissors.
Black paper 30mmx10mm
2 Googly eyes.
Tape measure/Pen.
The resources are the same for both versions.
With the easy mummy you don't need to cut off any part of the tube as its just keeping it simple. Although you can cut off some of the bottom to shorten it a bit.
The second mummy has arms and legs giving it a bit of a body. When wrapping with the crepe paper I found the wet glue took some time to dry and appeared to be a little bit transparent. You can do the initial part with wet glue and when finalising the wrapping of crepe paper around the body, use a glue stick it will look less transparent when dry and less messy to work with.
You can leave a bit of crepe paper to hang loose giving it the effect of the bandage trailing behind the mummy.
Remember the wet glue might make the crepe paper a bit transparent, so you may prefer to use the glue stick instead. Its really trial and error.
When cutting the legs out squeeze the cardboard together, so you flatten the hollow tube whilst you are cutting it, so its even front and back. Also when cutting the top part for the head pull down on either side and cut down further to form the arms. I prefer to give the mummy a rounded head, hence cutting all the way round like a frill to push down and form the top part of the head secure with sticky tape.
To conclude.
I have presented two different styles of mummies made from cardboard inner tubes. One easier to make and the other just with a little bit more to it, with arms and legs. Both have the same resources and you will become more skilful as you proceed with the turning and tacking in the strands of crepe paper, which in this case represents the bandage. For kids its good practice of dexterity and its all about practice, practice practice which ultimately, makes perfect. They are discovering tools, cutting handling, moving, a skill that will get better with time.
Let's have fun in making our Mummies!