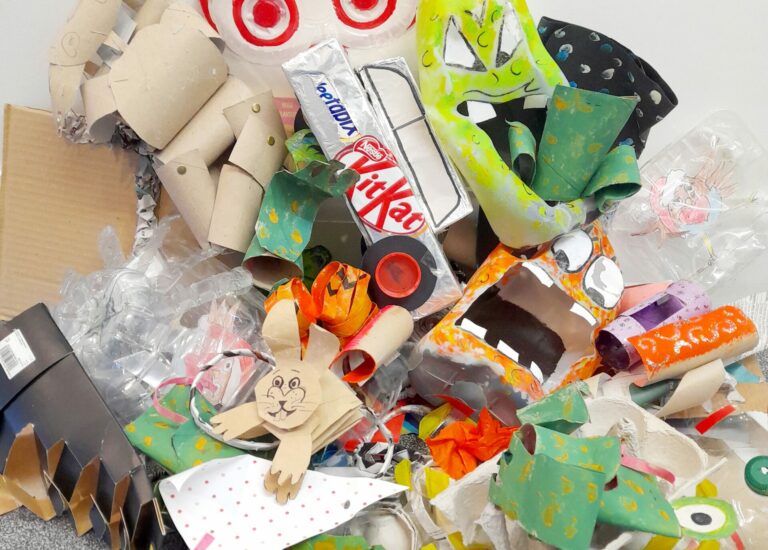 A collection of all the craft projects, that needed to get recycled!
Within this website, I get to show you how to use your throw-outs and craft fun projects!
you get to make super crafting projects with your kids.
But occasionally, not all the projects can be utilized or kept forever, although that would be our wish!
LET'S CONSIDER.
So what do you do with all those art projects you have made and piled up, once you have completed a project?
As I work in a school, I have two weeks off for the Easter holidays whoopee! 
This is my opportunity to have a cleanout and see what I can
save or recycle.
SAY GOODBYE!
It's time for Recycling Art Projects that I have done in the past, in other words, within all the posts I have demoed fun activities for you and your kids, now need to find a place.
A CLEAN-OUT!
A lot of craft projects have accumulated over time because I would save each and every one of them.
I really cannot keep them all, though maybe a few pieces for keepsakes!
So it's my chance in the holidays to have a look and keep what is salvageable and recycle again what is damaged or cannot be kept.
Over the years I kept hold of all the crafted final pieces in black bin bags, that is the only way I could store them but unfortunately, most items got compressed or damaged!
MY THOUGHTS!
It breaks my heart to think that I would have to return a lot of this back again, from whence it came, that being the recycle bag, but I hope my efforts have not been in vain.
It's all about inspiring you and your kids in reviewing what you can possibly make, re-use and up-cycle where possible and hold back as much as you can from more dumping on these landfilled sites!
THANKS FOR DEMOES!
There is a mixture of packaging, plastic bottles, cartons, paper, cardboard, and containers all of which can be recycled again.
So in hand, I am recycling art projects that served their purpose and helped others, but need to say 'Goodbye'
One of my biggest concerns is the abundance of plastics that have been found in our oceans. On that note, take a look at this video of this amazing man Boyan Slat.
He saw how plastic rubbish has violated the oceans and put his efforts into finding a solution, by clearing plastic but also recycling it at the same time!
This is mind-blowing! I cannot believe the amount of plastic that has been pulled out of that quadrant of the Pacific Sea!
We should simply, keep recycling and make sure all unwanted plastics are safely put in our recycle bins, as well as other types of packaging that cannot be used again.
RECYCLED PLASTICS MAKE,,,,,,
When plastics are recycled they are broken down and re-invented into more plastic bottles, containers, clothing, and toys!
They are sorted out cleaned up and then go through a process either made into flakes or melted to form pellets.
All this happens before they are moulded into new products for use again.
BELOW IS A DIAGRAM DEMONSTRATING 7 TYPES OF PLASTICS, THOSE THAT CAN BE RECYCLED AND THOSE THAT CAN'T!
This is what we are up against, a lot of these products would be so difficult to recycle, because of the type of material they have been made from!
In a previous post, I touched upon this plastic dilemma: What happens to our Plastic Waste?
Further on I show what you can make from some of these plastic bottles, ' Recycled plastic bottle crafts'
Plastic bottles are the most recyclable material, and I am so glad companies are now taking that concept onboard and transforming milk bottles into children's toys!
One particular brand is Green Toys. which uses milk cartons to make its toys till date 24,000,000 turn them into fabulous toys.
KIDLY UK has the same aspiration in 'Going Green' and has put a lot of thought into the production of its products, from toys to clothing, footwear even eco-cups, which are plant-based recyclable, and biodegradable!
There are other ways to use plastic, KIDLY UK has used it in their stuffing in soft toys. or even a cool fun looking potty for potty training, and in a crate made from food-grade plastic that is 100% recyclable!
Sensory toy made with different texture, filled with polyester made from recycable plastic bottles. Fun and colourful a must for any new-born baby.
.
This is an award winning potty, carry anywhere, leak-free no bag needed. Matching stall and toilet seat available. Made from plastic 98% recycable.
These crates are made from foldable and stackable plastic, great for storing their little bits and pieces. Made from food grade plastic. 100% recycable.
Hey there, when you click on links in this post and you make a purchase, I may earn a small commission that l can use towards resources (other than throw-outs) for project making within my website😀
KIDLY UK, have an array of products that offer the same 'Go Green' background, do check them out you won't be dissappointed!
So, in the next post, I will try to upcycle what I removed and saved from past projects.
I will use different elements and make something out of them.
Let's see…….. what I can put together. in doing so I will reuse plastics, cartons, and cardboard boxes and invent a fun toy!
A bit like the other brands using plastics etc, to make eco-friendly toys, but remember, my interpretation is presenting the final product crafted with throw-outs!
In this post, I briefly cover how we have to commit to helping our planet and continue to recycle any throw-outs and where possible to get your kids to re-use some of that junk and craft fun projects, where within this website you can find a range of activities for your kids to do!
GOING GREEN!
Also to look out for friendly eco-products that are made from recycling plastics and what would surprise you, is how these products still look incredibly good.
You wouldn't be able to tell the difference especially from where they came from and what they once were!
Here are a number of previous craft projects using different types of plastics that might be of interest to you!