It's that time of the year again, Christmas come upon us and as usual I would hunt around for a decent Christmas card that I like, but still prefer to make my own. It would be a feat, as you need to put aside some time and come up with an idea, th
at's Christmasy!  Its that rush you get and the joy in 
making something by hand.
Who ever you send these cards to would appreciate the time and effort put in, especially when made by hand.
So I surfed the net and went over ideas that I haven't tried before. As I was doing this I just wondered if it would snow this year and whether we'd have an opportunity to make a snowman and voila!  I shall pitch for a Snowman. I will look around  for surplus resources, bits of card, buttons, coloured papers, glue, anything I can re-use or recycle for card making. The theme will be 'Let it Snow, let it snow, let it snow'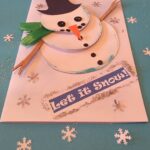 Kids know a snowman, will be white, and blobbly. An easy way to do this is to find cups or a glass that go down in size. I went for 3 decreasing sizes. Top part would be the head, that's the smaller one, and the further 2 the middle and bottom of the body.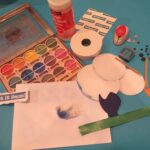 It's always wise to prepare your resources first, before starting to see what you already have, then build from that. Our snowman will have a hat, scarf, twigs for arms, something for black eyes and buttons. A bit of sparkle, that would be snowflakes and glitter around some wording. You'll need white card and envelopes. I like to work on an A4 size card folded in half.
I chose from a chalk palette blue shades of chalk which I use to buff up the front of the card to give it a bit of depth. This is easy to do and very hands on,  if working with a child, they would learn to use coloured chalks and discover different ways in being creative. you could model this first on another piece of card.  In this instance I used cotton wool and applied it in circular motion, swirling it round and round. This effect tones the white background down and gives the feel of snow.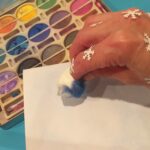 The glues would be PVA glue, double sided tape and double side foam pads, in this instance 3mm in depth foam pads. These would give some elevation and 3D  or (3 dimension) feel to the card. Punchers to punch out the buttons from black card. You can use a hole puncher, this would do just fine. I like to punch out snow flakes, although you can find silver snowflakes, ready for use. A blue ink pad to darken the edges of the circles for depth and stick in descending order to make the head and body of your snowman.


I used orange card for the carrot nose, and any ribbon a colour of your choice or the children's choice. Approximately 10mm or more in width for the scarf and about 70mm in length. Black buttons for the eyes at least 10-12mm wide, a bit bigger than the punched out body buttons. (applied with glue.)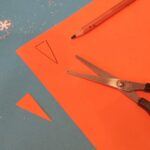 Snow flakes would be stuck randomly around the snowman. I managed to cut off small black buttons from clothing before I recycle them and kept the buttons which came in very handy.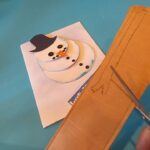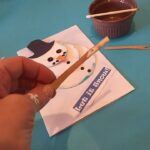 The children or you can use the computer and a choice of fonts to do the caption and the inside copy, alternatively the card can be left blank inside if preferred.
The wording in the front of the card would be 'Let it Snow'. I reversed it out of blue, to give the effect of snow. Using a matchstick to apply the glue, or if possible use an applicator with a nozzle, slowly run a thin layer or glue around the caption, then sprinkle glitter on the glue, collect the rest, tap it on another piece of card and pour it back into the glitter container, I advocate this all the time with the children I work with. Allow to dry. This gives a sparkly finish to the front of the card and would be the last thing you do. Shown in the bottom picture.
Keep in mind when posting, cards are measured now to see if they pass through the slit easily, otherwise if it too thick and catches then additional charge will be added to the price of the postage. So when making a decoupage card, that is layering, keep it to a minimal thickness.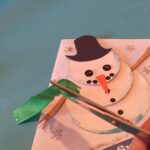 A note to remember because you are using wet glue, you have to allow it to dry over night, before you can proceed with further details.