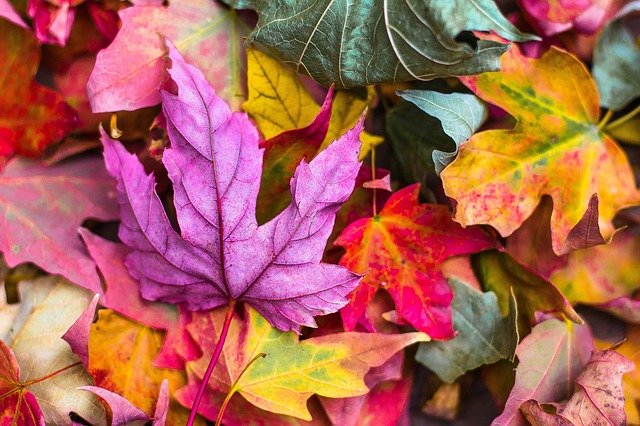 2020 has been a tough year, almost a missed year, with this pandemic that has dominated all of our precious time and now we are thought to be living a new normal.
The uncertainty and the unknown, crazy isn't it?
It has been also said that things will not be the same any more…….although I know that there are things that still stay the same and that is NATURE 'the seasons' throughout the year.
Spring, Summer. Autumn and Winter, our ever changing climate yet still remaining are our seasonal trees.
Later I will be showing how we can recycle autumn leaves into something crafty!
Have you ever stopped and just gazed at how wonderful trees are in their overbearing magnificence! They speak a million words. Like when it's spring how the blossoms are an explosion of pink fluff, like a marshmallow ball lining our pathways as we walk past, then we know we are once again entering our spring season.
Then as the seasons turn and we enter summer our trees are full of fruits calling out to us to come and taste their fruitiness. Whether it's oranges with that wonderful citrus aroma, or plums, apples, pears and lemons, all getting ready and ripe for easy picking.
As we move on now we enter 'Autumn' and this is where I would like to draw your attention. Where the leaves turn into beautiful array of warm cosy colours. Purple, reds, oranges, browns and yellow. Glistening in the sunlight, gesturing to us and anatomical palette.
♥I remember my mum once said if you get stuck with colour matching, or need a bit of inspiration, then look into your gardens, look at nature and there you will see how colours blend together. Flowers, leaves, fruits or plants will answer you.♥
So how about we recycle autumn leaves into something crafty!
Go outside with your kids and start to gather fallen leaves all of different sizes, types and colours. If you have a handy camera or mobile phone, have them take snap shots of leaves and trees in their full glory.
Snap-shots of trees in a London park.           Click pic to go big ⇓
IDEAS!
Have them grab a some coloured crayons or pencils and some different textured papers, like lining paper, tracing paper or cartridge paper and go out to some trees and do some bark rubbings you can gather some super samples.
These can be cut and framed, or used to do a  montage.
You can do a sample book where a photo of the tree, a tree rubbing and some leaves off that tree, photos or drawings can be arranged like an album, would make an excellent project for viewing.
WHAT HAPPENED NEXT!
After a walk in the school grounds where there are trees lining the fields, children had a good look at the trees and we spent time enjoying their form and magnificence, how they grow, the textures, the bark the colourful leaves and watch how now and again they would catch one or two leaves floating down to the ground.
Back in class I found left over autumn coloured crepe paper and tissue papers, some black sugar paper, acrylic paints and glue and laid these out on the table and the children then took off to create their interpretation of an autumn tree.
(The children in this art club were 8 – 10 years old)
Here are the children's autumn trees. ⇓
So let's get

back to making

autumn leaves into
something crafty.
Remember the leaves the kids collected? well, the children in my art club, sat down and went straight to work. I asked the children to look at the shapes of leaves they had in front of them and got them to lay them out on card creating random shapes, animals or marine creatures.
Before all that we had a look at examples of animals, fish, marine life and flowers and they chose what they liked.
On the table was PVA glue and googly eyes and coloured card and the rest is their imagination. 
Take a look at what they made.
(The children in this art club were 6 – 7 year old.)
TAKE NOTE!
Here are a few pictures of kids leaf art. The shiny effect is PVA glue applied to protect the images from drying up or crumbling, therefore preserving the leaves.
Further protection would be to laminate the whole picture and turn it into a place mat.
By adding googley eyes it brings the creation to life.
I hope this has inspired you or your kids to have a go and piece together different size leaves and make something crafty out of ordinary garden leaves!
PROJECT!
I came across a pile of old plastic spoons that weren't used for any occasion so they were deteriorating, but could be used in a crafty project.
The shapes of the spoons looked like leaves and decided to make use of them just for that, leaves on a tree.
In this instance I will do the reverse instead of the the leaves being in colour, I am going to switch it around and the background will be in autumn colours and the spoons will remain in white.
So that's what we are going to do, a bit like a mosaic. I shall break off the spoon head and stick these with glue.
Just to take note, once these are stuck fast that's it you can't shuffle them around and the answer to this will be to stick the spoons on some plastic or cellophane, then you can simply change the background.
By having different backgrounds you can have different seasons, of your choice!
In the next post
I am going to show you how to use white plastic spoons to create an autumn seasonal tree, so see you then!
Click on the link below and check it out!