After I finished my last post on 'easy fathers day ideas', simply recycling a couple of tin cans, I got a visit from my sister who pulled out of her bag these odd shaped cones and laid them on the table saying ' here you are, I thought you might make something out of these, for your recycling projects!'
I took one look at them and ask her what on earth are these? she responded 'oh it's what's left after we have finished using the cleaning tissues!'
Mmmmmm I thought what can we do with these neat little cones?
Hey! how about making some more creative Father's day gift ideas!, that are quirky and fun too!
This is what they look like.
Availble from:-  Amazon, Ocado, ebay and major supermarkets.
If you turn it upside down it would look like a little pyramid, or could be a kids party hats.
Having done a bit of research on these, they are the base cones of ORA kitchen towel box, which contains a stack of 100 pre-cut paper towels.
As you can see in the picture above, you would pull one circular tissue off the top of the stack for easy throw away cleaning.
It also has been designed to have no cardboard poll in the middle, what you end up with is a base unit instead.
After inspection and with a few of these cones in my possession, that appeared to have been made out of re-inforced cardboard, I will be recycling them into more creative Father's day gift idea!
MY SOLUTION!
These can be made into a stand or a holder for something. Like a prop to park your items on.
Does your dad wear spectacles? and when he takes them off at night where would he leave them?
How about gardening, is your dad an avid gardener? This would be a nice way to present him with packets of his favourite seeds, where you can prop them in the holder, painted with a garden theme.
Alternatively it can be adapted to hold special family photos as a keepsake.
Does dad like to write alot, but keeps misplacing his pens, then how about a pen holder.
(This craft project can be cheekily adapted as a gift for mum too!)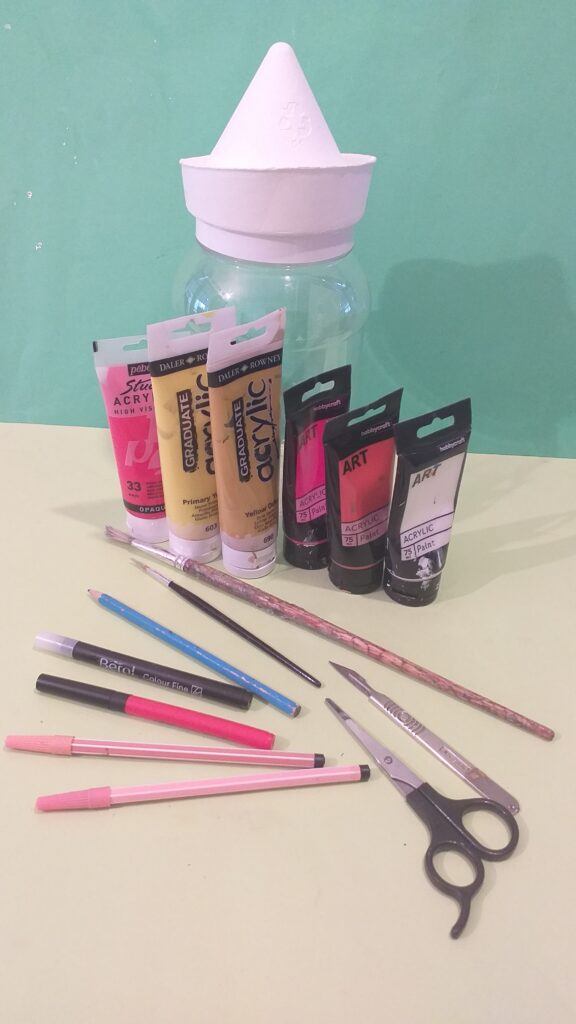 RESOURCES!
1 Ora base holder

Acrylic paints, your choice for skin colour and facial hair. (moustache and beard)

Coloured felt tips, fine black felt tip, pencil, to key in and mark up facial features.

Brushes.

Scissors, Scalpel.

Rubber (optional)
SOME HELPFUL TIPS!
CONE SURFACE
The texture of the cones are rough not smoothe, both make a good base to work on and gives a textured finish, therefore when you apply paint it will have a raw finish.
RUBBER
When drawing the face with the pencil, It would be useful to have a rubber on hand to help rub off mistakes, or rearrange features.
FOR 3D LOOK
Cutting the rim to give the moustache shape or lips, gives it a 3 dimentional feel, therefore more depth.
FELT TIPS, YOUR CHOICE
If you prefer you can just use felt tips, you can still achieve a good finish.
HANDY SELLOTAPE
If you make a mistake whilst drawing with black felt tip pen, you can remove by rubbing sellotape, over pen mark and pulling it off.
SHARP SCISSORS
Make sure you use a good scissors that will cut away the unwanted parts, so material doesn't tear.
USING A SCALPEL
Be cautious whilst using the scalplet to pierce the holes, you will need to do a rocking motin so the scalpel can cut through. Keep your fingers away from the inside of the cone, just in case the blade catches your hand. If children are doing this they will need adult support.
WHAT HAIR
You can add hair if you like, I felt it look just fine without, if your dad has curly or wavy hair you can paint that on in a curly motion filling up the back part of the cone.
GLOSSY FINISH
If you want a  glossy finish look you can paint PVA glue all over and allow to dry, or leave it as it is for a more mat look.
RIM AS ADDED FEATURE
You may want to keep the rim all the way around the cone, as an added feature to pop smaller items in it.
KEEPING HAT ON
To keep hat on your head you will need to make a hole on each side and attach stretchy elastic or ribbon on each side to tie and secure the hat.
TO CONCLUDE!
How easy is it to transform these neat little base cones into creative father's day gifts ideas!
Simply turn them upside down and start being creative, challenge yourself all you need are some acrylic paints and coloured felt tips.
The rim of the cone gives a good 3-dimentional feel, once the moustache is cut out the face comes alive!
If you don't want a moustache, then just the lips work fine too, (shown in the Mummy version of the glasses holder).
Have you got a geeky dad who wears glasses, then this project would suit him just fine and he'd need not misplace his glasses anymore.
If your dad dosen't wear glasses, then how about Sunglasses, they would make a terrific holder for them too!
The cones can be made into packet seed holders or even photo stand!
How about cute party hats, that kids can wear too!
Or poke out some holes and make a pen or pencil stand, these would work for any member of the family keeping your pens in one place.
You can choose a theme that best suit your dad.
I have given a you a few ideas and I hope I have inspired you one way or another.
I was lucky enough to get these cones, its all about holding on to your throw outs and make good use of them again. 
These Ora cones can be recycled into fun craft projects, all you need is one to get you started.
I haven't yet come across anything like this, the closest I can think of are polystyrene cups, you really need something that looks like a pyramid and can grip once you have cut a slice out.
So ask around to see if anyone has one of these Ora stacks, otherwise see if you can invest in one purely for the base cone and you still get to use all 100 circular paper towels!
What are you waiting for not long left to get motivating, remember Father's day in Sunday 20th June! (in the UK) 
I would love to see what your kids create, I can feature it in an update later, so come on let's get crafting!
UPDATE!
Hey can't do any of these cone projects in time!
Then take a look at these cute Father's day cards and some lolly sticks decorated with feathers, googly eyes and glitter, all done by 2-3 year olds!
I managed to take some shots before they were sent home!
So this is what you do:-
Grab some card, cut to the size, fold, and have your kids decorate using PVA glue or glue stick and just let them explore,
using all the resources you can get your hands on and with a little bit of adult support, they will be just fine left to their own devices.
Sometime less is more!
So have a look at what you have hanging around your home and get your little ones to have fun creating these dab and stick on cards.
Find a make-shift tray and sprinkle glitter in it, then have your kids drizzle glue on the face of the card, turn upside down and press in the tray of glitter and viola! a sparkly card, then your kids can embellish it how they like!
NO GLITTER!
Check out what you can use instead!
Bottle tops.
Scrunched up foil.
Scrunched up coloured papers.
Roll string in circular pattern on glued surface.
Sequins.
Googly eyes.
Cut up different shaped papers.
Feathers.
Rice/Pasta.
Lolly sticks.
Lay all resources on the table and let your kids Imagination take over.
You can also add dads favourite buscuit inside the card wrapped up or some treats too!
This all comes from the heart and dads would love it no matter what!
So don't worry this is another way of saying we love you dad, having a go with more creative father's day gift ideas!
I have added another Fathers day idea, so check it out! To go back to Easy Fathers Day Craft, click on the link on the left! (A treat for your dad)