Milk bottle funny monster faces game!
Some kids have got it all worked out! giving us a few ideas what to do come round those hot summer days, so here is a short video on how this little lady gets creative!
Don't you love it when a summers day is long and bright and at 5am in the morning it's really bright and still light around 9pm?
Those lazy days, needing a fan to cool down, craving for that cold ice lolly, wetting your face to feel cooler and that…… aaaaah feeling?
Wearing less clothing, off with all those layers because of our colder climate before and doesn't that feel great?
So what makes us 'Happy' what's 'Fun' and what reminds us of those great hot summer days?
The SUN!, bright blue sky, golden sands on the beach, deck-chairs, Sunglasses, ice-cream, lollies, cold drinks, picnics, barbecues, bright summer clothes, swimming pools, paddling pools and the loud noise of kids splashing about in the paddlig pool and having lots of fun!
Need I say more?
School holidays are soon upon us and we need to entertain our children once again. So let us look ahead and find activities to do with our kids, but in the creative sense.
So from now start to collect your re-useable junk, that you can convert into some fun summer crafts for kids!
What can you look for?
Large Plastic milk bottles.(2 litre)

Plastic bottles (spring water/fizzy 2 litre)

.Newspapers/Magazines.
Hey before we start, I came across this short nifty video on simply upcycling your junk, so take a look there are a few ideas, not far from what I have in mind!
Having fun is key to keeping children focused. It may be for a short while, but it's better than having nothing else to do and bordem sets in, where kids start whinning, 'I'm bored!'
Having scurried again through my collecttion of junk, as one does, that being me! I found quite a range of plastic bottles all different shapes.
I also had a fair amount of newspapers, some magazines.
Keeping summer theme in mind and to make fun crafts with your kids, I nailed it down to these 3 areas with plastic bottles and newspapers to make 'fun summer crafts for kids! :-
Plastic milk bottles/cartons – to make funny monster like faces to play a game.

Plastic bottles to make summer flowers – windmills.

Bowls or mini bins out of newspapers?magazines!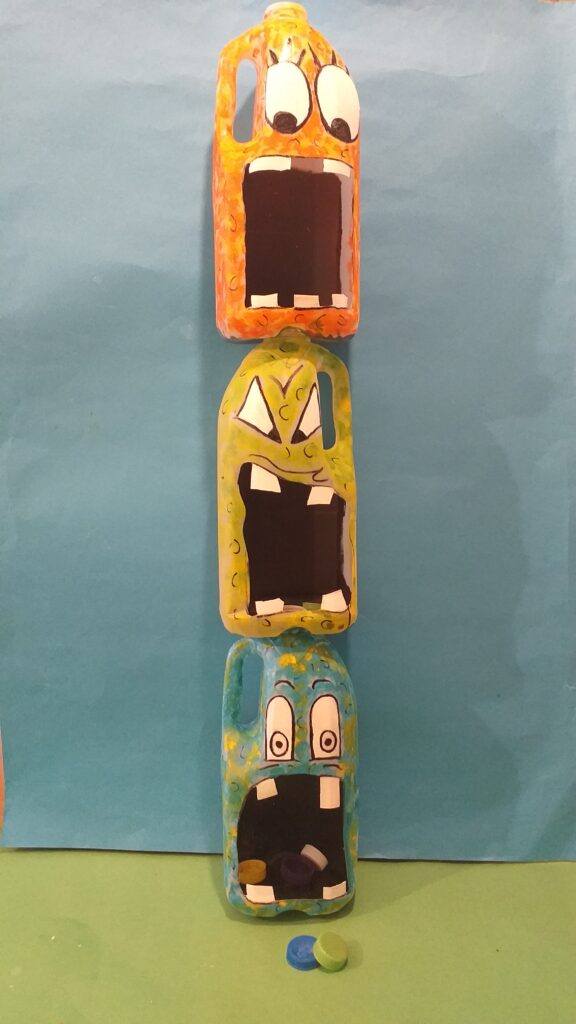 Let's take a look at the crazy monsters stacked up on top of each other, making a tower version of this game.
Here you can throw your targets into the large funny monsters mouths and earn points!
Check out below other projects I made using milk bottle cartons!
PLASTIC MILK BOTTLE GAME!
Let's start with the

first

of these projects.
I thought of making a fun game using these milk bottle cartons. They have to be the large containers so that you can draw a funny monster face and a large mouth to cut out.
This is a great game for the very young, they get to practice their aim, holding large and smaller objects is good use of their dexterity working on their grip and confidence.
My intention is to toss in scrunched up paper, bottle tops, coins or buttons, into the large opened mouth of the funny monster face and score some points.
These milk bottle cartons make a good base to draw on and the good thing is, they are white a ready base to apply acrylic paints on.
RESOURCES!
3 -4  Plastic milk bottle cartons.

Bright coloured acrylic paints. Orange/ green/ turquoise, black/white.

Paint pallette/saucer.

Black broad felt tip pen.

Sharp sissors/scalple.

A range of paint brushes.

Glue gun and some spare wax sticks (optional)

Your sketch of fun monster faces (as a guide)
Before you decide on a funny monster face, take a look at the funny faces above and start to doodle some looks.
As long as you have the large mouthes to throw balls into them you can draw what ever you like.
Teeth, no teeth, wonky eyes round or scarely! Sleepy or simply clueless. Choose your colours and you are good to go!
Remember to colour the eyeballs in white and go over the final details in the black pen.
TIPS!
Do you want a verticle stack or a horizontal row, you can have both, just don't glue together, instead try to secure cartons so they don't fall over.
You may have to paint inside of mouth a couple of times to make it quite dark, also when applying colour on the outside may also need a couple of coats.
Save the pieces of mouths to make the funky hair, cut with pointed sections like stipes and curl using scissors, then you can paint. Once dry you can glue on top of head with hot wax.
Make sure you paint the eyeballs in white. Then go over the final details in black pen.
When packing away you can hang up by one of the handles.
Decide if each head has a value, then you can earn that many points per ball, coin or button you manage to toss into the mouth.
LET'S RECAP!
That's the first of our projects, using large milk bottle cartons!
They are pretty straight forward and a fun activity to make with your kids.
Played stacked up or in a row works both ways. So go ahead storing them is easy too simply hang up or keep tidy inside ready for the next days of play.
The second of these projects is the plastic bottle flowers/windmills. 
This will be a work in progress and as I take on this project I will be updating this page.
So keep an eye on this space!
🧐 look out for Windmill using plastic bottle!
So see you on the next page!!!
Below are the links to the second and third projects.