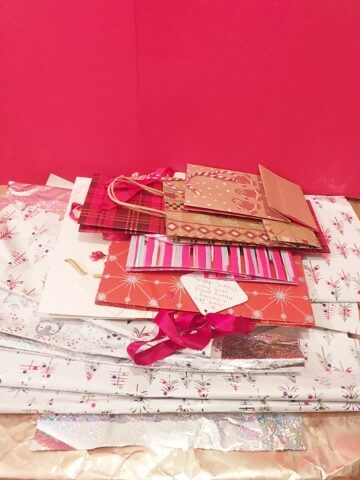 By now you would have torn open all the Christmas wrappings off your pressys and stuffed a black bin bag full of wrappings and odd boxes and Christmas carrier bags, but hey wait!
Don't forget, to recycle your wrappings into something very useful. You still have time to dig out perfectly intacked packaging, papers, boxes and plastic insert and moulds to renovate and utilize them all over again!
Every Christmas we mindlessly throw away tons of this type of packaging and forget we can make good use of it.
Recycling has become much more respected and if we can contribute to this with the right attitude, hence educating our kids to be more aware of throw-outs, then half our job is done.
So let's see what we can possibly salvage:-
Christmas Cards.
Wrapping up papers.
Christmas carrier bags.
Boxed packaging.
Plastic inserts of gift boxes/moulds.
Bows and ribbons.
Left over foods.
Now to review.
Christmas cards.  Once Christmas is over, collect your Christmas cards in a pile. Hold onto the ones with images that you can cut around and make into Christmas tags. Cut into a square, oblong or circle, punch a hole at the top and thread a short piece of ribbon through it and make a ready gift tag.
Or you can cut off the front of a Christmas card and stick on to another folded white or coloured card of similar size and make another quick Christmas card. (children enjoy cutting out shapes and sticking them down, either to make just a pretty pattern or a garland.)
Wrapping up paper.  It's a difficult proposal, but whilst you or your kids are unwrapping your Christmas parcels, to try and do it carefully, so you don't completley destroy it, keeping it intacked, then you can re-use it. 
If the wrapping up paper is plain gold or silver, it can be used again to cover up another present, whatever the occassion. I am sure there will be loads of gifting before next Christmas, or just hold on to your collection until next year. 
Patterend wrapping up paper.  Papers with fun or cartoon patterns, can be re-invented. You can cut out the cartoons, or images and stick them on ready made plain folded cards, decorate with glitter and you have created little fun Christmas cards. If the theme or fun pattern is not Christmasy, then the patterns or cartoons can be use to just decorate anything. (kids enjoy doing this activity, they can get engrossed in the process and it's a very good practice for their fine motor skills.)
Re-use wrapping up paper, quick and easy activity, for you or your kids.
Christmas carrier bags.  Come in all shapes and sizes, luxury ones and quite simple ones, some with Christmas motifs, or pretty patterned ones. Plain ones in silver or gold or even glittery ones, however they come to you, hold on to them, flatten them down and save for next year. The plainer type can be used for Birthday gifts.
Boxed packaging.  Hold on to these, there are some exceptional gift boxes that can be re-used to store memorabilia or items of value even to store photographs in until you can put them into an album. Alternatively they can be used again to gift someone else a present.
Left over food.  Save your turkey, goose, chicken, hams, duck and you can bake lovely leek and turkey pie, or turn into a curry or have it cold with salad and chips. 
Even a hot soup is lovely with scraps of tukey, in a mix of vegetables, or rice or noodles, don't forget your chicken stock, this adds plenty of flavour.
Odd scraps can be given to your pets, they too can enjoy Christmas with us, my cat did she lapped the turkey, sausage up and I kept some for her in the fridge for the next couple of days.
At a push 3 days in the fridge, I would say is the longest I would save cooked meats for.
SO TO CONCLUDE!
Don't forget to recycle your Christmas wrappings! Dig deep in your piled up wrapping up papers and pull back anything you can utilize again.
Whether it's to re-use wrapping up papers or carrier bags, gift boxes, plastic moulds or bows and ribbons, it's there for picking.
This is a short post just to remind you to still recycle any throw-outs, before your bin everything there may be still time.
If you missed it this time round, then keep it in mind for next year and even if you get birthday gifts, the same applies.
So I hope you had a terrific Christmas and here's to a super new year 2021, happy savings!