HO! HO! HO!, laughed Santa, that's exactly what I want to feature in this post.
Let us bring back laughter, joy and rejoice It's Christmas!! and we must still celebrate, no matter what we've been through with this unpredicted troublesome year!
It wouldn't be the same if we didn't open our hearts and arms to welcome it once again!
When I think of Santa, I think of his white beard and white moustache, this is why I will be focusing on just that, which is all I need for this design.
I will be making 'Jolly Santa Christmas cards'
It's a happy, jolly festive time, full of joy, tinsles, baubles, glitter and sparkle. Twinkling lights and glorious colours and lots of scrumpcious foods and mouth watering yummy desserts, washed down with thirst quenching beverages.
A time for giving and receiving, a time to send good wishes and to reach out and make contact with friends and relatives. To re-establish communication and show we remember and care.
This past year has made us put value to what counts and is important to us and that's 'Family' mother, father, grand parents, brothers, sisters aunties, uncles, friends, colleagues and neighbours, our homes, our gardens, food we need to eat and our well being.
Christmas brings this to light. Sending good tidings to everyone and bringing folk together. So coming back to communication how do we do this?
There are of course the quick and easiest ways to message someone and that's to phone, email, watsup, facebook, twitter, instagram or write a letter, but the most traditonal is to send a 'Christmas card'.
Christmas cards tyypically come in all shapes and sizes. They would feature either seasonal images wintery themes, animals, cartoons, santa, cute, crazy, fun, baby in a manger, even personalised kind and though I was tempted to purchase some of these cards, I can't help myself as I always like to make my own.
Some examples of Christmas cards.
I think why not, I get an idea then go along with it, the trouble is once you start there is no going back, I have to keep going until I have completed at least 26 Jolly Santa Christmas cards'.
Last year I went with a snowman, check out previous post.
As Santa is Christmas!
There are many interpretations of Santa, known to wear a red suit, composed of a red jacket with white fur trimmings and a red pointed hat with white fur around the edge, black belt and black boots. Or he could be wearing green, with similar trimmings and gloves, but he would still have white hair, white beard and moustache.
Santa would be known a 'Father Christmas' or 'St Nicholas', or 'Santa Clause'. Typically kids would refer to him as 'Santa' or 'Father Christmas'. and would be carrying a large sack full of toys. His means of transport would be a red golden sleigh with 8 reindeers.
Did you know that all of Santas deers have names?
There is Dasher, Dancer, Prancer, Comet, Vixen, Cupid, Donder and Blizen. Where's Rudoph? you may ask, well Rudolph, the red nose reindeer, was only featured in a song and was later added in the list of Santas reindeers, so in fact they became 9 reindeers, although only a few reindeers are featured on Christmas cards, between 4-6.
Back to our Santa Christmas cards.
I will show you how to put together an easy card by providing a you with a Free Printable.
This would be a template of Santas mouth, beard and moustache ready for you to print off some copies. Make sure when printing, the image is at the bottom of an A4 white card, so when you fold in half, the top part becomes the back of the folded card.
You or your kids can colour it in with felt tip pens, or follow my example and use cotton wool to portray Santa's white beard and moustache, or embellish it how you want.
The cotton wool makes it a touchy feeling card, giving it texture and some depth. It also brings Santa to life!
Here is a Printable, aim to print out the image at the bottom of the card and fold card in half, line up edges together so it's equal, then press down to crease and make fold.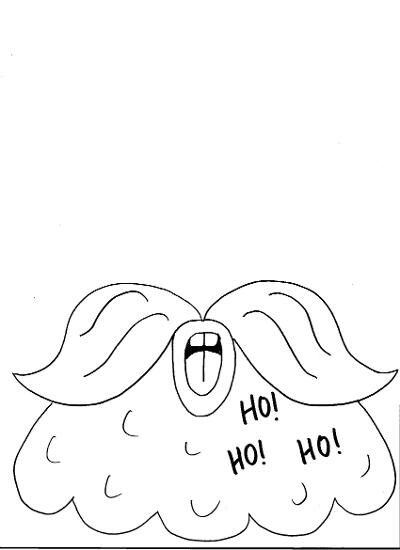 Template sample.
Previewed on the left is what the print out would look like.
Fold in half and either cut out the shape or leave all intact.
Do not cut out where the fold is, as this holds card together, only the 'V' part above the mouth.
SO LET'S GET GOING!
RESOURCES!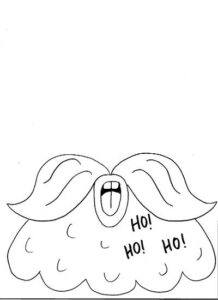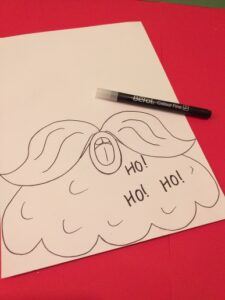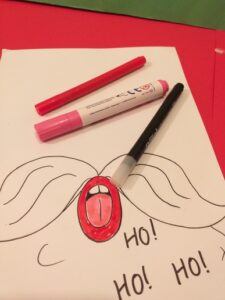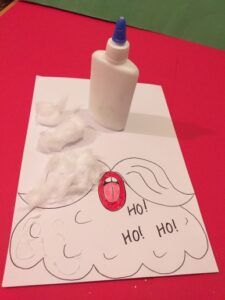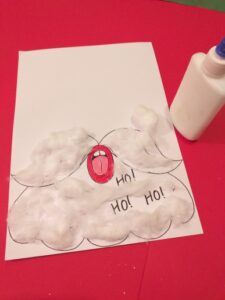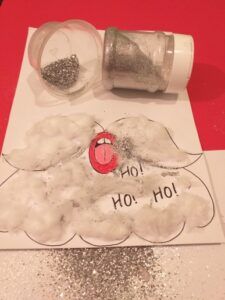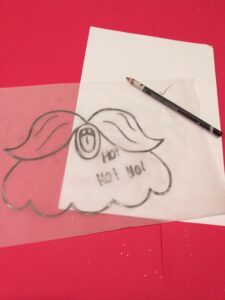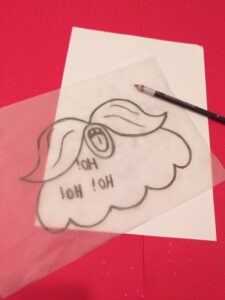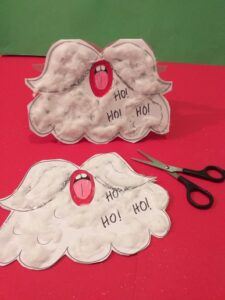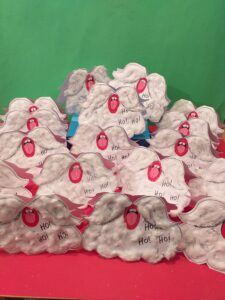 I have shown 2 ways to make these cards.
The quickest is to print out the template and simply colour that in and decorate it.
Or use tracing paper, trace off the image with a soft dark pencil, 4B or above, turn over the tracing paper and go over the image again with the pencil. This will become your means of transfer on to the white card. This method can be used again and again to manually transfer the image if you prefer.
When you achieve the finish you want, then either keep card as an easy A4 folded in half, or cut around the image as shown in the demonstration, so you are left with Santas moustache and beard.
TO CONCLUDE!
Plan

ahead

of time, when making home made cards. Gather your resources so you are prepared.
I have shown how to make easy Jolly Santa Christmas cards.
I have provided a Printable

t

hat you can run off on card and emblish it how you want, or trace off the template with tracing paper and use this instead as a transfer, keep using the tracing again and again. 
I hope you enjoy making these cards, O'h and

inside

you can

write

any

message

you want, or

type

out a message and print this off a few times, cut it out and glue stick it inside.
So, let's

loose ourselves

in crafting and

create

something

f

un

to do and get back that

festive feeling!
I would love to see or hear how you got on, so drop us a line!
So here's wishing you a
 'Merry Christmas'
and a very
Happy New year 2021.
(Fingers crossed!)