Let's get on with some home learning and have some crafty, singing-a-long fun!
Do you remember the nursery rhyme '5 green little speckled frogs?' It's a funny little song where it helps kids with their counting skills, counting back from 5.
Whilst children are learning from home, because of lockdown and teachers are making videos to assist them, this easy nursery rhyme is one to consider, especially when you can turn it into a fun, art lesson too!
So who said Home learning is boring! we can be as creative as we want. I've included kids nursery video to remind you how the song goes.
Watch this short video that demo's this.
In this song it shows another way to subtract, or take-away. It's a clever way to use frogs, as they would jump off a log into the pool, counting backwards one by one.
At the same time whilst singing this song you can use your fingers, holding up 5 and drop down each finger from 5, 4,3,2,1 and then there were none, holding up a fist.
So I'd like to do an activity using recycled material to demo it.
What have we got a lot of that we can pull together and make some quick and easy inner tube frogs?.
Well, once again I looked deep in my recycling bag and found loads of toilet inner tubes that would make perfect frogs.
Don't have any, then wait until you have collected at least 15 tubes, then we can get started.
This activity would make a perfect 'Home learning' project a craft/number lesson in subtraction aimed at the very young, all the way down to ages 2 even younger.
It's a catchy tune and kids can pick it up quite easily. The visual side of it makes it fun and the prompts used here, are the frogs.
Our aim is to make 5 little green speckled frogs out of inner tubes. So let's get started.
HERE ARE SOME HELPFUL TIPS!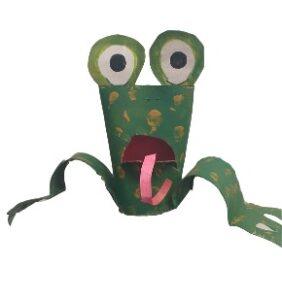 Staple one end of the tube, allowing a gap on each side to push in the stick part of the eyes.
When you staple the legs on the tube, make sure they are slightly higher than the end bit, so that the frog will sit flat and not roll over.
When painting the frog, go for green, but if you don't have that colour than make it up with any combination blues and yellows.
A  good pair of large scissors is best here as it would help you cut the tubes a bit more easily being they are made out of thick composit card.
When making the tongue, wrap the long strip around a pen which will help with the curling.
When painting the tongue, paint before curling, allow to dry first.
Some tubes are made in diagonal strips, so when cutting they can curl up, to avoid this try to find tubes that are smoothe throughout, failing this stick them down with glue stick if they peel back.
The coloured felt tips help to define the eyes, giving them more of a sharper finish.
Remember you will need at least 15 inner tubes, one for the body, one for the legs and  one for the eyes and tongue.
Some tubes are white on the inside, these ones can be used for the eyes, as you need the white base to paint on the eye ball. If you do not have any with white inside, when you are ready to do the eyes, you may need to use white acrylic paint to give you that finish.
As a cautionary measure an adult may be needed to assist with cutting the mouth, when using the stanley knife.
LET'S RECAP!
Recycling our throw outs has always been my motivation to re-use and make fun kids craft. I found that there is always an abundance of toilet or kitchen towel inner cardboard tubes that are brillilant shapes and easy material to work with.
I have mentioned before, that inner tubes will be used time and time again for quite a few projects, because of their versatility.
In this post, I have shown you how ro make, easy frogs which are highlighted in the nursery rhyme, '5 green little speckled frogs'
It is a great way to sing a long with your kids and use your frogs as prompts, aiding in counting and making it fun.
Especially now, we have to do a lot more home learning, this is a super way to get your kids to become creative and make counting a fun, enjoyable, an interactive activity  whilst singing at the same time.
This activity doesn't have to be strained, it could be done at leisure whenever you want, so don't let the alarm bells go off, the power is in your hands. We can make counting fun and I bet the little ones will take over!
So start saving your inner tubes and let's get creative!
I have had to do my bit in home learning, now we are in lockdown and as I work with younger children in early years, we regularly post stories and nursery rhymes.
Take a look below, I have included a short video of myself singing '5 little green speckled frogs'
(It's all in good fun 🙂
SO HOW ABOUTJOINING IN!
I would love to hear how you got on. So pop us a note, or even a pic of your frogs and I could post them for others to see!
Come on let's croak away "Ribbit…Ribbit!..Croak…Croak…."