This is a short animation demonstrating the dumping of pollutants in our oceans.
Alas, it is startling to see how much plastic accumilates over time.
We must be more vigilant and more kinder to our aquatic and oceanic sea life,  otherwise we could play a big part in the destruction hence their extinction unless we act now.
As well as recycling as much plastic as we can,  highltighted in the previous post 'What happens to our plastic waste? gives you some insight into what goes on the the recycling plastic cycle and what branded companies are doing about it.
Check it out click below.
So what can we do?
As well as recycling all our plastics in the appropriate way, we can invent and have kids make something interesting out of some of these plastic containers, in craft projects.
In the introduction to this post, I deliberately show this short video 'Whale Tale' which shows our oceans full of plastic deposits and how a whale got caught up in a net, starts to collect floating plastics, with the help of its friends.
Well, I want to reproduce some of this story and make 'a milk bottle whale'  mirroring the whale in the story dragging the net full of plastics.
Featured before.
I have shown another way you can use a plastic milk bottle in an earlier post where I show how you can make a ' Plastic milk bottle elephant' that was fun and the result has the 'Wow' factor. Check that out too:- 
So here we go we are going to make the whale like the one in the 'Whales tale'. It's not too hard and very straight forward and with an adults help in the cutting and gluing with hot wax, it should be straight forward.
LET'S GET GOING!
The shape of the plastic milk bottle dictates the shape and size of the whale, all depends whatever you have in your recycle bag. Failing that, next time you purchase milk, go for the largest type, this would give the whale a better shape.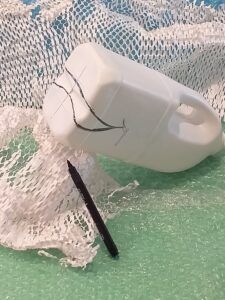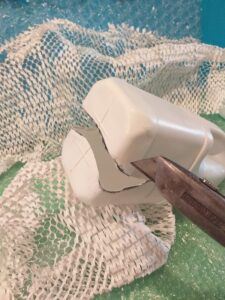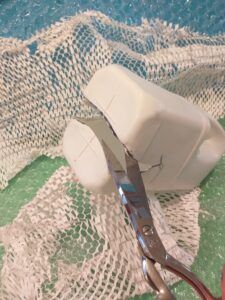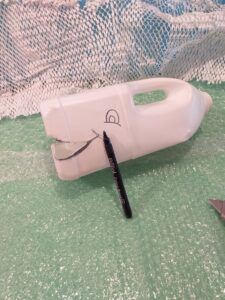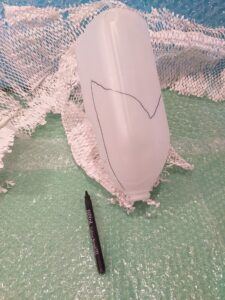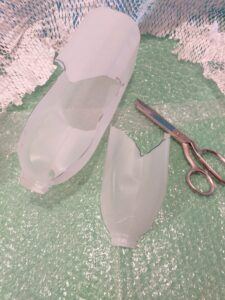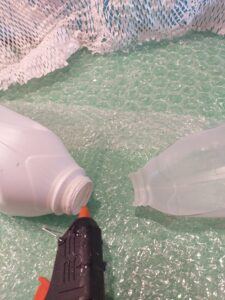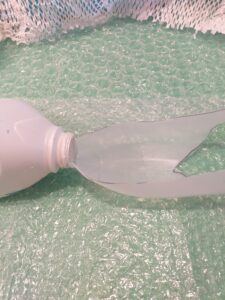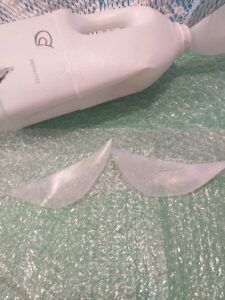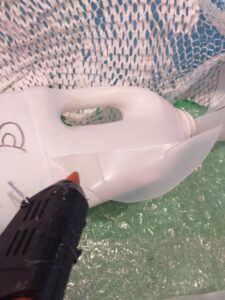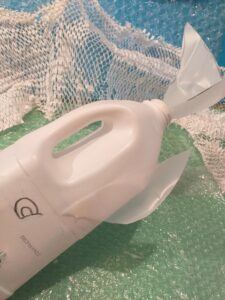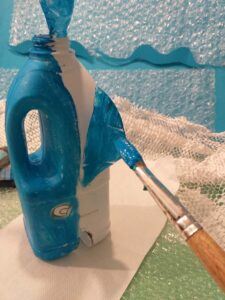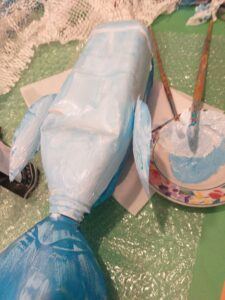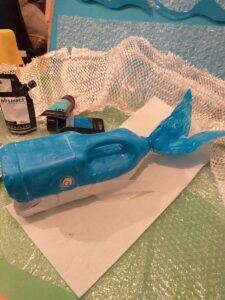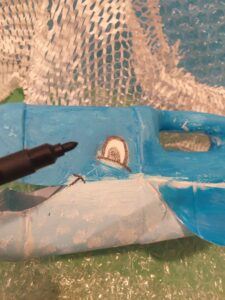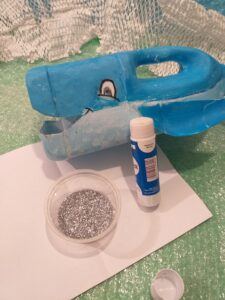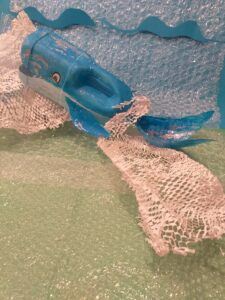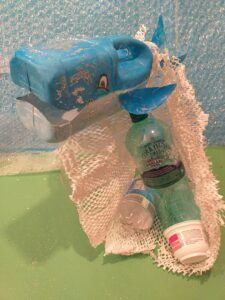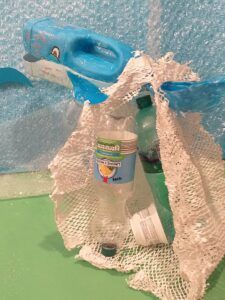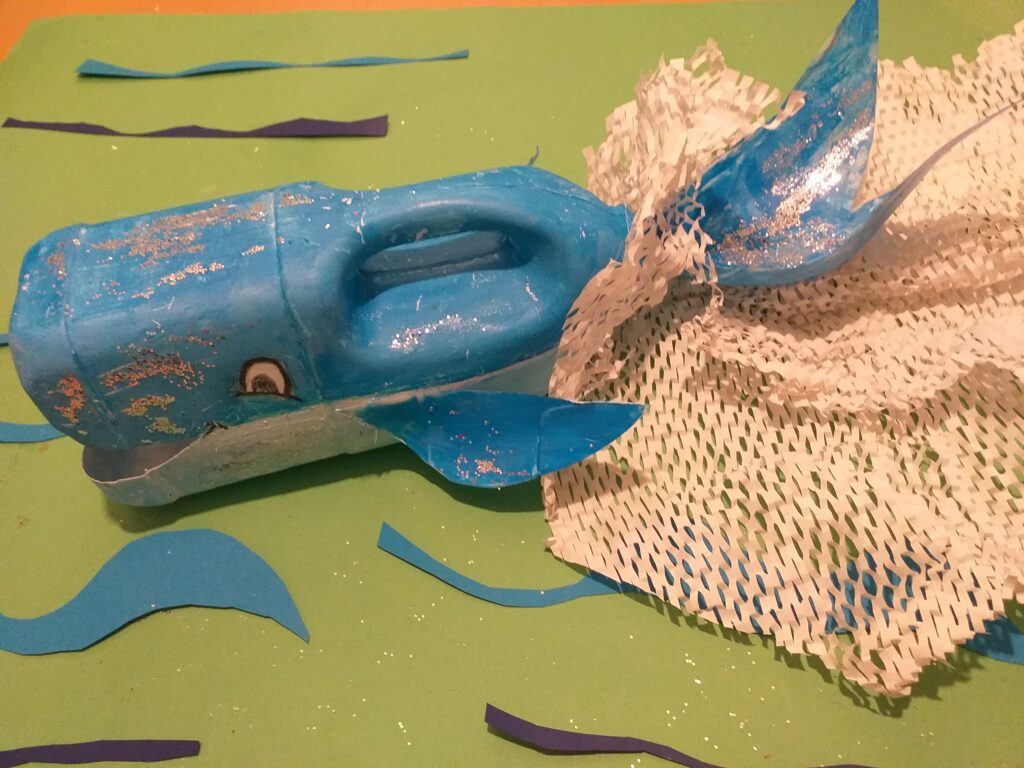 So there you have it, once you have made your whale you can go ahead and tell the story improvising with whatever you have for the platic junk you can put in your netting. Of course the size of the bottles are life size, but it's all about make belief.
SOME TIPS!
To curl the tail and fins.
You can curl the plastic with the sharp side of the scissors, curling the tail and fins in the direction you want them to go. Work with it and you will get the plastic to curl.
To get a slippery glittery effect.
In addition you can add silver glitter all over the whale, if you like that shiny or glittery effect, use glue stick here and there and this is enough to give that effect when you add the glitter on it.
A solid colour.
Acrylic paint is the best medium to use on plastic and not to dilute with water, as the plastic will repel the paint. Once the whale is painted, leave to dry then go over patches to give the plastic a more solid colour. Also use a good black felt tip to draw the eyes and go over again when dry.
Left over plastic bottle.
With the remaining plastic that I cut out the tail and fins, I managed to make into a bird feed! So 'waste not want not' as they say! in this instance, I don't want to waste what I have left, so what else I can make with the left overs!
TO CONCLUDE!
I have tried to highlight a short story, which has real issues and something that is being recognised, world wide now, where there are now organizations that are helping  to protect and save our oceans and marine life in it.
At the same time using and re-inventing plastic into something else and this instance recycling a plastic milk bottle into a whale!
Doing our part in making use of throw-outs. This is a simple task and can be done with your support with your kid, at the same time educating your child about life in the ocean and follow the story with your creation!
So let's look deep in our recycling bags and pull out your milk bottles and any plastic you can use inside the netting and when done, you can recycle your odd bottles in the usual way!