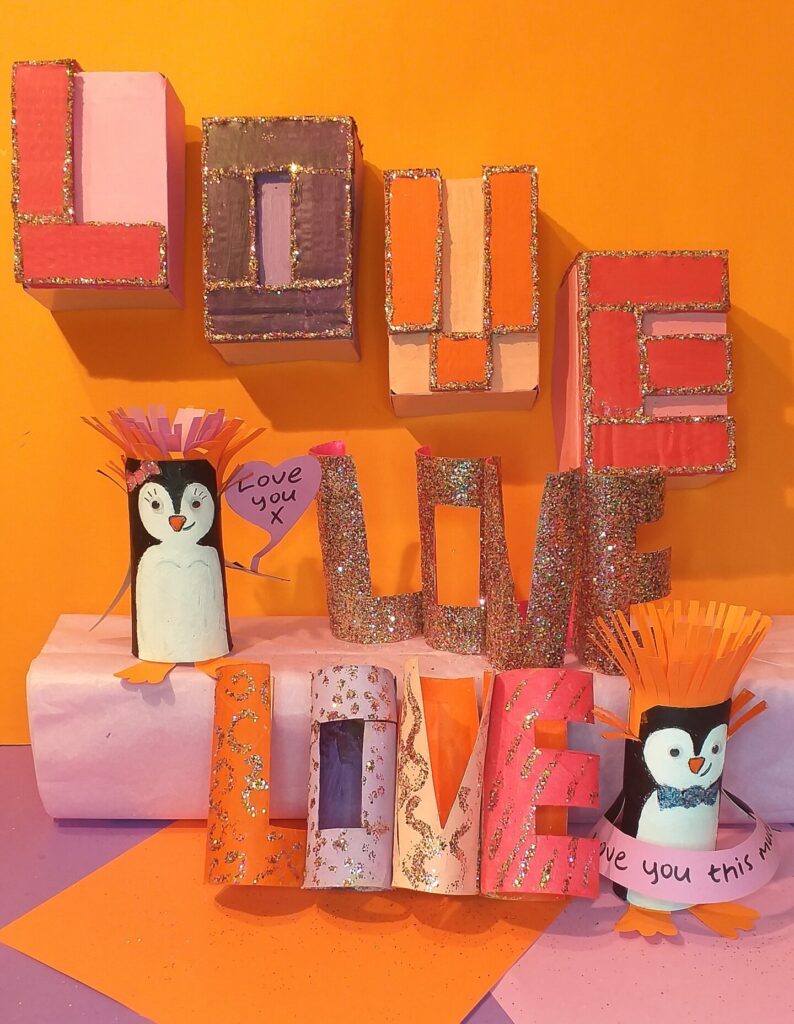 Here are three easy cardboard and inner tube love ideas, for you and your kids to try out for this love month!
Simply check out your throw-outs and you can put together these fun love ideas you and your kids could do over the holidays.
♥ It's love month and valentines day, week, month is ♥  upon us and love is in the air! ♥
I thought long and hard on what I should present for a quick and easyish project to do.
The word L-O-V-E stands out, obviously because it's valentines day and possibly something cute.
Cute I thought, well I adore penquins and they kind of look sweet when drawn in a fun way.
So maybe I will do a couple of these penquins to add to the project.
Next I need to find items in my recycle bag that I can use that work well with this project to make Easy valentine crafts for kids!
I came across some small empty white boxes that held catfood pouches and some packaging card and finally cardboard toilet inner tubes.
I am looking to make the word L-O-V-E and there are two ways to show this.
First one is the easiest is to use the cardboard toilet inner tubes.
These tubes can be easily cut into the shape of the letters and I will make a couple of penquins to go with the word, also made from inner tubes.
Second one is to use the empty white boxes, that will be the blocks  and the base that hold strips of cardboard letters, which I will explain later on.
But first what is valentine about? Who or what represents it and when or where did it originate from. let's take a look at this short video to tell us more.
NO TIME TO WASTE, LET'S GET GOING!
WITH OUR EASY VALENTINE CRAFTS FOR KIDS!
Any purchases made through the affiliate links  in this post could earn me a small commission, then I could treat myself to a cup of coffee or two, even a cupcake!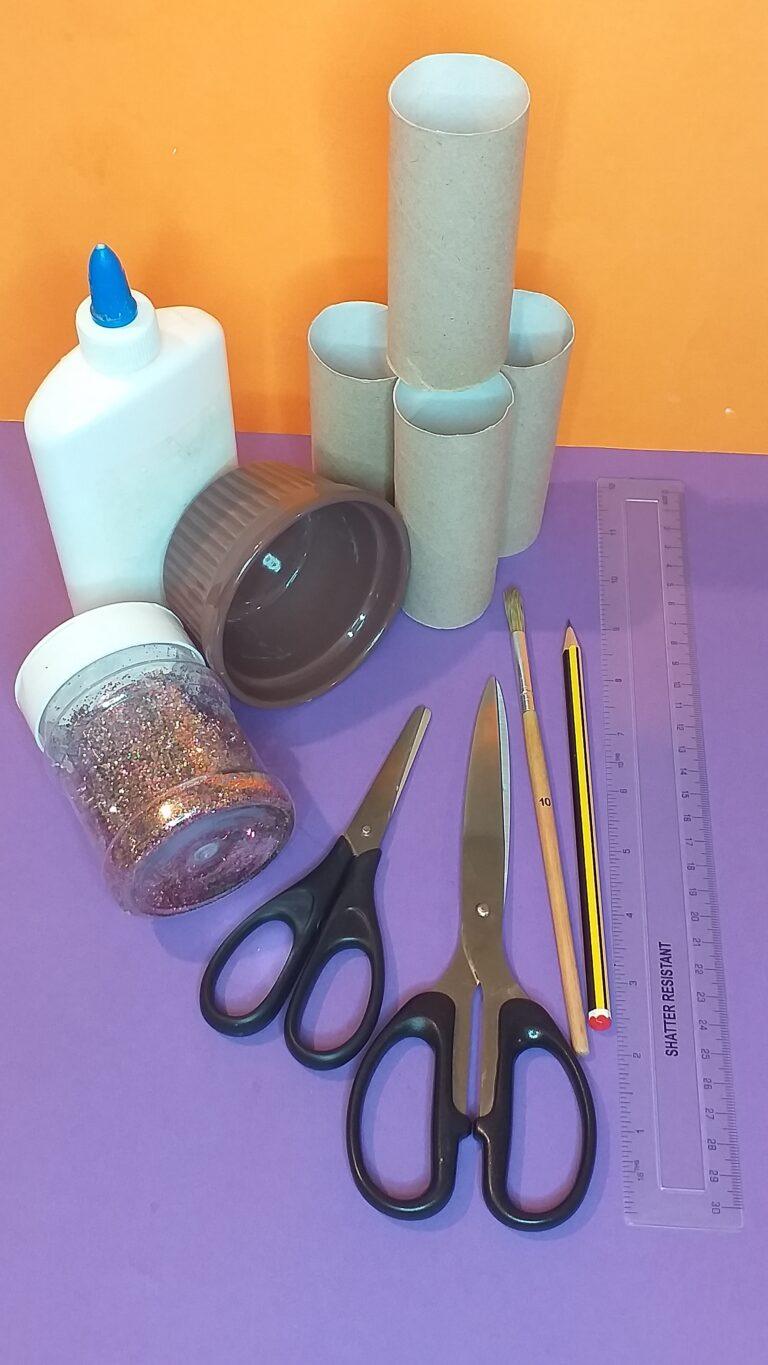 RESOURCES!
4 Cardboard inner tubes. (some spare if you make a mistake.)

Large scissors/small scissors/Ruler.

Stapler. (not shown)

HB Pencil.

Paintbrush. (fine)
SOME TIPS!
I have given you measurements to go by, but if this is difficult to follow or for your kids to process, then the easiest solution is to draw letters free-style, that could work just as well.
Use the large scissors to cut one long cut from bottom to the top.
Keep the glitter on the paper gently fold and pour back into glitter tub.
When PVA/glitter has dried, then you can staple the bottom of letters together, this will make it easier to handle and bend about accordingly.
If glittering is not for you and prefer to paint, then the alternative option, is to keep tubes whole and only cut away less parts to make your letters, then you can paint and glitter free style.
Use the PVA glue to draw the pattern, then pour the glitter over the pattered glue and shake off.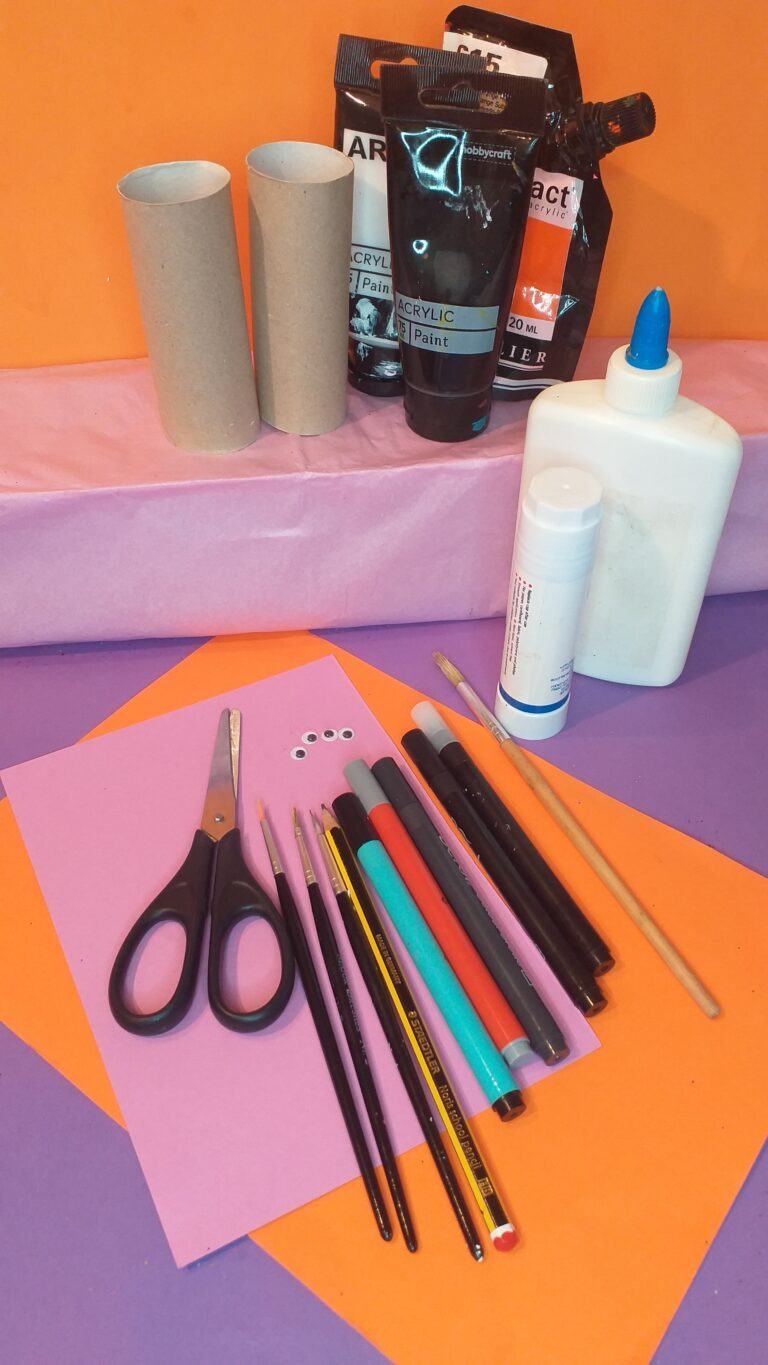 RESOURCES!
2 Cardboard inner tubes.

Find and broad black felt tip pens.
SOME TIPS!
When drawing the penquins on the tubes, use a pencil first until you get the right look, then go over it in a fine felt tip.
When painting put your fingers inside the tube, which will make it easy turning the tube to paint and not smudging the paint.
You may need more than one coat of paint to get a good strong colour.
Add the googly eyes when you have finished all the painting.
When cutting out the arms have them slightly pointed at the bottom, then pull out and bend upwards.
If you prefer you can just cut and frill the top part of the head of the penquin and fold down, though the frilled paper fills in the hole on top.
Draw and design your own banners with words of your choice.
CHUNKY CARDBOARD LOVE BOXES!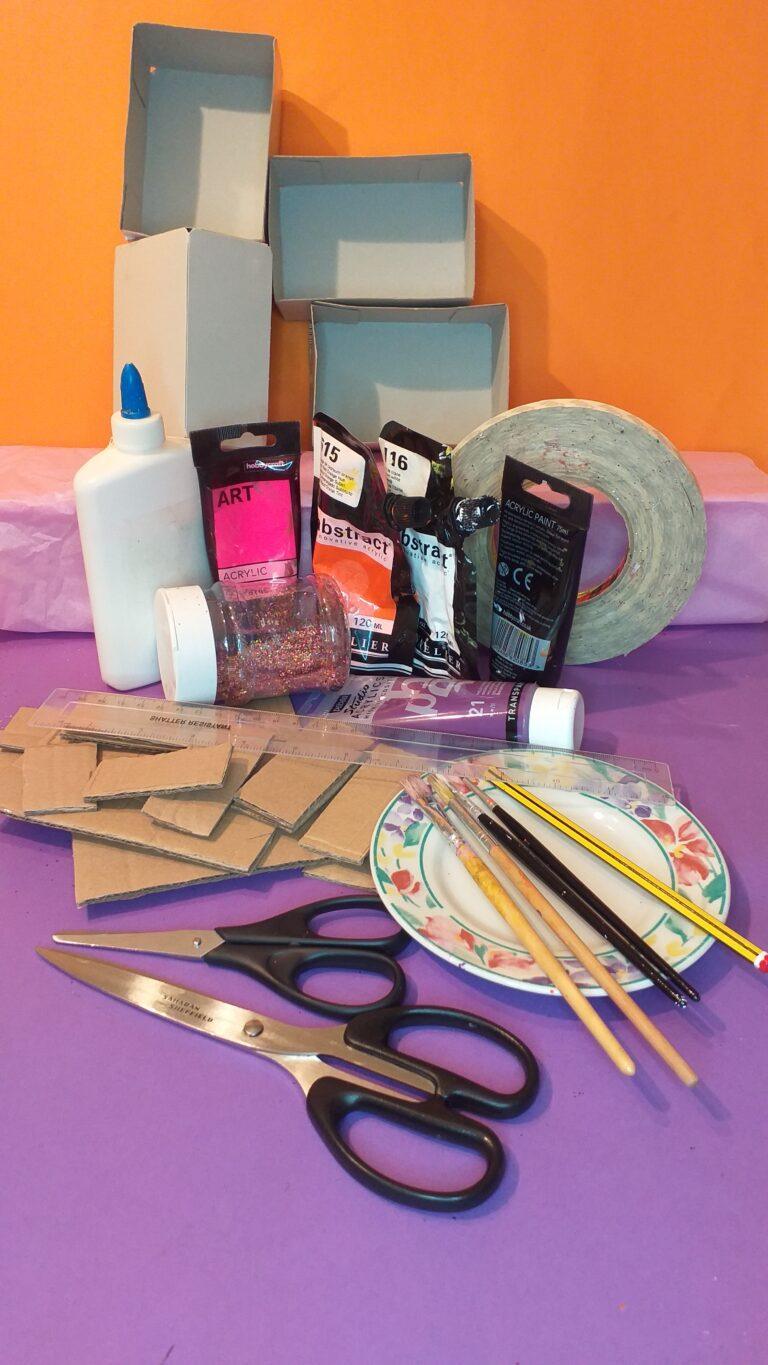 RESOURCES!
4 empty square boxes.

Cut up cardboard (recycled)
SOME TIPS!
If your can find similar size boxes that's great, but you can be inventive and choose different size boxes, or even one biggish box, as it's only playing the part of a base to attach the letters on.
Having seperate boxes allows you to move the letters about and hang them how you like.
When cutting card for letters, the width is entirely up to you depending on the size of your boxes.
 I decided to add PVA glue and glitter to all the joints and edges as it hid grooves and slight imperfections, as well as make them look good.
TO CONCLUDE!
I have provided you with three super cardboard easy valentine ideas for kids!
Whether it's now, or over the holidays, all you need to do is to save your suitable throw-outs and take the ideas and make fun words, or instant little penquins!
Colour and glitter how you like and simply enjoy the crafting with your kids!
So happy Valentines day, week, and even month and enjoy your crafting projects!