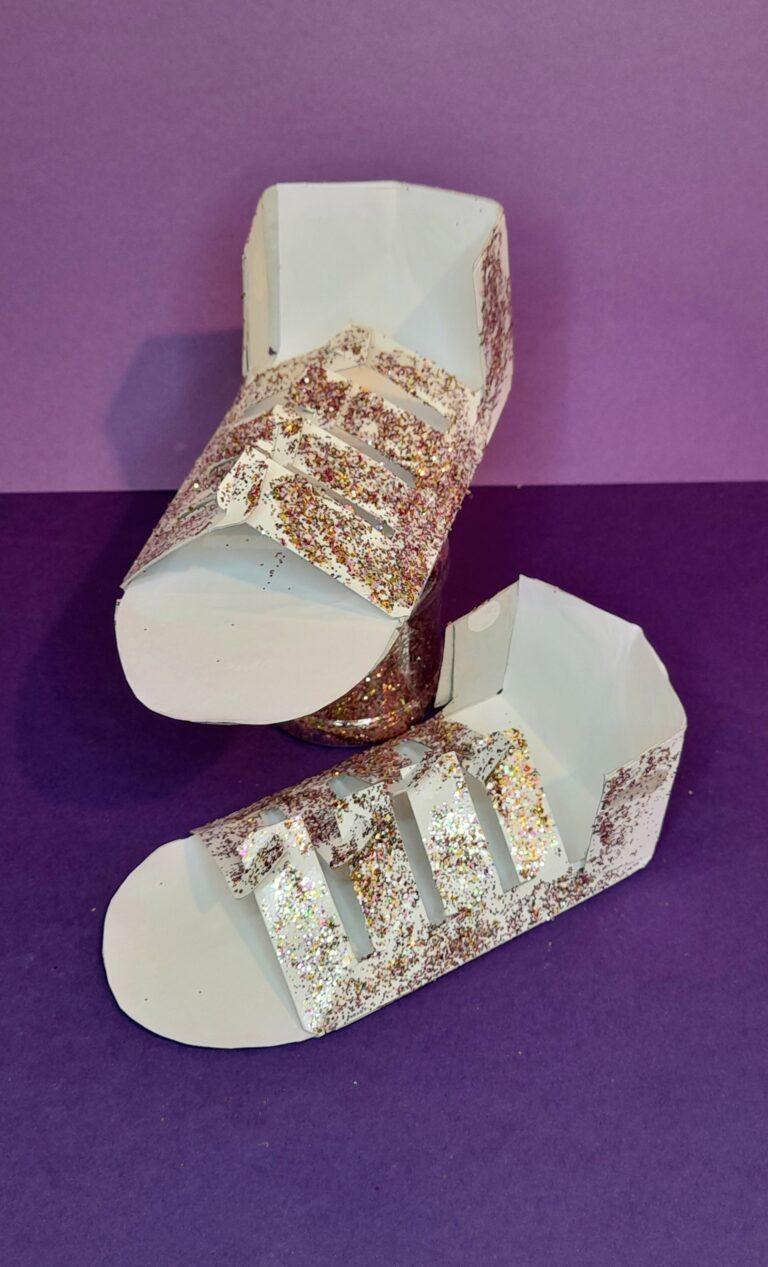 Ever thought of crafting kids' sparkling jelly shoes, from open-ended boxes?
Cardboard sandals or Jelly shoes?
Guess what, I pulled out of my recycle bag, two little cardboard boxes and decided to make sandals out of them, and with a touch of glitter, they will look more like Jelly shoes!
So in this post that's exactly what we are going to make!
When it comes to shoes, you can't have enough of them, don't you think?
Brands!
Heels, boots, sandals, slippers. trainers wellies, pumps. flats, flip flops, Vans, Skechers, Nike, Adidas, Umbro etc etc.
Labels, or not there is a vast amount out there for you to drool over!
Kids want to be fashionable!
Even our kids are in tune with the next up-and-coming brand!
All it takes is a well-known celebrity to simply step out with them!
No stopping feet growing!
As kids grow, their feet will grow too, so we have to be aware that shoes have to be replaced with bigger-size shoes to accommodate their growing feet! 
Even if it's those super cool trainers, smart disco shoes, or sparkly kids' jelly shoes!
What's the solution, even with Jelly shoes?
So what do you do? the dreaded hand-me-down!! of course, they get their brother or sister's outgrown shoes!!!
They wouldn't be very happy bunnies here.
It could even be a pair of cousins' shoes, or good friends shoes, even charity shops.
Charity shops are on your list!
Let's face it, there are some affordable and pretty OK items in Charity shops, that may even have the original labels!
You can find yourself a pretty good bargain.
How about car-boot sales ooops! I have done a few of them myself, more selling than buying.
Some kids would be very grateful, but there are some kids who would cringe at the thought well, need I say more?
Recycle shoes!
I believe this is a good way to recycle good out-grown shoes by passing them on, even your kid's Jelly shoes don't you think?
Alternatively if none of the options above workout, then there are shoe banks that you can deposit your shoes in and they would get recycled in that way.
Those growing feet!
Trying to find the right shoes for your kids' feet can be quite daunting and at the same time, it is important you get the right size shoes for their growing feet too.
I thought it would be useful to get a bit of guidance on how this works so take a look at this short video it might help if you don't already know.
Measuring kids feet, before you buy new shoes!
Once you have your measurements, you can check online to match up the right size shoe. Or you can glance at the chart below for guidance.
Below is an easy chart to find your kids shoe sizes!
So what about those beautiful shoes you just bought for your child? If they go to school with them, what will the outcome be? 
Change those shoes!
As an educator, I would often remind children to make sure they change out of new shoes and put on their wellies!!!
Not being able to check on thirty children at a go, some children will remember to change their shoes and some simply forget!
Getting messed up!
The odd character would go out and jump about in the muddy field, or play in the water area just enough time to mess up those sparkling new kids' jelly shoes, trainers, or lace-ups!
When playtime is over, we ask the children to take their shoes off and together we try to clean them up.
Oh dear!
Unfortunately, by then they are not sparkling anymore, but instead show they have had a hard day playing!
So can you imagine their parents' faces when they come to collect them at hometime?
Yes, you got it.
This amuses me!
I have had on numerous occasions, where children come into class and straight away they would stick one leg out in front of them!
Or standing in front of me, trying to grab my attention, with a big beaming smile!
Kids will be kids!
In anticipation of getting me to look at their shoes, hobble, or keep pointing one foot towards me.
This is a Haha moment, so knowing their intention I would give praises for their beautiful new shoes, as they slide past me!
Cheeky chap!
On one occasion, I was busy settling some children down and forgot this little scene that was going on.
We have a funny little character in our class, who started to follow me around with a gigantic grin on his face sliding his shoe towards me.
Teasing him a little bit, I asked him if his leg was alright, as it looked like he had lost control of it!
Wanting praises!
Laughingly he answered 'No Miss Julia, look, look!' pointing down at his new shoe!s
Eventually, I thought he deserved a bit of fuss, after all the hard work he had put in to capture my attention to show off his brand-new shoes!
He was elated!
I looked down and with the most surprising face said 'Wow, what beautiful shoes you have, are they new?' he nodded his head, keenly and relieved he had finally managed to get my praises, run off to play…….. and it had not long rained! Whoops!
Whether, it's kids' Jelly shoes, new trainers, new boots, or smart lace-ups as proud owners they like to make a big deal, as for them it is an important moment.
This brings me to this neat Peppa Pig video, only she did the right thing in the end and saved her brand-new shoes!
Ha ha we definately need to show this to all our kids, don't you think?
In this project, we are going to make kids' jelly shoes! and all out of little empty cat food boxes.
Not with Jelly, not with plastic, but with little cardboard boxes!
These little boxes were easy to transform into strappy sandals.
Why did I copy the style of this packaging?
Well, I came across some packaging and held on to it thinking one day I would use this, or copy the design.
Looking at it from the side, I thought it resembled a foot, or more like a sandal as the style of this packaging had descending slots and looked like a Roman sandal.
What is it?
This package was a sock holder. It had been designed with descending slots so that socks would fit in each section, hence displaying each sock in a downward row.
Having looked at the design I reproduced it onto a flattened-out little white box and it kind of works!
So without further ado here goes!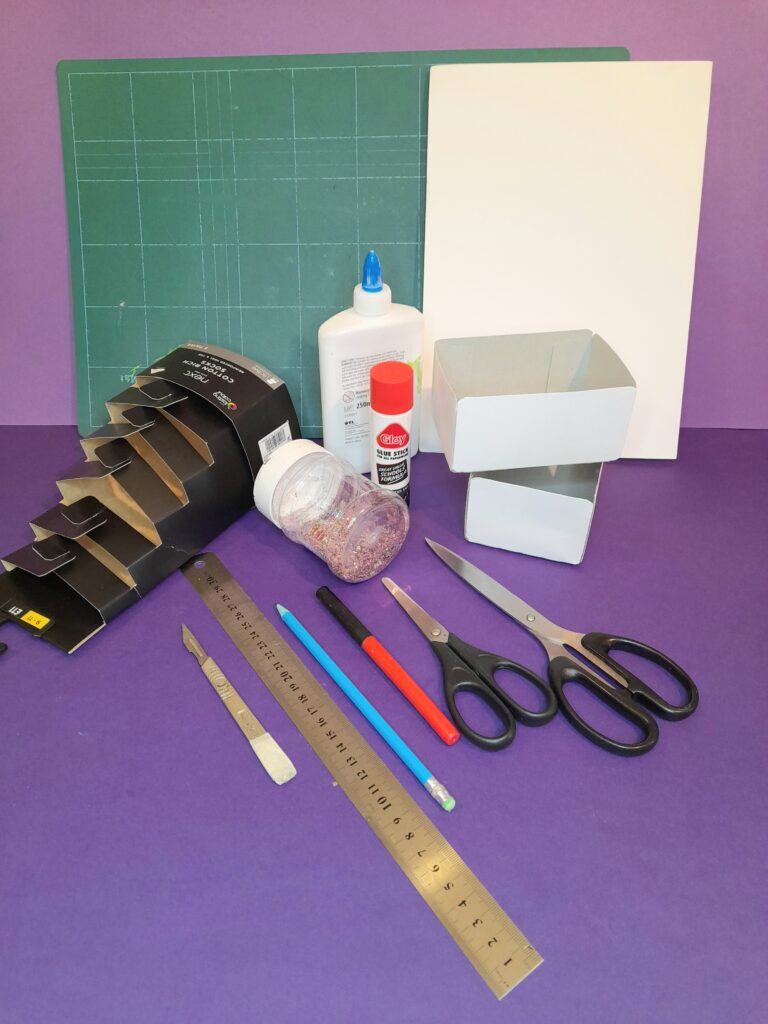 RESOURCES!
A sock package holder.

2 little white boxes.

PVA glue.

Glitter/Glue stick (not shown)

Paper to glitter on.

Scissors, large and small.

Metal ruler

Scalpel.

Rubber-ended pencil.

Cutting board.
Cute aren't they? Once you add the glitter it brings them to life! It's nice to know that you can upgrade these little white boxes into glittery kids Jelly shoes!
Try to find 2 small open-ended boxes, that you can use.

You can draw up thicker straps to make it easier to handle.

Instead of cutting slits to attach straps from one side to the other, you can glue them together instead.

To make the heel you need to score gently with a scalpel, a triangular shape to make it bend inwards, as you are working with a square-shaped heel.

Catch your glitter and pour it back into the pot, so as to re-use it again.

If the inside of your boxes are neat and not rough looking you don't need to cut out the inner soles, you can leave that part out.

I found that gluing the first straps to the heel helped form the shape of the back of the sandal.

The last image is a template I worked with, I roughly drew it up. You can do one with fewer straps.
Resilient material.
Jelly shoes are made from a porous type of PVC plastic (known as polyvinyl chloride, a jelly rubber)
Strong.
They are very hardy shoes, tough, strong, and durable.
Great in the rain.
They are waterproof, hence resist rain so no worries about them getting ruined, but watch your socks.
Wash clean.
If they get muddy, then simply you just wash off the dirt back to its original state.
Great protectors!
What I like about these types of shoes, is that they are a super protector when you go wading along the shore of a pebbly beach and these Jellies, protect your feet from those sharp stones littered on the shore and further into the sea. 
How painful will it be without them?
Sore feet!
The material they are made from can be quite tough and when you first wear them, so if worn for too long you may get sore feet.
Solution!
Wear socks, so that they don't rub onto your skin, or Lubricate the inside of Jellies with some vaseline, although this can feel a bit sticky.
Not happy feet!
As jellies are made from plastic, it's a non-breathable material, so your feet will get a bit sweaty.
Ouch!
So your feet may become a bit uncomfortable due to rubbing, causing friction and ultimately blisters.
Due care!
Don't overwear your Jellies, if feet become sore, take them off to give your feet time out.
Jellies come back in fashion again and again even with all the negatives, they are still very popular and we love them anyways💜
They are Fashionable and stylish and we can't help it we want more!!!
Where can you get hold of them?
Click the button on the left to see the different styles of Jellies!
You can still find these lovely jelly shoes at KIDLY UK
They feature very stylish, elegant, and top-of-the-range jellies. A range of colours to choose from and different styles designed for ease of wear and comfort.
There are the Bondi Jelly shoes that have been designed to make it easy for kids to put on and take off with easy velcro straps. Toe protector and an external easy grip feature.
The Bre Jelly sandal, also features a close-toe protector, simple popper closure, adjustable straps, and a panda print sole.
Also, there's the familiar-styled Jelly sandal with a removable cushioned insole. Adjustable velcro strap and a decorative buckle.
All sandals are phthalate and BPA-free PVC, and insole EVA  and buckles are nickel-free.
Do check out for offers on their range of Jellies.
If any of these Jelly shoes are not available, please check for other styles, but act quickly selling fast!
Hey there, when you click on links in this post and you make a purchase, I may earn a small commission that l can use towards resources (other than throw-outs) for project making within my website😀
To Conclude!
In this post, I show you how you can up-cycle little white boxes into 'kids Jelly shoes!'
The idea came from following the style of another package, that looked like a Roman sandal. 
All you need is some glitter, PVA glue, scissors, and some nifty cutting 
So go and seek within your recycled collection and look for any type of open-ended boxes that you could use for the purpose of this project!