Stop! wait a minute, don't throw it out! just think…. what you can do with it!
Kids recycled art.
Check your rubbish, scraps or junk and use your imagination at what Crazee Kids Art you could make. Think of all the kids recycled crafts you can get cracking on. Involve your kids, have a subject in mind, here are some ideas from the list below:-
| | |
| --- | --- |
| Animals | Halloween |
| Monsters | Easter |
| Space ships | Christmas |
| Instruments | Emoji |
| Fruit/Veg | Stories |
| Food | Super Heroes |
| Seasonal | Insects |
| Sea Creatures | Kids Ideas |
Depending on what piece of junk you want to work with. So with your choice of subject, say it's a monster Growl!!! pick your item of scrap and ask your kids, can we change this and how? So what do we need to do?
Julia's tips and ideas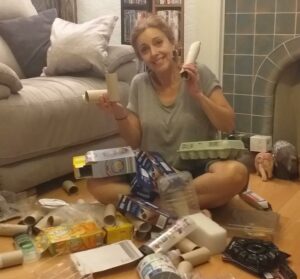 As a mum of 3 and working in schools for nearly 20 years, I have worked on different projects, of which included making the use of our junk that we throw out!
We have an abundance of wasted empty products that can be used again, but in a productive way. Kids enjoy making something out of an item that was used before for a certain purpose and turning it into something else.
For example, how you can transform a dull plain looking toilet tube into something really fun and completely different. You can then by following my demo model or work together with your child and create something cool. I can offer you tips and advice as we move on.
How are we going to do this?
My aim is to provide you with a step by step guide on how to make simple child friendly art projects, in hand teaching as we work with our kids. Story telling including familiar children stories and singing nursery rhymes for the young and simply having fun! I will endeavour to show from a very simple method of making something to a more finished product for the older kids.
How we can help our planet.
On a serious note, as a society we have become more and more a throw away nation. We have to recognise the damage we are causing by mindless dumping on our land and creating so much surplice waste, harming nature in the process.
Its time to get serious and work at how we can regenerate our packaging and use it again in another practical way. We are slowly depleting our planets resources. All big corporate companies, governments and leaders, need to sit up and take notice. They have to prioritise this issue and look to the future for our children, providing a healthier and safer environment to live in, finding different ways of re-using resources without damaging our environment.
So even in a small way, we can utilise some of these throw away goods and make use of them again, even if it's through art for kids!
Conclusion (let's recap)
I can provide different kids art projects, using recycled junk, showing step by step guide on how to make something out of our throw away junk. Not being too afraid to try things out something new and at the same time teaching our kids how to interact, use their mobility skills learning how to follow instructions and feeling great about completing a project creating something cool. Using familiar stories or nursery rhymes to promote interest and kids will be learning at the same time having lots of fun!
I will show a simple version of an art project to a more refined one. Demonstrating through video and still pictures, talking you through and entering the world through children's eyes. Telling stories whilst crafting, or singing away to nursery rhymes or even adding a bit of tasteful music. Creating magical characters or creatures or recognisable symbols, giving you tips and techniques. I shall be listing what resources you will require, or the next best thing. Having a whale of a time even having a laugh, possible show boo boos and how to amend them, you might not get it the first time round, but practice makes perfect and you may surprise yourself!
This is the first time for me that I am doing anything like this, so even for me if there are any questions or advice I can offer then please fill free to ask away. I will do my best to help.
Thanks for viewing my website and Let's have fun making stuff. In a crazee bazaar way I find myself collecting and NOT throwing out packaging and grabbing empties just in case I can transform it into something cute or amazing. I find myself looking more and more at rubbish, and scraps thinking all the time what can I transform this into? So with a bit of lick of paint and a bit of glue and tape, aiding and assisting your kid and together make something from a round, hollow, square, see-through, pointed or spongy shape come alive through ART is pretty cool!
So let's see you on the other side!