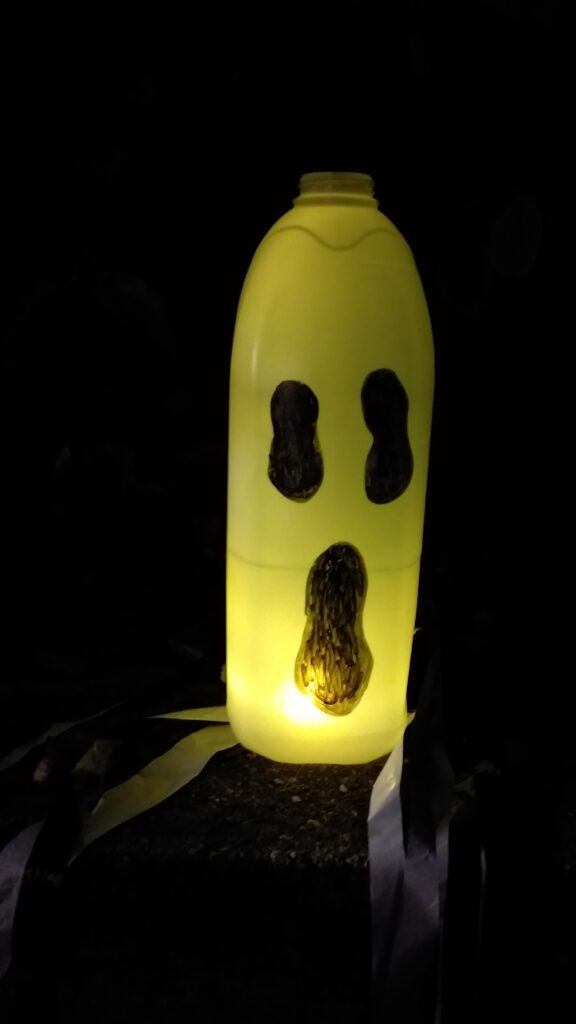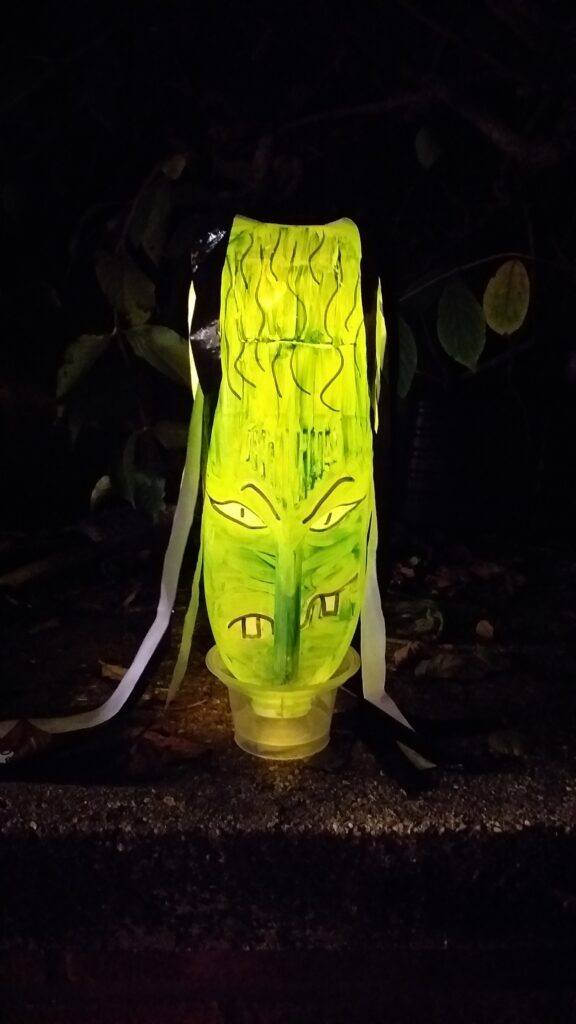 Does it make you wonder how far you can go with your crafting for Halloween?
When you look at your resources is there another way to use your chosen item, a plastic milk bottle in a more practical way?
My aim is to  re-use your throw-outs and recycling them in a smart way, the theme is 'milk bottle and Halloween'
I am going to show you how you can transform it into a very simple 'Ghost' and on the other side a 'Witch'.
You may ask yourself, I've seen this before and maybe you have, but maybe not like this!
I was wanting to make one Ghost and one Witch using two milk bottles, but I could only find one bottle and whilst playing with this large plastic bottle turning it around and upside down, I thought hold it, why not do a duel ghoule with just one bottle!
The handle of the bottle looks like a nose, a long Witches nose and if you spin it around on the other side there is the perfect surface to do your Ghosts eyes and mouth.
In this craft project as it's about a milk bottle and Halloween, the dark, creepy nights and lights, I will add a LED tealight inside the main body part to make it light up!
When the LED tealight is switched on, the light will glow and the Ghost or the Witch, will light up and be quite effective from afar.
So you can hold it and spin it around for a different effect, or just choose one side rest it on a step and it will light up in it's glory. 
Before we start here's a quick reminder on what's Halloween is about!
There may have been some facts, that you or your kids may have not been aware of as the history of Halloween isn't really highlighted that much, other than the amazing costumes that you can purchase or make for your kids to dress up in and go out trick or treating and now even Halloween partys are a big thing!
We have lost our way over the years and now it's become more of a fun thing to do over Halloween.
For some reason kids love scarey things, dressing up as Ghosts, Witches, Vampires and Monsters, at least that part hasn't changed!
Hey let's not forget piles and piles of Pumpkins popping up everywhere reminding us it's Halloween all over again!
Let's get going this is what you need:-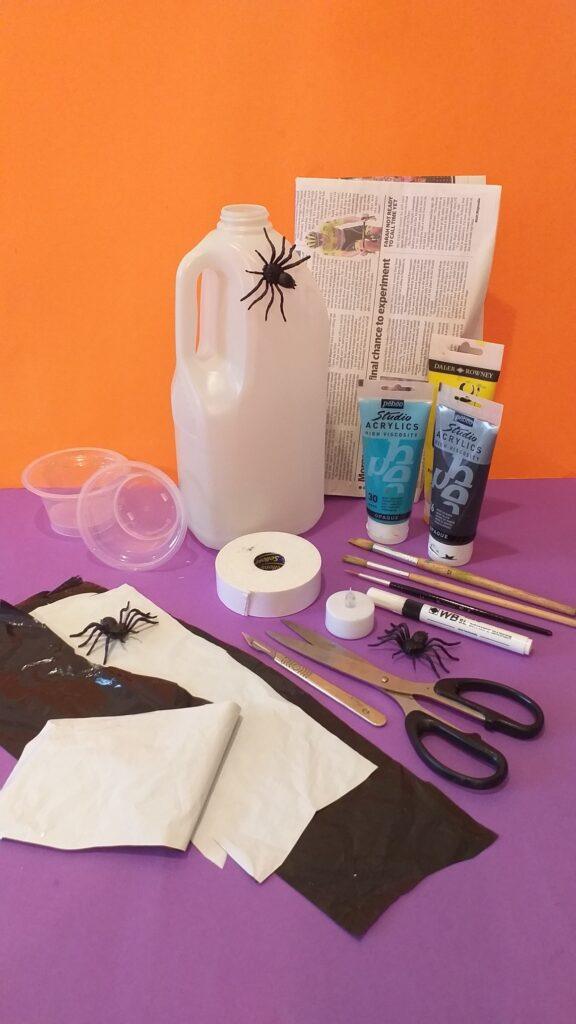 RESOURCES!
1 large plastic milk bottle.

Acrylic paints, black, lime, yellow blue, white.

Scissors, scalple.

1 LED tealight.

some double sided tape.

Black or white plastic strips.

Brushes.

Black felt tip pens.

1 Empty plastic cup.
This project is so easy and quite quick to make, The only length of time you need to allow for is for the paint to dry. 
Also when it's completely dry then you can apply with the black felt tip the hair and to touch up the Witches features.
I wanted to be practical and make the best use of one plastic bottle, but if you do have quite a few bottles you can make different Ghost faces and different Witches faces, for your milk bottle and Halloween project!
         

  A FEW USEFUL TIPS!
Make sure to wash out the plastic bottle with some detergent and drain upside down on some kitchen towel so any water drains out thoroughly.

Be careful when cutting out the little door with a scalple, alterntively you can use a pair of sharp scissors.

Remember to keep the flap or door which you can push back and paint over it.

If colouring in the eyes and mouth of the Ghost is not dense enough, you can cut out of black plastic similar shapes of the eyes and mouth and stick them on with a glue stick.

The black plastic is from packaging I received, which is black on one side and white on the other, it makes nifty stringy hair, but it's optional, you can instead use any colour to do the hair.

If it's a windy night, you can place a smallish stone or rock inside the bottle to hold it fast.

You need to switch on the tealight before you stick inside the plastic bottle, as once stuck in place it would be difficult to turn it on or off.

Switch off the tealight when you are done, to save it for the next night or so, but you will have to un-stick it by pulling it out and re-attaching when you want to use it again.

Don't forget the empty plastic cup to support the Witch in when you put her outside, as the bottle may topple over.
Remember you need to act fast, if you haven't already started being creative, but short of plastic milk bottles, ask around relatives, friends or neighbours for theirs.
No need to worry about the size, you can go small, medium or even really big, depending what you can get your hands on!
Just think you would be recycling and having lots of fun with your kids, making spooky, creepy creations with something so simple and with very few reosurces.
So drink up your milk, collect your bottles and get Halloweeeening!!
Love to see how you or your kids got on, simply post me a message and I can update with your Ghoulish creations!!!
Hey, just a quick reminder, want to know how to make

cute little

Pumpkins

out of cardboard toilet or kitchen roll inner tubes? then check out my previous post here's the link!