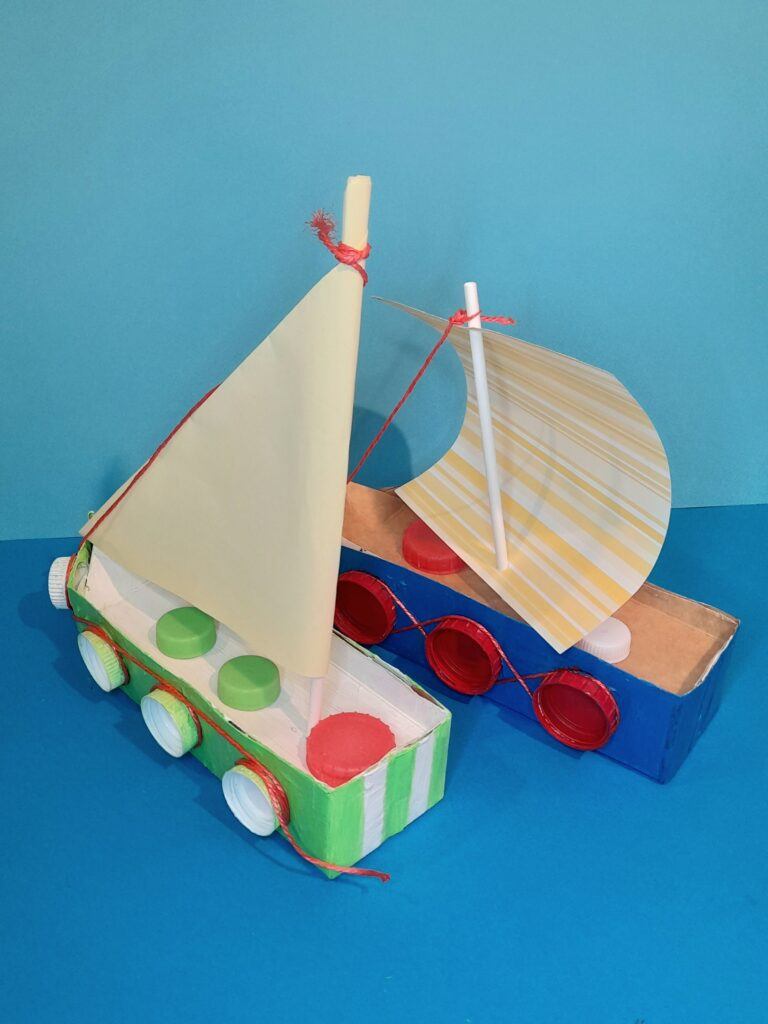 You can't get enough boats! How about up-cycling your milk or juice cartons into fun, kids, sailing boats!
Summer, Sea and boats!
When you think of summer, do you imagine sailing a boat, to and thro on the ocean waves?
Hold that thought……when it comes to our kids we need to entertain them, being in a boat is fun, but how about making a boat.
I don't mean for real, but to get your kids to craft a very simple boat.
There are quite a few different ways to do this, but in this instance we are going to utilize our throw-outs and up-cycle them into something fun! How about a 'Milk carton sail boat'?
Let's consider what works in water!
I looked at egg boxes and these could be a very easy option, but it will sink as its made from composite paper. It would be fine if it's just to make and have as a show piece, but on makeshift waves.
So egg boxes not good to put in water, but on dry surfaces.
Then there is  polystyrene, I found various mould used for packaging and they can be cut down into a long type of vessel and this kind of material will float and can be decorated.
So polystyrene could be an option.
Then I looked at ordinary plastic food holders, some are shaped like boats and can easily float on water, although some work will be needed to attach a sail and make it look boat like.
So clear plastic moulds are suitable, but need painting and decorating a bit.
Examples of these packages are shown below.
How about milk or juice cartons? Let's see…I think this will be more challenging as an activity and who doesn't have enough milk or juice cartons to practice with!
What kind of boats and solutions let's recap!
In my last post, 'Make paper boats that float!' I demoed how by using the folding techique, (starting off 2 dimentional), to make a boat (becoming 3-dimentional) and by preventing it from sinking, I recommend laminating it as an option to keep it dry.
So create a design within a laminating pouch then laminate it and using the same folding technique you will create a plastic like boat, that will last longer in water!
Now let's move forward to this activity!
Within this project, have you guessed yet….we will be making boats and yes we will be using cartons!
My Intention!
We are going to look at making a 'milk carton sail boat!'
Having looked at a milk or juice carton, it's long, it's 3-dimentional and if you put it on water it will float, but we need to change it and make it look more like a sail boat.
Experimenting with paints!
Before I started with this project, I played about with acrylic paints to see how they would hold up in water.
Acrylic paints.
Just acrylic paint, does not last well when exposed for a long time in water, I found it would curdle up. It's composition is to have a plastic like finish, though I found it would still need sealing.
PVA glue as sealant.
Now sealing acrylic paint with PVA glue and allowed to dry is your best option. Not only is it lasting, it will also give you a glossy finish.
For a very tough lasting result, you can cover in craft vanish, but for the sake of this project PVA glue will be adequate.
Out of water.
When removed from water, you would need to allow the carton, or boat to dry well. In this way the paint stays flat, smooth and will not curdle. It may still have a sticky feel to it, you will know when it's completely dry when not tacky to touch.
As show piece.
If you are making boats, but not to put in water just as show pieces, then you don't need to cover it in PVA glue, unless you like the glossy finish.
Now we have got that out of the way let's begin! 
But, before we start, here's a quick look at the alternatives!
Below are the three packages made of different kind of materials, that I mentioned above, they are possible options to turn into boats, but in this project we are working with cartons!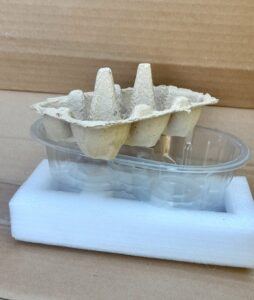 Here are the sides and inside view of an eggbox, polystyrene and plastic packaging.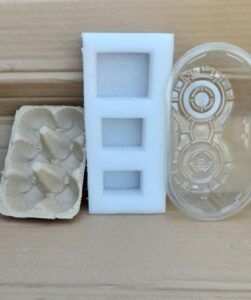 Update!
After I completed this project, on the
'milk carton

sail boats'

I decided to have a go at changing these packages into boats!
I didn't want to leave you hanging and wondering what these three different packages would look like, so here they are!
Check them all out!
Now you can see how you can adapt each package into a boat!
I hope this helps, rather than try to visualise it, of course you can try these ones out too, It's really what you can salvage from your recycled collection!
Now you have four boat ideas to choose from!
👉 A quick review 👈
Egg box and Polystyrene packaging.
I found with the egg box and the polystyrene, it was easy to make quick holes with a sharp pencil and twist or push the straws into the middle sections of each one as shown in the images above, then you can slide your sail with the punched holes, through the straws.
I used split pins to attach the string to and push it through the polystyrene.
Plastic holder.
With the plastic holder or casing, I used a straw and jammed it length wise against the plastic wall and it worked, it held there well allowing you to tie another straw with some string, so it's like a t-bar then again you can slide sail through the straw. 
Just to let you know!
Also I discovered, it might be easier to punch the holes in a triangular sale and slide a straw through it, this way it might be less complicated for younger kids to do, rather than roll the sail as I have shown below for the 'milk carton sail boat', which we are going to start with next👇
THIS IS WHAT YOU WILL NEED!
Are you ready? Let's start our milk carton sail boat!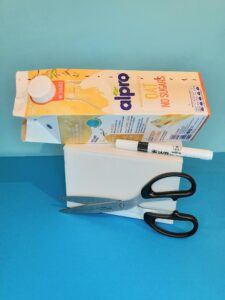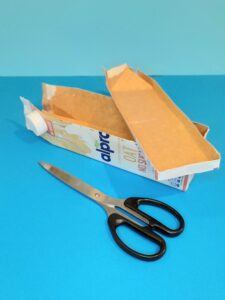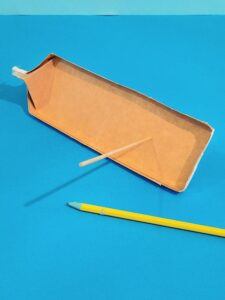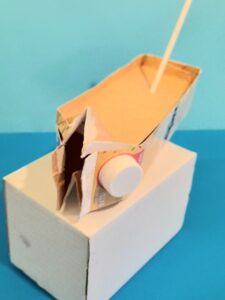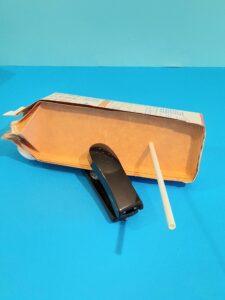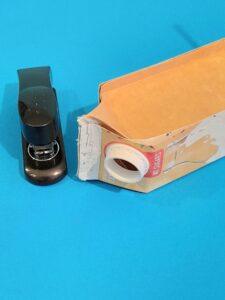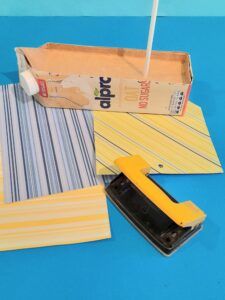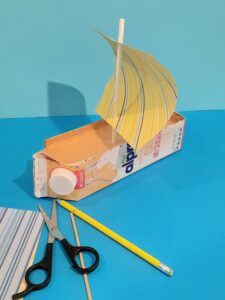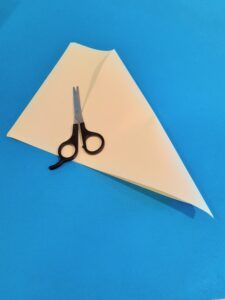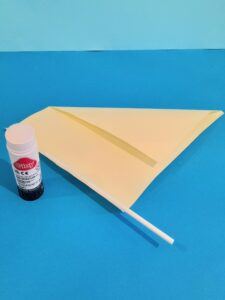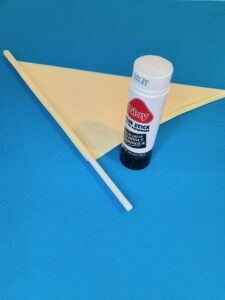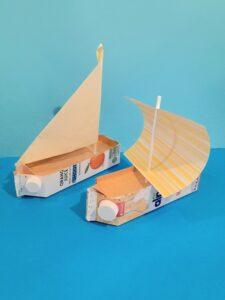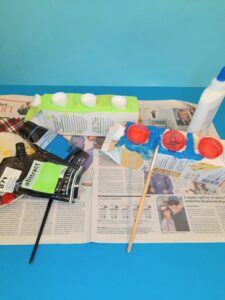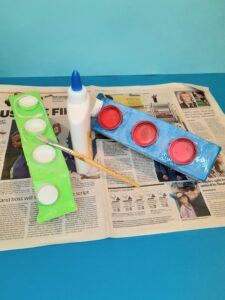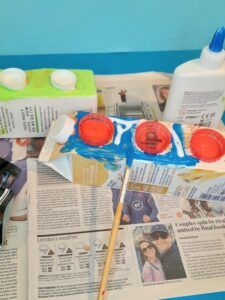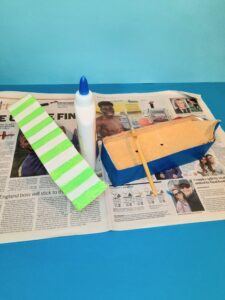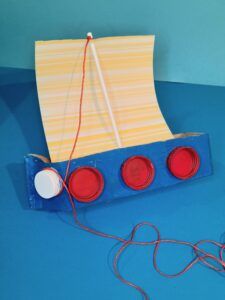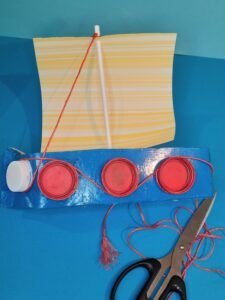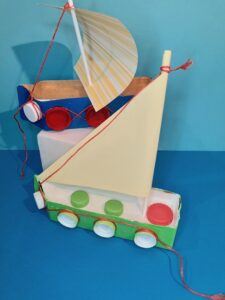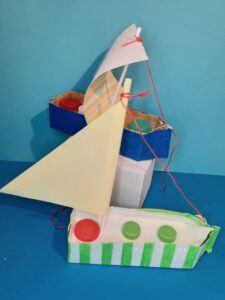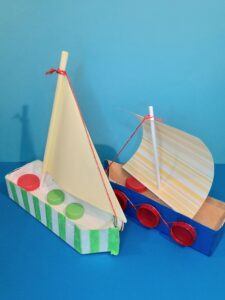 SOME TIPS!
When cutting with scissors try to make a straight line, as it's quite difficult to neaten it after angling the scissors is a bit awkward.

Stapling two parts together is also a bit tough it would be easier to hold in the air and staple, or use the hot glue gun instead.

If you go for a triangular sail, then one hole to one end of boat will be fine, judge how big the sail will be then make the hole in the appropriate place.

If you are going for square sail having a hole off centre on deck will be fine.

Before painting with chosen acrylic paints, glue on the lids, so the inside of lids are facing out.

If using darker paints you won't need too many coats, but, you may have to paint white as a base to hide all text on cartons, if you are using lighter colours.

You will need to seal the paints by painting PVA glue all over.

Decide how you want the string to go on and wrap it around the lids on the outside of carton.

When painting the carton staples will appear as little lamps, hence using hot glue gun to stick sections together instead will prevent this, but if this does not bother you then stick with staples, it's quicker.

Finally, I added lids on the inside of carton for decoration, you can sit a lego man on deck!

If you prefer to keep the cartons in their raw state, without having to paint them then that works too, as you are showing how creative you are by up-cycling your milk or juice cartons into a super sail boat!
Let's check out sailing our milk carton sail boat, or boats!
I put them in my bath and by gently blowing air, saw our milk carton sail boats drift to and thro.
Hey there, this might be of interest to you! checkout these super boats that are great alternatives at your fingertips!
There are two options, both are brilliant at getting your kids to get creative. Whether it's putting their mark on it, or simply role play and escape to some tropical Isand!
The first, are a set of boats from Baker Ross, quick, fun and ready to sail away and you get to decorate them!
The second, is from KIDLY UK, a lovely wooden boat with sail, that stands alone and kids can use their imagination in any adventure they desire!
Besides, your craft project, If you are looking for a quick solution and want boats that are ready made and all you have to do is decorate them? then check out these 5 cute, colourful boats, you add the final touches and decorate with some fun waterproof pens. Baker Ross, has everthing you need to get your kids started and 'Ahoy, me hearties! All hand hoy!'
If it's purely aesthetic reasons and want a wooden boat that is pleasing to the eye and includes a couple of characters, this Sailaway boat looks good as a show piece or to simply play with make-belief sea.
A lovely piece at KIDLY UK for your kids to sail their characters away to some far remote Isand. 
Hey there, when you click on links in this post and you make a purchase, I may earn a small commission that l can use towards resources (other than throw-outs) for project making within my website😀
To Conclude!
In this project I show you another way of making fun sail boats and by up-cycling your ordinary milk or juice cartons and when completed you can sail them in some water, all you need to do is to help them along with plenty puffing and blowing! 
Once you divide and seperate into two parts, flipping top part over makes the boat look like it has a deck, then you are on your way!
Then you can paint and decorate a design of your choice and finally after you have added a sail you no longer see the original milk or juice carton you started with, but a super duper sail boat!
Finally, how did you like working on this project? Kids love to create and make things out of throw-outs and no matter how it turns out, their interpretation is great and we love and adore them for it!
So what are you waiting for hold on to your cartons, as this is a super summer or anytime project for your kids to participate in and enjoy sailing those boats!
As a treat check these two short videos out!
After endless search to find the right Row row row your boat nursery rhyme, here is what I liked!
The first is the familiar one we sing at school, but I think I prefer the second one short simple and quite amusing!