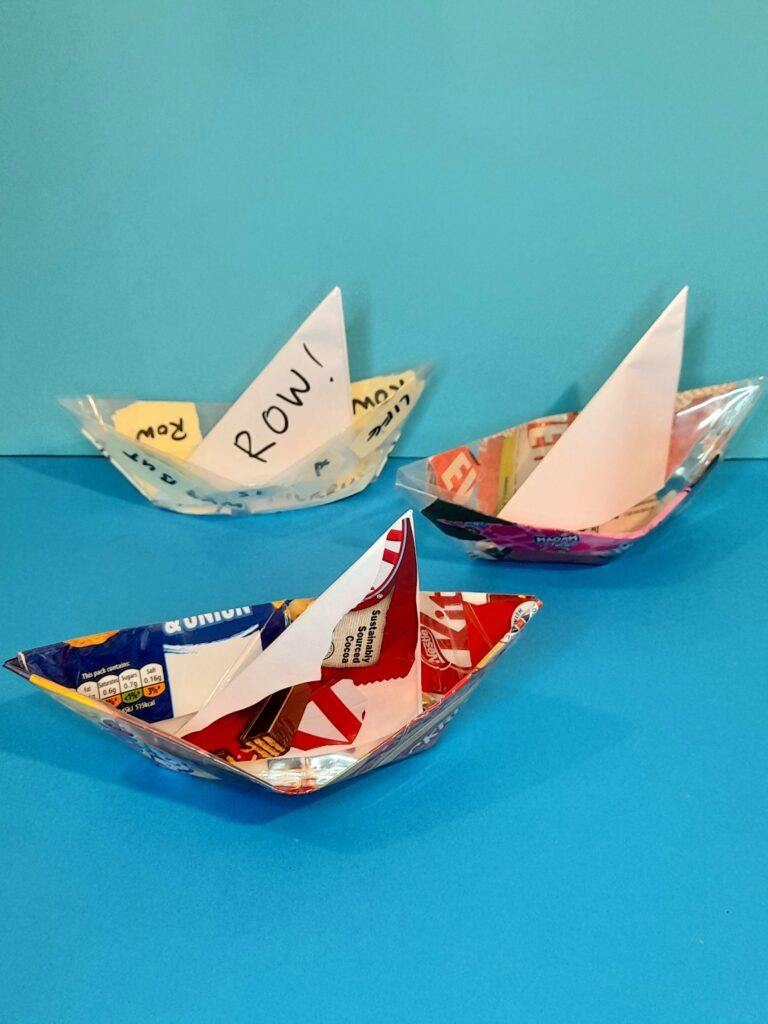 Row, row row that boat gently down  stream….Do you remember that nursery rhyme?
We are talking boats, here is a subject that all kids love! Small boats large boats, crafts, speedboats, ships, pirate ships, yatchs, diggys and sail boats.
My intentions!
In this post I am not going to show you how to build a boat, I wish, but more like find an easy solution to kind of craft a boat, out of paper.
Because we want our boat to go into water, we are going to………..      make paper boats that float!
What kind of boats?
Glancing upon our harbours there are rows of boats all lined up ready to venture out to rivers, canals and even to sea.
Sounds good doesn't it? like freeing yourself from the city fumes, noise and congestion and out to freedom, breathing in fresh air and breaking free from the ties of our everyday surroundings!
Wakey, wakey let me bring you back to reality.
Can you remember, or have you ever when you were a kid or even have your kids ever tried to make a paper boat?
I remember back in the day as a kid I use to be able to make a paper boat out of a newpaper!
Then over the years, unfortunatley forgot how to make one, I just lost that hey presto moment!
I was challenged!
Until one day having sat in a class a child asked me if I could make him a boat!
Oooo'h I thought, I'll try, well have many takes, I failed drastically. Fold after fold I tried and just couldn't pull it off.
Time after time I tried to fold an A4 sheet of paper and kind of got halfway there, then lost my way.
I let this go, but was not beaten yet. By fluke, I randomly grabbed an A4 sheet of paper and without much thought had another go and viola I got it! I found the way to fold and pull out a boat.
Float or Not?
But will it float? I asked myself, the kids would run to the sink fill it up with water and place their paper boats in it.
For a while the boats would sit on top of the water and the children would  push or pull them or even blow and they would float, but this was not lasting!
Eventually paper being paper got water logged and the boats would eventually sink!
So how would we stop this from happening?
How can we make paper boats that float?
So the solution to this is to stop the paper from getting wet, how? you may ask.
Well it would have to be covered in plastic and with what? you may ask. IMPOSSIBLE!, well not impossible.
How to secure the paper!
Simple, paper will be laminated! Once you laminate your paper that in itself will protect it from getting wet and sinking!
This is cool as you can layer any kind of paper you would like within the laminating sheet.
(You can find Laminating machines and pouches at :- Hobbycraft, Amazon, Argos and Currys.)
What resourse?
As I like to recycle my throw-outs, I kept hold of my sweet and crisp wrappers which I will use as decoration for the boats and or even bits of newspaper!
Also a hand written nursery rhyme that I will also use to decorate our boats as well.
So are you ready?
Here is a short demo, showing you how to fold your A4 paper into a boat. (I use a similar method.)
Easy once you get your head around it! 
Your preference!
So to make these boats waterproof, before all the folding goes on, you decide how you want the boat to look, either use simple plain coloured paper, or collect your designs, graffiti, or written nursery rhyme.
When laminating!
Arrange on your opened up A4 laminating sheet and when you run it through the machine it will come out with everything intacked and ready to be folded.
With the nursery rhyme, I tore up the words and placed them next to each other in the way the song is sang.
Here are the examples, one with snack wrappers and the other the lyricks from 'Row, row row your boat' nursery rhyme.
Once you have laminated your sheets, you can go ahead and fold them into boats by following the steps in the video above.
It may be a bit harder to fold the laminating sheets, as they are quite resistant to your folding, but persevere with it kids may need an adult to help, pressing hard to get a crisp fold.
Using a ruler will help to make the creases more sharper.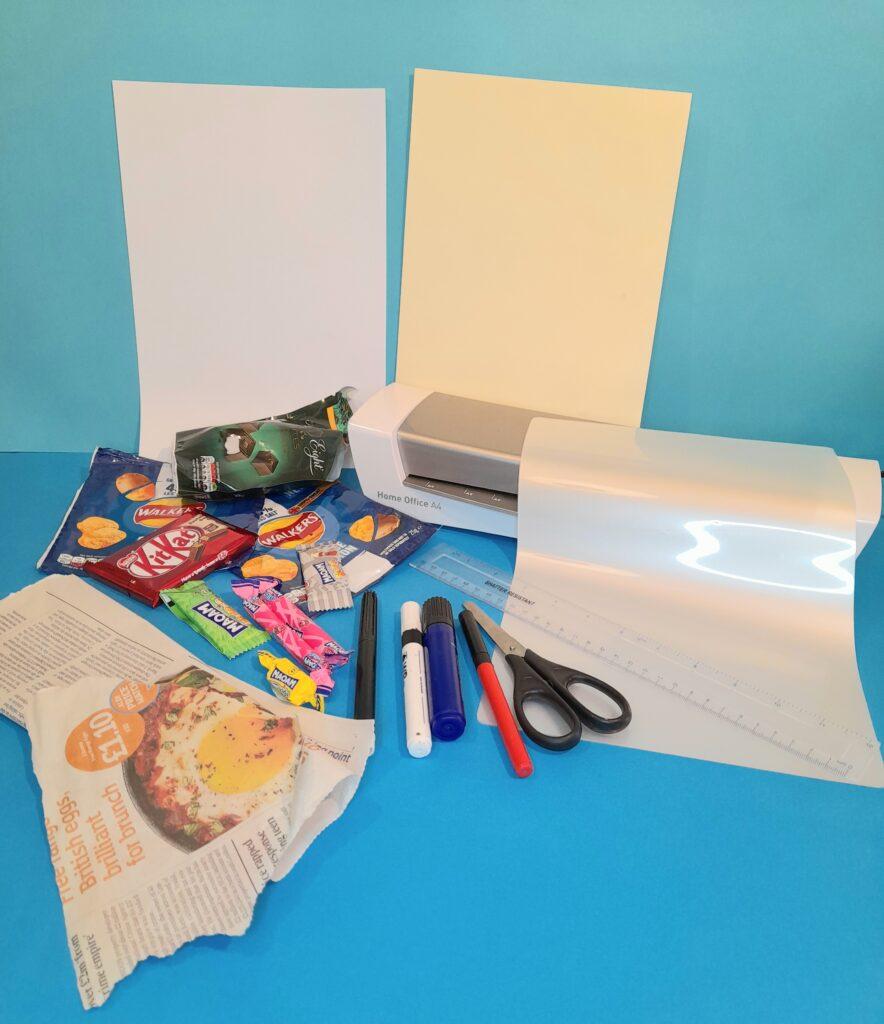 RESOURSES!
Laminating machine.

Laminating pouches.

Coloured papers.(your choice)

Snack wrappers/ newspaper.

Black felt tip pens.

Scissors/Ruler.

Glue stick/selotape.
This time folding laminated designs!
I would have preferred a larger sail, so I found a way to do this!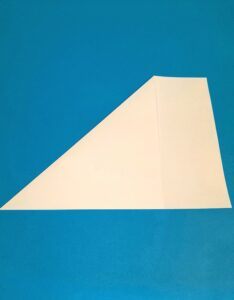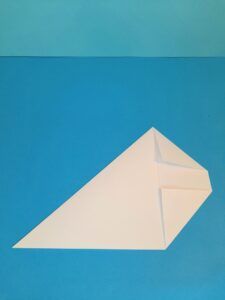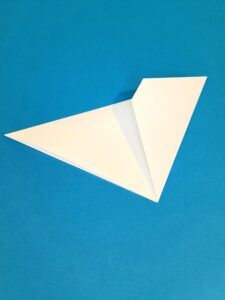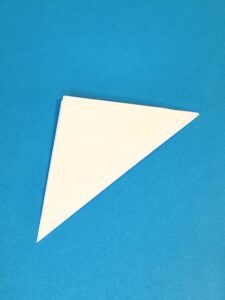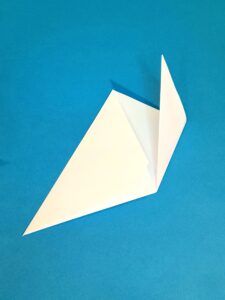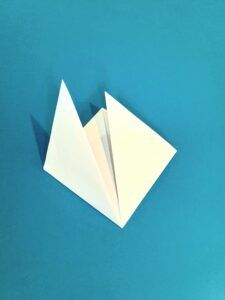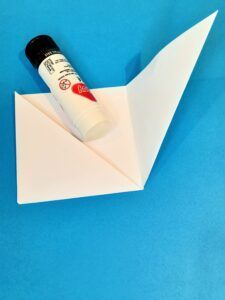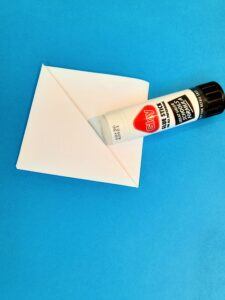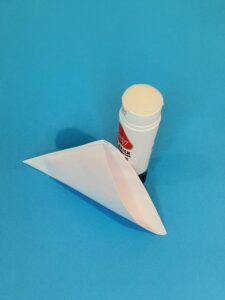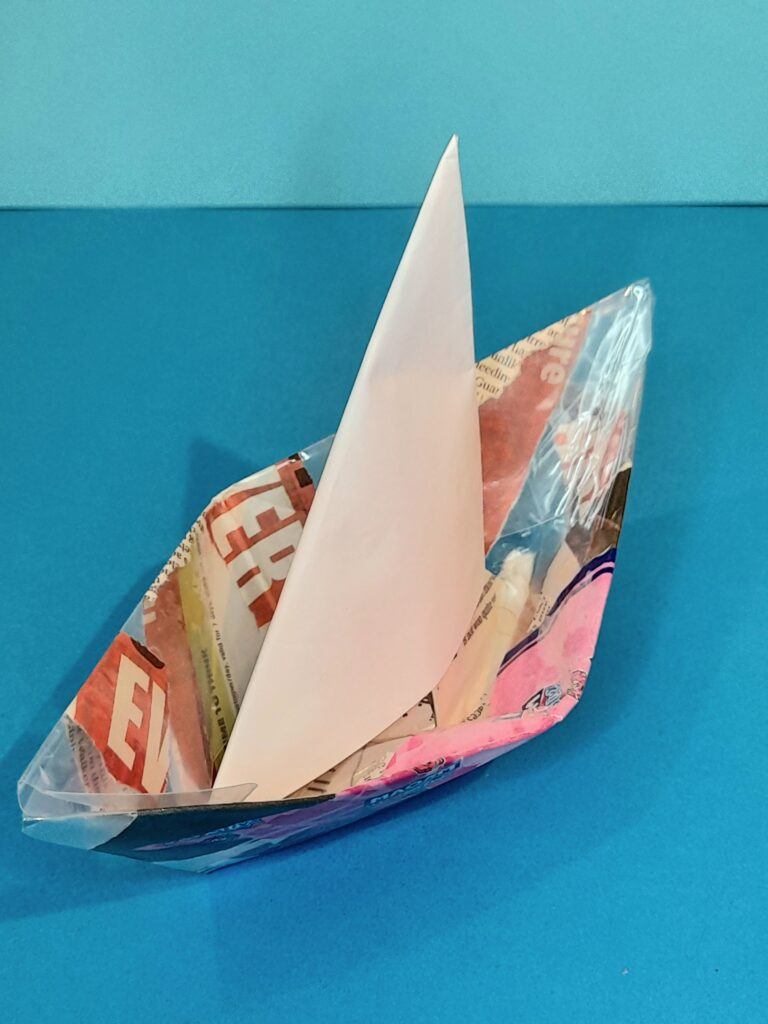 Slide the now larger sail over the smaller sail of the boat, it will look more prominant.
You can have it either all white or  you can glue on bits of the wrappers, to make it more funky.
To stop the larger sail from popping off, you can glue it into place.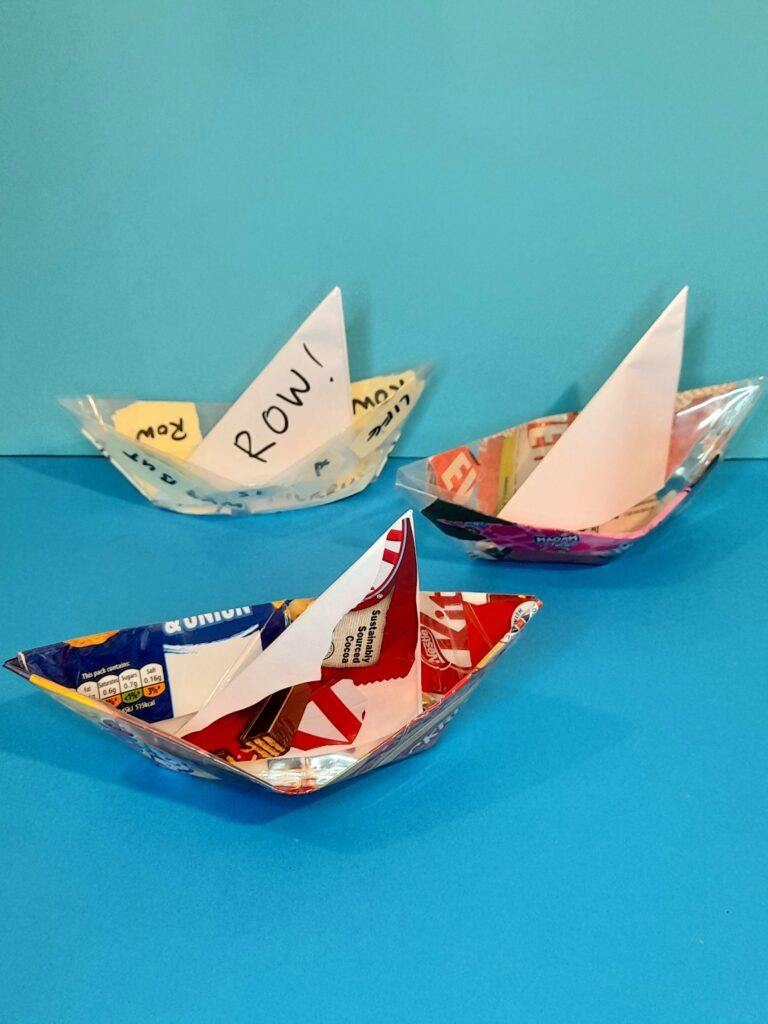 Here are three different style of boats. One in snack wrappers, one with torn newspaper and the last one with a hand written nursery rhyme, then each word was torn away and placed within the laminating pouch in the way the song is sang. Once folded words will go astray, though you can make out whats written and they all have bigger sails!
Here are the boats in water, blowing them to see how they float!
As you can see, these laminated boats float aided with some gentle blowing!
I placed them in a bath of water, to demo this, whereas you can set up a paddling pool or a large plastic bath and have fun, using straws to blow to win!.
They may go slightly lopsided, but you can pull them open at the bottom to give them more square shape, then they will float more evenly!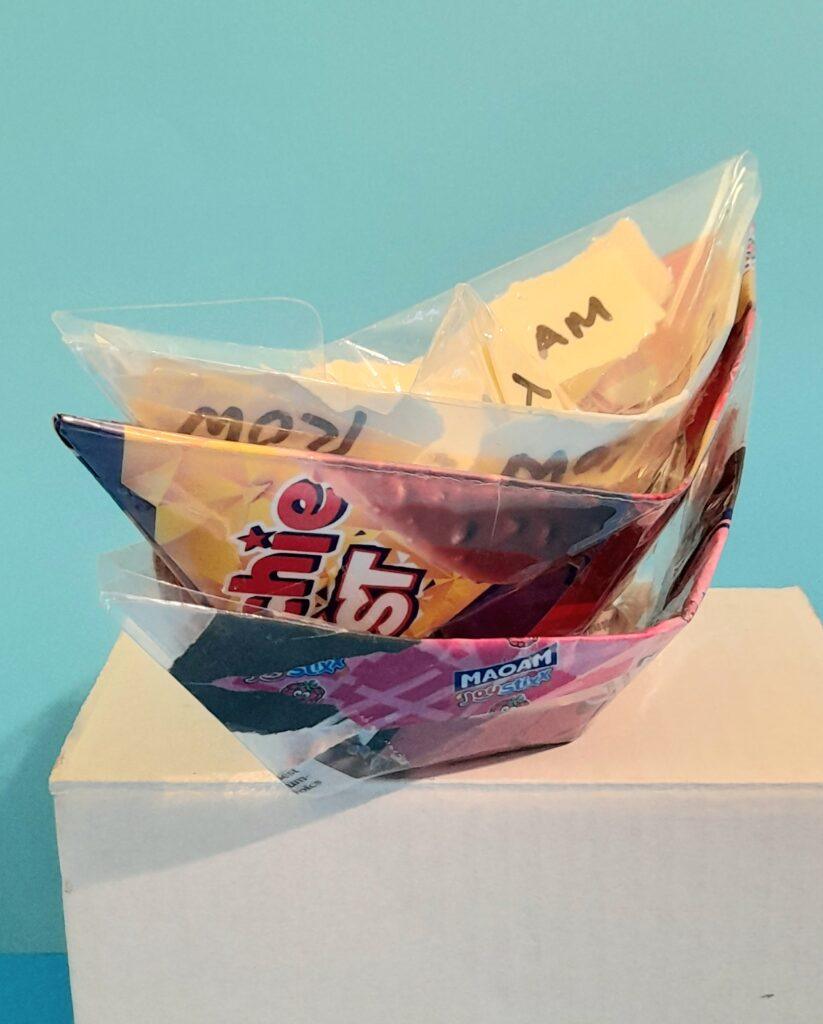 Stackable!
Best of all they can be stacked neatly one on top of each other and put away for next time!
        Some Tips!
Practice folding paper first, until you get the hang of it, then you can then move on to laminating your design.

Your boat design will last longer in water if it's covered in plastic, but you can always stick to just paper or card if you prefer and just make loads of them if they get too wet!

No laminating machine, you can try sticky back plastic, the stuff you use to cover books with, although you may need to tape it down a bit.

Also certain parts of the boat, once laminated may need taping up with selotape, to seal gaps and holes so water won't seep inside it.

When you finish playing with boats, remove them from water and pat them dry with a tissue or kitchen towel to remove water and moisture from it.
Power up that boat!.
One way of making your boat move is, yes to blow it with a straw, but have you ever thought of powering your boat with a balloon?
Yes a balloon! you attach it to a tube on top of the vessel and blow air at the other end watch your balloon inflate and let it go!!!
Hey there, when you click on links in this post and you make a purchase, I may earn a small commission that l can use towards resources (other than throw-outs) for project making within my website😀
Watch this short video to demo it!
TO CONCLUDE!
I have shown you how you can use the same method to make a paper boat, but instead by laminating your design you get to make a plastic boat, one that is much more lasting in water!
In this way you can have lots of fun racing your different boats, blowing through a straw and see who will get ahead to the finish and guess what, you get to race your boats time and time again!
So I hope I have inspired you to think outside the box and put together some cool looking boats!
Don't forget, I would love to show your boats in an update, just drop us a line!
Happy Crafting, in making paper boats that float!
Looking to craft more boats?
Hey there, like to know how to make different kind of boats? Why don't you checkout my next post I show you how to make 'Milk carton sail boats' So see you there!