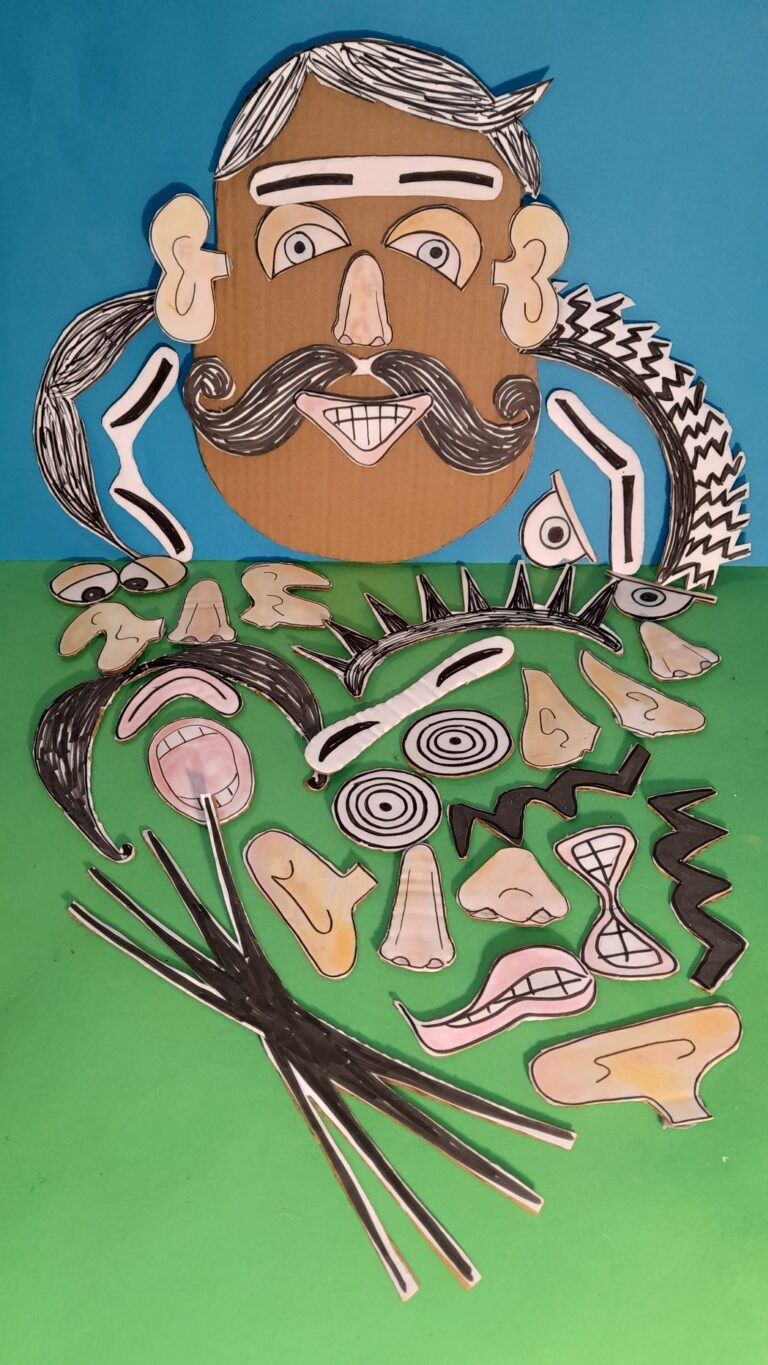 Here is a brown cardboard Mr Potato head with a selection of different attachable features that evoke four emotions.
Recycling your brown packaging to make a Mr Potato head replacement parts!
If I mention Mr potato head does it bring back memories?
Somwhere in your toy box probably in the bottom of your box. Ring any bells?
More clues?
You know the one where you have a very large potato shape representing a head and seperate parts you attach to the head as features?
Now do you remember……
What do we know about Mr potato head, who invented the potato head and why?
I bet you never knew that about the humble Mr Potato Head!
The first toy commercial seen in the early 50's and the idea got so popular the vegetable progressed to more veggies and fruits used in the same way.
There was Katie the Carrot, Oscar the Orange, Pete the Pepper and Cooky the Cucumber.
Creating super heros from Star Wars, 'Darth Tater or from Transformers, 'Optimash Prime.
You almost felt that his popularity started to decline, but it was restored in the Toy Story, where his popularity once again grew.
Also Mr Potato head makes a very good sensory resource for kids to learn with, in a fun and simple way to construct and de-construct parts.
I had considered making a 3D version, but the closest to that would  be to paper mache a balloon which won't give an even finish and will not be very robust.
Having loads of packaging stored up and wanting to re-use these throw outs, was my intention.
To attach the features I found Blu tack, (a rubbery stretchy adhesive) to be the most easiest way to do this and more appropriate for the younger kids, but push pins with a deeper pin could work well for more able children, though an adult should be at hand.
I am going to craft a Cardboard version of Mr Potato Head replacement parts! Not three dimentional, but two dimensional.
In this project I am going to use ordinary packaging brown cardboard keeping it flat and parts of his face will be pieces also out of cardboard which you can Blu tack on!
My version of this will be to have different sets of features, but to over emphasise them in this instance, each set to evoke a different emotion.
Each set would include:-
Hair.

Eyebrows.

Eyes.

Nose.

Mouth.

Ears.

Moustaches.
Four faces, four emotions which are:-
Happy, Sad, Angry, Shocked. Approximately ten parts per face.
Being this project is flat and it's about facial expressions, I decided not to have arms, hands or legs and feet.
KIDS LEARN TO DEMONSTRATE DIFFERENT EMOTIONS!
The potato head starts off as your base, your blank canvas and you create your chosen emotion,
Say your kid is Sad, they can show this by using the appropriate features.
Kids will learn, that when someone is looks a certain way, face and body will show this,.
Facial expressions and the way someone holds their body suggests a certain mood, a certain emotion.
Eyes are very important, they depict the start of an emotion the rest follows.
Your version could be much simpler and kids can do their interpretation of a mood, it doesn't have to be too detailed, enough to make a kids statement.
All this can be done in a fun way, that's why I exaggerated the features.
Here are the cardboard Mr Potato head replacement parts in four different emotions!
SOMETIPS!
For the younger kids, Blu tack will be safer to attach parts to the face, whereas for the older kids, push pins can be used as long as there is a watchful eye of an adult.

What I do like about the push pins, is that they are colourful and a small hand can grip the head of the pin and push it into the card.

The colours of the pins can represent and group parts into catagories, so eg. 'eyes' in pink, 'mouths' in red and so on.

It may be easier to keep the eyebrows in one strip, rather than individual parts, as I have done.

You may just have one style of a nose and keep this as the main part throughout your different emotions.

Stacking three cards together for the face, will enable the push pin to go in and not protrude through the other side.

A 4B soft pencil works well to trace off features, flipping tracing paper over and drawing parts again, then flip it back and draw features again  onto your card will transfer more easily..

When looking for your brown packaging card you will need it to be at least A4 size or larger to make a Potato head similar to the one I have presented.

To fix the chalks use a hairspray, this will set the chalks.

Store in a large see-through zip bag.
You will need to put some time aside for this project, as there are quite a few bits to prepare, with a steady hand.
You will need to draw up your features against the blank face, to size trace off on to white card, then cut out over-size and stick on to card and cut out again.
So sit in a comfy chair, watch your favourite program and cut away!
There are ten single parts to prepare for each emotion.
Remember the size of your card may vary, so would the size of your chosen features.
DON'T WANT THE HASSLE OF DRAWING.
To help you along I have presented six pages with all you would need to kick-start you off.
If you print to an A4 size and your potato head is around A4 even slightly larger, these images should be in propotion.
TO PRINT OUT.
Right click on image, '

save

image as'

, to '

downloads

' or '

documents

', then

right

click

to

print

, Select settings to print to A4, or full page portrait, then print

each page out.
Or refer to these images as examples and you or your kid can draw them free-hand and make your own interpretation of each feature.
May I recommend something on the same lines as Mr Potato head? I  came across a super wooden magnetic toy from this lovely website
This toy has a similar function of exchangeable interactive facial features, that evoke different emotions. In this instance the face can be adapted into a boy or girl, just change parts with a lasting painted finish.
Take a look at this super wooden kids puzzle called 'Whats up'
From KIDLY UK, With 28 magnetic feature pieces!
A super wooden interactive toy that allows children to experiment with changeable parts. also showing emotions.
Just like the Mr Potato head, only in this instance kiddy features all made from high grade wood,
Hey there, when you click on links in this post and you make a purchase, I may earn a small commission that l can use towards resources (other than throw-outs) for project making within my website😀
Easter deals are now on, check out with this link below.
Up to 20% off!
TO CONCLUDE!
I Have shown you how to make good use of your brown packaging, and turn it into Mr Potato Head replacement parts!
In this instance the replacement parts are designed to show different emotions, you choose either how you feel, or just to create your own emotion!
Simpley by attaching the cardboard feature one by one to the blank face.
With just a few resources you or your kid can be quite inventive and either use the features I have provided just like the ones shown on the finished Mr Potato head, or do your own version.
So what are you waiting for, this is a really nice project to do and you don't have to knock it out in one go, you can space yourself and enjoy the making of a
'Mr Potato head replacement parts!

'