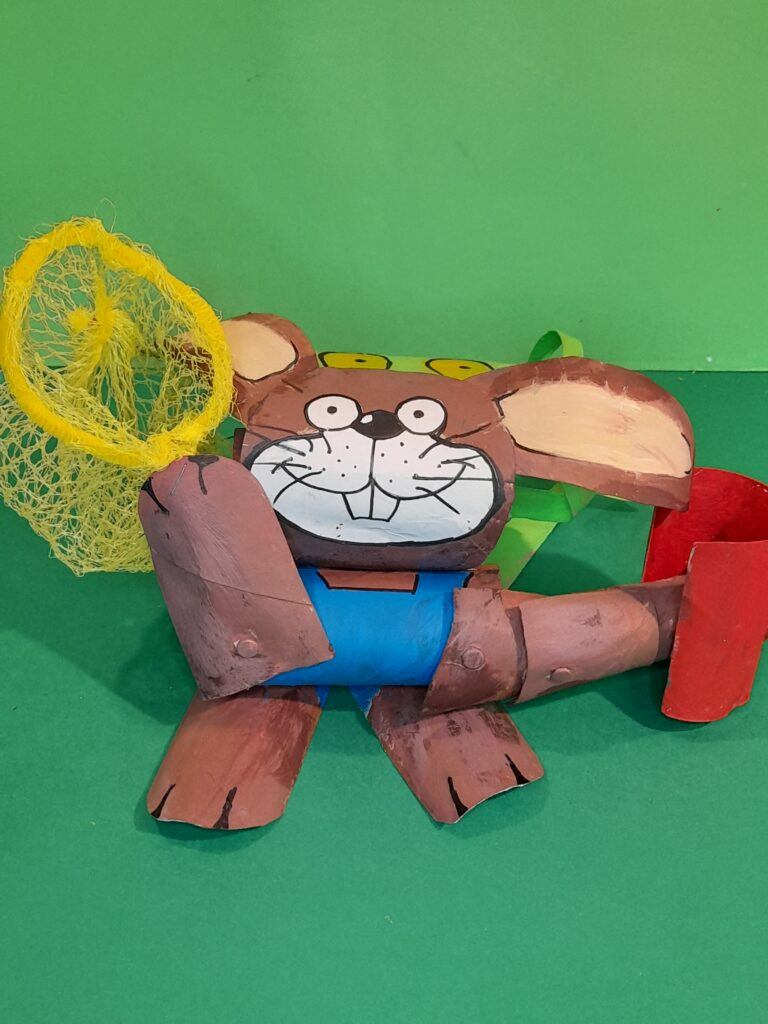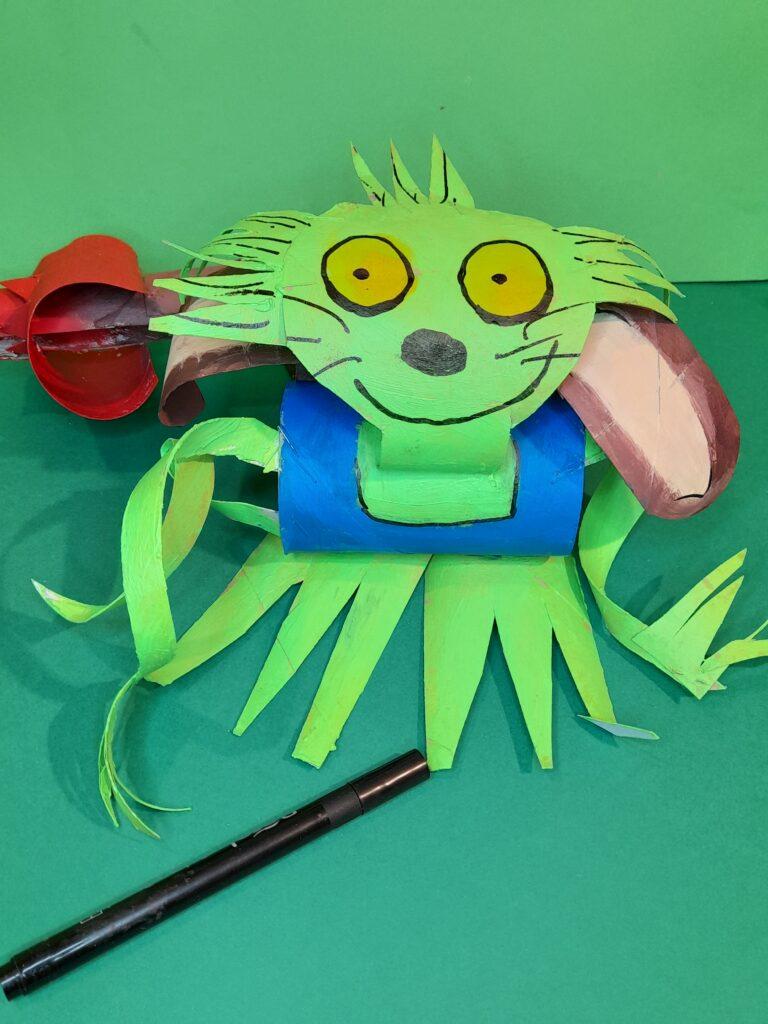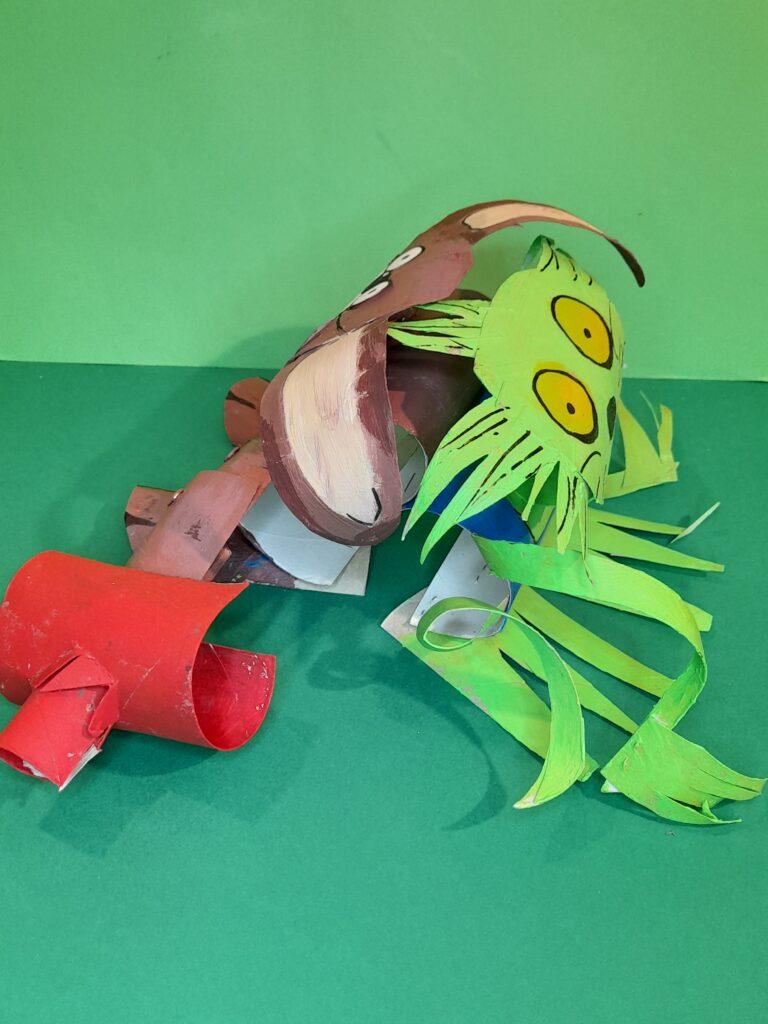 At Easter what do we know about bunny rabbits?
We think of Bunny rabbits as cute and adorable little creatures, don't we?
Heads up, later on, I will introduce to you a little rogue and a not-so-cute naughty character, and here's a hint……….. Little Rabbit Foo?
LET'S CONTINUE!
Round about this time of the year when it's April, Springtime, and Easter is back, there they are again!
Why a bunny rabbit? you may ask, well basically the rabbit gives birth to a rather large litter, known as kittens and this symbolizes the birth of new life.
LET'S RECAP!
If we go back to pagan times when they had the traditional festival of Eostre, a goddess of fertility, the animal that symbolizes this is the 'bunny'!
RABBIT CONNECTION!
As rabbits are known for their regular breeding in abundance, traditionally would symbolize fertility!
So Easter, re-birth, that time of the year, spring a lot of, hence the bunny rabbit, although it has nothing to do with religion.
LEGEND THEN AND TODAY!
Legend has it that a rabbit would lay colourful eggs and whilst children were asleep he would visit them and leave the eggs as gifts for their good behaviour, a bit like Santa. (although we know rabbits don't lay eggs, they give birth to baby rabbits)
TODAY!
Today there is the Easter hunt, where colourful Easter eggs are hidden this is a fun activity for kids to play during Easter time.
WHAT ABOUT RELIGION?
The Easter eggs have religious connotations, when you smash the egg and open it up, this symbolizes the rise of Jesus, breaking out of the tomb. The resurrection.
IS IT A CHOCOLATE TREAT OR WITH A RELIGIOUS MEANING?
Or simply a yummy chocolate egg full of surprising treats that kids can't wait to eat, no matter what it represents!
In fact, if you ask a kid what do they know about Easter, the reaction you would get is "Chocolate Easter eggs yaaay!"
If you are not into the chocolate kind, then why not boil your eggs hard, allow them to cool then dye and paint them up for colourful Easter fun!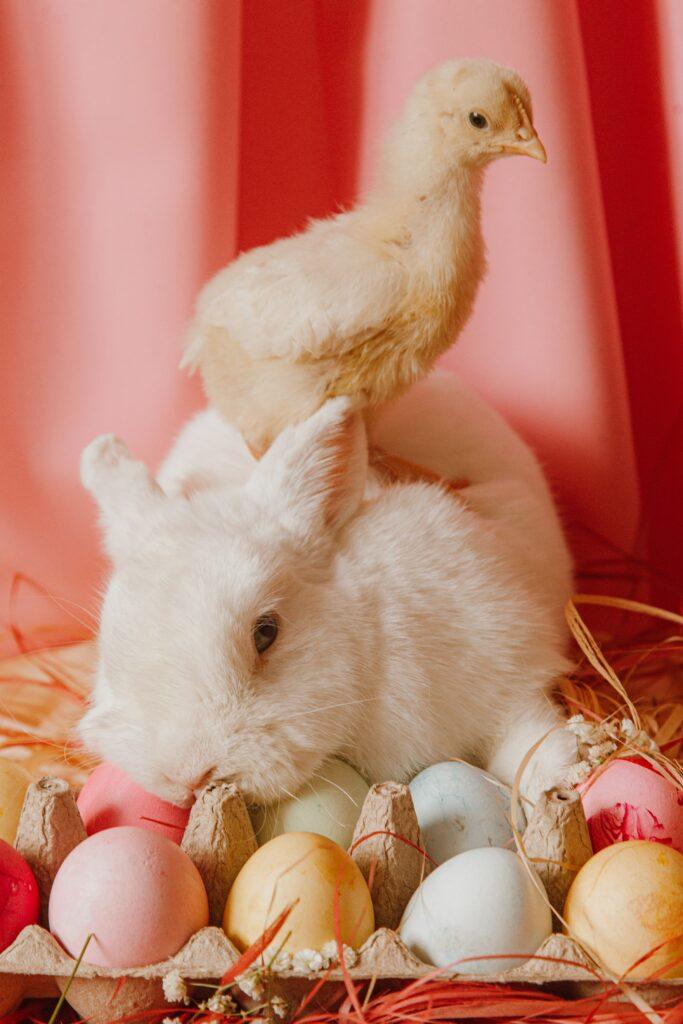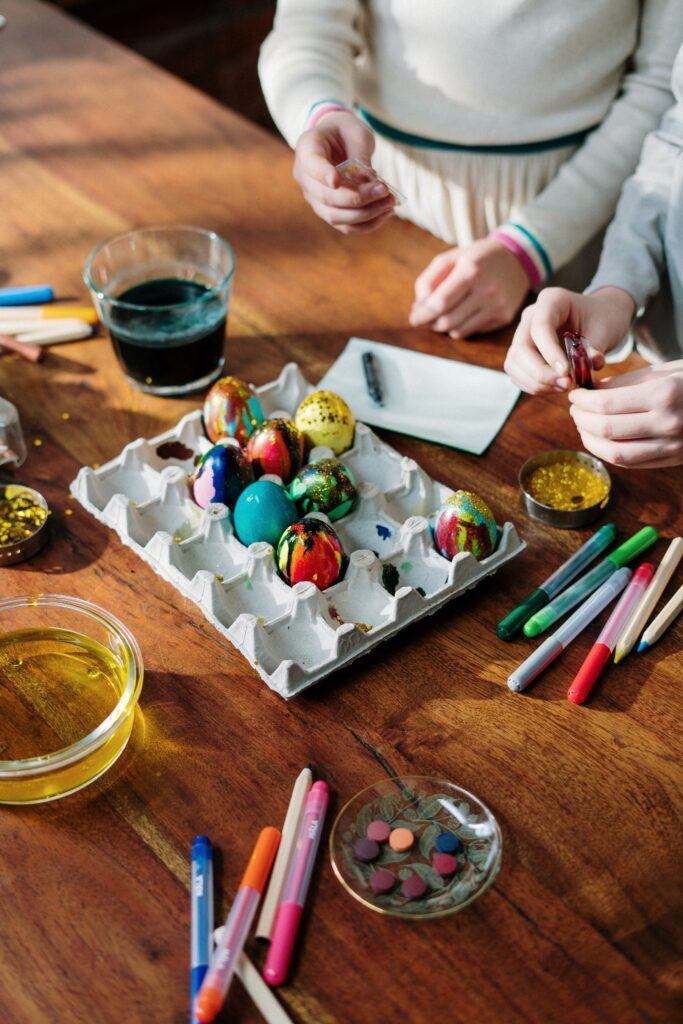 What's this project about?
My little rabbit comes from a children's story, (by Michael Rosen) and he's this little character that's not so cute, quite defiant, and just does what he likes
WHAT DOES FOO MEAN?
This little rabbit is called Foo Foo, which translated means fool, clown, or Jester. He is a bit of a rebel and a bit of a rogue picking on creatures and bobbing them on the head!
WHAT ABOUT THAT FAIRY?
Until a good fairy materializes and gives him the warning to stop this behaviour otherwise…..
LET'S TAKE A LOOK! This story has a catchy tune that is well known throughout the schools, although it sounds a bit like 'Alouette' or 'The incy wincy spider'
Whoops, he was warned! and as the good fairy declared, low and behold she changed him into a Goonie! What's that? you may ask. Hmm…. well it's like an odd thing, a thingy gig a weird-looking thingy.
IS THERE A MORAL TO THE STORY!
So the moral of the story? basically, you learn through your mistakes, and ultimately in Little Rabbit Foos's case, because he didn't listen and he wasn't very nice to others, there were consequences!
Or here today Goon tomorrow?
My intention for this project!
What is something that is tubular shaped that could be easily cut, shaped, and flexible, and I have a sack load of can you guess? yes these are cardboard inner tubes, 
HOW RABBIT FOO FOO WOULD LOOK!
I didn't want to make him out of one tube, but to build on that and make Little Rabbit Foo bigger and a bit more flexible.
As for the Goonie, I decided that instead of another load of Inner tubes I will do a double act.
WHERE'S THE GOONIE?
What I will be working towards is one side to be Rabbit Foo Foo and when you spin him around like POOF! he will be the Goonie!
I am not going to model the fairy, the adult can act that part lol!
I quite like the singing version, sing the tune and jump in with Little Rabbit Foo when he's up to no good.
OR.
Once you have got the gist of the story, tell it using Little Rabbit Foo to model it.
Before we start on this project, I have in a previous post made different types of Easter bunnies using juice cartons, here's the link for you to check it out. Also have a peak at the video there a kid explains the meaning of Easter and it's history.
BACK TO LITTLE RABBIT FOO!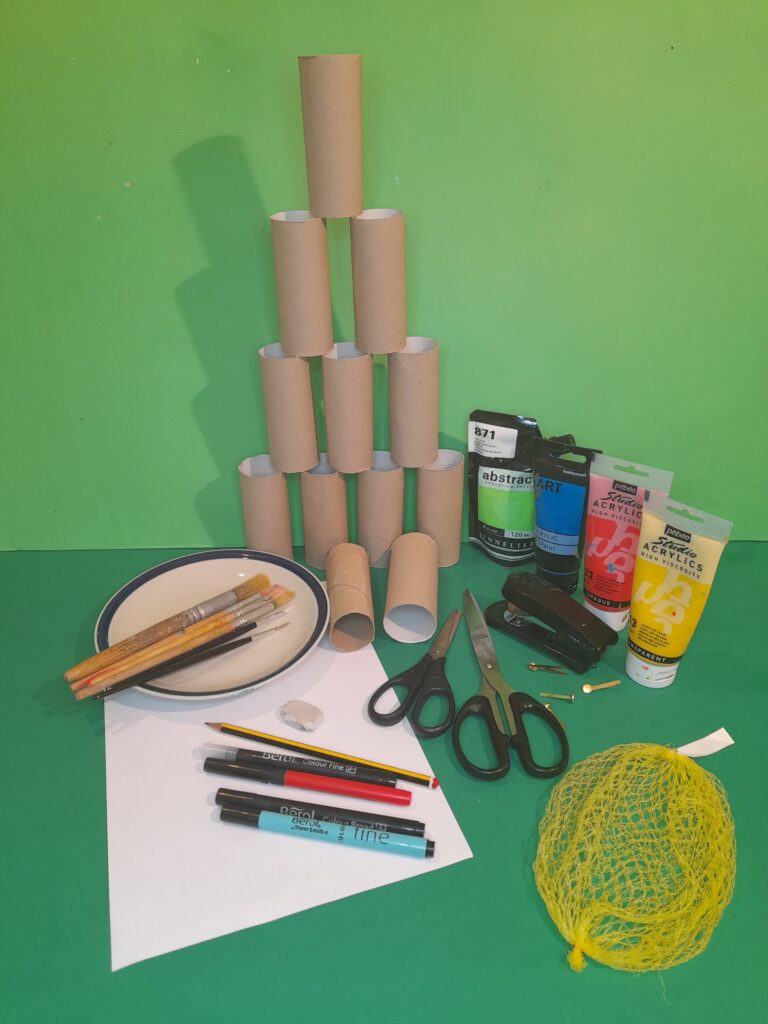 RESOURCES!
Approx. 12 cardboard inner tubes.

Scissors large and small.

Stapler. Range of brushes/plate

Acrylic paints, Blue, Brown, Green, Red. White (not shown)

White paper/Glue stick (not shown)

Black felt tip pens.

3-4 split pins.

Bit of netting (hold lemons)

Yellow pipe cleaner (not shown)
HOW TO MAKE LITTLE RABBIT FOO!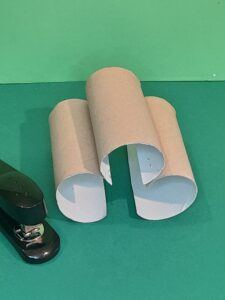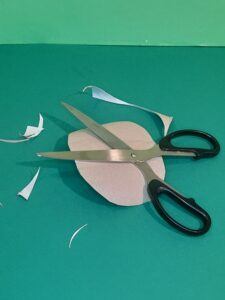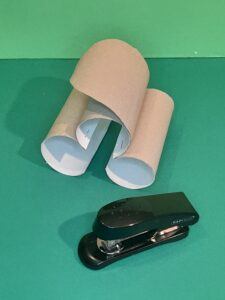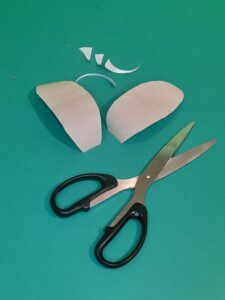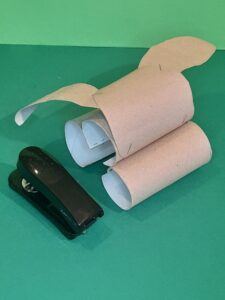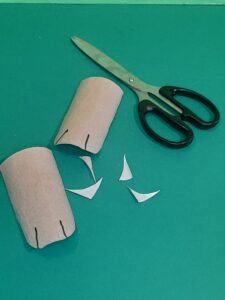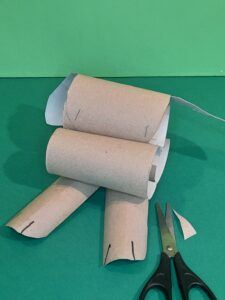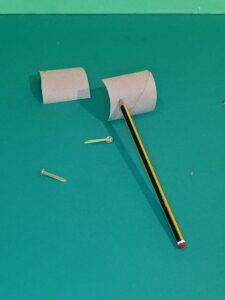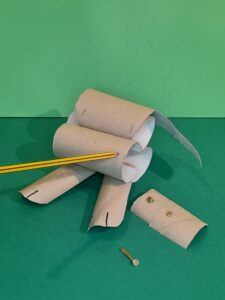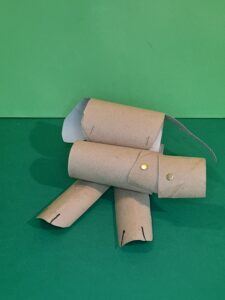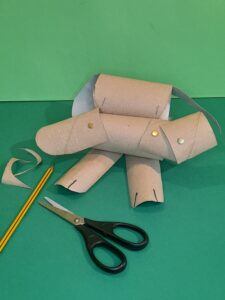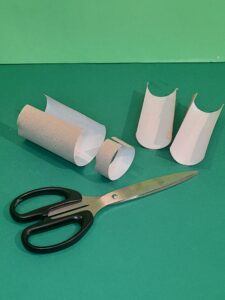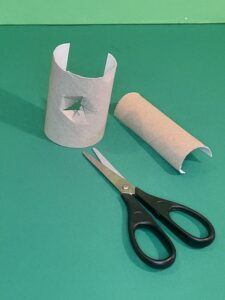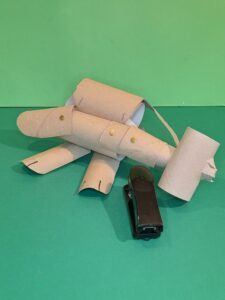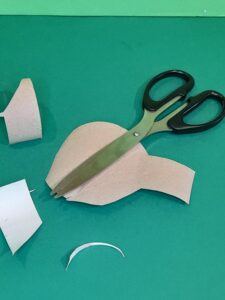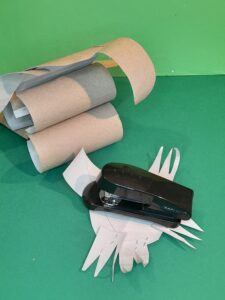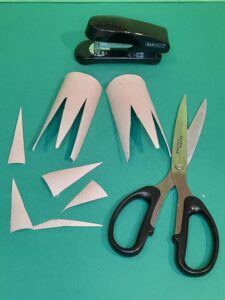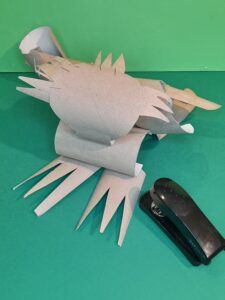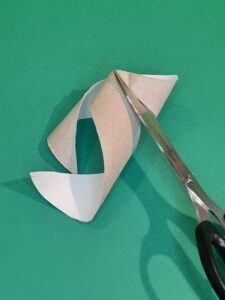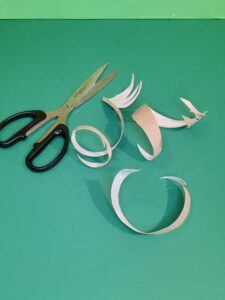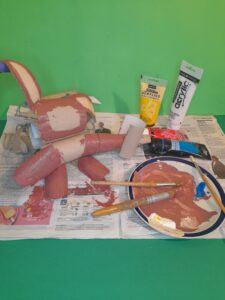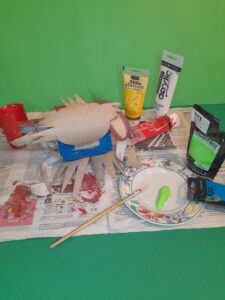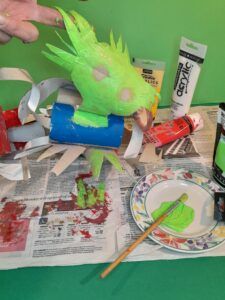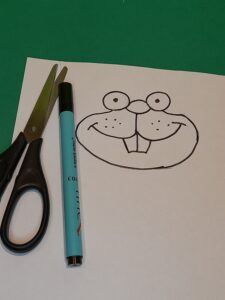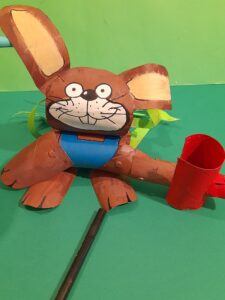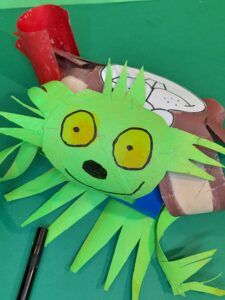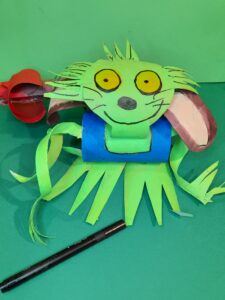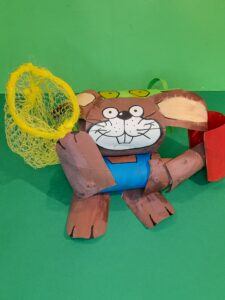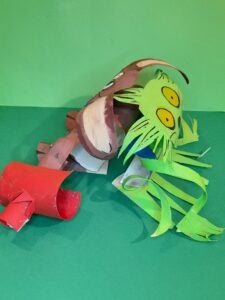 Using your hands you can use one hand inside the tubes to prop it up and the other hand to move parts whilst following the story or even watching the video.
INSTANT TRANSFORMATION!
The reason for having two into one characters is because the
Rabbit

was Zapped into a

Goonie,

so by flicking him around he has now become a

Goonie!
IF TOO TRICKY!
If using the back of the Rabbit to make the Goonie, is too

difficult for your kids

, then just stick to doing the Rabbit, the back part can be what props him up.
SOME TIPS!
    HOW TO PREPARE AND HANDLE YOUR TUBES!
After you have collected your tubes, you can lightly spray them with an anti-bacterial spray, for hygiene reasons.
    TAPE, THEN STAPLE TUBES!
Having difficulty stapling the edges of the tubes so they match, tape the tubes together edge to edge if you prefer, or even staple them after you have lightly taped them together.
    PAINTING AND HANDLING TUBES.
Paint all the main areas first, allow to dry then paint the tricky bits after.

Both the faces will curl back, you may need to mold them back up so they take shape.
    HOW TO HOLD YOUR CHARACTERS!
Play acting your model, don't forget to insert your fingers inside the tubes to support it up-right.
    STAY CLEAN!
Lay some newspapers down when painting to keep the area clean.
    FOR PROPS!
Save your lemons netting, this can be used as a prop.
    OPTION, BUT TRICKY!
You can streamline the arms by cutting them a bit narrower if you like, though they can become a bit weak when moving parts up and down. 
    DRAWING THE FACE!
I drew a similar Little Rabbit Foos face like the one from the video, you can do your own version if you like.

Measure the width of the blank Rabbits face and draw a face on your white paper, that would fit that area. Have a few goes until you find one that works.
Are you still looking for some fun Easter activities to do over the holidays, with your kids? whether it's topping up your reources or some bunny or eggs your kids can decorate and lots lots more, then take a look at:-
Baker Ross for those easy ideas and  now some Easter deals!
So don't waste any time head over and have a peek for some great offers!
Hey there, when you click on links in this post and you make a purchase, I may earn a small commission that l can use towards resources (other than throw-outs) for project making within my website😀
I have shown you in this post how to make not just a typical cute bunny rabbit, but a naughty little rabbit foo?
HOLD ON TO THOSE TUBES!
Taking the character from the classic story Little Rabbit Foo Foo!
Not just using one cardboard inner tube but using alot more tubes to make the little rabbit and a Goonie at the same time!
With simple moveable arms as he bops them on the heads!
SPACE YOURSELF!
With adult guidance or for the older kids, this is a project you can do over a couple of hours or over a couple of days, no need to rush just enjoy the process!
An easy story to learn and tell using your inner tube model that represents Little Rabbit Foo Foo and the Goonie all in one!
So start saving your tubes!
O'h if you are keen to get hold of a copy of

Little Rabbit Foo Foo,

then check out this site its called :-Wob
Wob recycles books and re-sale, they also support many charities and try to prevent books being thrown on landfill sites!  For all their good work they have been awarded B- CORPS.
To earn this certification they lead on sustainability, reduce enviromental impact and protect low-carbon economy
WHAT WE CAN DO?
 I am recommending this site as an alternative way to purchase books and do your bit in helping to support enterprises like this. as I too am right up there with recycling whatever, however and for the good of our planet.
Also educating our children to see what a difference it would make in protecting our planet and for their future!
(No commission will be earned if you click the link to Wob site.)