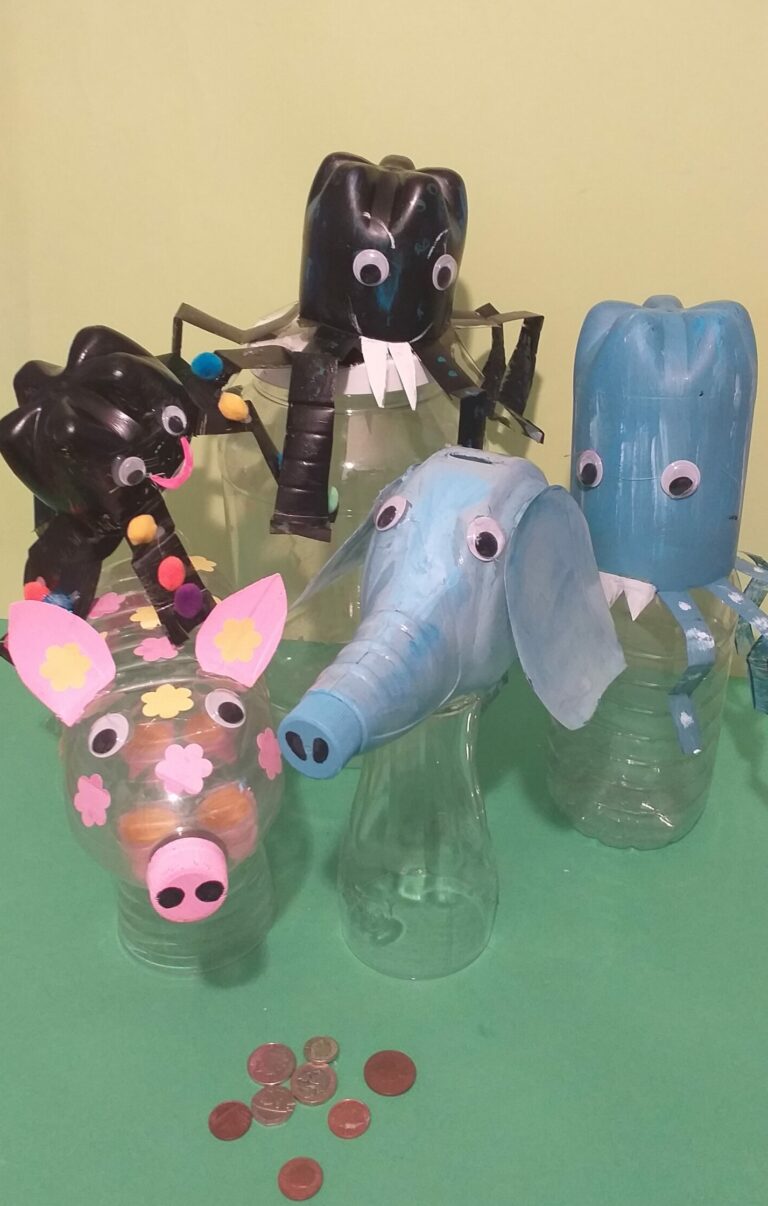 Here we are, let's catch up. I managed to make 5 different recycled plastic bottle crafts, that being creature/animals. propped up as you can see all together.
Two into money boxes and the other three into a choice of spiders and an octopus.
The shape determined the creature I was going to make and what animal it best resembled.
Then I asked myself when it's finished, how else can we use these creations, possibly in a more practicle way.
So as an ornament or to play with that's fine, but they could be a bit more versatile, so I transformed a couple of these into something a bit more useful, like a savings bank.
one being a Piggy bank and the other an Elephant bank/money box (you can call it Ellie or Elliott bank any name that suits an elephant).
Let's get on with it and start with the Elephant money box.
1)

ELEPHANT MONEY BOX
Made out of antibacterial spray bottle.
Below are 3 craft tools that I use in all my craft projects and
recommend

you have within your tool kit.
The mini glue gun is a very handy tool and takes 7mm x 100mm glue sticks. When heated up the glue stick melts easily.
This large dress makers scissors is robust and can cut through rubber, plastic and is very durable.
A very useful tool a must have to helping piercing through plastics and is very stable. It's not flimsy and blades retracts.
Where to find:- Hobbycraft,  Amazon,  Ebay and most Art/tool suppliers.
This is how to make our Ellie/Elliott bank.
2

)

PIGGY BANK
Made from a lemon squash plastic bottle.
This is how to make a Piggy bank.
3)

SPIDERS/OCTOPUS!

(use same method for all 3 types of creatures)
Made from plastic mineral water bottles.
RESOURCES! (to make 1 creature.)
This is how to make our spiders/octopus.
TIPS!
Acrylic paints work better without water, Plastic tends to repel watered down acrylic paint.

Allow the paint to dry, before applying a second coat, so the colour will be more denser.

The milk bottle plastic is softer and can be curled with the sharp side of a scissors. Use this method ot curl the ears and tail.

To take the money out of the Piggy or Elephant bank unscrew the lid or the top of the bottle and tilt unit for money to roll out.

I always collect bottle tops, knowing they will come in handy one day and the pigs legs/feet are the spouts off kids drinks.

If you desire a glossy finish you can apply PVA glue all over your creature. This is optional.

With the piggay bank, as a final touch you can tie up some ribbon into a bow. (optional)

Reminder for childrens safety, adults to do the cutting with stanley knife or scalpel as these are sharp instruments.
TO CONCLUDE!
I have shown you how you can whip up simple recycled bottle crafts. That being a Elephant money box, a Piggy bank, a couple of spiders and an Octopus.
Simply don't throw out your plastic bottles any kind, including your plastic milk bottle. Collect them and keep them for these kind of projects.
It's also good to have enough resources on hand. A simple glue gun is very useful tool to have, acrylic paints, cutting tools and embellishments.
You can decorate how you like. I have used what resources and tools I already have. (keeping in mind recycling) and of course you can follow my ideas.
Finally, check out some recommended items which might be of use to you. These tools are in my repertoire of art equiptment and would defintely be without, as mentioned above.
HEADS UP!
I will be featuring more plastic bottle crafts as we move on, so watch this space for future projects!