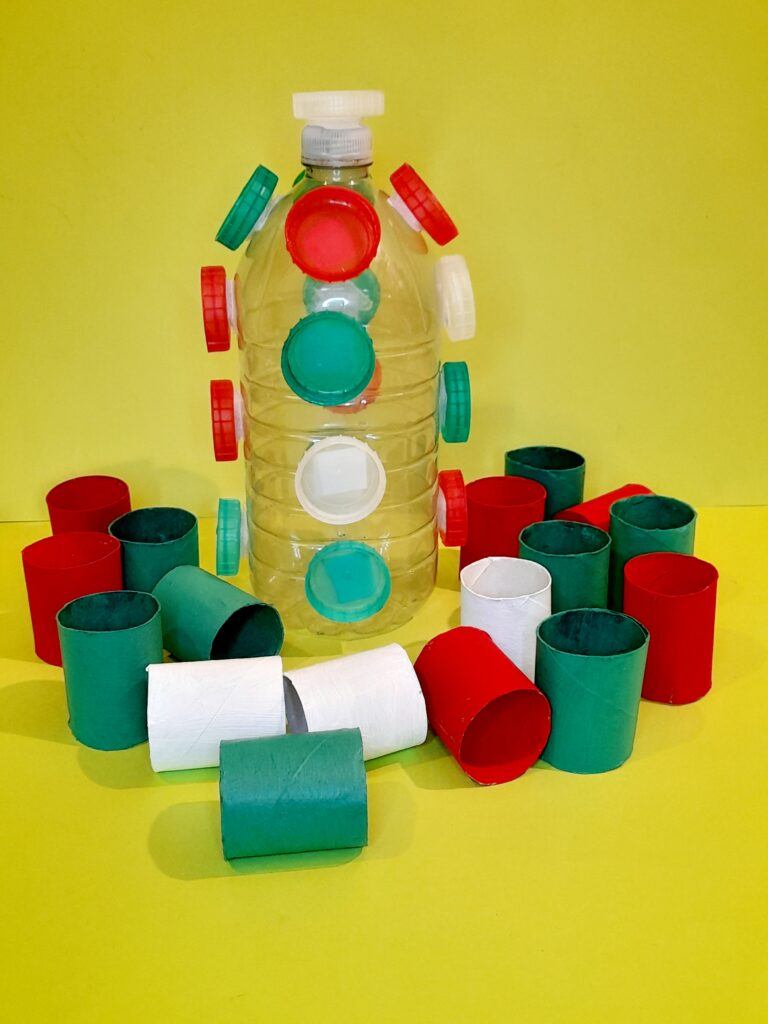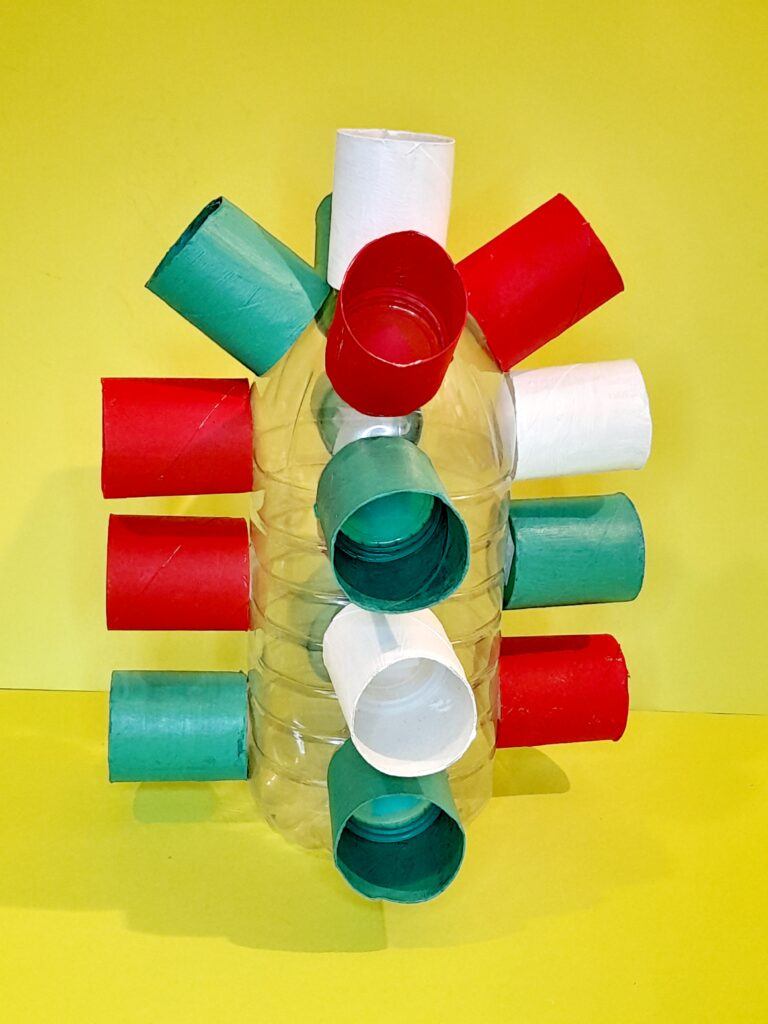 In this post, I am going to put together something pretty easy.
WHAT IS IT?
I shall be making a colour-matching activity using parts that can be attached to each other once your child has identified them.
PRE-SCHOOL KIDS.
Keeping in mind little hands, those of your younger kids find it easier to grab and handle smaller, but more chunky objects.
SHAPES AND COLOUR!
Working with objects or shapes that are colourful and easy to grip is more like their style, and child friendly.
This colour sorting activity will be determined by matching up the coloured objects.
First of all, I need to find a solid 3D shape with flat sides all the way around to which I can stick flat-sided objects to.
WHAT TYPE OF BOTTLE?
Having looked in my recycle bag, I found a squarish flat-sided orange squash bottle. To adhere to this I had a collection of milk bottle tops, and these would be stuck on fast around it.
CARDBOARD INNER TUBES.
The object that would perfectly pop onto the milk bottle tops is half a cardboard inner tube, from toilet rolls or if you prefer the inner tubes of kitchen towels, (which you can divide into four parts).
LUCKILY!
Coincidently the inner tube opening, that being the circumference is just the right size as the milk bottle top and the tube will pop onto it quite easily.
EASY TO HANDLE!
The tubes are chunky and easy to grip for smaller hands. These will be painted in the same colour as the milk bottle tops. 
COLLECT TOPS!
As the milk we drink is red top, that being skimmed milk, green top, being semi-skimmed milk, and some white tops, from juice cartons those are the colours I had collected over time. So I recommend holding on to your milk bottle tops or juice cartons tops as soon as you can for this activity.
PAINT TUBES.
Then eventually you will be matching by painting the tubes, for example, red tubes with red tops, green tubes with green tops, and white tubes with white tops.
As I want to stick and un-stick these items and move them around I was looking for something that would mimic a magnet, so to achieve this I will use velcro tape, better known as hook and loop tape.
Just in case you didn't know, you may be asking 'What is velcro tape?'
Okay here goes, Velcro is a brand name, primarily it's a soft and textured flexible tape.
IT TAKES THE PLACE OF?
This type of tape is an alternative to zips, buttons, and studs and an excellent fastening for kids' shoes, better than those long double-knotted shoe laces, an utter pain to un-knot and tie up again, especially when you have half a dozen kids complaining they can't do or undo their laces! (that would be in a typical school day in the early years!)
So, Thank you for velcroed kids' shoes and trainers a plus in my books!
Before we continue let's go back in time and see how Velcro came about!
It goes to show how nature was the inspiration for a Swiss electrical engineer called George de Mestral to invent Velcro!
I found velcro tape to be a super resource to achieve on-and-off activity. This allows one to attach and un-attach objects, a bit like they were magnetic.
HOW TO PLACE.
Kids will just stink on the milk bottle top either in neat lines or randomly around the flat-sided bottle by using the velcro tape to adhere them on. At this point, they may need your help using the Velcro tape as it can be a bit fiddly.
SEARCH AND FIND!
Then they can pop on the tubes, by searching and finding the same coloured tube as the coloured tops.
Velcro comes in two tapes one is the rough side called the 'hook' and the other is the soft side which is fuzzy, called the 'loop'.
The tape that has a rough side that is textured has lots of tiny hooks, and the other one that is softer has lots of tiny loops and when pressed together they attach to each other.
WHAT'S IT MADE FROM?
This type of tape is made from Nylon which can withstand, water and all types of weather. Great for kids running around jumping in wet grass or puddles!
THAT FAMILIAR SOUND!
There is this sound that Velcro makes when you pull it apart that, can be so annoying, especially at carpet time when kids sit on the carpet and you hear that… Ripping…. sound, when they pull apart and fasten it, up again and again, can't be entertained when the teacher is trying to read a story, but in saying that, I am still grateful for Velcro taped shoes!
I thought to give you a taster of how this opening and fastening sounds!
You can now imagine when children sit crossed-legged on a carpet and listen to a story told by a teacher, that's when kids keep trying to adjust their straps!
ARE YOU READY TO MAKE OUR COLOUR-SORTING ACTIVITY?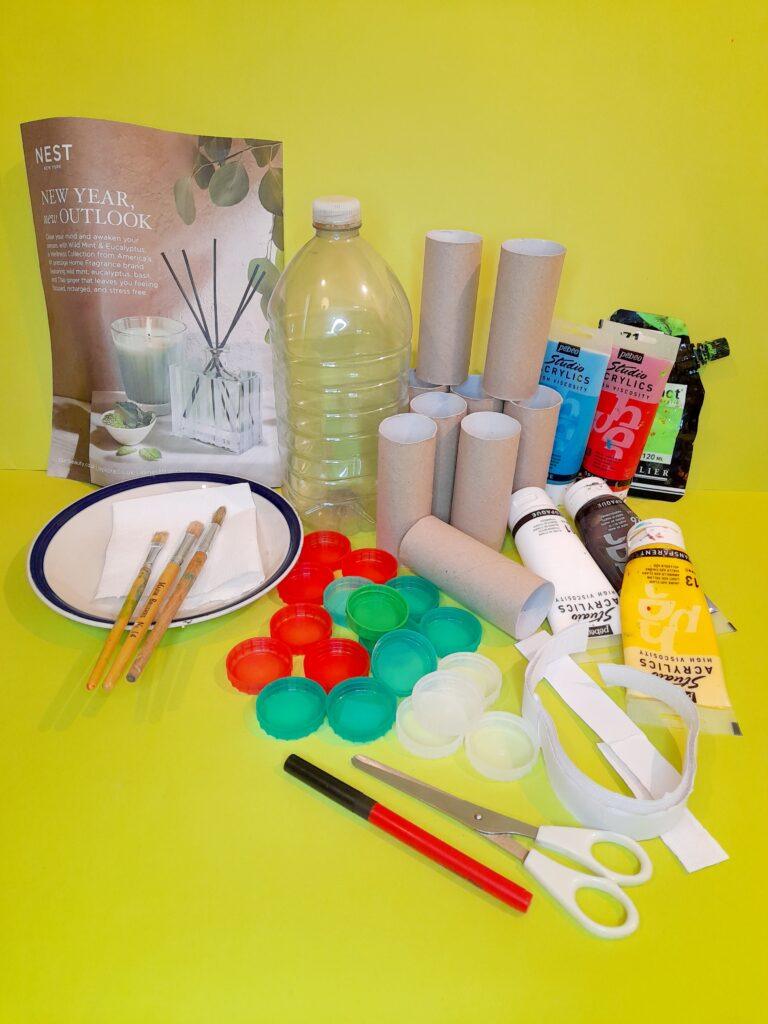 RESOURCES.
1 empty square plastic bottle.

Milk/juice bottle tops approx. 16 mixed colours.

9 cardboard inner tubes.

Some velcro tape/black pen.

Acrylic paints to match bottle tops.

Brushes/paint plate.

Some newspaper/Scissors
QUICK AND EASY!
As you have gathered now this project is quite easy to make.
This can be a fun activity to make and play. The whole idea is to find something that's simple to put together and has this chunky feel about it, especially for little hands.
This activity can become quite challenging for the young ones. How about timing them by counting as they do the activity?
CHANGE POSITIONS!
Or have them close their eyes and change the order of the coloured milk tops.
START LESS, THEN GO MORE!
Or make it much easier by removing some of the tops so there are fewer to find and then build up the number of tops as they get more confident.
Maybe you can think of more fun ways!
SOME TIPS!
   

FLAT SIDES.
I used an empty squarish plastic bottle, if you don't have anything like this you can use an empty juice carton as long as its sides are flat so you can stick on the bottle tops.
   

WHAT TOPS?

  
You can put as many bottle tops as you like, it depends on how challenging you would like it to be.
I used red, green and white bottle tops, it all depends on what you collect.
You can stick the bottle tops in a line going down the bottle, or place them randomly around the bottle.
AN ALTERNATIVE.
As I tried to replicate something being attached as if it were magnetic, using velcro tape was the closest that I already had at hand, if this is not an option then you can use double-sided tape as an alternative to fix the bottle tops fast without having to move them about.
ABOUT VELCRO.
Although velcro tape, allows you to move the bottle tops around where you would like them to go.
If velcro tape is stuck and un-stuck a few times it may lose its stickiness, so be aware of that.
WHAT TUBES?
If you prefer you can use the inner tubes of kitchen towels, just cut them down to a suitable size.
PROTECT HANDS.
 I painted the outside and inside of each tube, as this looked more finished, this can be a bit messy so you can wear disposable gloves.
In the previous post, Truck Craft for Kids, I recommend magnetic toys that kids can make from 2D net shapes and transform into 3D shapes.
As the younger kids, won't yet understand the concept of a net and may be a bit too advance for them to work with, then here is a super Magformer magnetic toy that will be more suitable for them.
Check out Stick-O-magnetic construction toys!
Hey there, when you click on links in this post and you make a purchase, I may earn a small commission that l can use towards resources (other than throw-outs) for project making within my website😀
The Stick-O range by Magformers is a super alternative construction toy in which little hands can attach each part with no effort, as all the hard work is done for them with magnets!
These toys are designed to be fun, safe, and durable and the children will have endless hours of being creative while using their imagination in the world of magnets.
This range of magnetic toys is suitable for preschool and younger children.
TO CONCLUDE!
In this post, I show you how to craft with your kids using some of your recycling, to make a simple construction activity matching colour tubes with the same coloured tops!
WHAT MATERIALS!
All you need is three different recycled materials and some art resources and you are good to go!
MY INTENTION!
The whole idea is for your kids to connect, and create using their fine motor skills and imagination to transform simple shapes into a 3D model.
With your support, they can have lots of fun making and playing with this activity!
COLLECT, SAVE!
So start saving your bottle tops, inner tubes, and a drink bottle and you are good to go!
FINAL THOUGHTS!
Let's motivate and inspire our little ones to be creative and enjoy crafting fun!