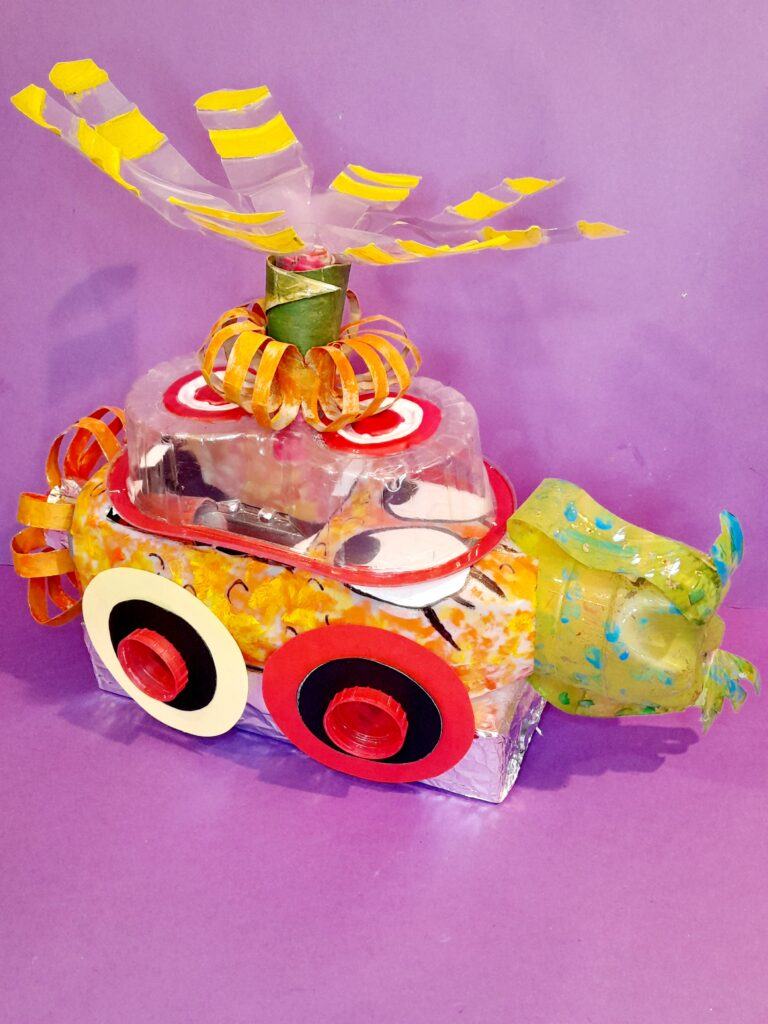 Wait! Before you throw away your broken crafts, you can up-cycle parts and make something new, like a fun futuristic truck!
So here we are as promised in the previous post 'Recycling Art Projects!' I mentioned that I will attempt to make something out of old craft projects!
In this post I will show you that it's not impossible to use plastic again, using elements from old projects, and upcycling them into a 'Truck Craft for Kids!
PUSH, TWIST, AND ADD!
With all the different shapes and materials I managed to join them together and some parts can rotate and spin around too!
RECONSIDER!
If you and your kids like crafting, but sometimes projects can fall apart or get damaged over time, do reconsider instead of chucking it out.
HAVE ANOTHER GO!
Challenge your kids, and yourself, and look later at what I made, the final results may look a bit odd, but it will be fun trying to work it out and make something you haven't made before but with a difference!
I wanted to show that you can use your recycling again and again, as many brands now are using recycled plastics to make greener toys.
MY PARALELL.
So along the same lines, I re-present my interpretation of going green, by re-using old projects and up-cycling them. There would be less in the recycling bags!
DIFFERENT MATERIALS AND SHAPES.
This is what I had, and what I did with them.
The shapes determined what to make. There was the rectangle cereal box, which was originally a Father's Day gift box car, a plastic bottle made into a fan, some cardboard inner tubes made into pumpkins, and Valentine letters, and a milk carton monster face!
I re-covered the cereal box with new foil as it got ripped, also foil being shiny will glide easily along the floor.
TOUCH-UP PAINT.
I went over some small areas with the same coloured paint to re-vamp worn-out paint, in your case if it's necessary.
WHEELS TO SUIT.
I also made the wheels larger so they look like the wheels of a truck.
MOVEMENT.
I added a split pin to a plastic lid on top of the main body attaching it to the monster's face to allow movement, so you can then swing the lid to either side and you can put something inside the mouth of the monster.
The plastic windmill can spin around as a tightly rolled inner tube was run through the middle holding it upright and allowing movement.
Also, the small inner tube pumpkins can rotate too, by carefully moving them around.
If there are bottle openings you can keep them simple and just screw on bottle tops to give them a finished look, or like I have done decorate the openings by inserting inner tubes and dressing them up.
Before a decision was made about what to make with all the different shapes and materials, I had a little play around moving shapes in and out on top and underneath until I was comfortable with the whole look.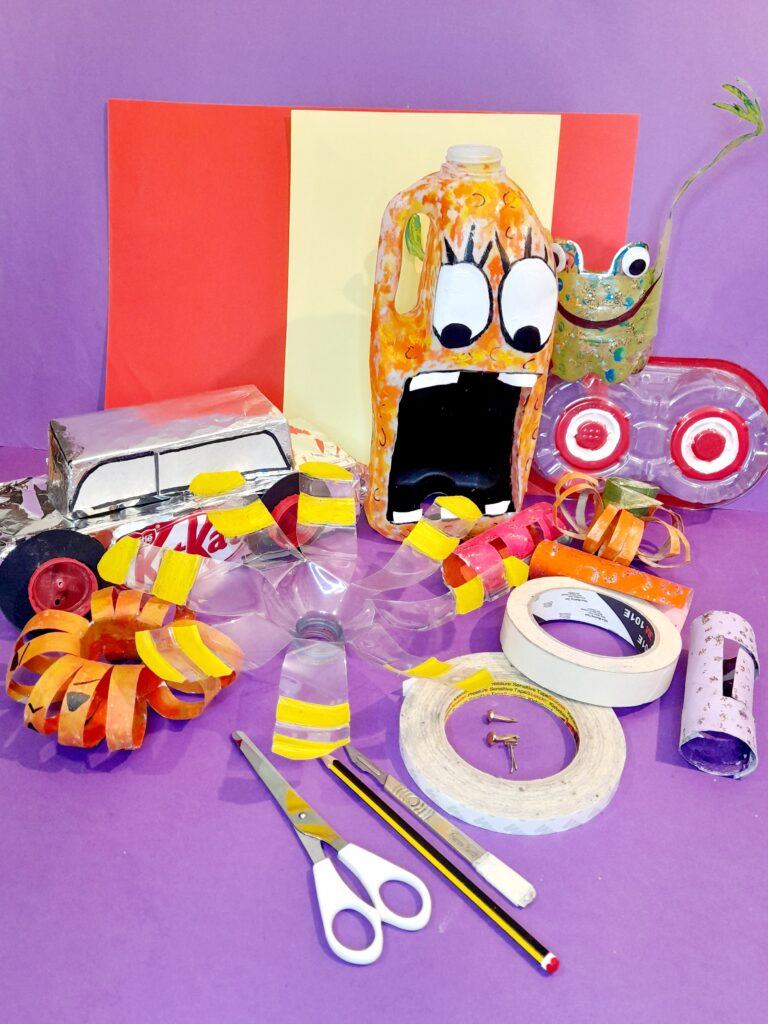 Here is a mixture of old craft projects and some resources.
Coloured cards.

Sharp scissors.

Double-sided tape.

Round large shape (masking tape)

Pencil/scalpel.

Split pins/foil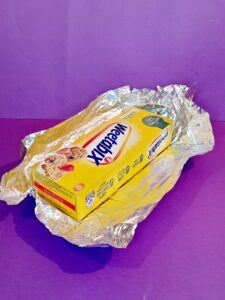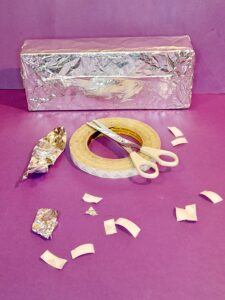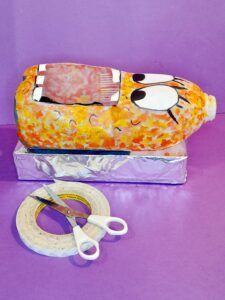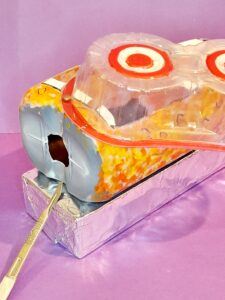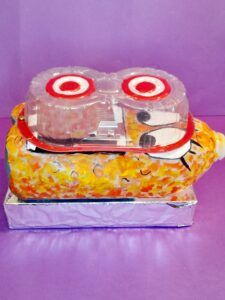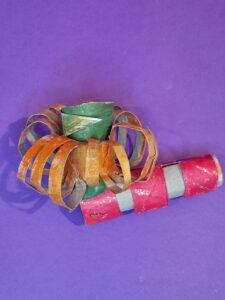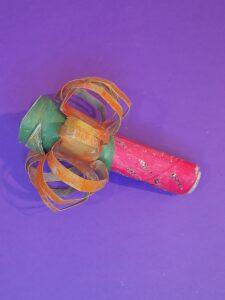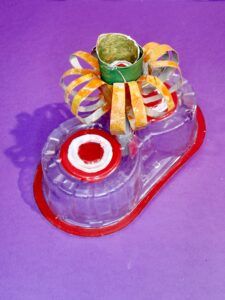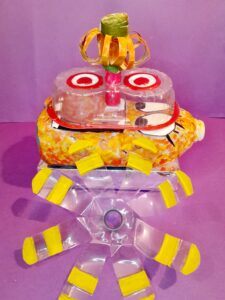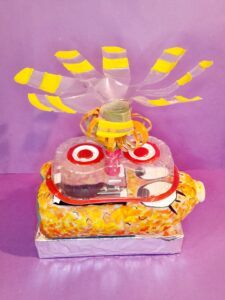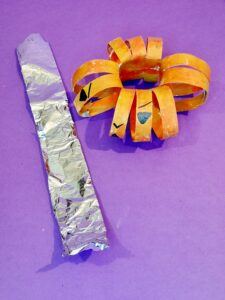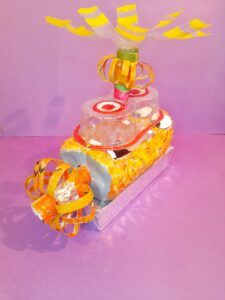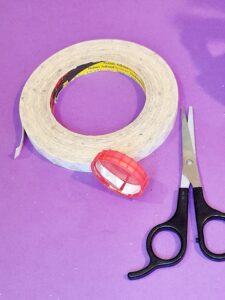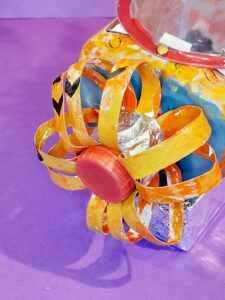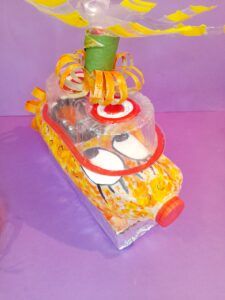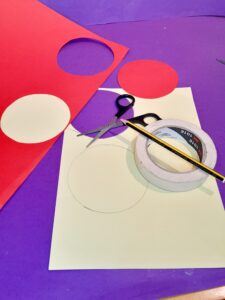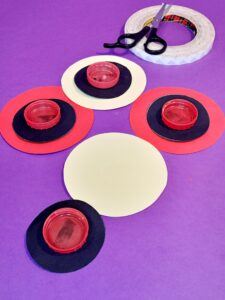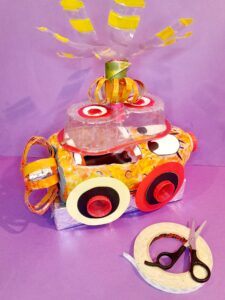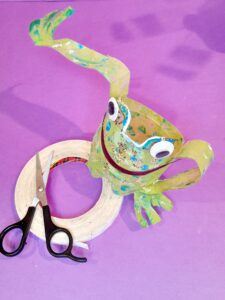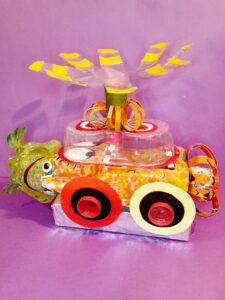 And there you have it, a fun kind of futuristic truck!
I hope you got something out of this project. I show you how you can use pre-existing projects and work them together, making something completely different, like this Truck Craft for Kids!
THIS WOULD BE TO UTILIZE OLD FOR NEW!
Touch-up-paint
If you are working with plastic, and the paint is worn off just re-touch it with more paint to give it a lift.
To stick
Using double-sided tape would be sufficient to glue pieces together.
Access
Work out your shape with different pieces until you achieve the look you want, then stick all parts together.
More stock
If you want to add on more newer recycled parts, go ahead, just means you are up-cycling more throw-outs in an inventive wa

y.
Save
Every time we buy a carton of milk, I save the plastic bottle tops, they will come in handy for modelling and so forth.
Sharp tools
Use sharp scissors to help cut out small holes in the plastic, or to pierce holes to insert split pins in.
This brings me to this fabulous toy, that also puts parts together, but in a unique way, take a look!
HERE IS SOMETHING THAT WORKS LIKE MAGIC, BUT WITH THE POWER OF

MAGNETS!
Do you like the idea of

building something,

that automatically

attaches to each other?
Perhaps something that is a super

cool toy for kids?
Building

from a net

but with the

power of magnets

can bang itself together into an extraordinary 3-dimensional, creature, building, or any fun shape, your

imagination is limitless!
Take a look at this short video that will show you just that!
Introducing

Magformers

, a super magnetic toy that kids can build absolutely anything with the power of magnets linking up from a net to a 3-dimensional shape!
Magformers

have received more than 50 global educational and toy awards!
Including gold and bronze medal in the UK Practical Pre-school Awards.
Magformers

is the leading magnetic construction toy that inspires children's creativity and assists in 3D brain development!
   

Each set contains:
Geometric shapes

Triangles

Squares

Rhomboids

As well as other shapes

Connects easily

In-built magnets

Durable construction
Magformer construction toys aid in brain development!
HOW?
These magnetic toys provide lots of fun and in hand loads of educational exploration!
CONSTRUCTION?
Every piece is constructed with toughened ABS plastic and built within each piece are safe neodymium magnets, contained within all the edge surfaces. So as every magnet can rotate 360 degrees the pieces will connect when bought together and never repel.
MEANING?
This magnetic process is known as RMS (Rotating Magnets System) Another way to describe this is that a magnet has an opposite and negative pole. The opposite poles of magnets attract each other, while the same poles of magnets repel each other.
Hey there, when you click on links in this post and you make a purchase, I may earn a small commission that l can use towards resources (other than throw-outs) for project making within my website😀
Take a look at this set from Magformers, it contains just the right amount of pieces to create differently shaped vehicles!
Amazing Transform wheels set 17. Where you can pop on the different shaped magnets supplied and you can create various vehicles, like a buggy, racer, or monster truck!
As your kids become more confident in their creations, they can move on with more Magaformers challenging sets
There is a collection of fun, inspiring and challenging sets that help your kids develop greater knowledge, in working from nets at a 2D stage, and visually forming amazing 3D explosions!
TO CONCLUDE!
In this post, I show you how to re-create something new, from something old.
If you and your kids are crafters and you have some craft projects that have had their day, then don't stress.
SOME IDEAS!
Maybe I have given you some ideas on how you can re-invent and make something completely different.
You will surprise yourself in doing so when you perhaps, thought there was nothing more you could do with them.
RECYCLING!
In doing so, you are recycling your old projects, keeping on par with toy manufacturers who have or are going, Green!
So just think you could do anything you want, sticking parts on parts and forming perhaps, your very own version of a Monster truck!