HOW ABOUT A TREAT ON THE GO!
Hey don't forget 'Father's day' is nearly upon us and it's time to put your thinking head on!
Let's think, you have to be quick though….how about finding something your dad is fond of, something he likes, perhaps a treat?
So when your dad makes that cup of tea, what does he like to dunk into his tea?
Would it be a plain buscuit, or one that is covered in chocolate?
I know a very popular chocolate covered buscuit is a Kit Kat, does that ring any bells with you?
I know with my other half, loves Kit Kats. the fridge always has a packet of them inside the door part.
The other thing of interest you could say is your dad loves cars too!
THE IDEA BEHIND THIS PROJECT!
So for the sake of this project we will focus on just that, a car and a treat.
Imagine this, a car carrying his favourite treats! We are going to make an 'Easy Father's day Craft!'
The idea behind this project is to make a quick car where you can attach your treats, like a treat on the go
WHAT YOU SHOULD LOOK FOR!
Check your recycling bag and look for a longish narrow cereal box, I found a Weetabix box and a smaller one to put on top of it. 
The long narrow box will be the main body of the car and the smaller box will be the top part where the passengers sit, so straight away it will look like a car.
You will need to make four wheels which you can draw and cut from black card and the inside part of the wheels you can use red plastic milk bottle tops.
If you don't already have Kit Kat bars, then any two finger chocolate bars will do, remember it's your dads favourite treat you are going to gift him with.
FIND YOUR DADS FAVOURITE TREAT!
If you don't already have Kit Kats, the two finger bars you will need to get hold of your dads favourite treat which will be part of your 'Easy Father's day craft'.
What ever you use to do this craft activity with, make sure the chocolate bars are covered with paper, as the covering of the chocolate will make it easy to stick the double sided tape to and glue to the car.
Here are examples of the two bar chocolate treats. I will be using these in our craft project.
KEEPING WITH THE STYLE OF THE CHOCOLATE!
I wanted our craft project to mirror the style of a Kit Kat which would be a chocolate bar, covered in a thin foil, then their branded paper.
So in this instance the car will be covered in silver foil, as the base of the design and then place the red coloured Kit Kats on the top part of the car. The car will reflect your dads favourite treat!
Before we move on with our crafting check out this short video!
LET'S LOOK AT THE HISTORY OF KIT KATS!
It's interesting to see how a popular snacking buscuit developed over the years! I remember the iconic catchphrase, 'Have a break, have a

Kit Kat

 and up to this date, I do believe it is the most go back to chocolate buscuit that just works on any occassion, no matter how many other tempting chocolate buscuits there are out there!
So no time to loose shall we get started?
Kitchen foil

Cereal box Weetabix (single pack)

Small rectangle box. approx. 15.5cms x 7cms

Scissors, Large/small.

4 red milk bottle tops.
Black/greyish A4 card.

Round container to draw wheels. White pencil.

Glue stick, double sided tape.(not shown)

Kit Kats (not shown) Black felttip pen. (not shown)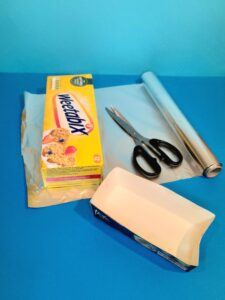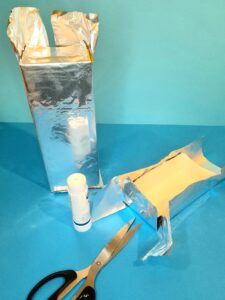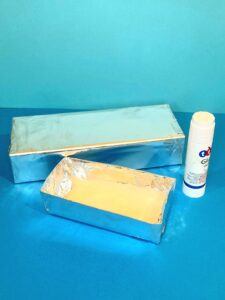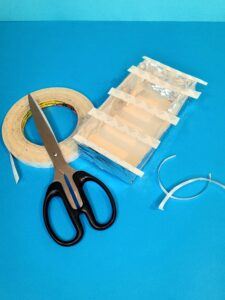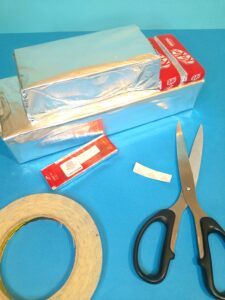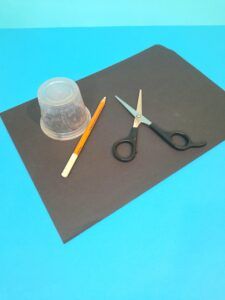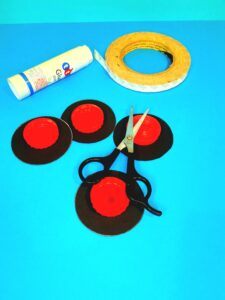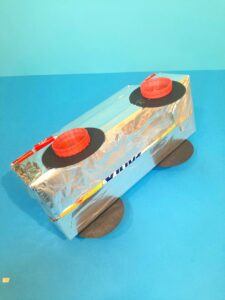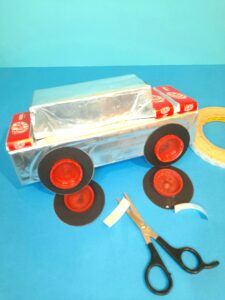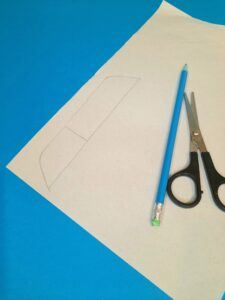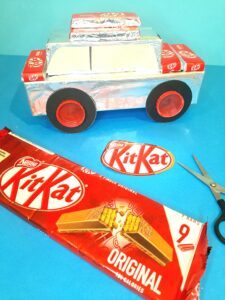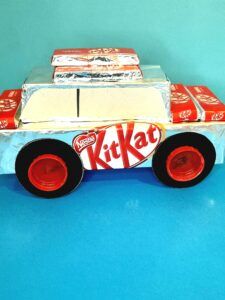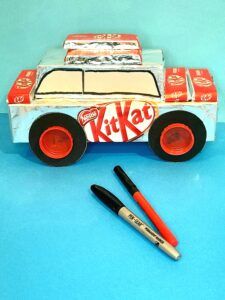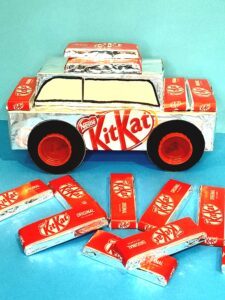 SOME USEFUL TIPS!
About foil!
The foil wrapping is only for show purposes, once buscuit is removed, the foil may tear off with it.
Gentle fingers when glueing on the foil to the box, it can tear easily.
About PVA glue!
You can use PVA glue, but it can be messy and the foil will get a mat finish, so keep in mind that foil does look better with a shine to it when completed.
About double sided tape!
I found double sided tape is the best resourse to stick the smaller box on top, it will adhere to the foil.
Check the position of the two finger buscuits on either end of the smaller box before sticking it down, as once you place it on the foil surface, you wont be able to take it off easily.
I used red bottle tops, as

Kit

Kats

main colour is

red

, you can use other colours that match your chocolate treat.
Again you can use double sided tape to stick the chocolate buscuits to the box.
If you are looking to find simple ready made resourses, that are fun as well as challenging and keep your kids busy, or even to gift to your dad to get him crafting!, then checkout  Baker Ross, there you will find an array of interesting kits that are suitable to make for Father's day, or on Father's day! .
From transport and people wooden photo frames to personalise and decorate in away that's unique to you!
3D wood craft kits, key rings kits, and more that you can put together quite easily! Though, don't forget to come back and continue with this project, as you will be utilizing throw-outs in a good way!
Hey there, when you click on links in this post and you make a purchase, I may earn a small commission that l can use towards resources (other than throw-outs) for project making within my website😀
TO CONCLUDE!
I have shown you how to put together an 'Easy Father's Day craft Idea!' which you can put together within an hour tops!
The idea behind this craft project is to present your dad with his favourite chocolate buscuit on a jazzy car!
As the main buscuit is Kit Kat, that's what I use to demo this project.
So the foil wrapped up car is what the chocolate buscuits are covered with, then the red logo wrapping!
Look for a single pack cereal box within your recycling bag and a smaller box as your main items to create your dads gift with.
Collect plastic bottle tops from your plastic milk bottles, some black and grey card and odd resourses here and there and you are good to go!
Don't forget to checkout previous post I include, even though time is short, you can still take your pick and what ever recycling items you can get your hands on!
So 'Happy Father's Day' and Happy Crafting!
Looking for more Father's day ideas? How about checking two previous posts! Here are the links on the right!
⇒ ⇒ ⇒