Convert your simple eggbox into a fun, Game!
We are going to recycle your simple thow-out of a typical eggbox into an easy hook a hoop and score a number game!
This learning game for kids, is super easy and quite a simple craft to do.
SO WHAT CAN WE MAKE?
Let's think….it's a twelve hole container, so you can use the holes to put something in it, or you can use the five thongs or pointed seperators (that either cushions and seperates the eggs or for easy stacking of the eggboxes) in a useful way.
As for the colour, it's a bit bland, buff or grey, could do with a bit of colour, unless you prefer the natural look.
GOT ANY IDEAS?
Having looked at the opened eggbox, I was drawn to the five pointed seperators. They are almost cone shape and would make a super anchor for catching a hoop.
How about a learning game for kids! Each seperator will have a number on it and when your kid throws a hoop they would target a number.
GO SIMPLE, THEN GO TOUGHER!
My thoughts are to place three inner tubes spaced out on three cones or seperators, on one, three and five and these would be easier for your kid to throw a hoop over them, as they are tall and the larger hoops can go over the tubes easily.
Once they get the knack and gain confidence with their throwing and hooking a hoop, then you can remove the tubes and have them target the five pointers.
AIM OF GAME!
Start with basic numbers from 1-5, then target one number and throw a hoop over it.
See how many ones, twos, threes, fours, or fives you can get and then add them together.
Or learn to count by hooping single numbers with the smaller hoops.
Also throwing the larger hoops over two cones you would get two numbers at the same time, getting a quicker score, then you can write them down on paper on hand and do the adding up together with your child.
SIZE OF HOOPS.
The smaller hoop will go over one cone, the bigger hoop should go over two cones.
When you use the inner tubes as taller targets, the larger hoops will go over them and down easily, this would be a good starting point for the younger kids and once they get confident, you can remove the tubes and have them target the shorter cones which in time, with practice their aim will improve.
WHAT ARE THE HOOPS?
To make the tubes we will be using cardboard inner tubes and you simply cut rings from them about 1cm wide, not to thin just incase they splits and come apart.
To make them bigger, you would need to cut a ring and open it up and tape it, to two other cut and opened up rings. In this way you are expanding the hole and making it larger.
GOOD TO KNOW!
Eggboxes are made from polystyrene or pulped papers.
The moulded pulp is a mixture of recycled papers, cardboard and other types of material, which is good to know in my books.
The pulp created form recycled materials, is regarded as a sustainable packaging material and can be recycled again after its first use.
Before we move on let's have a look at this video on how eggboxes are made!
Great to watch hey and to see how paper is transformed, just by adding hot water and blending!
SHALL WE START OUR EGGBOX CRAFT?
RESOURSES!
1 Eggbox. 12 holes.

9/10 cardboard inner tubes.

Acrylic paints (your choice)

Range of paint brushes.

Large and small scissors.

Black felt tip pen

Blu tack/Masking tape.

Disposable gloves.

Paint plate/Newspaper.

Coloured paper for numbers.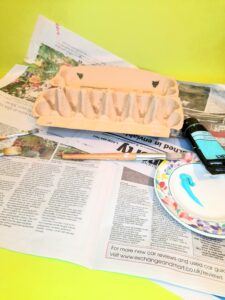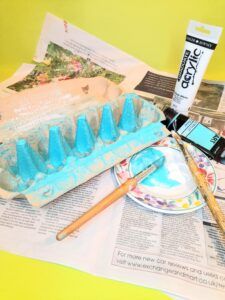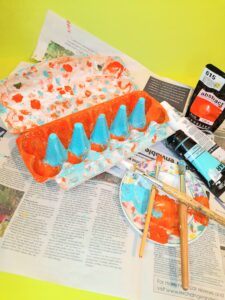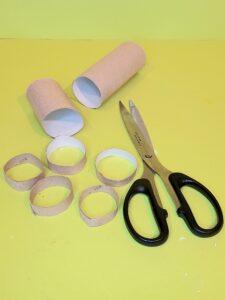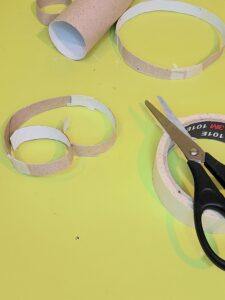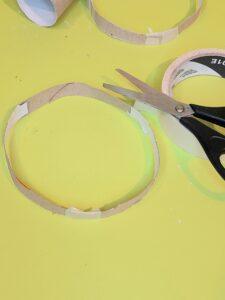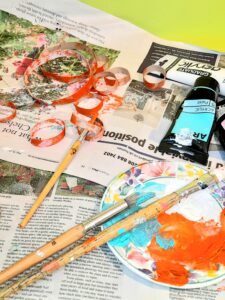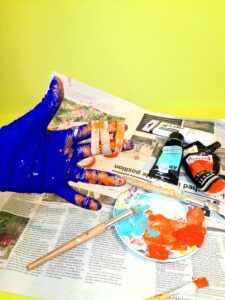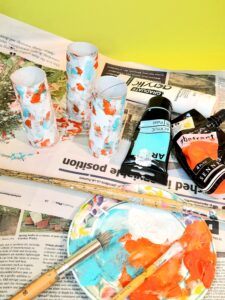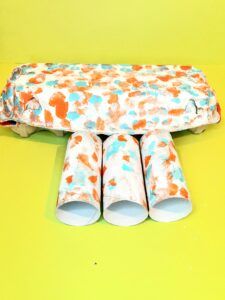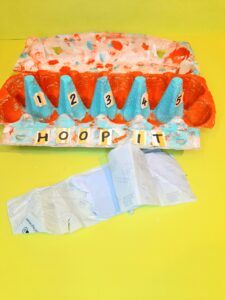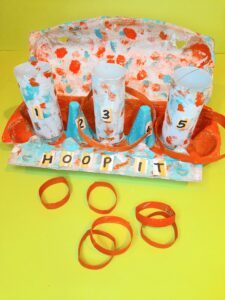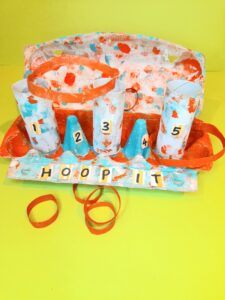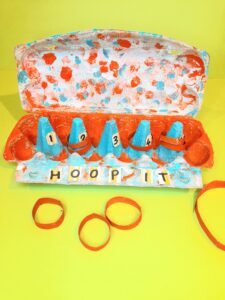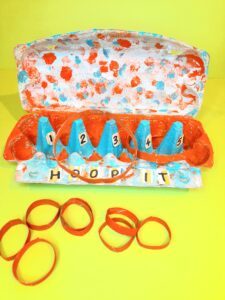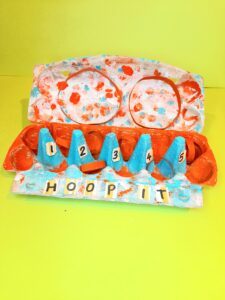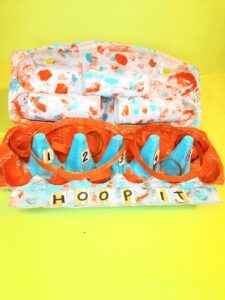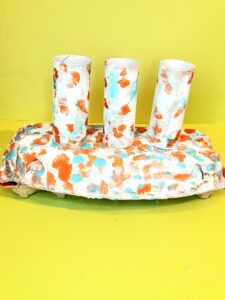 HERE SOME TIPS!
With this type of eggbox you will need to build up your colour until the texture of the box is covered.
To save on using too much paint, I found just dabbing it on the eggbox, would still give a reasonable finish, you can simply keep dabbing on until you have achieved the desired colour.
You can cut away the lid if you prefer, but keeping it still intacked in an open position, you can use it as a guard to stop hoops or rings from flying everywhere and you can then enclose everything within for storage.
By using Blu Tack you can remove numbers or letters and change the order or replace them with more harder numbers.
Wearing disposable gloves, helps keep your hands paint free as it can get quite messy.
Lining your surface with newspaper, helps keep area clean and free from paint.
From the pile of inner tubes, you need three tubes for the main game, the rest of the tubes are to be used to make as many rings or hoops you would like.
It helps to cut little pieces of masking tape and stick them on a table edge, so they are easily accessible whilst making the hoops bigger.
To prevent paint from drying up in your paint plate whilst waiting for the first layer to dry, you can cover it with plastic cling film to keep it fresh.
I came across a fun wooden game, that also has numbers you can hoop.
In this case it's cute wooden cut out numbered animals, that can be set up inside or outside to have fun with by targeting your animal, with a hemp ring!
There's Crocodile, Tiger, Fox, Hippo and Owl! Hoops have a colour code on them, so you can match a hoop to the same colour as your chosen animal.
You kids can have fun playing this matching and challenging game and at the same time, work on their numbers and number bonding!
You decide on the rules of the game, simple yet effective!
There are also regular promos so do jump in!
Hey there, when you click on links in this post and you make a purchase, I may earn a small commission that l can use towards resources (other than throw-outs) for project making within my website😀
THE LEARNING BEHIND THE HOOP IT GAME!
This is a useful learning game for kids, as it enables them to develope their fine motor skills, improve their dexterity, by picking up smaller and larger objects and perfecting their aim, confidence and consentration.
Also when your kids get more confident with their number work, by counting on, or adding together when they score wih a hoop, you can then change the numbers.
Have them stand further away to make it more challenging, hence improve on their skills and heighten their concentration!
TO CONCLUDE!
I have shown you how you can recycle a conventional eggbox into a very easy learning game for kids!
Simply by painting and adding numbers and some hoops to target the numbers and voila! kids can steadily learn number patterns and adding single and double numbers together!
As your kids play, they will build up their confidence and their aim will get better.
So crack open your saved empty eggboxes, so to speak and some inner tubes and get ready to craft an easy, hook a hoop learning number game for kids!