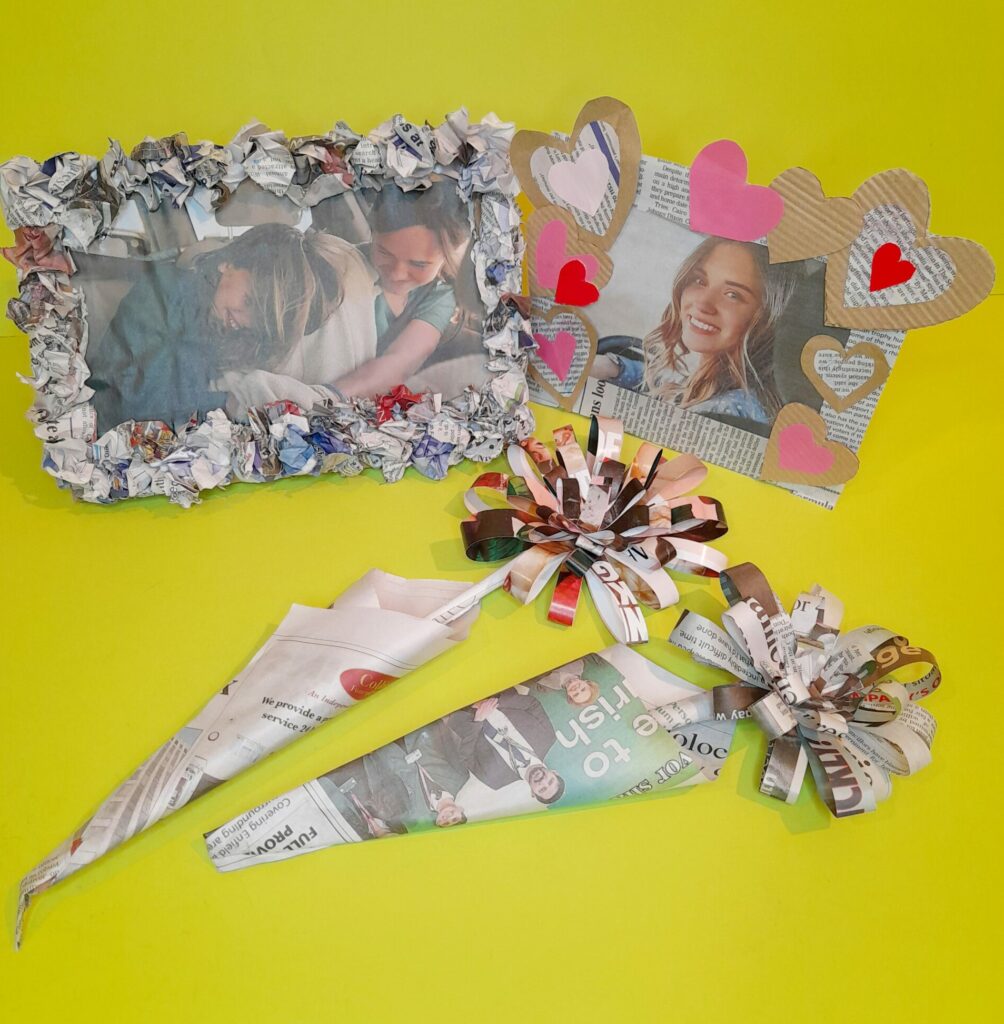 Mother's day is soon upon us, so check out these simple newspaper ideas that you can use to make picture frames and easy flowers!
In this post, I have three easy mother's day craft ideas, that are super fun to make and very organic too!
When you haven't got all the right resources, and you really can't afford to buy all the fancy papers to do your next craft, then look no more.
So not for mums' eyes, but dads out there take heed and hold on to your newspapers as you will be needing them to do these activities!
Let's see what's easy to grab, cut and stick. We know mums like flowers or we associate any gifts for mums to be more like flowers, hearts, something affectionate, or a loving reminder of something.
Taking all that into consideration I have decided to make hearts, flowers, and a simple frame.
Got any ideas yet?
FIRST
I will simply scrunch pieces of newspaper and stick them together to make the surround of a frame,
SECOND
I am going to use pages from a newspaper with lots of text or copy on it. I will use parts of the paper to cover brown packaging card cut to size, and then cut out separate heart shapes that will make extra decorations to embellish this card. 
THIRD
Finally, I will cut strips of newspaper or magazine and shape them into leaves stuck together to form a flower, make a stem, and a cone to hold the flower.
That's it! These will be the easy mother's day craft ideas, that I will be demonstrating.
HERE'S WHAT I AM LOOKING AT!
♥A love heart newspaper picture frame, ♥a scrunchy newspaper picture frame, and ♥a single newspaper flower and stalk in a newspaper wrap.
 

LET'S LOOK AT THE HISTORY OF NEWSPAPERS!
We know newspapers are still in circulation, and their presence is important, but we can also obtain news on our screens, radio, and smartphones too!
So hey credit to the journalists, for all the information they had to acquire to feed our curiosity and our need to know and be updated, alerted or just to be in the know-how!
RECYCLE NEWSPAPERS!
Once we have read the papers, we can recycle them in all sorts of useful ways.
They are not just to line our drawers, dustbins, or litter trays, but they can be transformed into interesting projects by crafters too!
NOT JUST PAPER!
When you really think about it, we would be working with a patterned paper, that is simply covered in different-sized text and images, though we will be looking at using just the sections with text.
This is what I am going to do, with each activity, I shall show how you can utilize a newspaper in three different ways!
These are all the resources that you will need.
I will demo all three but, you can choose whichever one you like to make.
THE SCRUNCHY NEWSPAPER FRAME!
YOU WILL NEED!
1 large piece of brown packaging card.

Newspaper.

PVA glue

Ruler/pencil.

A picture of Mum.
Simple yet effective! Now let's get on to the next project.
A LOVE HEART NEWSPAPER PICTURE FRAME!
YOU WILL NEED.
Brown packaging card.

Some newspaper.

Glue stick/ruler.

Pieces of coloured paper.

A picture of Mum.

Coloured crayons/pencils.
Again simple, just using a newspaper. No need to worry about the size, just cut the card to accommodate the picture of your mum.
A NEWSPAPER FLOWER, IN A NEWSPAPER WRAP.
YOU WILL NEED.
Magazine pages/or newspaper.

1 sheet of newspaper.

Large scissors.

Glue stick
I have shown you how to make three newspaper projects with the help of brown, packaging cards.
You can choose which one you would like to make, or you can do one picture frame and a flower to complement it.
UNDER AN HOUR TO MAKE!
I calculated that each project would take under an hour to make, it all depends on whether you are doing it on your own or helping out your kids.
SOME TIPS!
The packaging card is quite flexible, you can fold it into any size you like.

You can either have a three-sided shape or a simple right-angled type of frame.
   

FRAMES!
Whichever frame you choose to make you can also switch around how to decorate it, either using scrunched newspaper or layered strips of newspaper.
   

COLOUR.
you can scribble some colour on the newspaper, by using coloured crayons or pencils.
HEARTS.
When cutting out hearts fold small square pieces of card or newspaper and cut out half a heart so when opened up the heart shape will be equal.

See the previous post on

Valentine lollipop craft 

in image 3 to

see how to do this.  
   

FLOWERS.
Build up on the strips of flowers and make them more three-dimensional by decreasing the sizes and sticking them in a circular motion as you go towards the middle filling up gaps.

Three decreasing sizes should be sufficient to create a good flower head.
   

CONES.
Practice rolling the newspaper to make a cone, this is purely to hold the flower and stem and for presentation purposes.
   

BE DELICATE.
Heads up, the newspaper can rip quite easily so handle it with care, especially when using a glue stick
Have you heard, of Boomf? They provide super interactive popping cards, if you haven't I thought you might like these.
They are very impressive, and a bit of a WOW factor to impress your Mum on Mother's day!
So are you looking for something just a bit different?
This is not just your conventional mother's day gift, but something that will make your mum jump with joy and give her a big laugh too!
See what reactions you get, once the cards have been opened!
SIMPLE STEPS!
You upload your pictures choose the font and size of text and colour and see how it looks before you complete your card.
Just follow the easy-to-follow sequences and Boomf! you have your very own creation.
HERE ARE SOME GREAT CHOICES!
Hey there, when you click on links in this post and you make a purchase, I may earn a small commission that l can use towards resources (other than throw-outs) for project making within my website😀
Also, check out Baker Ross, you can find all the different types of resources you need to decorate or jazz up your cards.
There are also plenty of fabulous ideas to keep your kids busy creating their very own Mother's day cards too!
In this post, I show you how you can make three easy projects just using newspapers or magazines and some brown packaging cards.
SIMPLE PROJECTS!
You can whip up simple picture frames and decorate them just by using newspaper, and how you can make easy flowers by cutting up strips of magazine paper and shaping them to make a flower!
Using some of these techniques you or your kids, can put together with minimal resources some nice mothers day gifts!
WHERE TO FIND!
Check up outside your supermarkets, they sometimes have fee-giveaway newspapers and magazines, great to use for these types of projects.
So don't delay Mother's day is soon upon us! and here's to Happy Crafting!
Check out previous Mother's day projects that might be of interest to you!