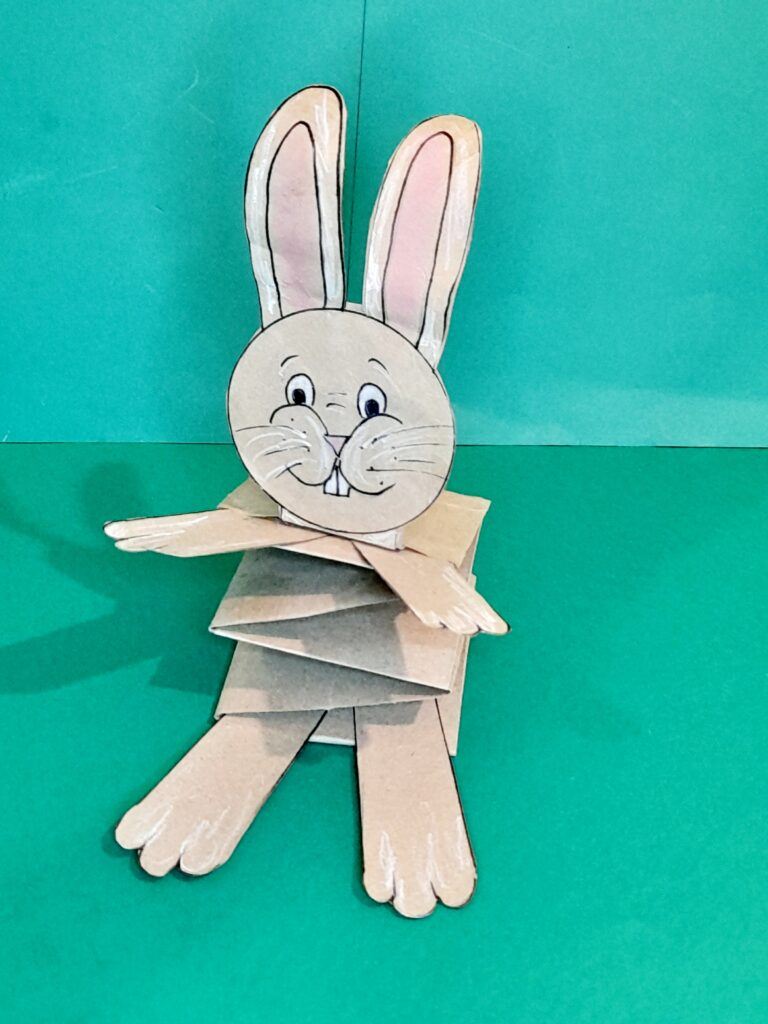 Have you ever thought of crafting a bouncy bunny just using your recycled brown packaging paper?
Easter bunny holiday activity!
Bunnies are the thing for Easter, so when kids think of Easter, for them it's the chocolate Easter eggs and the Easter bunnies!
HOW DO WE SEE BUNNIES?
Okay, we know bunnies are super cute, fluffy, and cuddly, and would be a nice theme to stick with, but I am not looking at them from that angle.
WHAT RESOURSE?
Having thought about this, and wanting to use some kind of heavy paper to make this bunny I came across all this brown packaging paper. 
MY THOUGHTS!
Out of habit, we throw away brown packaging paper without a thought right? Although I have been saving mine for a project just like this one! So brown packaging paper has got that raw and rustic look, and I think it's not a bad resource to work with.
This is what we are going to use, instead of an ordinary white fine card, we will be using brown packaging paper.
HUH? YOU MAY THINK
This post is all about a 'Bouncy Bunny craft' that you can get your kids involved in!
So over the Easter holidays, this is one kind of project you can put on the calendar and get creative!
WHAT PROJECT?
Generally bunnies hop, but in this instance, I shall be making a paper bunny that would 'boing' when you compress it!
Kids love anything that's interactive, something springy, spongy. that pops or goes bang or has a giggle factor. 
For them, it's a showing off thing, something they can show and add 'look what I made?'
LET'S HAVE SOME FUN AND WATCH THIS VERY FAMILIAR VIDEO FOR KIDS!
Does this ring a bell with anyone? Kids love this nursery rhyme and are always eager to lie down and get ready to hop!
Because I am all about using your recycling in this activity I will be using brown wrapping paper that comes with a lot of orders online.
This is how this works. You will have 2 long strips of paper and there will be a technique to fold them over each other so ultimately you form a longish box, a bit like a Concertina. You just need to glue at the start and the end of this method.
Check out ⇓ how to do this folding method below.
I came across this fun, quick, and easy 'shorts' video which is exactly what I am implying, with the paper folding, and how easy it is to make this paper bunny!
This technique has been used for many fun bouncy activities, and the Bouncy Bunny is just one, except in our case we shall be using packaging paper! Oh, and cute tune too!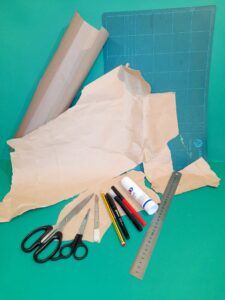 RESOURCES!
Flat brown packaging paper.

Ruler/pencil.

Scissors large/small.

Glue stick

Black felt tip pen.

Paper for gluing on.

Small cup approx. 7cms (not shown)

Cutting mat/scalpel.
Here is the finished bouncy bunny!
I added a bit of colour enhancing the bunny's eyes, cheeks, and ears, of course, you can leave it as it is or go wild!
Hey, just had a thought, you could get your kids to make a couple of these bunnies and attach a thread to the head, sellotape, or glue it on, and then have a race, the first to bounce to the other side wins!
TAKE CONTROL!
The tricky part is, that the bunny will spin around so it will make it a bit harder to bounce it back, but that's all about technique and how you handle it, and the added bonus is, it will make it more challenging for your kids as they would have to straighten the bunny up again to make it go forward!
We did this activity in my Art club, we used the same technique but used recycled white lightweight cards instead.
SAME ACTIVITY, DIFFERENT RESOURCES.
This was an excellent activity for the kids in my Art club, but because of limited time, and knowing they couldn't be asked to draw and cut out a bunny, I drew a template with a head, ears, and paws. 
This in itself was a good way for the kids to practice cutting and learn how to use a pair of scissors, which will develop their fine motor skills and coordination.
They followed me in each transaction, so colouring it in came last, but it still worked, and as we ran out of time, they could continue colouring their bunnies at home!
THIS IS THEIR BOUNCY BUNNIES!
As you can see, the children were busy colouring in and cutting, or cutting and then colouring them in.
This is the template the children used to make their bunnies.
Print as an A4 copy you will have the body parts.
Save as and print to A4 size, the template should be in proportion.
For the body, we use an A3 sheet of card, folded in half and half again length-wise, which worked out well but in this activity, we would be using packaging paper at least 42 cm in length.
   

SOME USEFUL TIPS!
WHAT KIND?
There are different types of brown packaging papers, use the heavier type that isn't too soft to work with, but thick enough to stay firm.
WHAT TO USE.
Work with an A3 size approx. 42cm in length to make the concertina box body.
HOW MANY SECTIONS?
With this size, you will get at least 3 sections, enough for a bounce.
WHAT SIZE PARTS
Once you have completed the body, the box shape concertina then you can decide how big to make the head, paws, and feet.

 
COLOUR OR PLAIN?
You can keep the bunny plain or add some colour, a pink shade inside the ears, a white crayon or pencil to colour the whites of the eyes cheeks, and teeth, and here and there for a furry look.
BUNNY TEMPLATE.
The bunny template is for you to use as a guide, when printed out you can cut out parts and copy them onto brown paper, or stick them on brown paper and use them as a means to cut around for sizing, then you can draw in the features. (This is what I used in my Art club.)
LAST RESORT!
If you don't have brown packaging paper to hand you can use whatever coloured paper you have, and use the bunny template just as it is to complete this project.
Hey there, when you click on links in this post and you make a purchase, I may earn a small commission that l can use towards resources (other than throw-outs) for project making within my website😀
HERE IS SOMETHING THAT MIGHT BE OF INTEREST TO YOU!
Are you looking for some instant Bunny fun? Something similar to our Bouncy Bunny, well look no further checkout these super cute Bunny pop-up kits!
These are pre-cut Bunny foam pieces in 4 bright colours pink, blue, orange, and green that are ready for you to assemble with an added spring giving them that bounce up and down, and away you go!
Your children will have lots of fun, giggles, and competitive moments racing each other whilst trying to reach their destination!
Besides these cute pop-up bunnies, there are many more Bunny activities for your kids to have fun crafting with! Jump in and see for yourself! 
Especially when the Easter holidays are soon upon us and you are looking for something to keep your kids busy, Baker Ross has a variety of alternative bunny kits that offer lots of creative opportunities, and in hand, your kids will be discovering their hidden artistic talent!
This is a super game for 2-5-year-olds! A Smart Max Bunny Boo game.
It's a kid's puzzle game, that develops problem-solving skills, as well as visual and spatial perception, encouraging learning through play.
This is how it works, There are 3 wooden blocks and the idea is to place the rabbit on or in one of them.
The whole idea is to re-create the design from one of the 60 challenge cards.
This is definitely one to look out for, simplistic yet so clever!
( Currently waiting for more stock to arrive.)
In this post, I get to show you how to make use of your brown packaging paper. 
SO SIMPLE!
With just a few resources to hand, and following a simple method in the making of this Bouncy Bunny, your kids will be on their way with a fun Easter treat!
RE-USE!
So hold on to all that brown packaging paper it's such a super medium to work with, and the best part is how you would be recycling something as simple as this resource and ending up with a fun Bouncy Bunny!
Are you ready? Let's get crafting!
Hey there if you are looking for some other Easter bunny ideas, check out these previous craft projects that could be of interest to you!