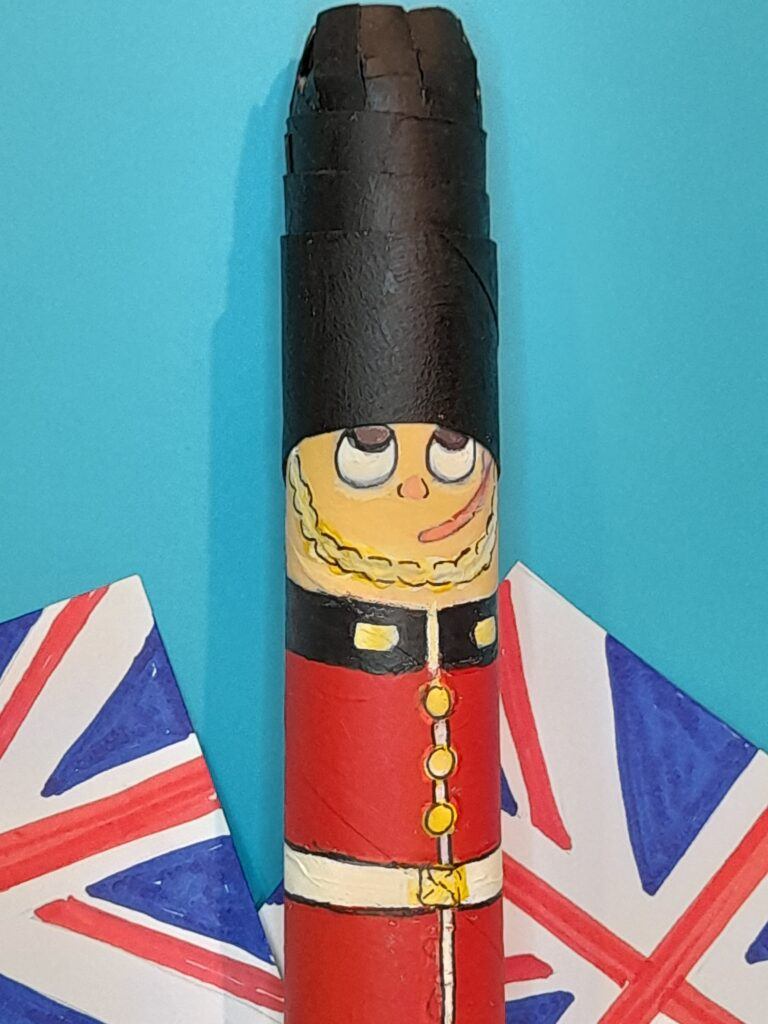 Let's have some creative fun, with a Queens guard!
This crafting project is all about making something from our recycled throw-out, where parts can move!
Want to know more? then check out the rest of this post!
This year we are celebrating the Queens Platinum Jubilee. 
The Queen has reigned for 70 years WOW! hence to honour and recognise this event, the British will be celebrating the Queens Jubilee by having street parties, tea parties and anything British.
So in this post we will be looking at platinum jubilee crafts, by making a queens guard helmet fun!
When you think of the queen what come to mind? the British flag, Queens guards, Buckingham palace, London bridge, Tower bridge, The Bristish museums, red buses, red post boxes, black cabs, although its mostly cabbing with Uber!
WHAT'S RECOGNISE AS BEING BRITISH!
Then there is a 'cup of tea', fish and chips, a stiff upper lip, Gin and tonic, the queens corgis, Chelsea flower show, unpredictable English weather, sun, clouds, rain, thunder lightening, and hail stones all in one go and I happen to be stuck in one not so long ago!
There's the british police officer, knick named as a 'bobby' 'Peelers' or copper. (Bobby after Sir Robert Peel, who founded the Metropolitan Police force in 1829).
Peelers, after Robert Peel and Coppers, short term 'Cop' known to capture someone. Not forgetting cockney rhyming slang, where a policeman was called a 'Bluebottle!'
MY INTENTIONS!
For the sake of this project, we will be going right back to the Queens Jubilee and looking at the Queens guards.
I will be showing you how to make an easy Queens guard, with a fun helmet all with cardboard inner tubes!
In this instance his helmet is a little bit different!
BEFORE WE MOVE ON LET'S RECAP!
The queens guards stand outside Buckingham palace, St. James's Palce, Clarence House, the Tower of London and Winsor Castle.
They would stand perfectly still, straight faced no smiling and try not to react to tourists!
A BIT OF HISTORY!
So why are the helmet so tall? During the 17th century when there was the 7 year war, this was to give the illusion that the guards were tall, hence overbearing and threatening.
This was to scare the opponents off in war, that being the French.
Every gunner in the military army as well as the French wore these bearskin hats.
Efforts had been made to try synthetic version, but did not work well with different weathers they would deteriorate very quicky.
I am hoping there will be a solution to this and they will find an alternative type of artificial fur, that can adjust to our british weather.
RULES GUARDS HAVE TO OBIDE BY!
Today the Queens guard cannot have a break, instead every ten minutes they would march up and down to stretch their legs.
In very hot weather, if a guard were to faint because of the heavy helmet and thick uniform, they would have to faint properly, known as 'Fainting to attention' in a straight line, not crumple down in a pile.
WHAT THIS PROJECT IS ABOUT!
In this project we are going to have some fun and make a Queens guard helmet that can be raised higher and higher, no reason it's just a fun querky thing to do.
Wondered why their helmets are so tall, well we are aiming to make them even taller! So are you ready?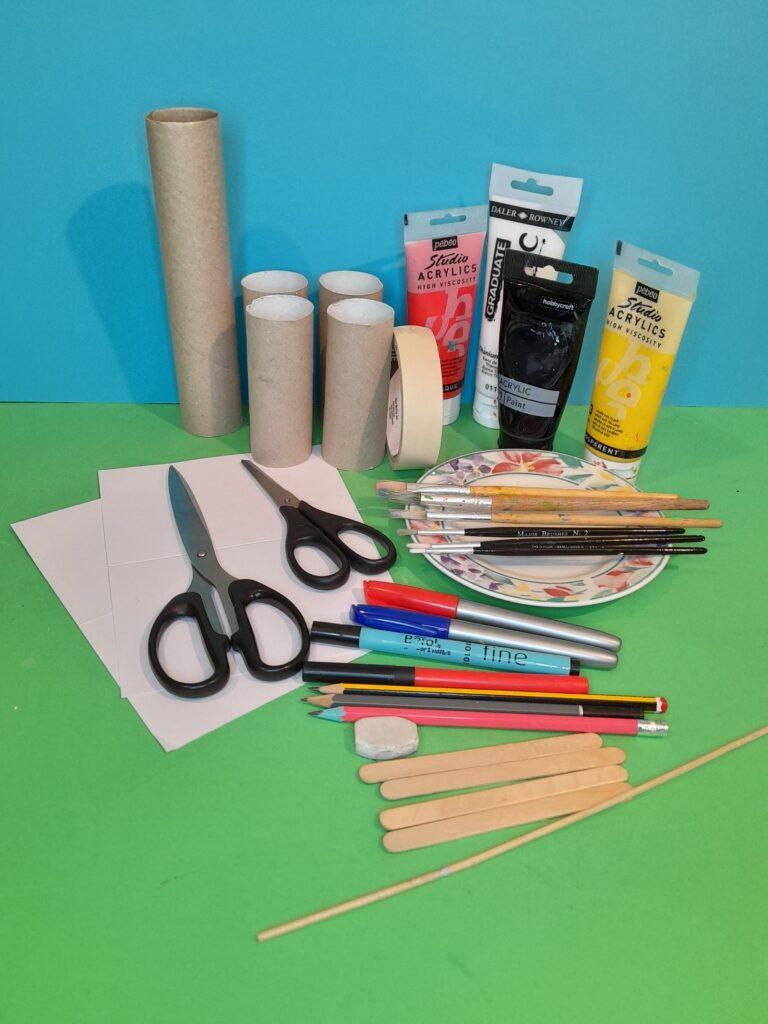 RESOURSES!
1 Long cardboard inner tube, 4 smaller tubes.

Acrylic paints, Red, Black, White, different size paint brushes.paint plate.

Felt tips, Red, Blue, Black (fine) Pencil, rubber.

Masking tape/Glue stick (not shown)

Lolly pop sticks or BBQ stick.

Large/small scissors.

White cards (for flags)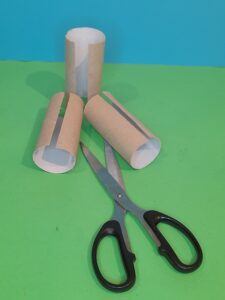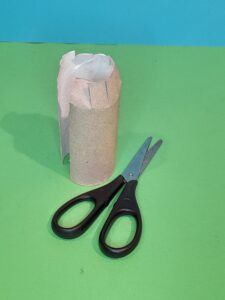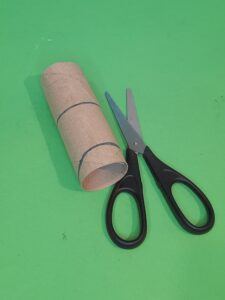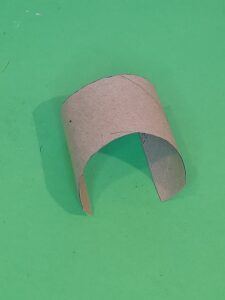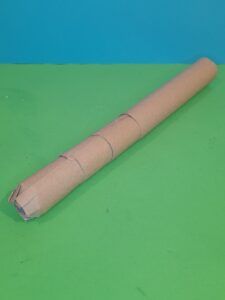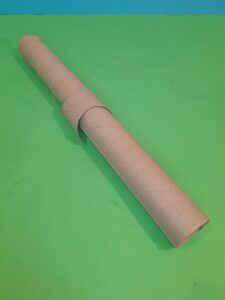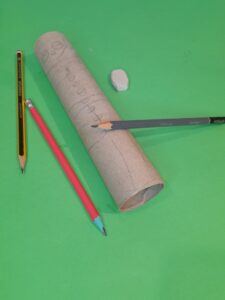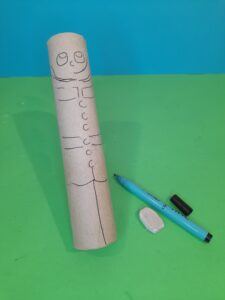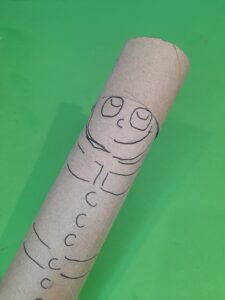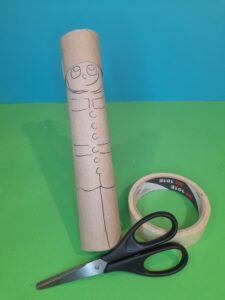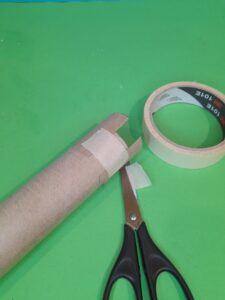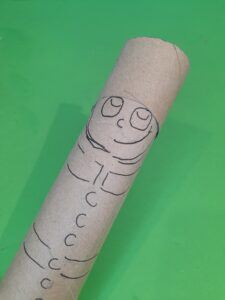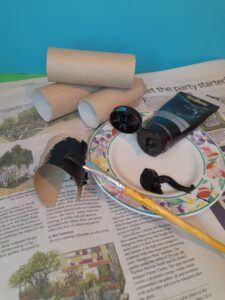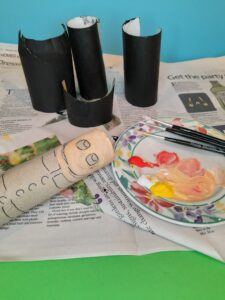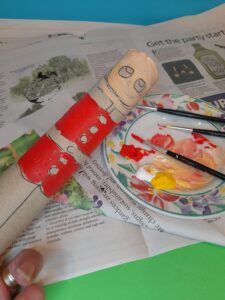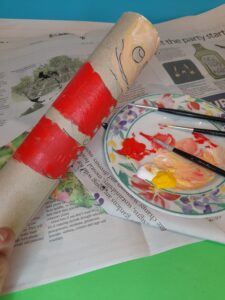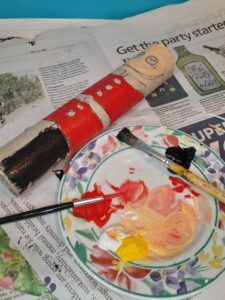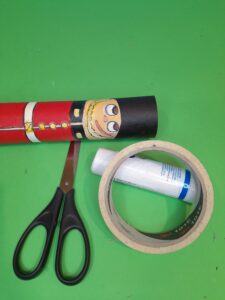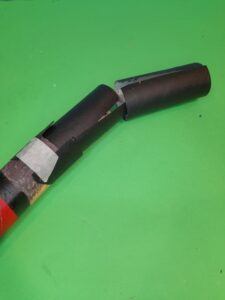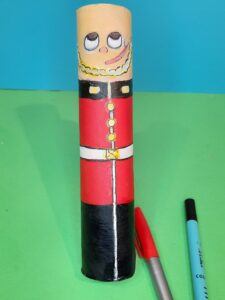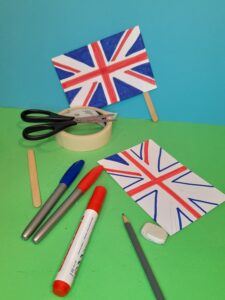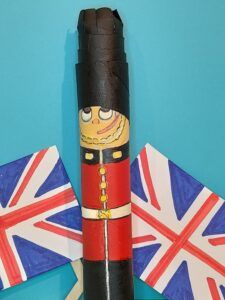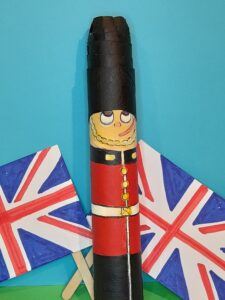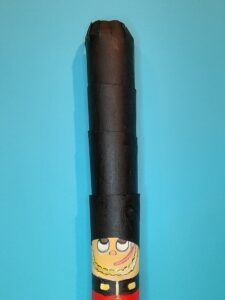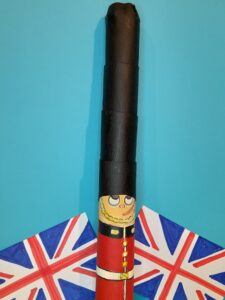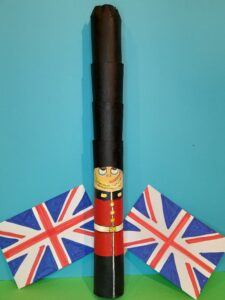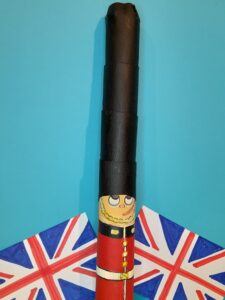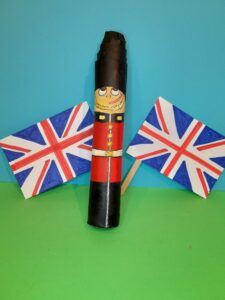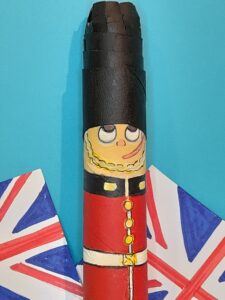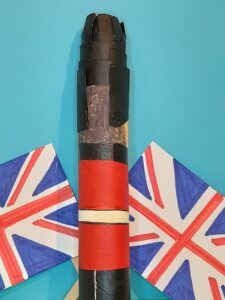 USEFUL TIPS!
Keep hold of all your cardboard inner tubes, long and small and lightly spray them with anti-bacterial spray, if you are concerned about hygiene.

After you have cut the top part of the tube into a fan and it doesn't stay down when you squeeze them together, you can use the glue stick to keep them neatly in place.

It might be a good idea to use disposable gloves, as the black paint can get quite messy.

Allow all painted tubes to dry properly.

When inserting tubes within each other, you can prise open or squeeze tubes to accommodate the opening so as to allow movement.

You could use googly eyes if you prefer.

The colours I have used are the typical Queens guard familiar colours, although there is the grey/blue coats the guards wear over winter time.

Skin colour your choice.

Once all parts are painted you can touch up rough edges with felt tip pens, for a better finish.

The Union Jack, English flag I drew first with a faint pencil outline, then I shaded in the colours freehand.

I didn't fill in the back of the helmet, as there is a gap, you can paint back part in black or just leave it as it is, your choice.
In your Platinum Jubilee crafts, did you enjoy making a Queens guard helmet fun?
Within these posts I like to occassionally recommend something a bit different, when the opportunity arises.
In this instance keeping the Queens Platinum Jubilee in mind and all the Royalty that goes with it, have you ever thought, Hey! I'd like to look royal, or depict yourself as a famous historical character? or even have your pet in historical outfit?
SOMETHING REGAL ARE YOU INTERESTED!
Check out this site, popyouart.com where amazing transformation takes place from a photo you supply, into an amazing fun and unique historical portrait on canvas!
How about a portrait painted of your pet as a Queens guard?
Funny as well as hilarious. Why don't you check out this great site and see how they can transform a simple photo of your dog or cat dressed up in uniform and so neatly and professionally presented as a portrait for you or to gift someone!
Hey there, when you click on links in this post and you make a purchase, I may earn a small commission that l can use towards resources (other than throw-outs) for project making within my website😀
Looking for quick Jubilee projects, resourses or anything to put together for the Queens Jubilee celebrations? Then check out bakerross.co.uk
There you can find a collection of super memorabilia, lots of useful resourses and ideas to keep your kids busy over the half-term holidays and prepare for the Queens Platinum Jubilee event!
TO CONCLUDE!
I thought it would be nice to have some fun and a do an activity a bit different out of something that's quite traditional with the Royal theme behind it.
I show you how to make an easy Queens guard helmet fun, simply by using cardboard inner tubes and some paint!
With moving parts, that being the Queens guard helmet that can be elongated by pulling it out, or making it shorter by pushing it back in!
So you have no time to loose! Celebrations start now, hunt around for your inner tubes and get crafting!
Wishing you all a fantastic time to celebrate the
Queens
Platinum
Jubilee
event!