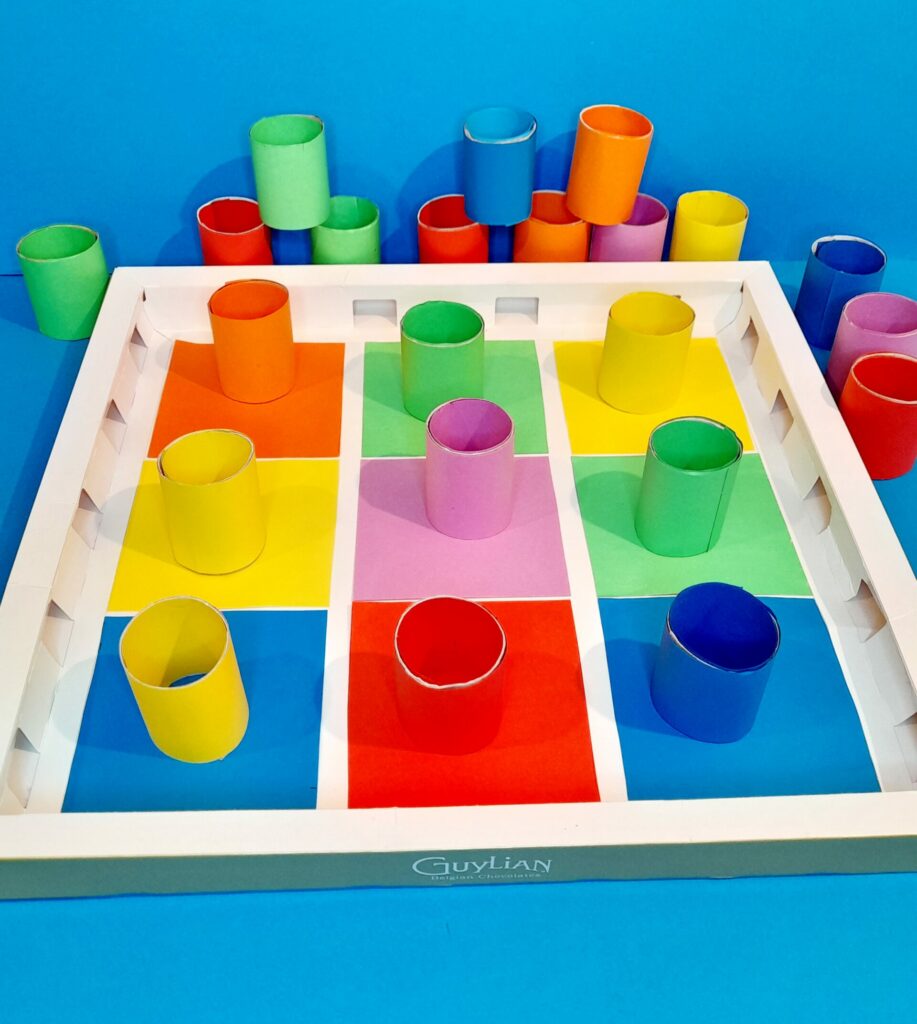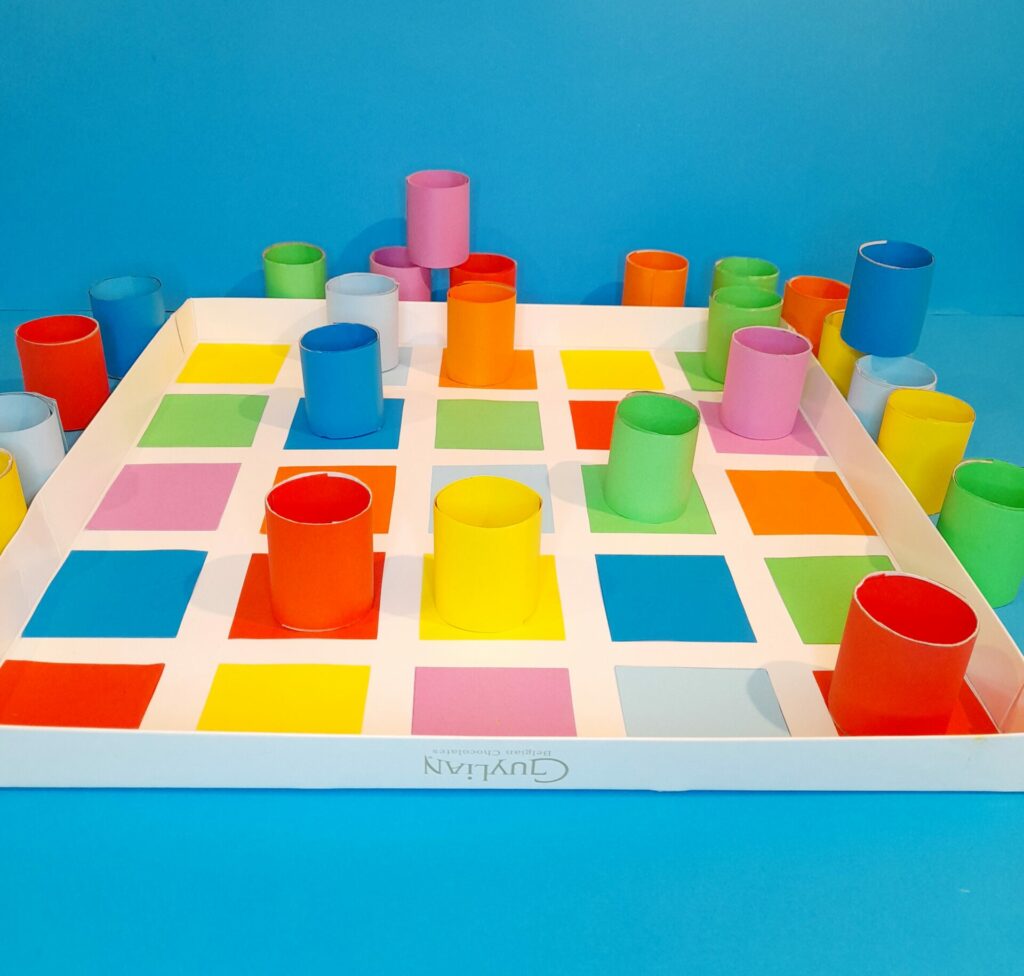 Hold on to your large chocolate boxes because they can make a super base for a matching board game.
MY INTENTION!
In this post, I will show you how you can make an easy matching game for kids, simply by laying out random coloured papers and using coloured halved tubes, to match as pieces to play with!
BOARD GAME!
As my previous post was also about making a kids' board game called 'Tic Tac Toe', I thought hey! let's do another one!
GREAT GIFT!
I was lucky to receive a luxurious box of chocolates last Christmas and kept hold of the empty box to use it for a project at a later date, and hey! here we are. 
LARGE SIZE!
The size of this box is approx. 380x380mm with a lid and I decided to use the inside of the lid and double up as another board game which worked quite nicely, I will show you this in the demo later.
EASIER TO HOLD!
For little hands, I felt halving the tubes to use as pieces to work with would be easier for little hands to hold, (featured in the previous post).
Sorry! I can't get away from using cardboard inner tubes and I do feature them a lot, they are simply so accessible, but they work too don't you think?
COLOURED SQUARES!
I decided to use coloured squared papers as the focus to place the matching coloured tube pieces on.
BACK TO THE MATCHING GAME!
What do we know about matching games? Well not only are they fun games for kids to play with, but also they will learn other skills too for example:
Learning colours.

Matching colours.

Using fine motor skills.

Decision making.

Turn taking.

Attention and concentration.

Sharing, if 2 players.
WAYS TO PLAY THIS MATCHING GAME FOR KIDS!
LARGER SQUARES!
If you choose to use bigger squares this is excellent for the younger kids.

Having the larger squares makes it easier for the kids to spot the same colour as the piece they have, hence it won't seem so daunting to match up, and in their own time too.
SOME PLAYING TIPS!
Mix the coloured pieces up on the board and ask the player to re-arrange them to the correct colour.

Once they understand how to play the game simply time them.

If 2 are playing see who can put their pieces quicker on the board, so they race each other.
TURN TAKING!
Turn-taking, see who can get rid of their coloured pieces first, but they can't put 2 on the same square if they can't then that piece is out of the game.

Let the child take their time, keep the coloured pieces to one side, and direct them giving them clues on what to do next!
ABOUT THE LiD!
Initially, I was only going to use the lid just to close the box up and keep components safe, but having seen that the inside of the lid can also be used as part of the game this is what I did with it see below.
WHAT EACH BOARD WOULD LOOK LIKE!
This is the base of the box for easy playing.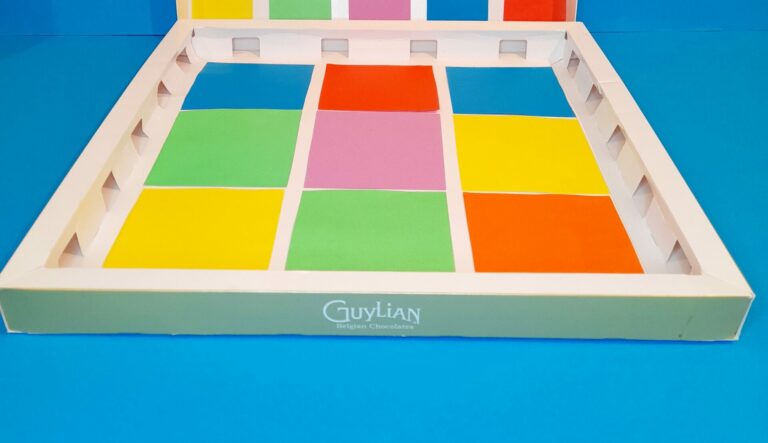 Here is the main board game which is the base of the box. I worked out it could have 9 large squares between 100mm – 130mm square. The squares are big enough for 1 – 2 tubes to be placed on them easily.
ADVANCE THEIR LEARNING!
Kids get bored very quickly so, having a second board with many more squares, would make the game much more challenging. That's when I decided to make use of the lid!
This is the lid of the box, a more advanced game.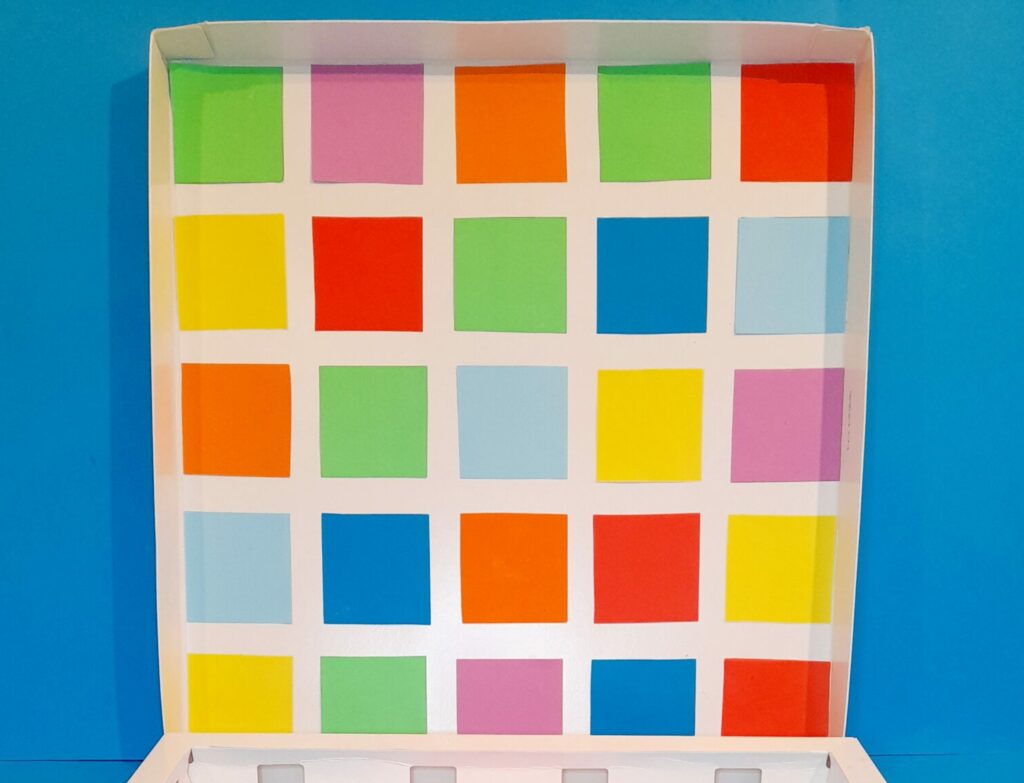 I divided the space within the lid and found I could have 25 smaller squares of 60x60mm square, therefore, requiring 25 pieces to play with. Having 5 lines in total, 5 squares across and 5 squares up.
REQUIRE LOTS OF PATIENCE!
Have you got your scissors on the ready? Find a comfortable chair, put the telly on, and start cutting!
Measure your tubes cut them in half, then measure your coloured papers to size cut them up and start to stick them on.
Before we continue, here is a short kids' video for a bit of matching colour fun!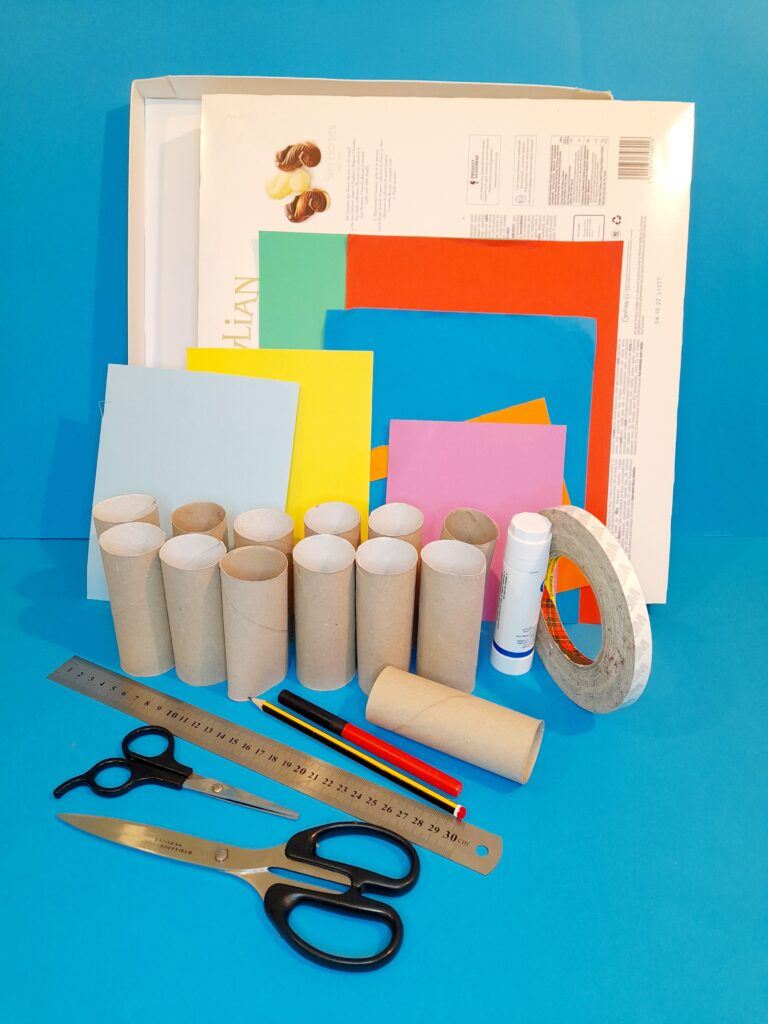 RESOURCES!
A large box with a lid, or a large packaging card.

13 cardboard inner tubes.

A mix of coloured papers.

Ruler/Scissors large and small.

Pencil/pen/Glue stick.

Double-sided tape.
I hope you found this project easy. It may look a bit complex to make, but once you get the hang of cutting up the squares and tubes you are halfway there!
   NO WORRIES!
If you haven't got a large chocolate box, then simply use a large square of packaging card.
You don't have to be so precise with measuring your squares, as long as you have areas to place your coloured tubes on.
APPLYING PAINT!
If you prefer you can use paint instead, though it could get a bit messy. In this instance carefully paint random squares with the same coloured paint, and allow them to dry, then paint other squares in the same way, leaving gaps in between them.
   

USE SCRAPS!
Use any scraps of coloured paper.
No coloured paper, instead you can use felt tip pens, colouring pencils, or crayons to scribble the squared areas other than using square paper.
   

ALTERNATIVES!
If your kids are making this game, and find it difficult to measure and halve the tubes, just have them guess where halfway is cut appropriately.
If it's difficult to line the inside of the tube with coloured paper,  then just leave it as it is.
LET ME DRAW YOUR ATTENTION!
Check out this simple super-matching game from KIDLY UK.
Feed those whales, using pinchers to put the fish inside their mouths!
All pieces are colour co-ordinated your kids just have to match up the colours.
Well-made with a wooden quality finish this is a must-have for a lasting piece of kit!
A great matching game for 2 years upwards. This game enables the child to work on their concentration, fine motor skills, and turn-taking!
Here is the lovely tactile game!
Hey there, when you click on links in this post and you make a purchase, I may earn a small commission that l can use towards resources (other than throw-outs) for project making within my website😀
Also, if you are looking for alternative resources that you can match up and have lots of fun with your kids, then check out Baker Ross!
Catch yourself a bargain with some easy kits designed to keep your children busy with great results to share or hang up!
Also, check out what's new in the coming month!
TO CONCLUDE!
This post shows you how to up-cycle an oversized chocolate box and cardboard inner tubes, and in hand, make a matching game for kids!
EVEN SIMPLER!
You can tone it down if it appears to be too complicated, by simply using other colouring resources, like colouring pencils, pens, or crayons!
LET'S DO OUR BIT!
Let's continue to make use of our throw-outs and try to be inventive, and this is an excellent way to make a simple game that kids will enjoy, time and time again!
So Happy Crafting and don't forget to hold on to those tubes!