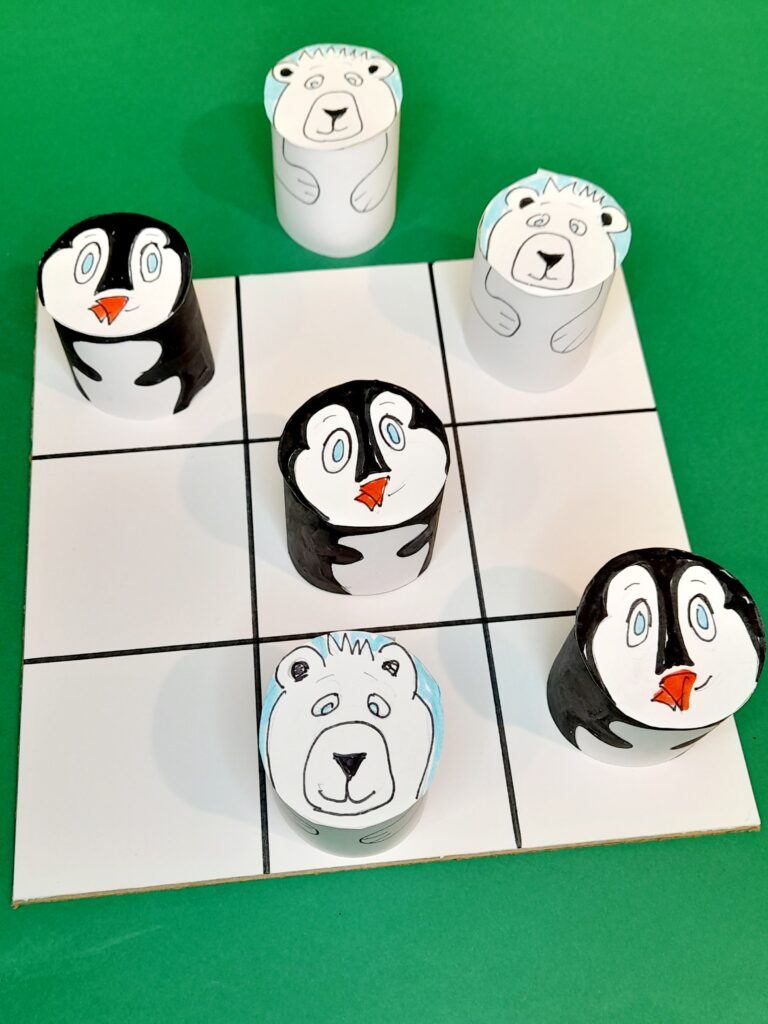 Hold on to those cardboard inner tubes, a board game is waiting to be made!
Tic Tac Toe or Naughts and Crosses?
How about making a fun and easy board game using your recycled materials, but something that has a different take on what we know to be naughts and crosses, in this instance a kid's Tik-Tac-Toe game?
JANUARY BLUES!
When our weather suddenly turns colder, and you and your kids have the January blues, and sometimes feel you are trapped at home when the weather isn't that great starting to annoy each what do you do to entertain your kids and keep them busy?
SPECIAL TIME TOGETHER!
Having a game like this will distract them from being bored, but more so to get down and make something as a partnership forming super quality time together, and once completed you get to play the board game again and again!
WHAT'S THIS GAME?
Have you heard of Tik -Tac-Toe game? In this post, I will show you how to make a kid's version of this, or as the Brits would call it naughts and crosses board game!
IS IT A TYPE OF DANCE?
No, it's nothing to do with dancing even tap dancing, thinking of the toe bit, it's a name given to this particular board game!
WHAT MATERIALS?
I will show you how you can use inner tubes as your means of 3-D counters and old greeting cards and packaging to make this board game.
O'S AND X'S
Did you know that Tik-Tac-Toe is another name for the naughts and crosses (O's and X's) board game? 
A DIFFERENT TAKE ON THIS!
So instead of drawing naughts and crosses, we are going to make cute penguins and polar bears as 3-dimensional counters, which would take the place of the naughts and crosses.
WHY THIS TYPE OF GAME?
It's easy to make.

It's crafting.

It's fun.

It's challenging.

It's a good thinking game.

It's time to analyze.

It's using their fine dexterity.

It's eye and hand coordination.
So this type of game teaches turn-taking, working things out, trying to predict, and solving a problem.
LET'S REWIND!
As the weather has been somewhat colder than normal, sitting on my couch with a cold nose and icy fingers, my thoughts transcended to the arctic where I imagine those lovely penguins and polar bears live.
MY THOUGHTS!
Hey, I thought how about using these fabulous creatures as the focus of the 3-D counters and using them in a board game?
SIZING!
As children's hands are small, I decided to make the 3-D counter, that of the penguin or polar bear easy to grip, so halving the cardboard inner tube worked for their little hands to pick up and move.
FUN!
Choosing two different kinds of animals would make it more child friendly, and they would tune in a bit more.
THE AIM!
In this instance, they would be battling for their lined-up space, and penguins would need to aim for three of them in a row, so that would be their aim for the polar bear too.
THINKING AHEAD!
Nothing dramatic as such, but it's kind of a battling game though the player would have to work out their next move.
HOW IT'S PLAYED!
Just like the original game of naughts and crosses, instead of drawing an O or an X to mark your spot you would maneuver your penguin or polar bear into place and stop your opponent by claiming their space, but at the same time trying to line up your counter, hence 3-in-a-row to win!
POSITIONING!
Basically, you can line up your 3-D counters vertically, horizontally, or diagonally.
THE VIDEO BELOW SHOWS HOW TO PLAY TIC TAC TOE!
Here is a quick overview of how to play the game, although we shall be making our little 3-D penguins and polar bears, instead of drawing naughts & crosses.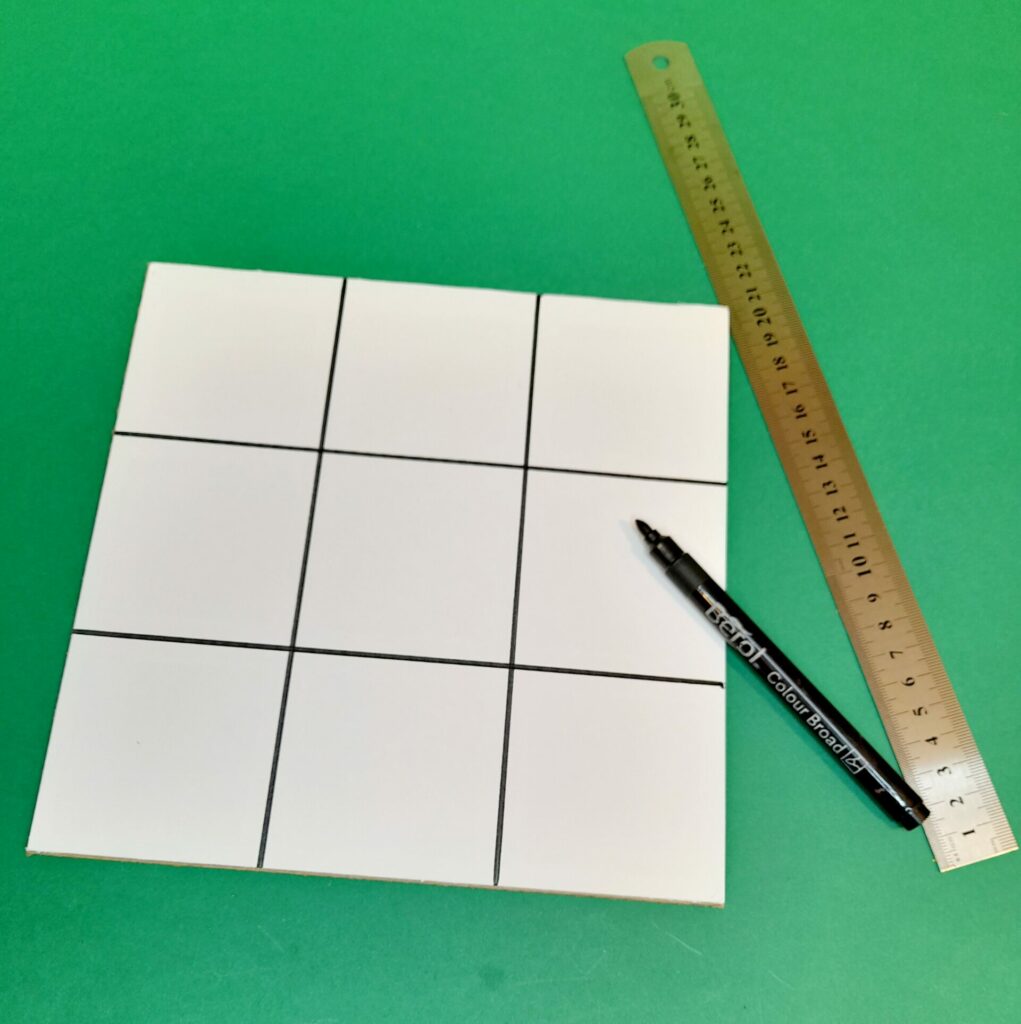 WHAT YOU NEED?
Basically, you will need a flat whiteboard with four straight lines crossing each other to give you nine equal sections, as shown on the left.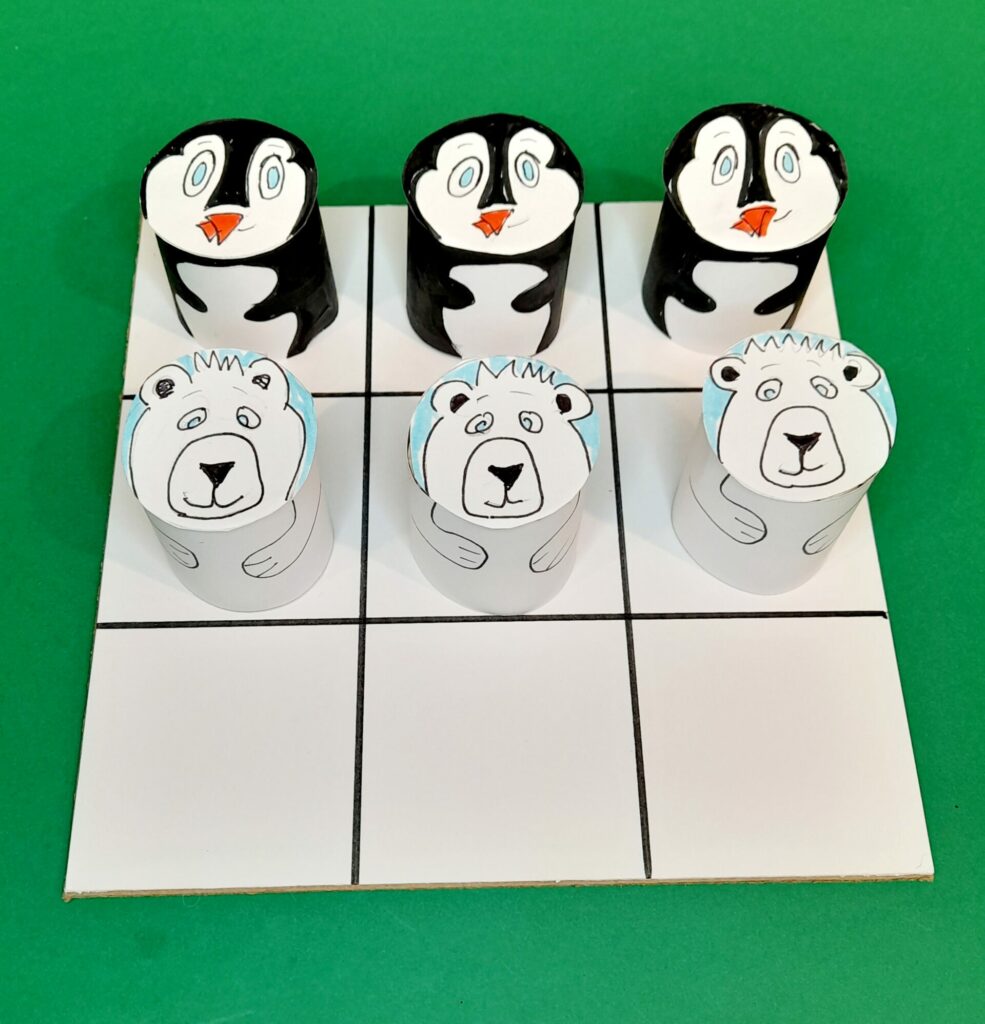 HERE IS A PEEK AT THE COUNTERS!
Here are three 3-D penguin counters and three 3-D polar bear counters. You can have more of each, but normally you just need three to play the game.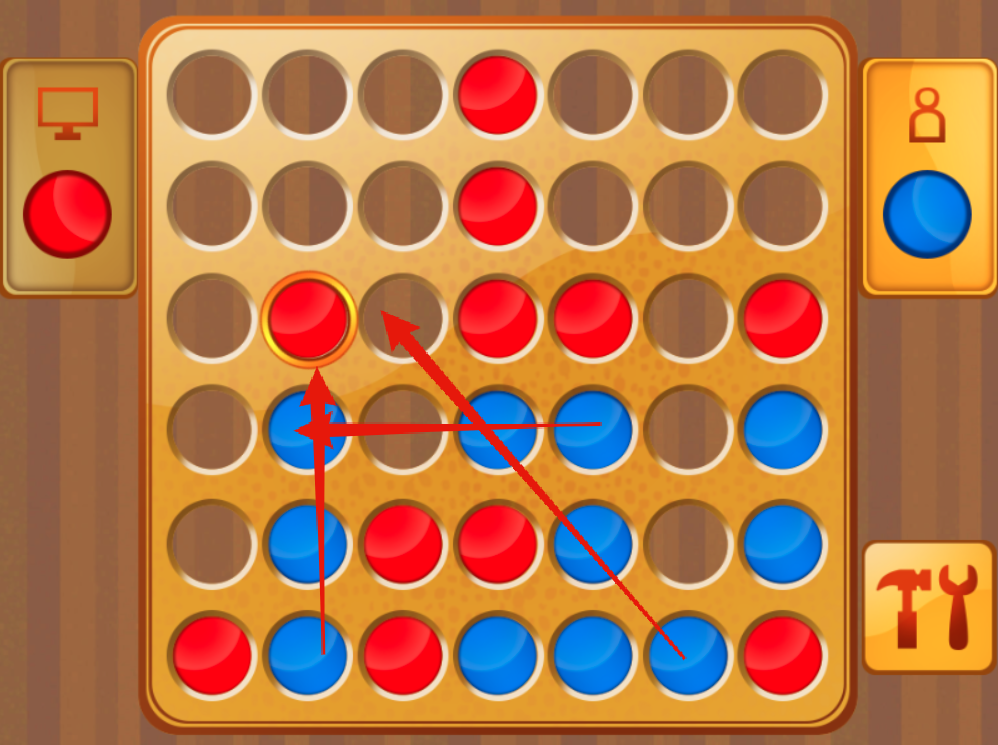 SIMILAR.
So it's kind of similar to a 4-in-a-row game, but we are playing 3 in a row, and ours is much more simplified, with fewer counters and fewer spaces to fill up.
A BIT OF HISTORY!
As simple as this game may appear, when playing the naughts and crosses, this version goes as far back as ancient Egypt.
ON TILES.
These kinds of board games were found on roofing tiles or slates.
ROMAN EMPIRE.
From around 1300 BC and a very early variation of this game, Tik-Tac-Toe was played in the Roman empire.
They played with 3 pebbles and each player had to move them around. These markings have been found etched all over Rome.
THE NAME CAME FROM?
The Roman version was known as Terni Lapilli or 3 pebbles at a time.
MOVING ON.
Then in Britain in the mid-1800 it was named naughts and crosses, and the name Tic-Tac-Toe came about later on in the 1800s.
It was in the 20th century in the United States that this game was formally named Tic-Tac-Toe.
WHY THIS NAME?
Historians believed that the player would throw a pencil at a slate covered in numbers, then accumulate a score according to the numbers the pencil would hit.
NOISE ON SLATE!
This was a bit like playing darts, thus the name came about from the noise the pencil made as it hit the slate.
WHY TOE?
As for the toe part in the name, well having dug deep to see what relevance this has from my understanding it's this. To compete or fight with someone in a strong, forceful determined way. (from the Cambridge Dictionary)
CAT AND SCRATCH?
A tie in Tic-Tac-Toe is called a 'scratch' like a 'cat's scratch' a bit like playing with a cat, so when both players are at a stalemate, having no winners, the cat usually signals it's finished with a quick scratch. (Probably the kind of language they used back in the day!)
So there you have it, I have never given it any thought to how or why this game has this name, I only know it as naughts and crosses, the British name they give it!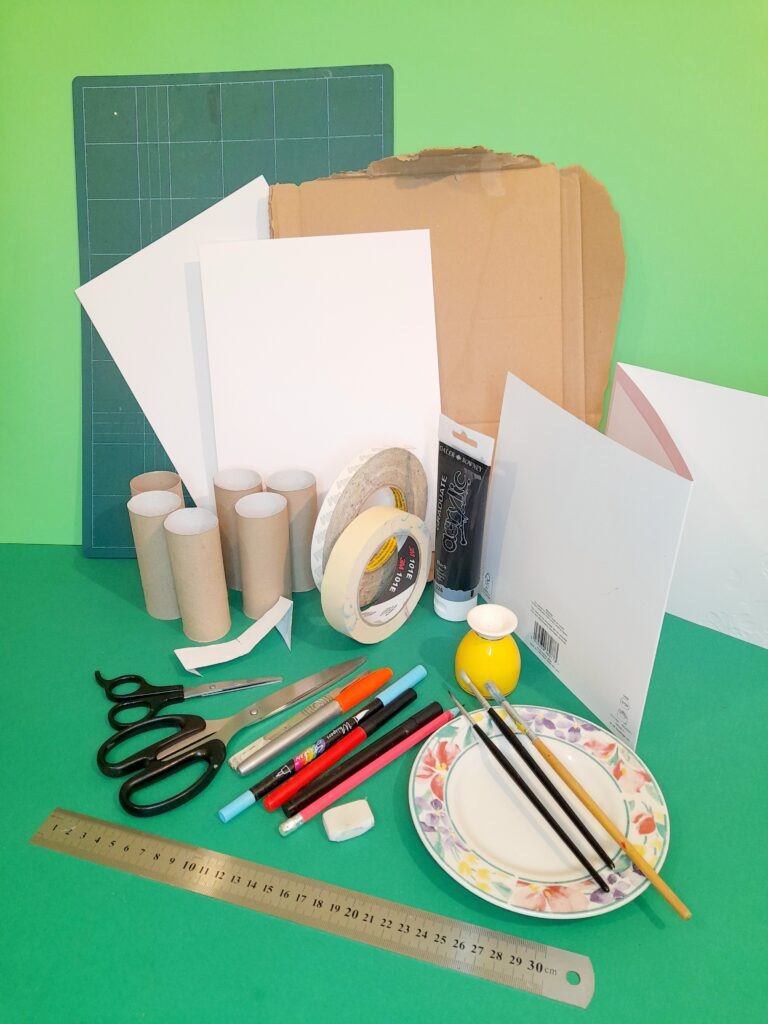 RESOURCES!.
6 cardboard inner tubes.

A large piece of package card.

2 A4 white cards.

A used greeting card 210 x 210mm.

Egg cup around 45mm wide.

Black acrylic paint.

Masking tape/double-sided tape.

Large and small scissors.

different size fine brushes.

Metal ruler/scalpel/cutting board.

Fine/thick black felt tip pens.

A piece of paper 102mm long.

Paint plate/rubber.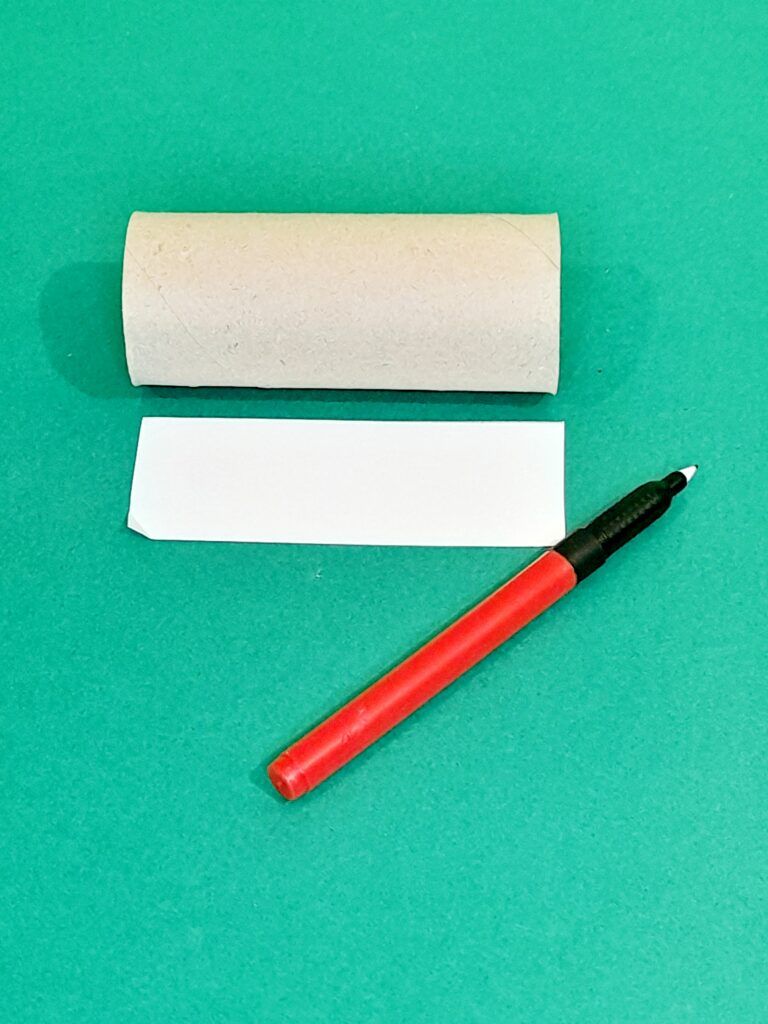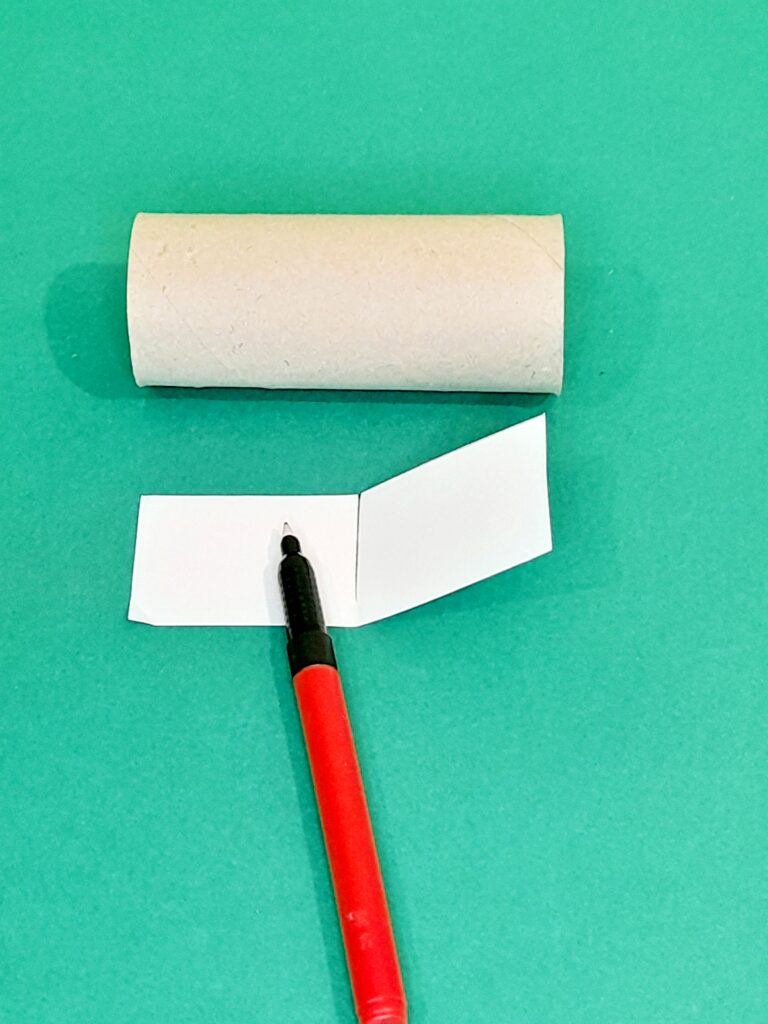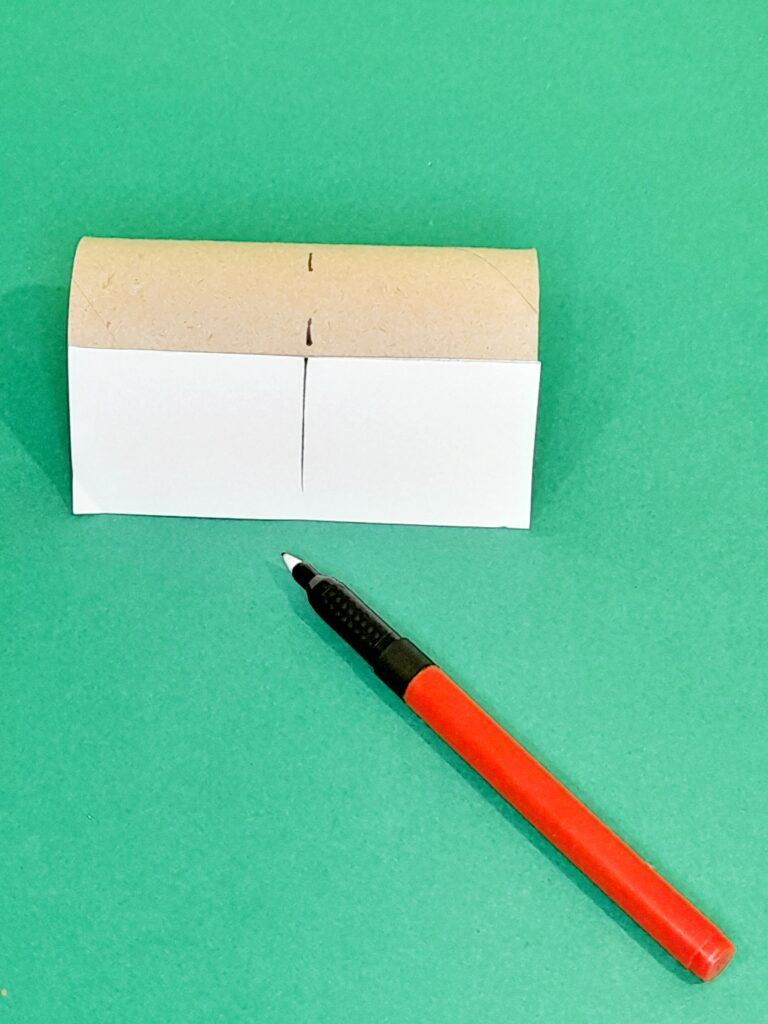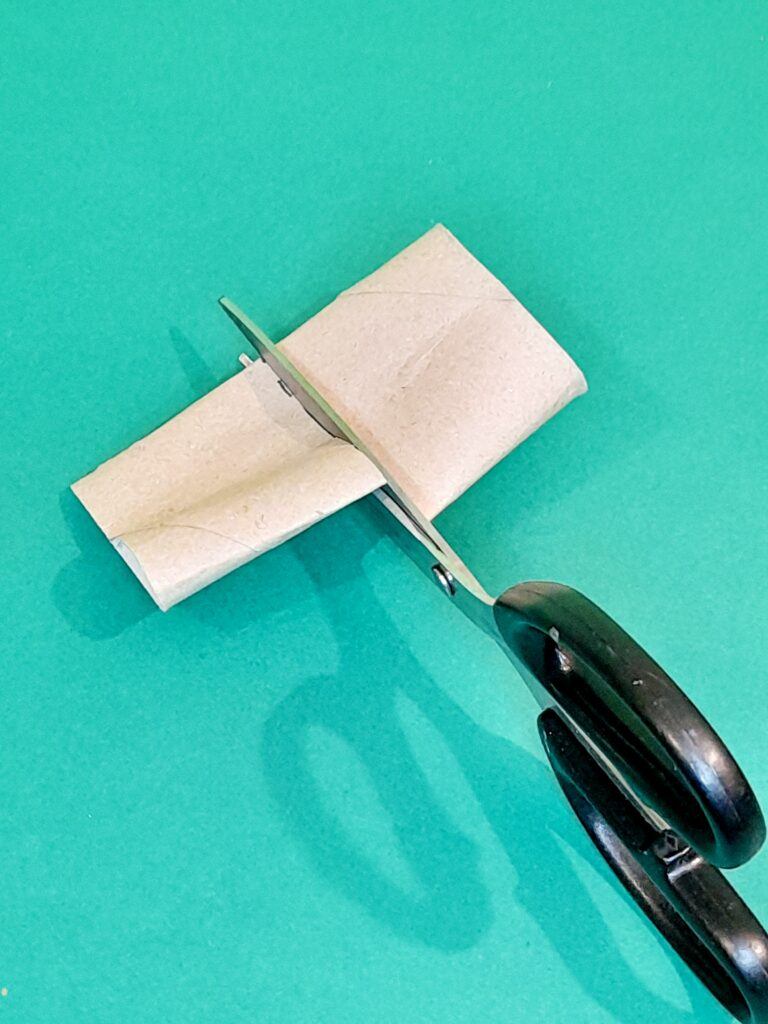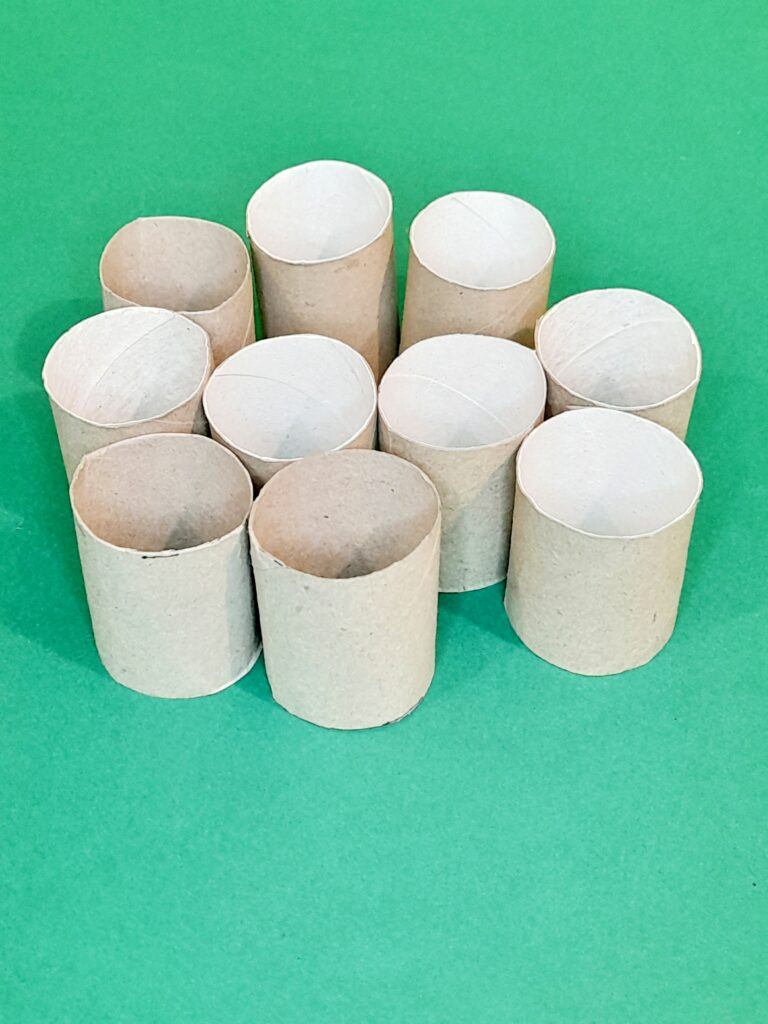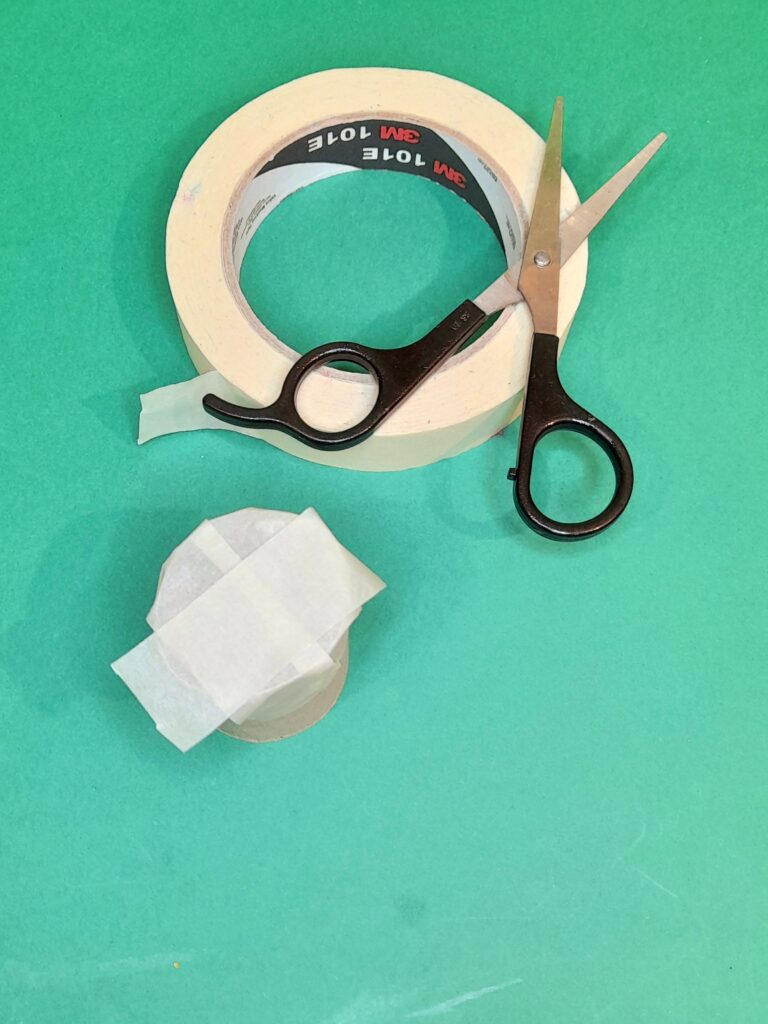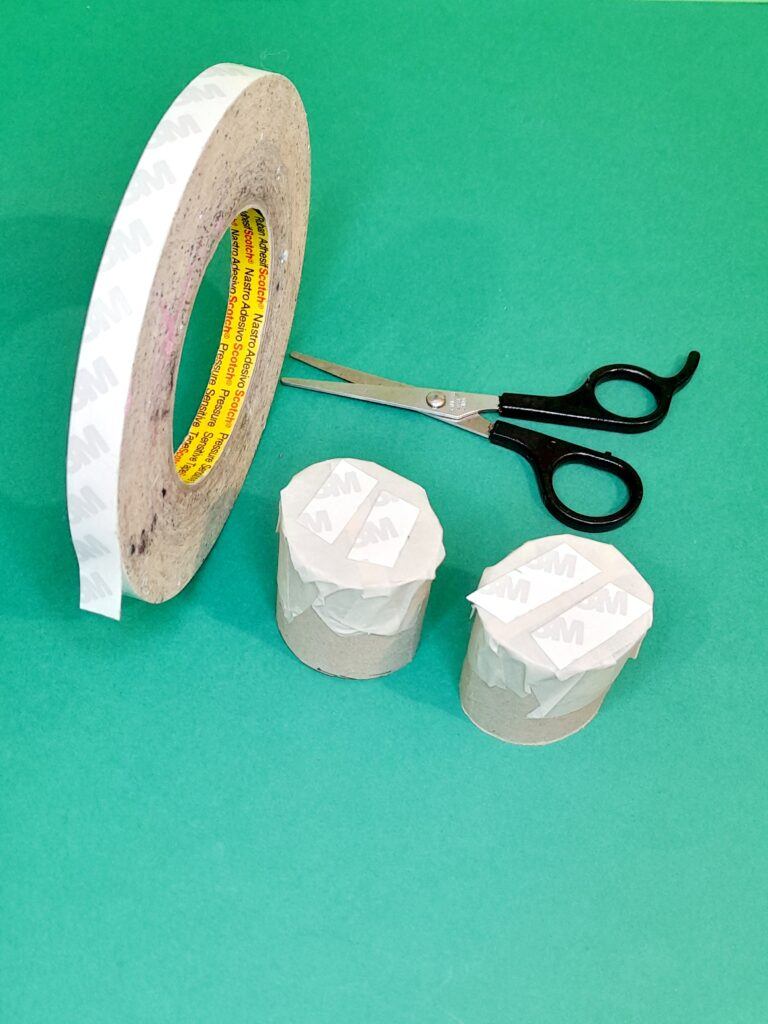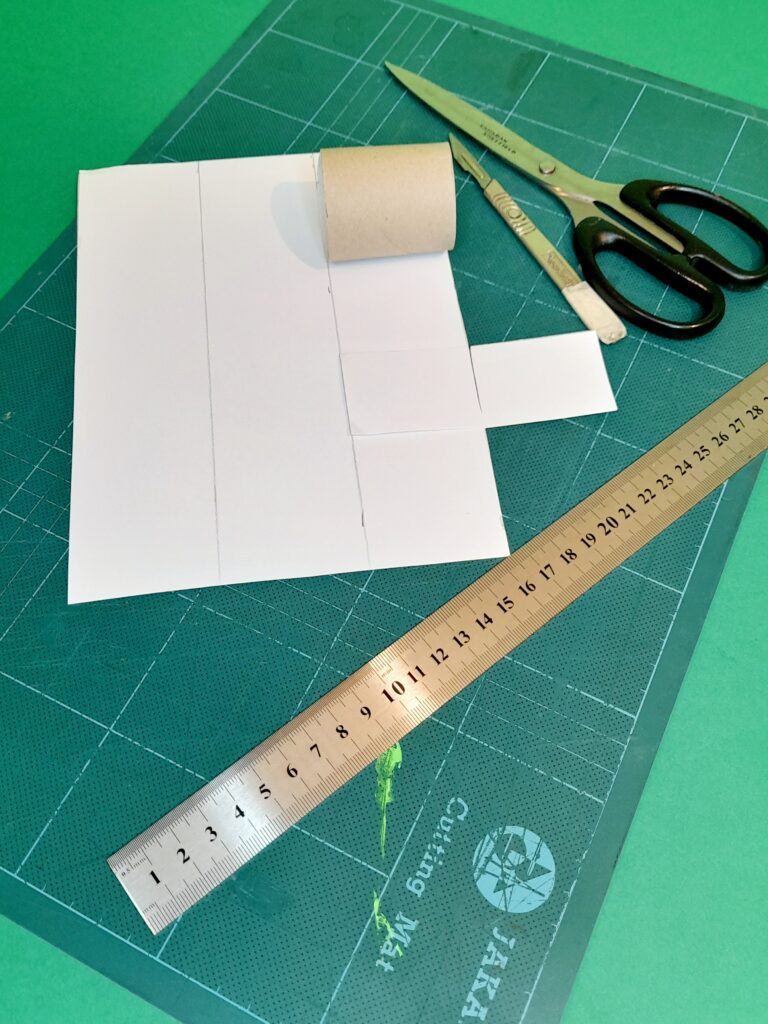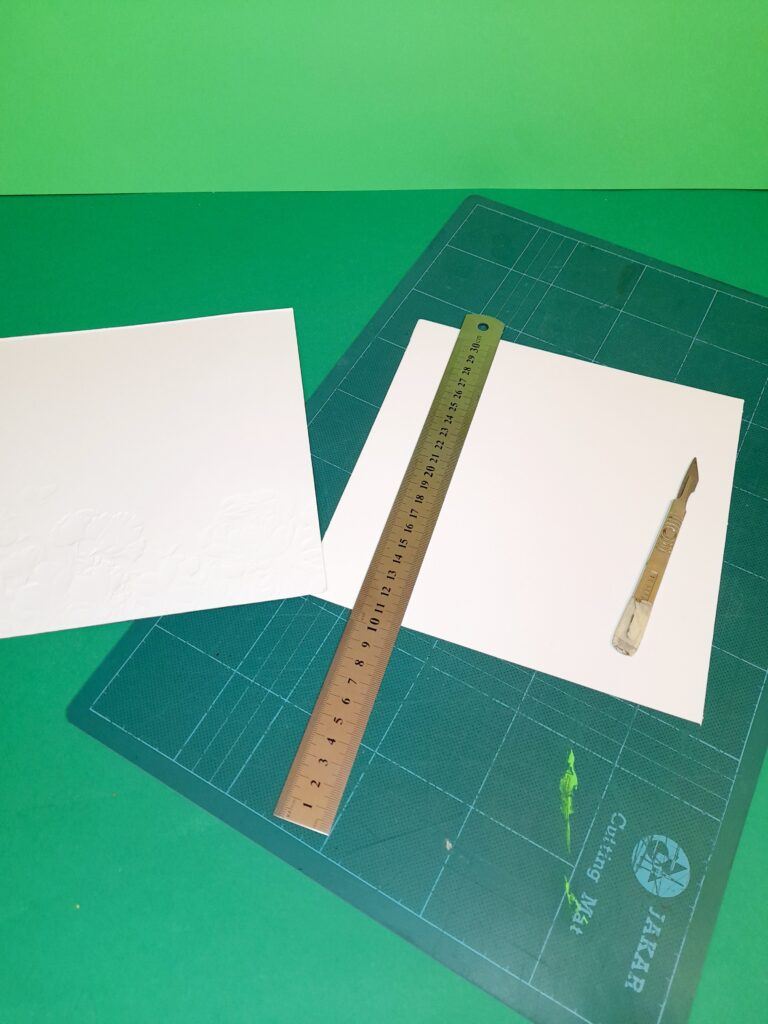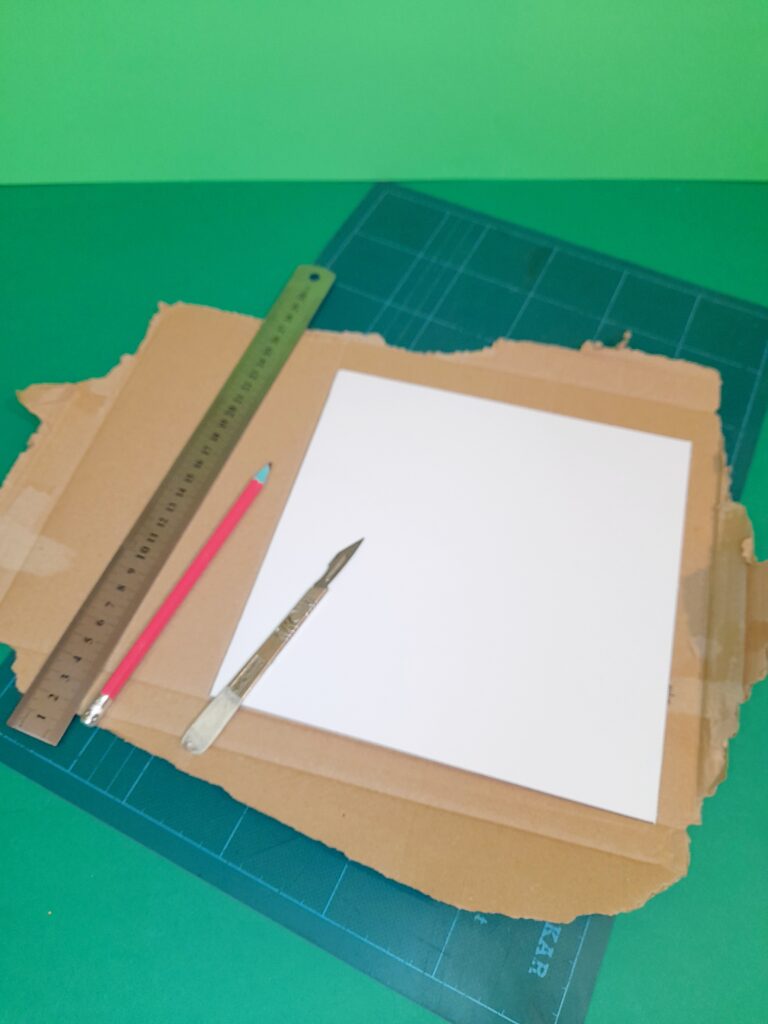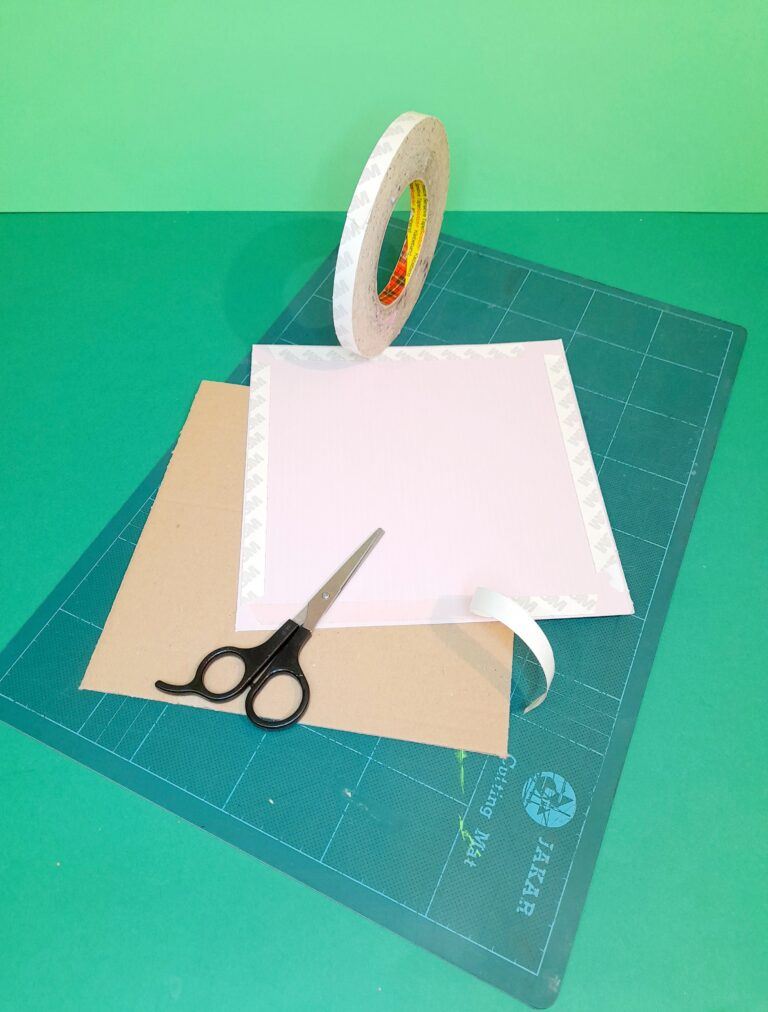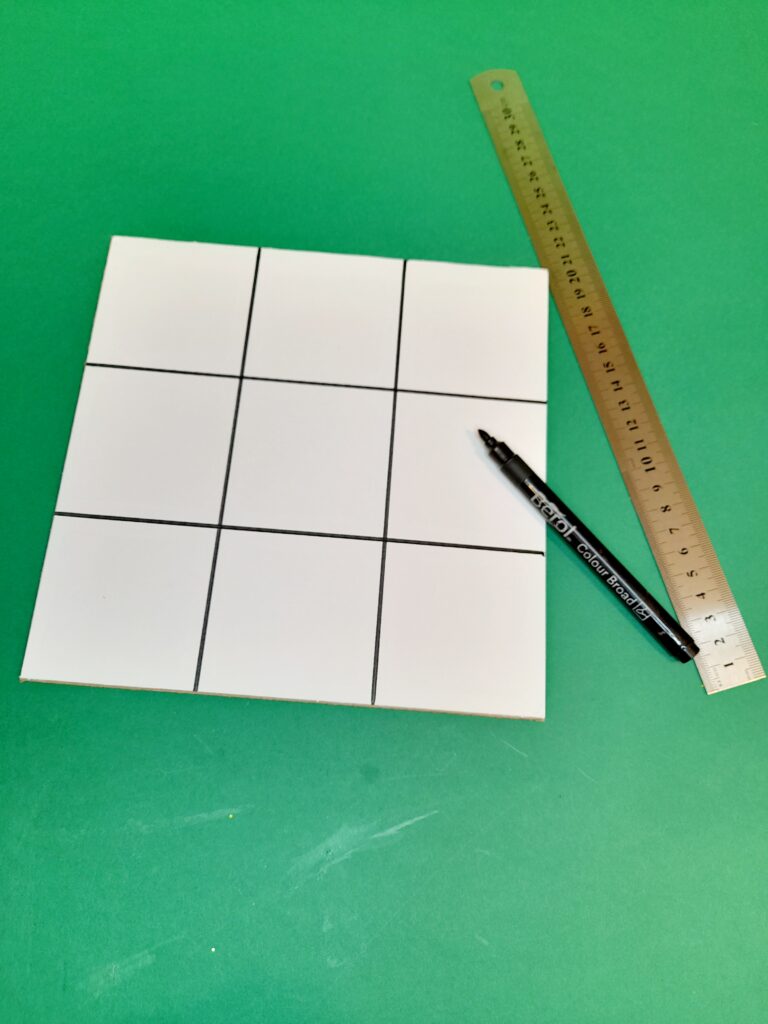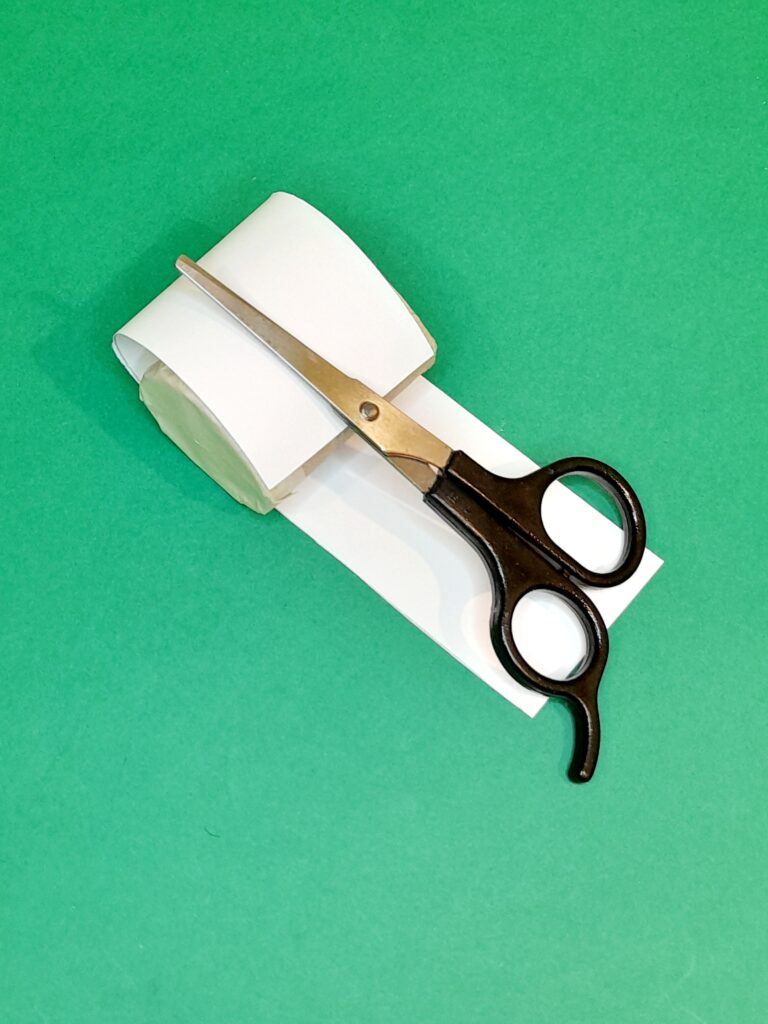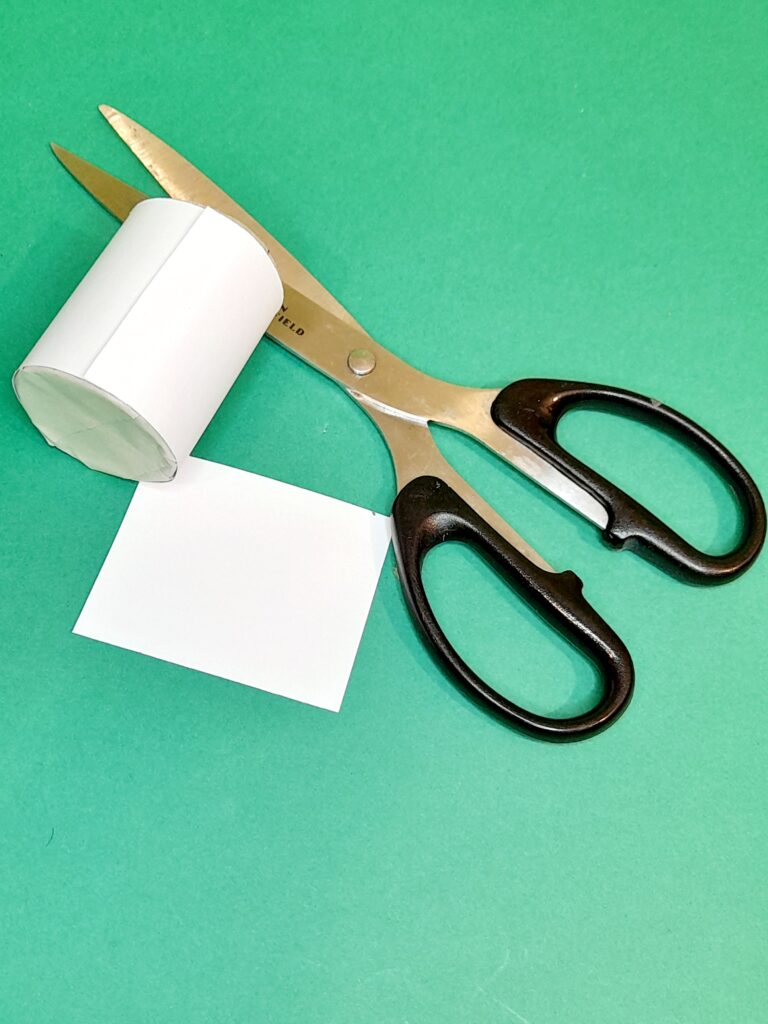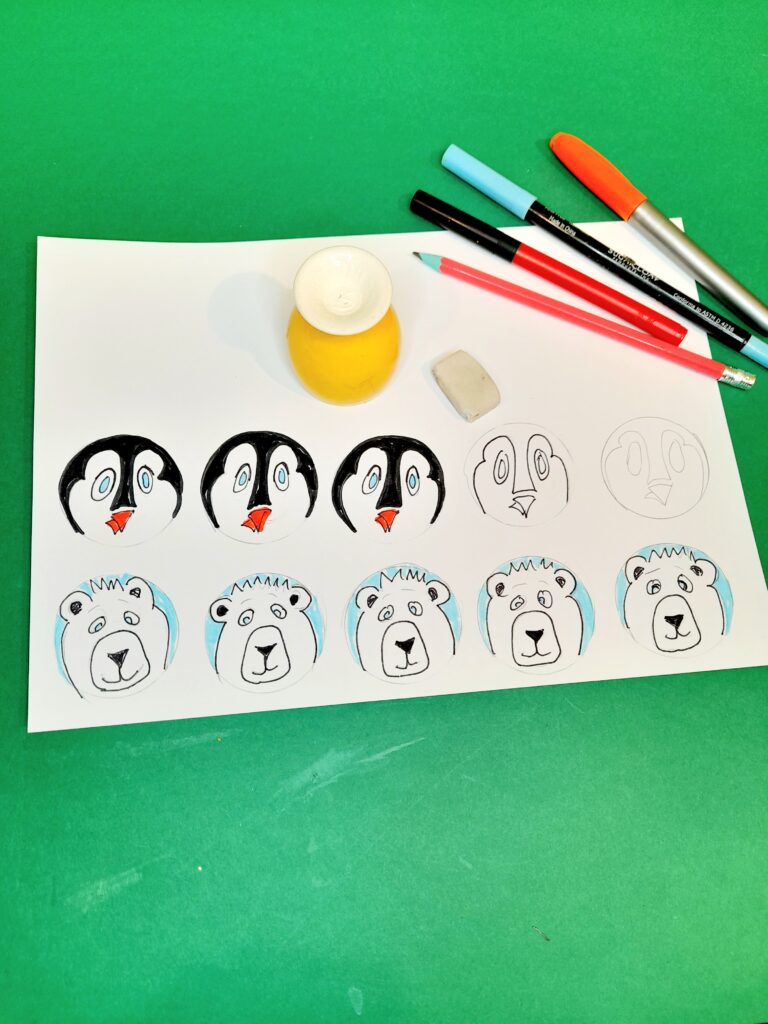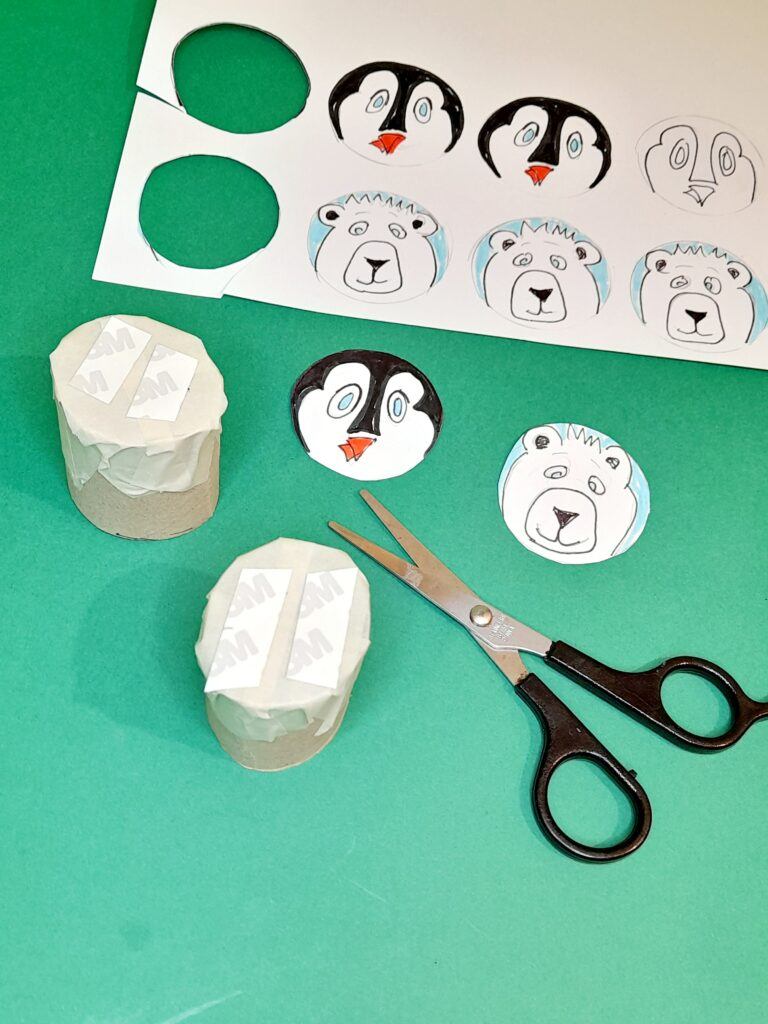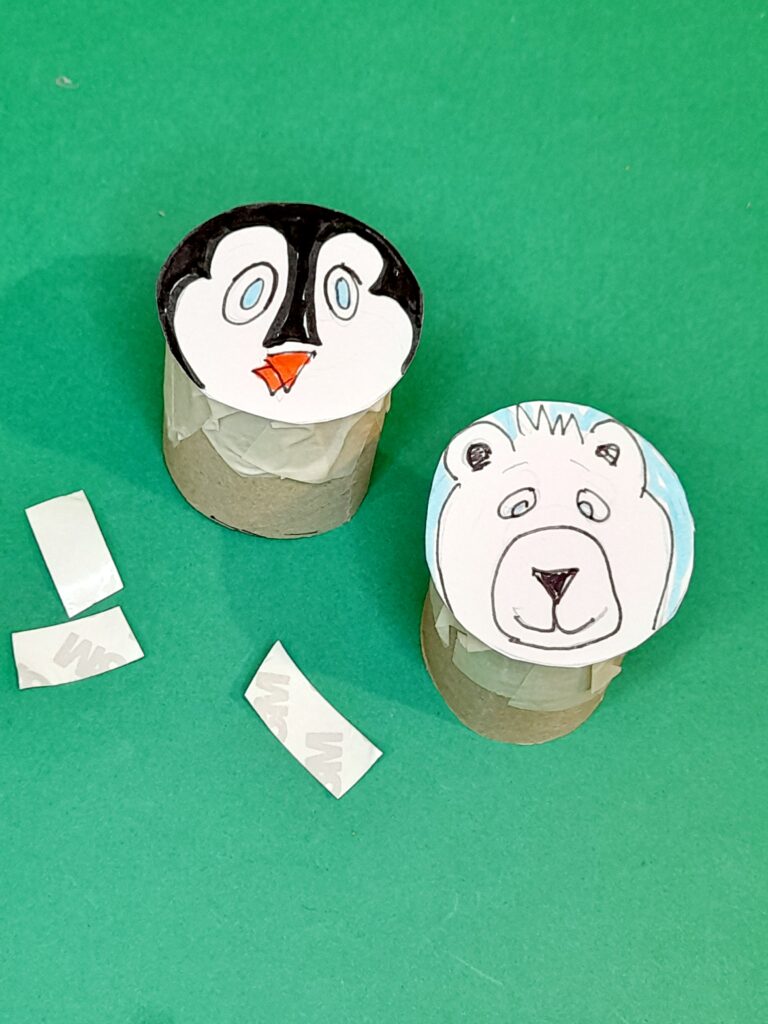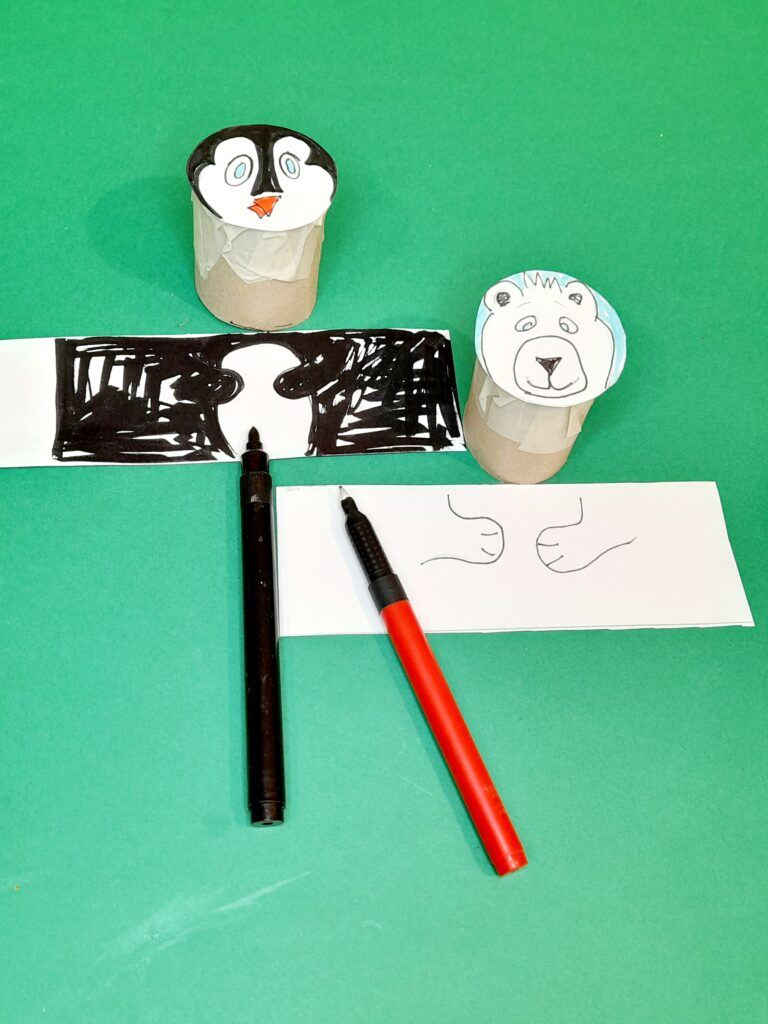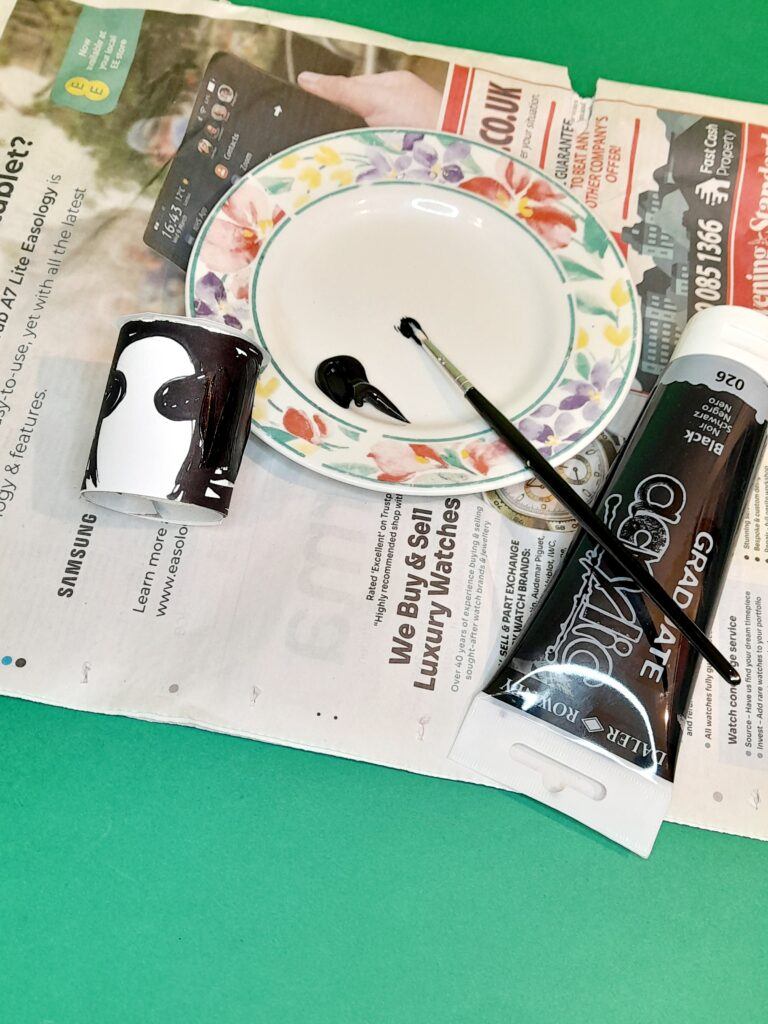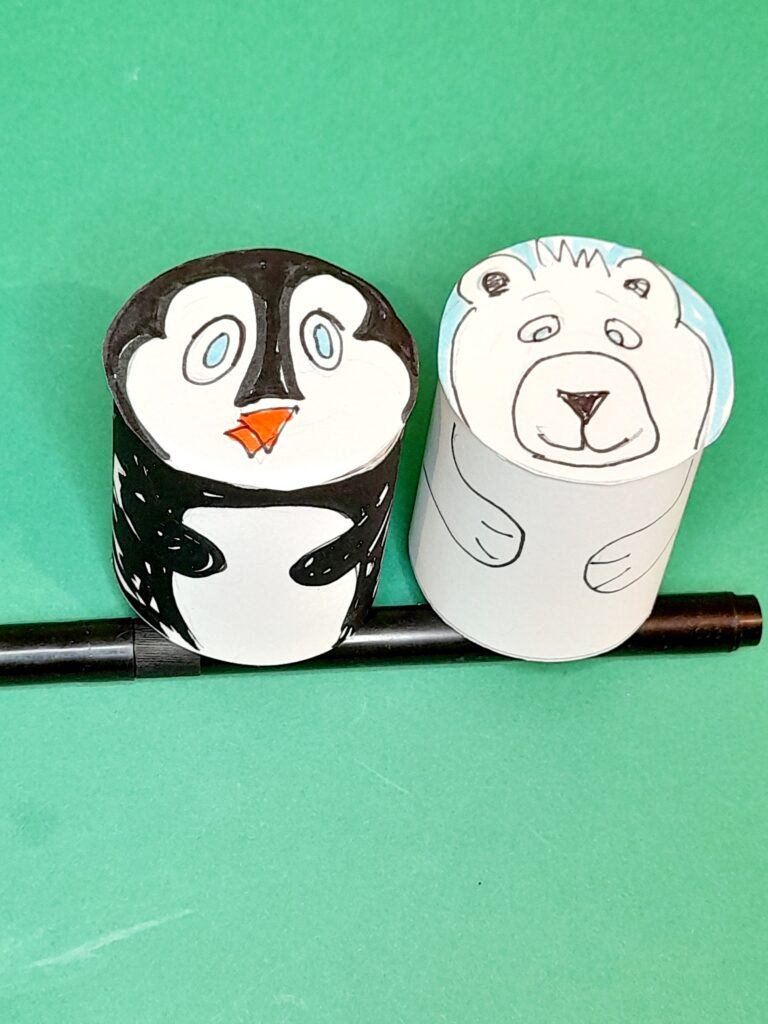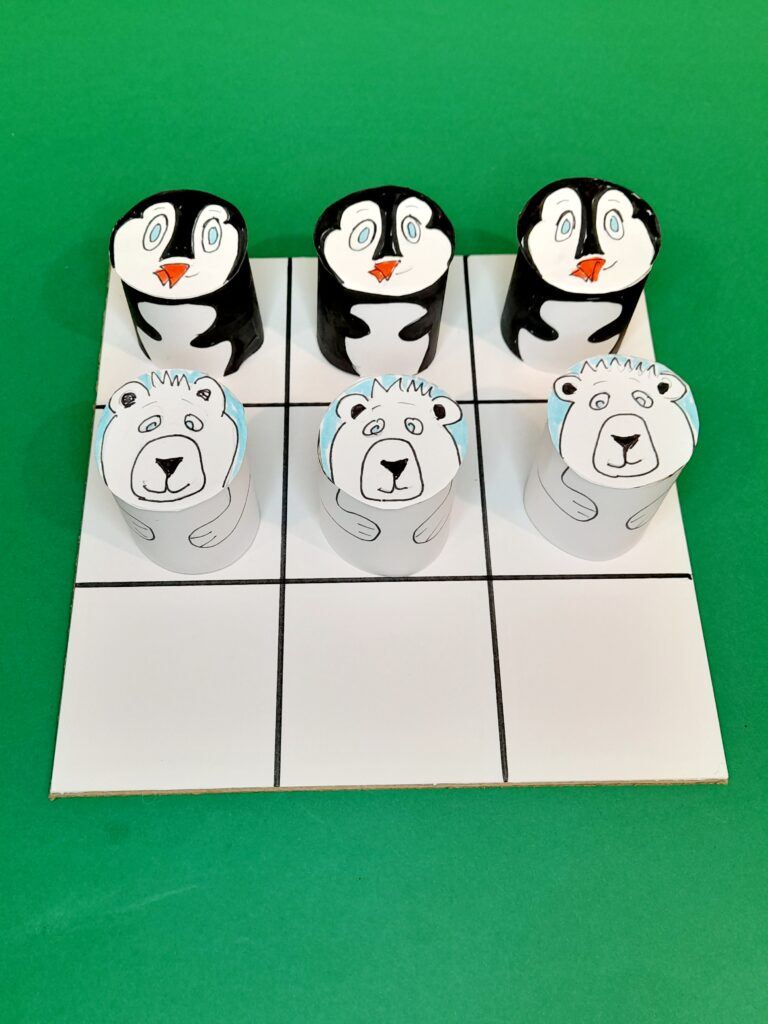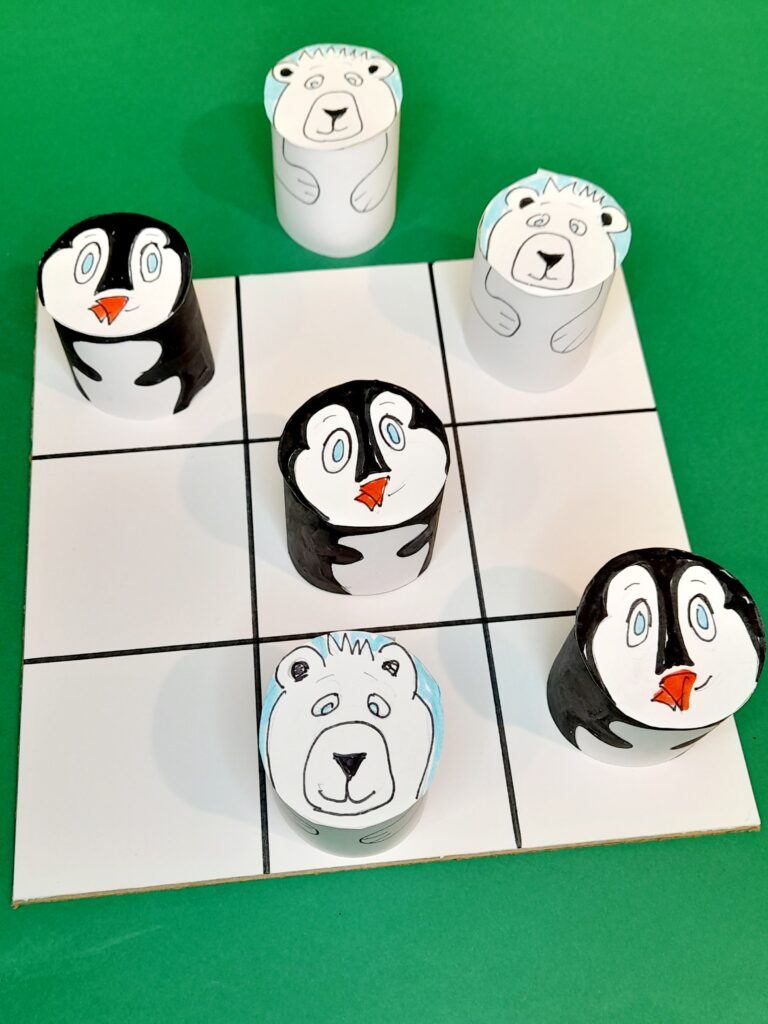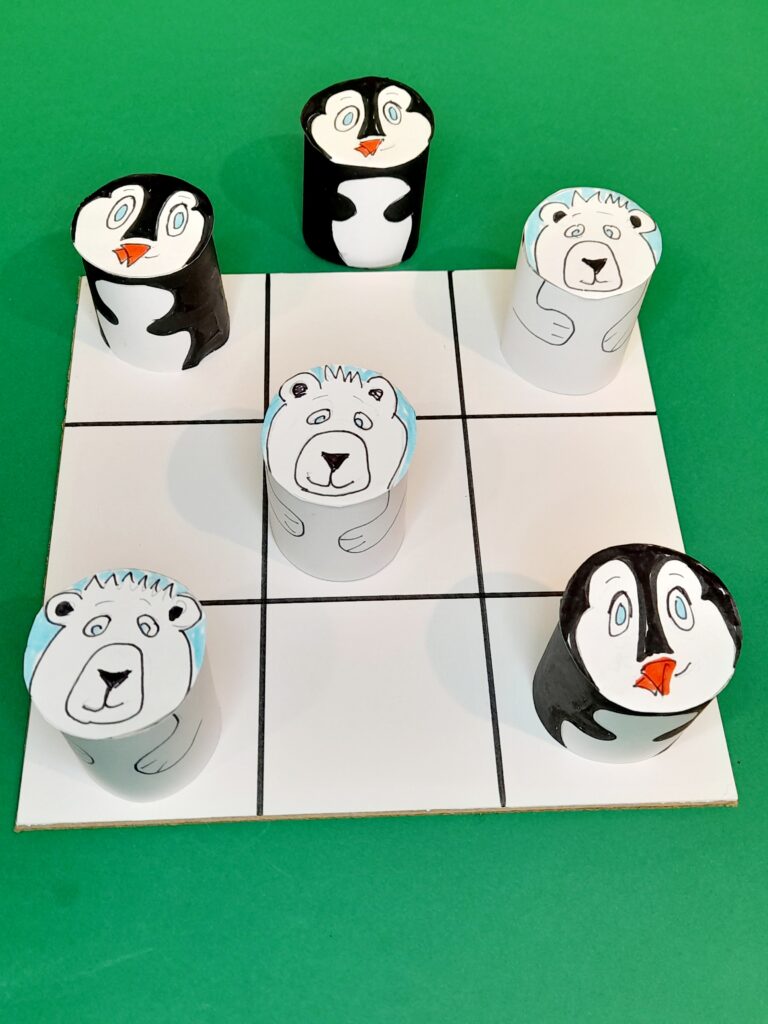 I hope you have enjoyed making this board game. I chose penguins and polar bears to take the place of the naughts and crosses, but you can choose anything that you fancy!
It could even be any vegetable, fruit, insect, or a different kind of animal the choice is yours!
SOME TIPS!
I decided to halve the inner tubes as they are easier for a small hand to grip, but you can keep them the full size just have your kids grip the tube and see how they get on with it before you start to reduce the length of the tube.
    

GREETING CARDS!
I had a large squarish used greeting card, if you can't find one then you can use any large square that would cover an area of 210x210mm square, and you can make draw 9 segments on it.
    FIND THE RIGHT SIZE!
In order to draw the right size face, draw around the tube to determine the circular size, and find something similar to the circumference, I found an egg cup that measured the same.
   

COPY ANIMAL FACES!
To draw a face check out the ones I drew, or do your own version.
   

FLIPPERS AND PAWS!
When you cover the tube with a strip of white card, you can draw on the flippers and paws whilst it's stuck on, rather than draw these before gluing on.
   

OR DO IT THIS WAY!
I found by laying the strip down flat and matching it up with the face I could determine where to draw the flipper, size, and accuracy in this way.
   

WHAT COLOURS!
I chose black and white as I went with the arctic theme, and they are the colours of the creatures I chose, though you can use bright colours if you like
   

BE CAREFUL!
There should be adult guidance when using sharp tools to cut with.
CHECK THIS OUT!
I came across this super Tic-Tac-Toe board game at KIDLY UK, but also with a difference!
A neat wooden version again with a twist

!

This game uses vegetables as its subject to play with.
GREAT LEARNING!
Design for easy access for smaller hands to pick up and distribute and even if the concept to play this game is a little bit complicated, this does give your child the opportunity to work out strategy, turn-taking, and plotting a pattern.
TIME TO PLAY!
Eventually with practice and adult modeling how to play it, in time they will understand how to work it out.
This board game can be stored away neatly and bought out again and again!
Hey there, when you click on links in this post and you make a purchase, I may earn a small commission that l can use towards resources (other than throw-outs) for project making within my website😀
TO CONCLUDE!
I have shown you how you can use your ordinary cardboard inner tubes and some packaging to make a fun Tic-Tac-Toe board game for your kids to make over those cold days when you want to get creative and play with them.
CONSIDER!
When the tubes are halved in size it makes it easier for them to handle and make them into cute arctic penguins and polar bear 3-D counters.
UNDERSTANDING!
Teach your kids to problem solve and turn-taking working out simple strategies.
LET IT BE!
You know what, just let them have fun, and discover even on their own just by playing about with the figures, it could be just by lining up or putting the characters in some kind of order, if that's the case, let it be!
FINALLY!
So what are you waiting for start to save all your tubes and used packages, and large greeting cards and put them to good use!
Easy Valentine's crafts for kids!
If you are looking at how to make a whole penguin using cardboard inner tubes check this previous post I put together showing a couple of cute penguins!