Masks are a must have now, because we are still going through a pandemic and we have to follow government guidelines to wear a mask for protection.
This is now a requirement, especially going shopping or being in a crowded environment and some social gatherings. 
In many cases you have to apply social distancing of around 2 metres, so we can protect others as well as protect ourselves.
This brings me to my point, having to wear disposable masks, means more and more throw-outs!
They are not the most face friendly things to wear and can be quite costly in the long run.
I have noticed, of late, there have been some disposable masks scattered here and there on our roads!
Ouch! not very nice or street friendly, especially for those of us who do dispose of them in right places like BINS! 
Hey kids! we need to educate our adults to do the right thing!
We need to ease up on this, unnecessary waste, so have you considered making your own washable face masks?
Yes, you can. I discovered you are able to recycle a pair of leggings into 6 face masks and no sewing required!
The thought of making or sewing a mask might not be everyone's cup of tea and might be a bit of a chore, so l looked for an easier alternative.
Let's get going!
How about looking for items of clothing you already have at home and the possibility of turning them into something useful.
As this website is about recycling throw-outs or junk, into to something creative, then it also applies to clothing!  
I am sure you have a pair of leggings, pyjama bottoms your kids may have outgrown, or even forgotten, dive into your wardrobe or drawers and see what you can find.
The leggings I have featured here are my daughter's outgrown minion pair of pyjama bottoms, I found them in the bottom of her drawer. So guess what I had a go into turning them into masks.
There are very complicated versions of making a face mask and I didn't want to go there.  I know it's very easy to go on-line and purchase some, but before you go there, take a look what you can do at home.
If we have learnt anything with lock-down, it's to be more self sufficient and make use of what we already have by recycling junk or throw-outs. 
How cool is it to be able to recycle your leggings into 6 face masks and no sewing required!
I don't have a sewing machine, so I am basing it on what's the easiest way to tackle this. Making a mask can be fun in itself, it also depends on what you have.
I wanted to get the most out of these pyjama leggings and not having to worry about sewing. I didn't want any kids to be concerned with needles or any complicated pattern work with pinning and so forth.
Although, if that's what you love to do then look no further than :- www.hobbycraft.co.uk  where you can grab ready made up kits to make 3 hand sewn face masks. Fabrics and accessories are included. (you may need adult help)  
So let's get looking and cutting!
Tips!
I measured 8″ wide going over the nose and allowing for the ties on each side. With children's faces, as they are smaller, may require less fabric, so you could measure 7″ across for all masks. (you may need to make a judgement call here)

Remember the smaller the pair of leggings the less you will cut out of them. Consider how many masks you can get out of the size you have.

Make sure the fabric is the stretchy kind, you can then make it more tight fitting over the face, all you do is shorten the ties, to get a snug fit.

Cut a few stripe for the ties and pull, this will stretch the fabric, hence making the ties longer, then cut in half.

Spare fabric, you can make into hair bands or a funny hat.

Pick up coffee filters, these could be folded and inserted or placed discreetly within the mask, or use kitchen towel folded up.

Find a good pair of scissors that cuts easily.
Resources!
1 pair of leggings or pyjama bottoms.
A tape measure.
Guides, like pencils or chalk  (to show partition)
Good pair of scissors.
Coffee filter/kitchen towel paper.
Here are the quick and easy stages. Follow through and don't be afraid to have a go, at the end of the day you gave it your best shot. Kids will enjoy this, it's a skill in it's self! Just help with the dividing part along the leg and oversee the cutting with scissors.
Click on each picture to go bigger!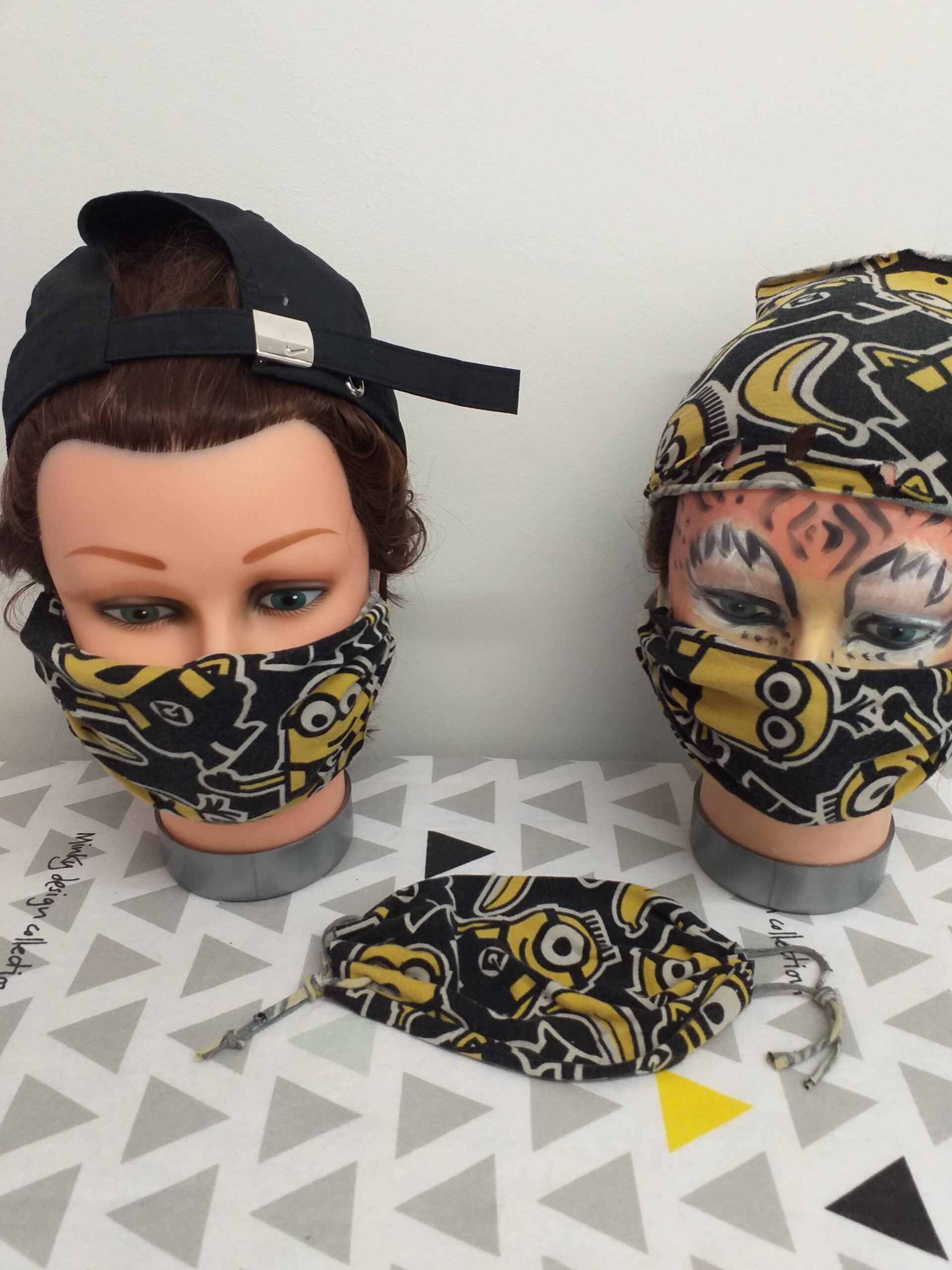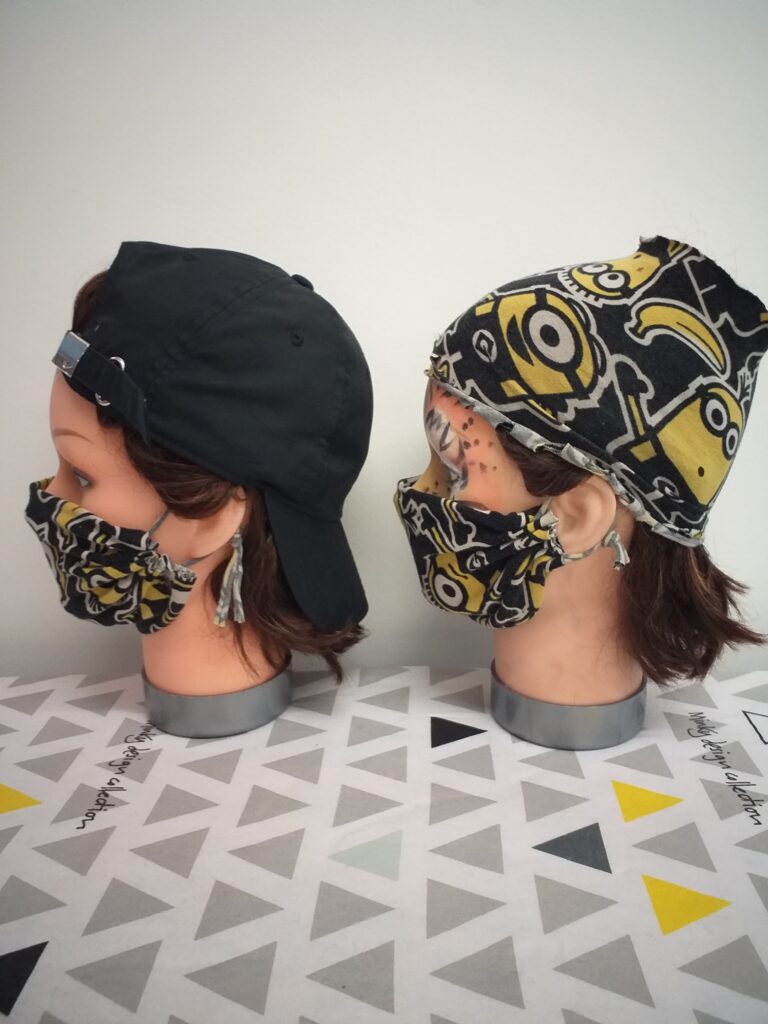 Viola! there you have it. I have displayed the masks on my volunteered model heads. I am showing a front view and a side view.
The ties can be tucked inside the mask and with left over fabric I just made an easy come banner/head band and all are washable and re-use-able!
To conclude!
Check out your wardrobe or drawers to find old or out grown leggings/pyjama bottoms and recycle them into simple no sewing easy to make masks.
I have demonstrated, that out of one pair of bottoms, you can make 6 masks. 
So even though the disposable masks are  more convenient, we have to think along the lines of preserving our environment, hence our planet, on easing up on more and more throw-outs.
Then stop! and why don't you have a go at making re-use-able washable masks in the long run we will be doing our bit!
Finally, if you run out of bottoms to cut, whoops! (Sorry mums or dads) and this task, has been completely exhausted, you still have the option, to go on line and invest in some washable masks and I am sure, yours will beat the rest out there, because….
YOU MADE IT! and had a go first.
Let us know how you got on. I would love to see your creations!