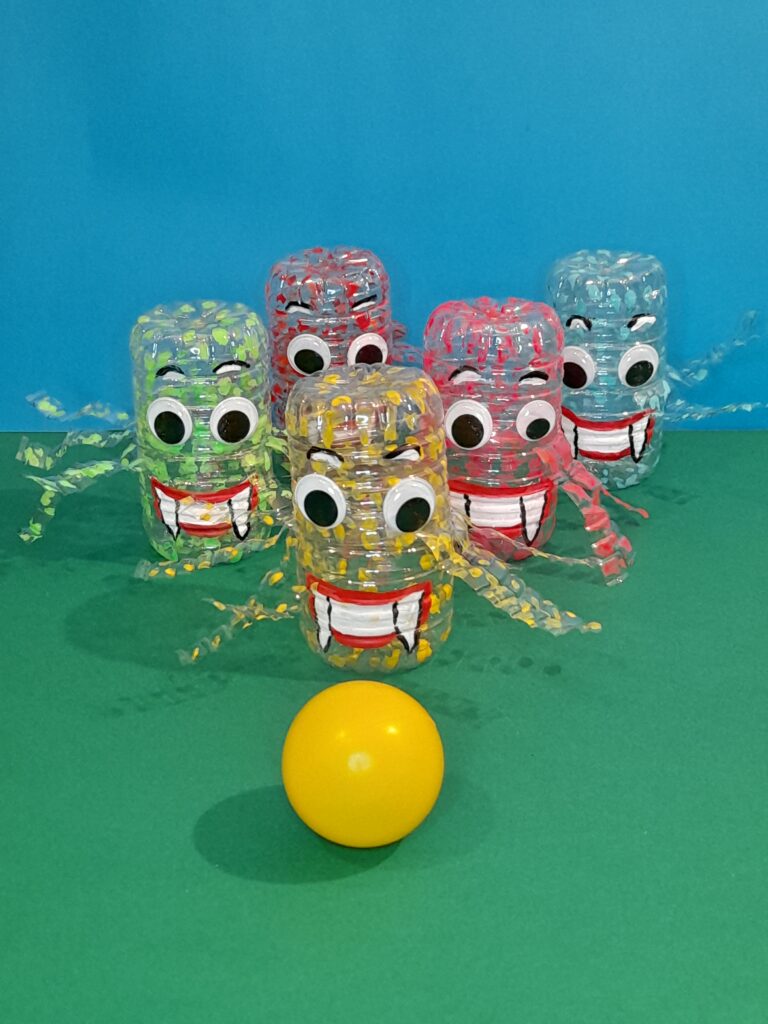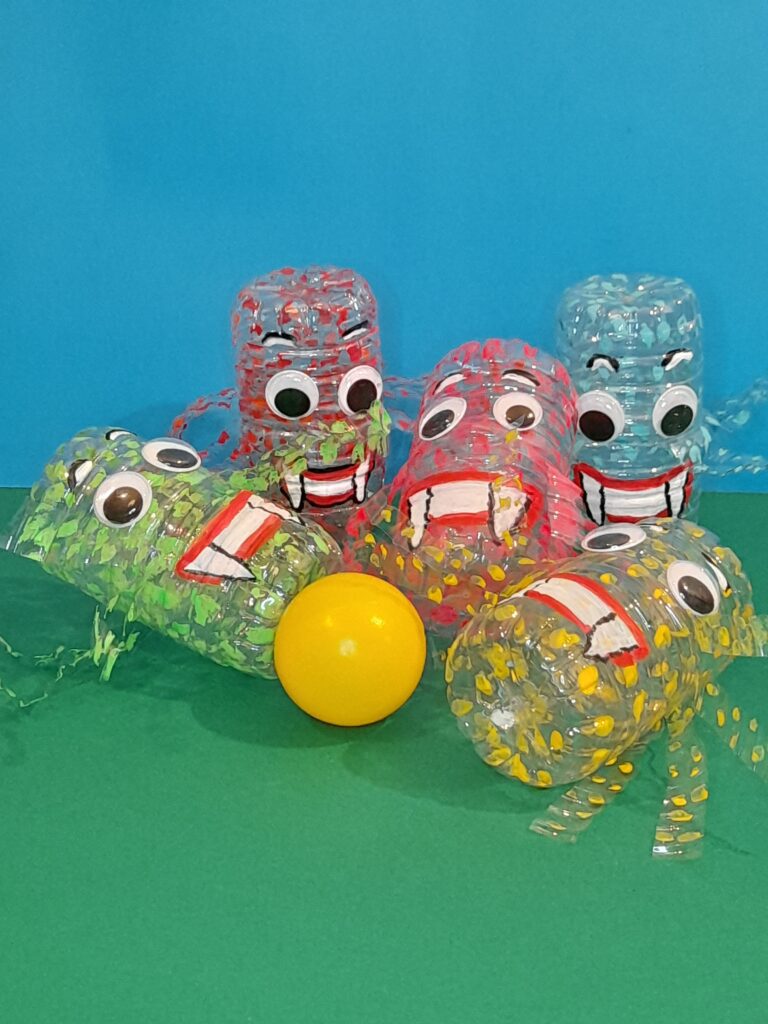 Last minute learning craft!
Summer holidays for school kids are nearly at an end, and kids are getting prepared to go back to school!
We need to make the best of what's left to encourage our kids to get back into the swing of things.
IT'S NOT TOO LATE!
Although some schools may have already started their new term, this is a super activity to have fun with, and to craft at any time, getting your kids without them realizing, that this is a great learning game!
So how do we address this?
A LEARNING NUMBER ACTIVITY!
So as we are heading towards Autumn I don't know about you, but I have come across a number of spiders!
Hanging on my washing line, across pathways, and sneakily up in the ceilings!!!  
This gave me an idea to craft something around spiders, involving a counting activity so kids can get to grips with number work again!
I am going to make a cute spider activity, and it will be an easy spider craft for kids to make!
USING PLASTIC WATER BOTTLES!
Now, that we know spiders are the main subject, I wanted to use something that I have stored for such a project.
Over the school summer holiday, I accumulated a number of 500ml plastic bottles, because they were easy and handy to grab whilst everyone was on the go, and for the workmen who were working in my garden at the time.
They came in packs of 12 and were quite reasonable too!
BOTTLES COME IN HANDY!
So, these will be the resources for the project at hand. I will be crafting using up to ten bottles, two bottles will make one spider, and when cut in the right way these bottles are a great resource for the Easy Spider Craft! (See later in the demo).
USEFUL, OR HELPFUL REMINDERS!
But, before we move on here's a reminder of some useful tips to help you organize your kids going back to school!
Here are some points to tick off your to-do list:-
New uniform.
If old jumpers have holes in them check and fix holes, they would make a good backup if a new jumper gets soiled or in the wash

.
TROUSERS.
Trousers may need lengthening as your kids grow, if they have definitely outgrown them, see if older siblings can pass them down.
TOPS!
Check polo tops and shirts, and see if there is more use out of them otherwise older siblings can pass them on. 

Refresh underwear, socks, tights.
VELCRO SHOES ARE A PLUS!
Please check if your kids need new shoes as they may have outgrown their old school shoes. Do consider shoes with Velcro straps, they are much easier for your kids to put on and take off than all those long laces that get trampled on and dragged around.
MEASURING KIDS FEET.
Get your kids' feet measured. It's always a safe bet to get their feet measured correctly. Children's feet grow very quickly and tight-fitting shoes can cause more damage, children's feet need space to expand and grow comfortably.

(Check this post where it shows

how to measure your kids' feet.)
PE KITS. (Physical education)
Get a PE bag ready, with a white sports T-shirt, shorts and plimsolls.
BOOK BAGS.
Organize a book bag, your kids will need a bag to bring books back and take home and homework too.
KIDS STATIONARY

.
Check your child has all the resources they need. A lot of equipment can be found at

Baker Ross.
Jump in and see for all resources, your kids might need!
Hey there, when you click on links in this post and you make a purchase, I may earn a small commission that l can use towards resources (other than throw-outs) for project making within my website😀
LASTLY, DON'T FOGET TO LABEL ALL YOUR KIDS CLOTHES, BOOK BAGS AND P.E. BAGS.
Can you imagine the number of children's school uniforms, that do not have names on them?
The never-ending pile of school jumpers, tops, and trousers with no names on them? 
So claim yours and don't stress!
Now all this is done and dusted, we need to have some fun, with what is left of your kids' summer holidays!
Failing that, it's still a great project for your kids to do, keeping them busy, when there is time to spare!
So, for this activity, I shall show you how to make five cute mini spiders out of plastic water bottles!
These small bottles were easily accessible and versatile, as long as they weren't crashed they could be refilled again with water, and just the right amount to quench a thirst.
Although, my main reason was to keep them for the spider project!
Furthermore, I will be recycling them in a good way!
In total, there will be five mini spiders, in the form of Skittles.
Your child will toss a ball and try to knock out or separate the group of spiders, you will aid them in counting how many got knocked down, or pushed away and, ultimately how many are left standing.
This is a fun way to have your child practice holding a ball and aiming at their target!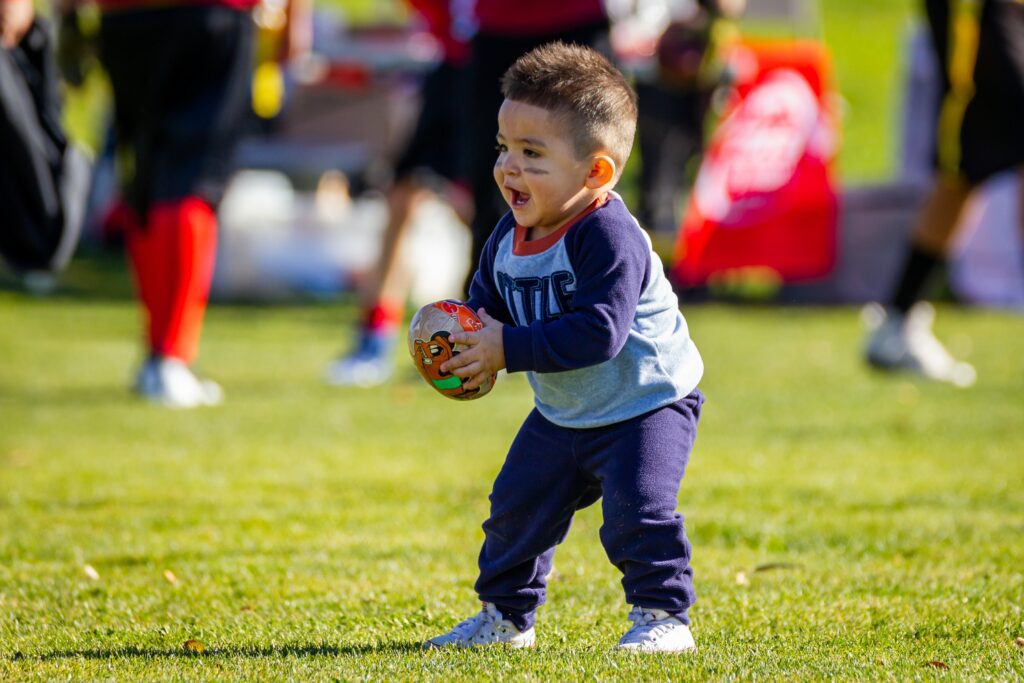 SUBTRACTING, WHAT'S LEFT?
Whereas, we know a typical Skittle game is when you roll a ball and aim to knock down the Skittles.
In principle, this is the same for this game, but more effort is made with the counting side, that is take-away or subtracting!
HOW THIS WORKS FOR YOUR CHILD.
Firstly, this gives your child an opportunity with your guidance, to count back, and see what's left.
Secondly, this activity will address a number of skills.
Number skills.

Concentration.

Work on aim.

Improve aim.

work on technique.

Sharing.

Fine motor skills.

Participating.

Control feelings.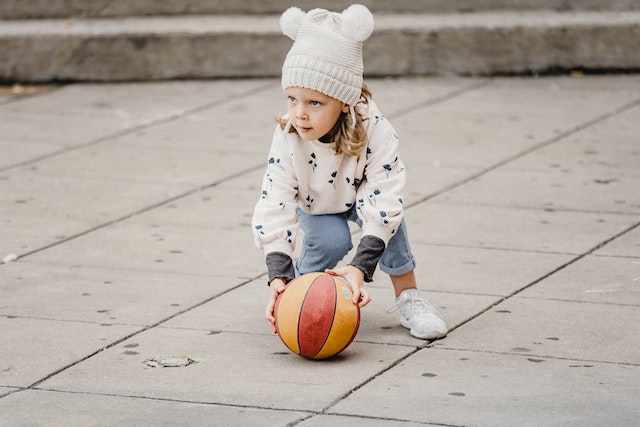 Your child will be using quite a few skills, that includes, speculating, decision-making, concentration, and analysing the situation ahead, just before they shoot the ball!
Number five is an easy group of objects to start with for the younger children.
Once, they are comfortable with this concept of five, and they work on their technique and aim, then you can advance up to ten.
Before we start, let's have a look at how pinball bowling, originated otherwise known as Skittles!
Did you know that bowling goes back thousands of year? Check out Kidskonnect, that will give you an overview on just that!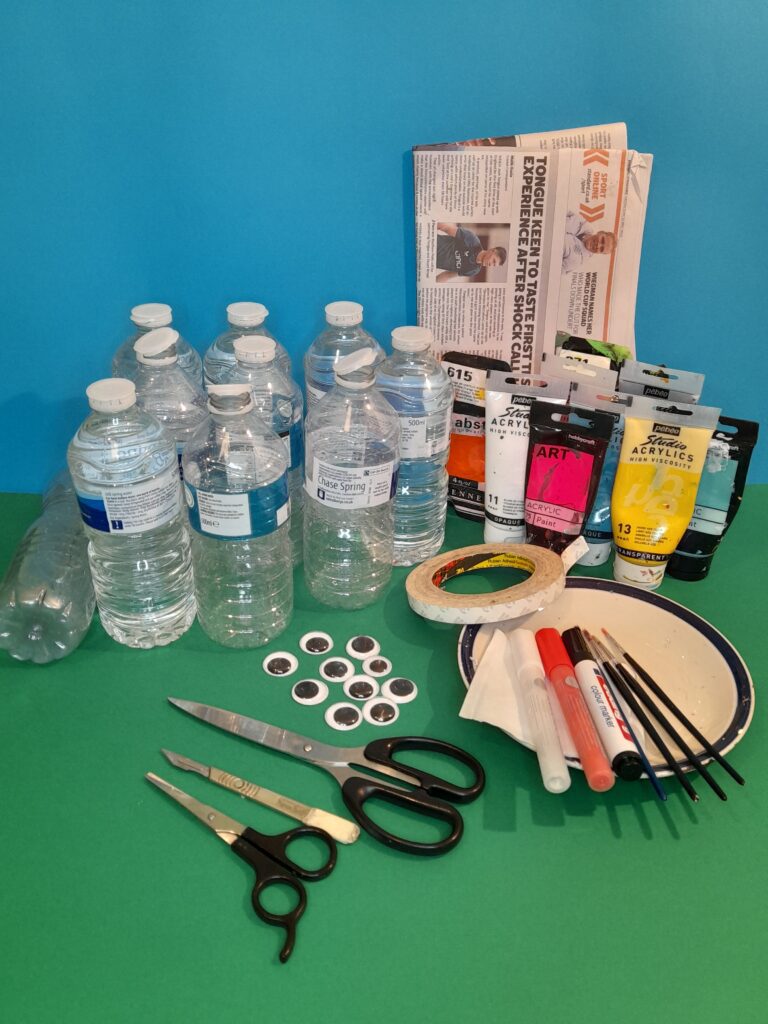 RESOURCES.
10 500ml plastic water bottles.

Large/small scissors/ Scalpel.

Acrylic paints. (your choice) Red and white acrylic pens.

Double-sided tape/newspaper.

Small brushes.

Large googly eyes.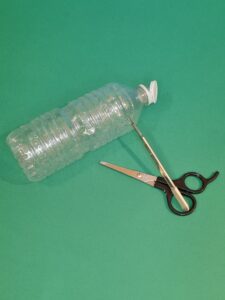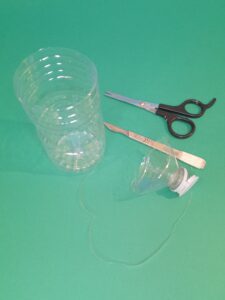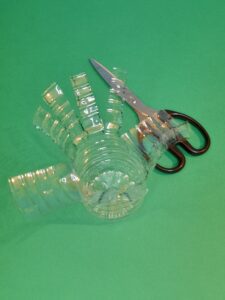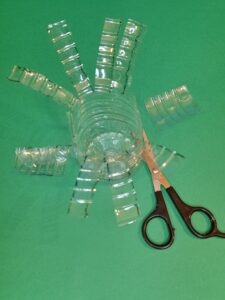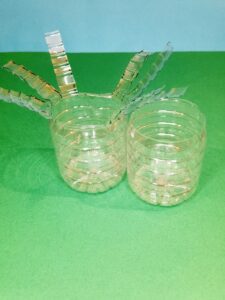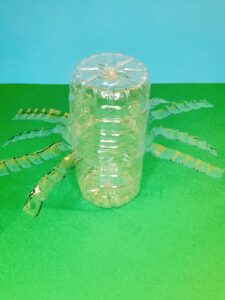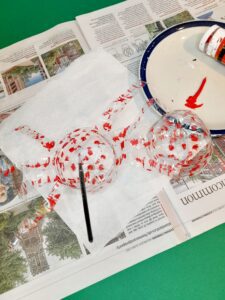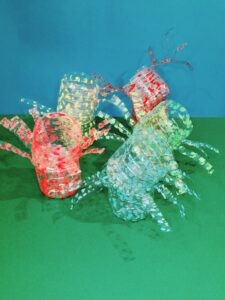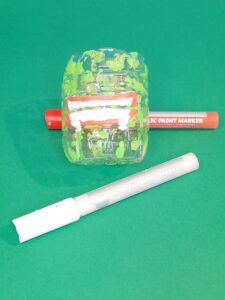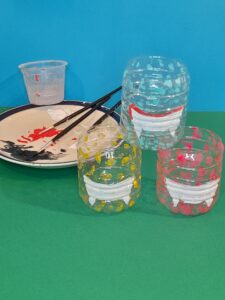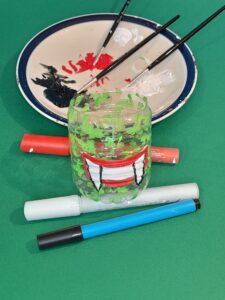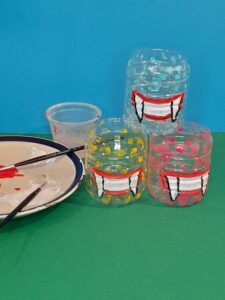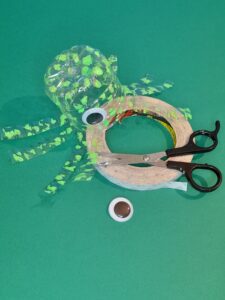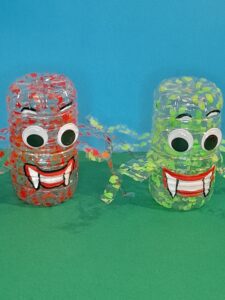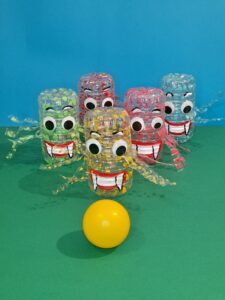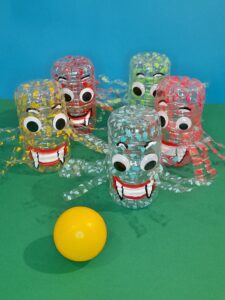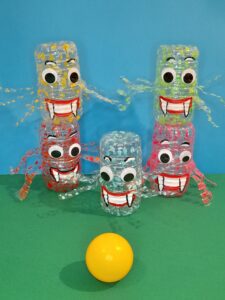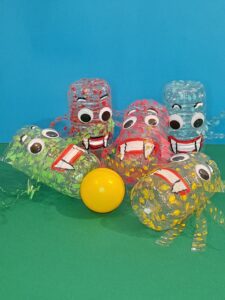 LEGS.
When drawing the legs make sure you leave an equal gap of approx. 45mm front and back, then key in four legs 15mm wide on each side that meet the gap. It should all work out, if you make a mistake simply rub it out with tissue paper and start again.
COUNT RINGS ON BOTTLE.
Count the rings on the plastic bottle and cut the legs up to the same ring.
HANDY TISSUE

.
Use a tissue to rub off pen marks.
LONGER IN LENGTH.
The bottom half of the spider will be longer than the top half, this allows you to twist it inside the top half.
CAREFULLY CUT LEGS.
When cutting strips to make legs, be careful not to cut off the legs

.
PAINT INSIDE.
I decorated the inside of the plastic bottle with paint, rather than the outside as it will last longer.
MOUTH.
Paint the mouth how you like with a black outline or not.
FOLD AND CREASE LEGS.
When spiders are completed you can bend and crease the legs to give it shape if you like.
GOOGLY EYES.
These go on last, positioning them about the middle of the head.
ALIGN BODY.
Twist the bottom half of the spider to align the mouth with the eyes.
PUSH OUT.
As plastic is very soft and crisp, it can be pushed back into shape by pressing it from inside re-shaping it.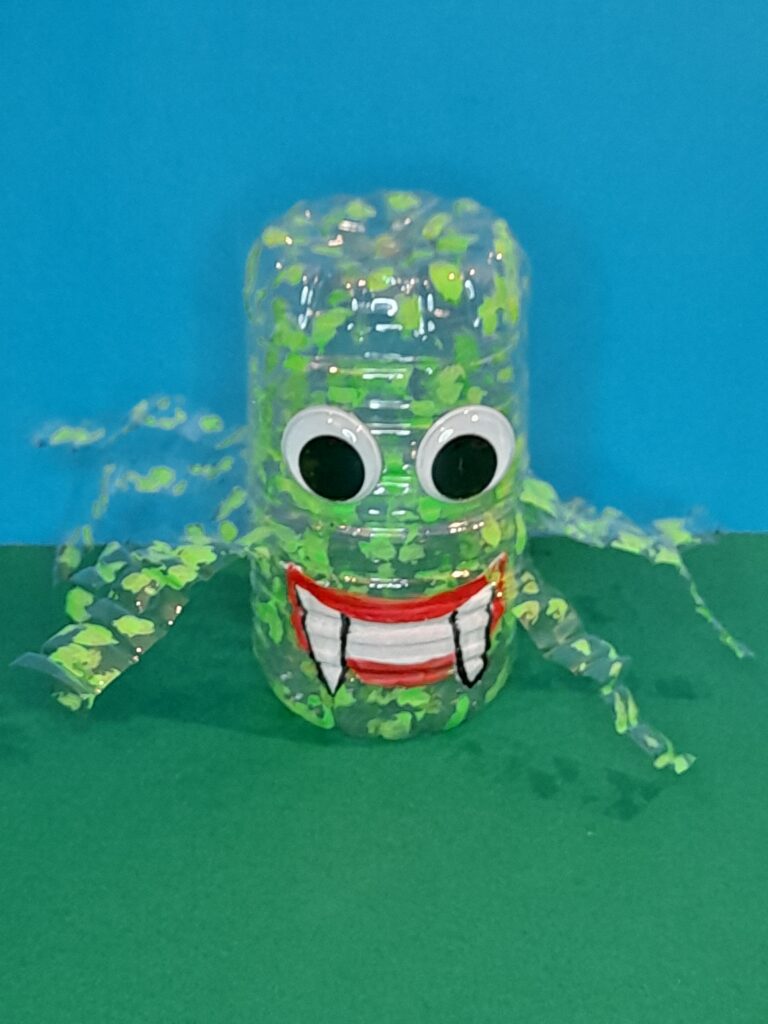 Here are a couple of examples, showing how you can manipulate the plastic legs bending and creasing them into shape, to give you the spider legs!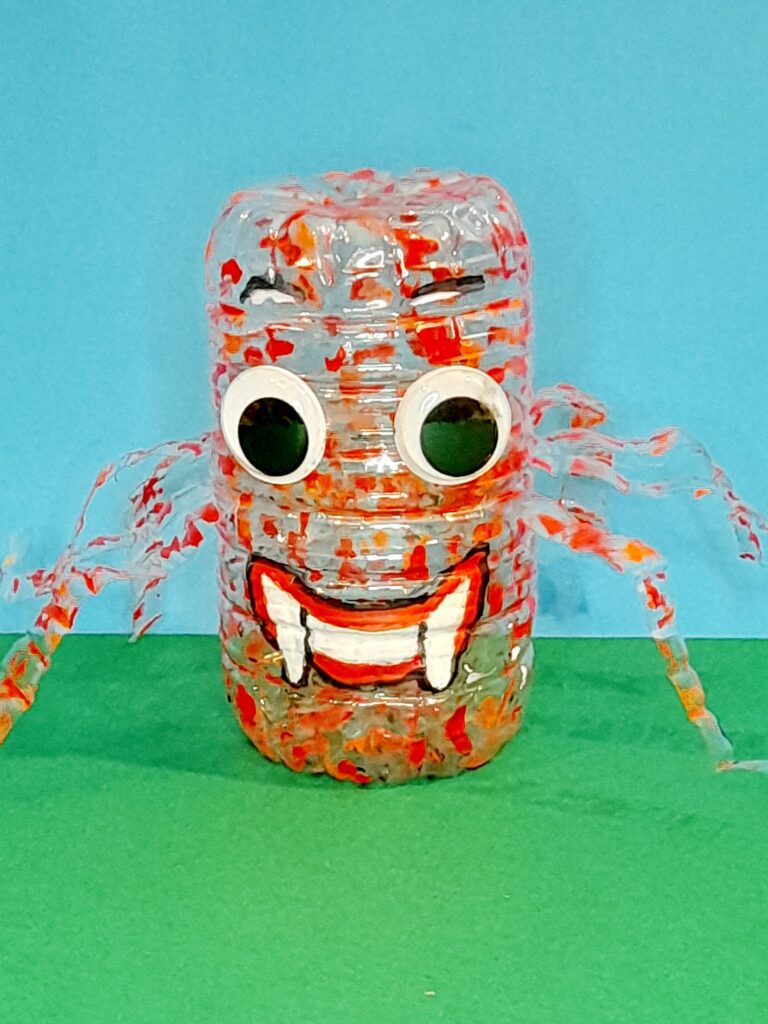 In this post, I show you an Easy spider craft, that you can do with your kids, in the lead-up to going back to school, or any time that is right for you.
WHAT YOU NEED!
All you need is to hold on to ten small 500ml water bottles and with a few simple resources, you can whip up a fun spider skittle activity.
When completed, you will have five Spider Skittles!
NUMBER GAME!
In the long run, this will address, number learning for your kids, involving takeaway and what's left over!
FUN TO CRAFT AND PLAY!
So, kids will learn through play motivating them not only to participate in this project but to enjoy the whole experience! 
Finally, check out your recycling just in case you threw out those cute water bottles!
Look out for a fun Halloween Incy Wincy Spider project coming soon!