Do you remember any of these kids nursery rhymes?
You know the one that goes……five little monkeys jumping on the bed…one fell off and banged his head….but enough of me rabbiting on about it, here is how this one goes watch this quick video to remind you!
Do you remember now?  I found this short video, just to demo this nursery rhyme.
If you recall how this song goes, it's about numbers, and in this instance it's:-
Counting backwards.

Counting back in ones.

Take-away or subtraction.

Show what's left, when you subtract.

Life skills.

Health and safety.

Playing safely.

Learn from your mistakes.

Damaging property.

Listen to your adults.
HERE IS ANOTHER VERSION OF THIS RHYME.
This time this nursery rhyme, is about five little monkeys swinging in the trees!
Let's have a look at that one:-
The
'Five Little Monkeys Craft'

will be based on this particular version of the monkeys nursery rhyme.
WHAT VALUES ARE KIDS LEARNIG IN THS ONE.
In this version let's break it down what monkeys should be learning, if not too late!
Counting backwards.

Counting back in ones.

Take-away or subtraction.

Show what's left, when you subtract.

Life skills.

Health and safety.

Playing safely.

Stay away from dangerous situations.

Don't provoke, or ignite trouble.

Do not take risks.
You wouldn't think these songs would cover all these points, but in their simplcity they do.
I guess the reason why monkeys are used in this particular nursery rhyme, is probably because, monkeys are regarded as mischievious, naughty and getting up to no good, so the fact that they are jumping on the bed, or swinging in the trees, reflects this in their behaviour.
Also the way this song is depicted is done in a way that's fun with lucky go characters that are fondly remembered by kids.
TUNE GETS STUCK IN YOUR HEAD!
Don't you find how sometimes certains tunes just keep on replaying in your mind and you can't shift it.
You may be humming away and wondering where you heard it, and why are you singing it?
That's why some of these melodies, are easy, memorable and repetitive, written in a way where kids can remember them, therefore by singing the nursery rhyme they are infact learning, different counting skills.
I want to demo this nursery rhyme in a Five Little Monkeys Craft.
What I plan to do is craft using cardboard inner tubes to make our happy go little monkeys, and use a long stick that will represent the branch of a tree.
TUBES, TUBES AND MORE TUBES!
Within all the posts I have crafted over time, I try to use any recycling that can be up-cycled in fun kids activities, so if you haven't gathered yet, what I will be using for this project, then let me enlighten you.
I happen to gather, tubes, tubes and more tubes.
WHAT I COLLECTED!
I have found the cardboard inner tubes to be an excellent resourse to use and turn into any subject you like, so I put them aside for such a project I will be making within this post.
Every time all the tissue is used up, simply save your cardboard inner tubes and they will definately come in handly to use in craft projects like, this five little monkeys craft!
IT'S A TAIL THING!
The way to show these monkeys, is to have them hanging from a branch by their tails, and by gently moving the branch, or stick up and down, the monkeys will also be springing from their tails.
Then one by one they fall off the branch as you sing the song, although you will be slowly moving each one off the stick.
ANOTHER WAY TO COUNT!
With their reputation of being naughty, I thought this would also  be a cool way for kids to see how to substract or count backwards, once they start to drop off.
WHAT ABOUT THE ALIGATOR?
As someone has to hold the stick as well as pop the monkeys off, the other person, that being your child, can use both their hands to snap, clapping horizontally, pretending to be the ALIGATOR!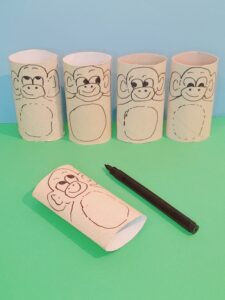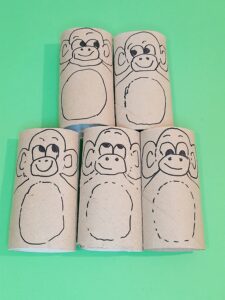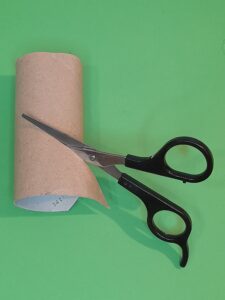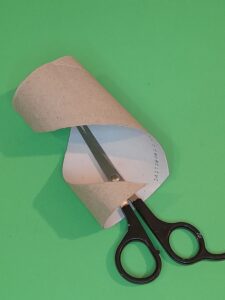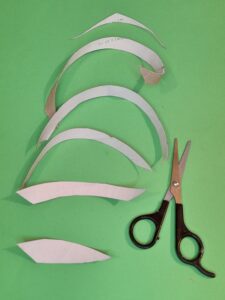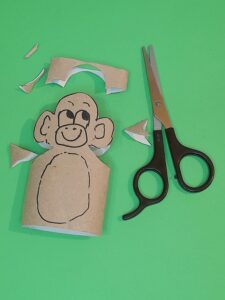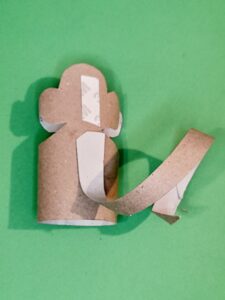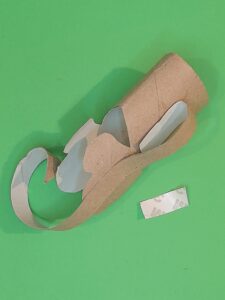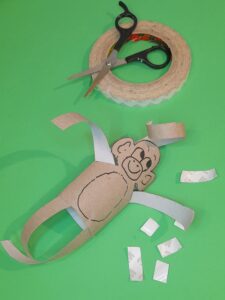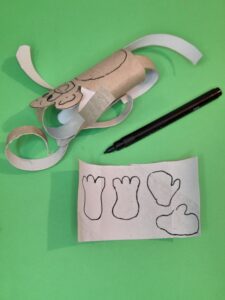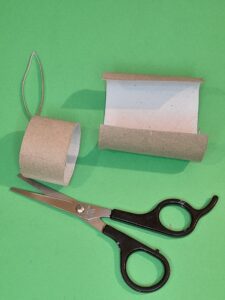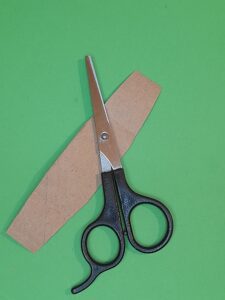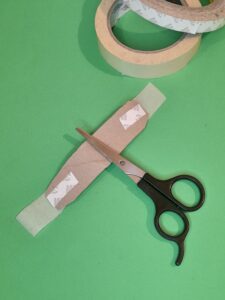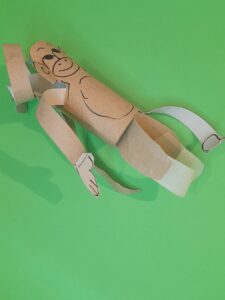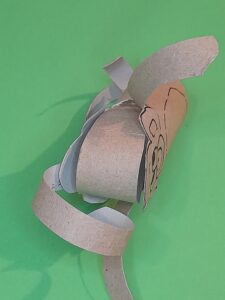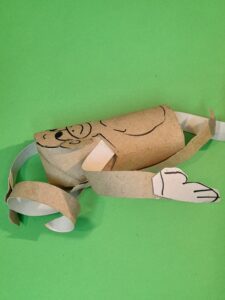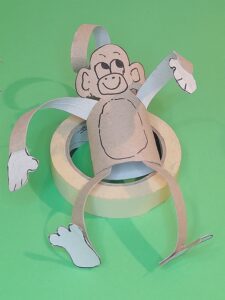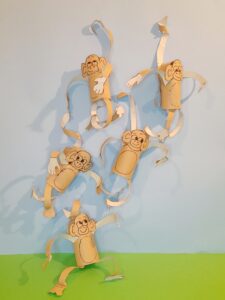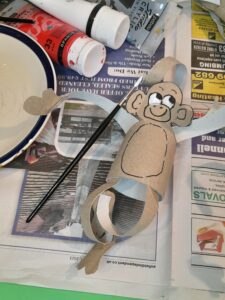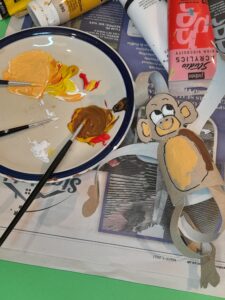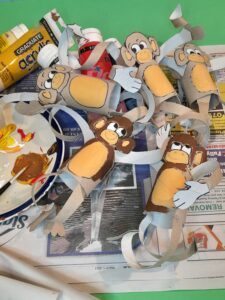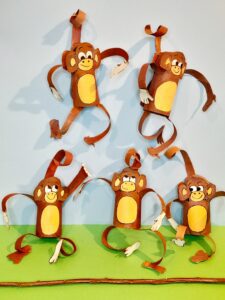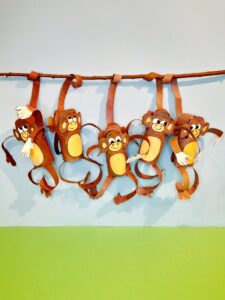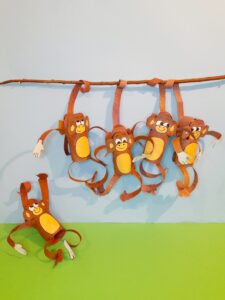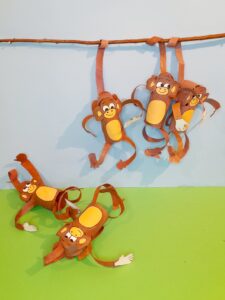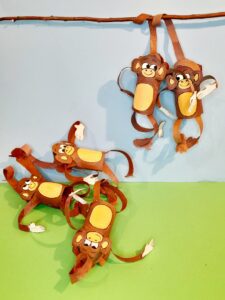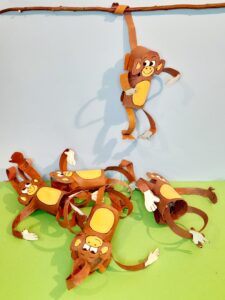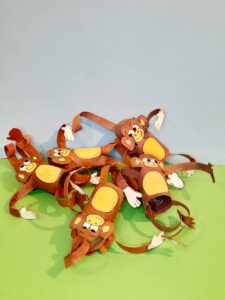 HERE'S A REMINDER OF THE MONKEY SONG!
' Five little monkeys swinging in the trees, teasing Mr Aligator…you can't catch me! Along came Mr Aligator as quiet as can be and….SNAP! that monkey right out of that tree! '
   

SOME TIPS!
     

HOW MANY TUBES?
You may just need 15 tubes, one for the main body, one to cut out strips for tail, arms and legs, and another to cut the head part and to draw the feet and hands, the fourth tube could be a spare.
   

FLAT IS EASIER.
Flatten the tube by squeezing it together, and pressing it down, this would make it easier to draw the features when using a black felt tip pen, then open it up again.
   

THE FEATURES.
I drew a simple face, eyes, ears and round section for nose and mouth, follow my example if you like.
WORK ON STRIPS.
Decide on how wide you want the tail, arms, and legs to be and go with that size, you can cut at least four strips per tube. Arms and legs to be equal in length, shorter for arms.
If strips come apart here and there, simply stick back with some double sided tape or masking tape.
   

CROWNING THE HEAD.
Sliding the long section after you fold it round, up the bottom end to reach the top might be a bit difficult as the tapes may stick on the inside before you reach the top, if it gets stuck gently pull out and try again.
Or you can push the crown part of the head through the top, although it may loose its shape and keep getting stuck, but try both and see which is easier for you.
   

CHECK OUT YOUR GARDEN!
Find a long stick, look for fine branches that can hold all your five monkeys. I got mine from my garden, after pruning a small tree.
LOOKING FOR CHEEKY MONKEY FUN?
Look no further, as you can find some monkey fun here with

Boomf!
Check out their range of

Monkey wild cards!

These cards can be personalised in any way you like, and when the card is opened….
Boomf, out pops the cheeky monkey in an explosion of confetti!
This is a novel way to really capture someones attention!
It's 3D, fun, explosive and a
cheeky monkey

novelty!
So go on make someones day and Boomf them a surprise!
Also when you are visiting Boomf, why don't you check out all their other fun cards, and bombs! and pick up any one of their super monkey collection.
I HAVE AN EXCELLENT IDEA!
So if there is a birthday coming up, be prepared and have your cards at the ready to send off, or hand-over, thinking alhead makes life much more easier, don't you think?
Hey there, when you click on links in this post and you make a purchase, I may earn a small commission that l can use towards resources (other than throw-outs) for project making within my website😀
LOOKING FOR MORE MONKEY FUN?
Check out Baker Ross, there you can find a range of monkey fun activities to do with your kids!
Baker Ross, also have an array of resourses, where you can find Acrylic paints, brushes, tapes, and scissors.
In this post I show you how you can craft five cheeky monkeys using cardboard inner tubes.
The idea is to replicate five little monkeys, but in this case not jumping on a bed, but instead hanging from a branch with their tails.
WHILST SINGING!
As you sing the song, each monkey drops off, thus counting back from five, four, three…..
This is a super way to demonstrate in a creative way counting back, or subtracting.
Also you will be recycling your throw outs!
Happy crafting!
Check out this other post on a counting game for kids!