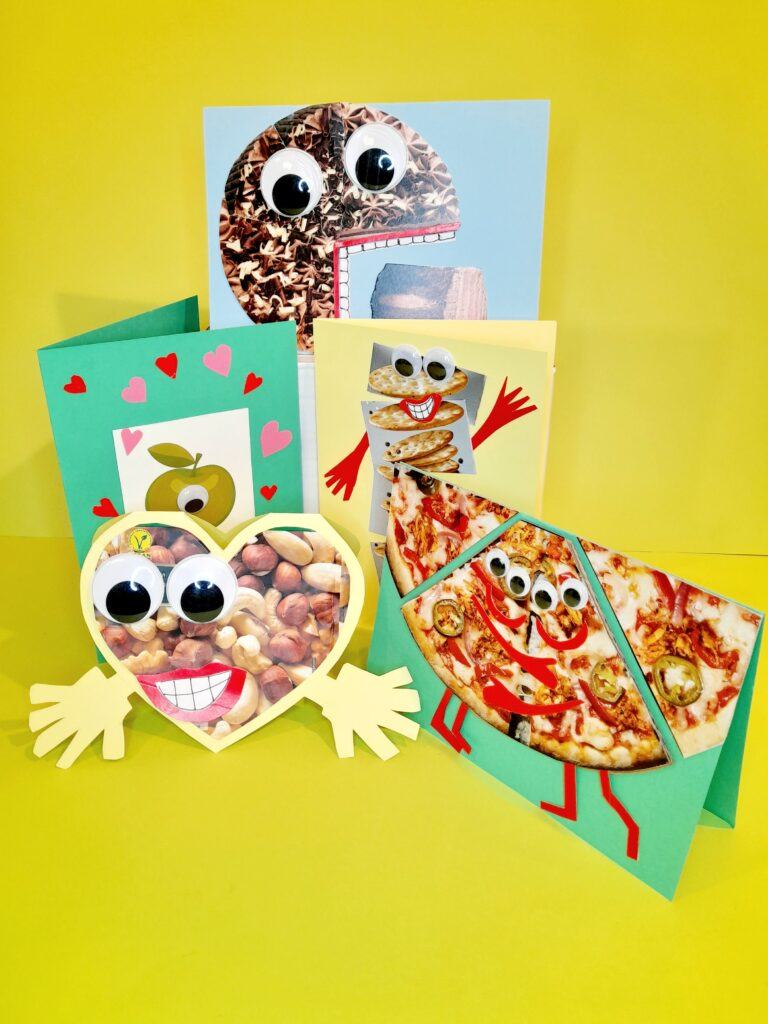 Have you ever thought of up-cycling your ordinary food packaging into fun
Valentine's cards?
Shall we have some fun with the love bug?
Kids love to draw love hearts, and are constantly asking me to draw one for them when we have free play in class!
Any clues here? red hearts, cute cuddly toys, balloons, bubbly, chocolates……..give up?
LOVE AND KISSES!
Yes, it's love week coming up, and it's Valentine's day!!!!
Don't tell me you haven't seen all the spectacular displays dotted around the stores.
An array of
red love hearts

and anything that has any significance with the love bug?
So in this post, I will show you some
'Fun Valentine craft ideas'

using your recycled packaging!
CHECKOUT YOUR THROW-OUTS!
I dived into my recycling bag to find some useful packaging and I came across some food containers that I thought would be just the ticket!
So I am going to make Valentine's cards, using the images from the food packaging, and have some fun matching up messages inside the card, that complement the image on the front of the card.
PLAY ON WORDS!
For example, use the image of an empty packet of nuts, and add a few elements to it to make it a little bit more personal, and within the card have a message that reads, 

'I AM NUTS ABOUT YOU!'
or

'I GO CRACKERS FOR YOU'

again using the image of an empty cracker box.
Do you get the picture?
What do hearts symbolize?

well, they are considered the source of emotion, desire, wisdom, romance, and love.
Where stories of the heart (simile), are featured in romantic films, and tv dramas, falling in love, heart-felt scenes tear-jerkers, and more.
TREAT YOUR LOVED ONE!
Gifting linking to

valentines day

has also become a popular way to give your loved one more than just a card, but some irresistible box of chocolates!
Romancing your way to capturing your true love, what better way to offer something of scrumptious like Valentine's box of chocolates?
Here is a short video on how chocolates got involved with Valentine's day, offered within a heart-shaped box!
So Cadburys got their act together and went further to provide scrumptious chocs, especially for a celebrated occasion!
Not just Cadbourys provide fun Valentine's chocolates, but chocolates on the whole from different manufacturers for this recognized romantic day, also sell well, something for their 'sweetheart!'
LOVE GIFTS!
So in essence, chocolate packaging has been designed around Valentine's day and presented in eye-catching packaging with ribbons and bows, and complimentary colours that makes super loved ones gifts!
Valentine's day and love is a yakky subject for kids, but mentioning making a lovey-dovey card for someone special, like Mum, Dad, Gran, Grandad, Aunty or friend would raise an eyebrow!
This is where it gets fun, make it a bit more creative, but take what is already around us, and put a twist on it.
Have a good look around and try to find what's within your recycle bag, but also hold on to what's within your cupboards so if it would make a good Valentine's subject save it!
I found some great food packaging that would work well using the images on the front of the containers, associating them with 'love' and I put together some simple cute fun valentine craft ideas.
This is what I pulled out of my recycling bag, general food packaging, like pizza, cake, and savoury containers a collection of possibles, that would work well around Valentine's theme.
VALENTINE CARDS WITH MESSAGES!
Below are the finished Valentine's cards with these types of messages you can have inside each card.
I improvised and added features of hands and legs for added effect, to cover unnecessary graphics, and arranged images on a folded A4 coloured card that aligns with the message inside.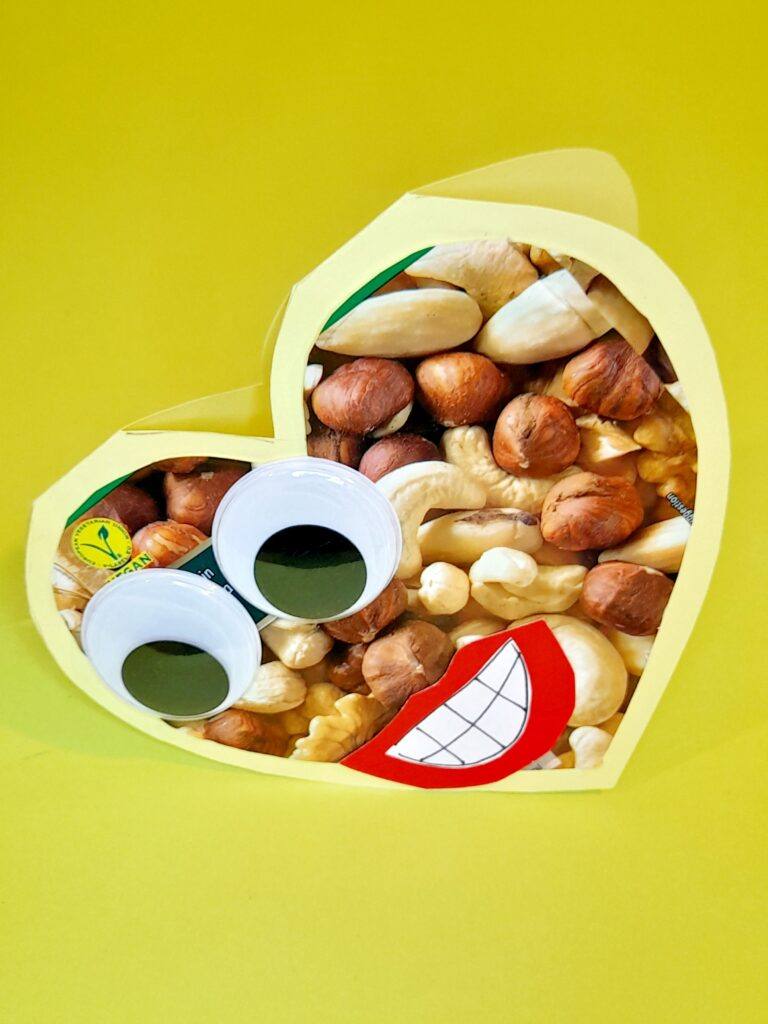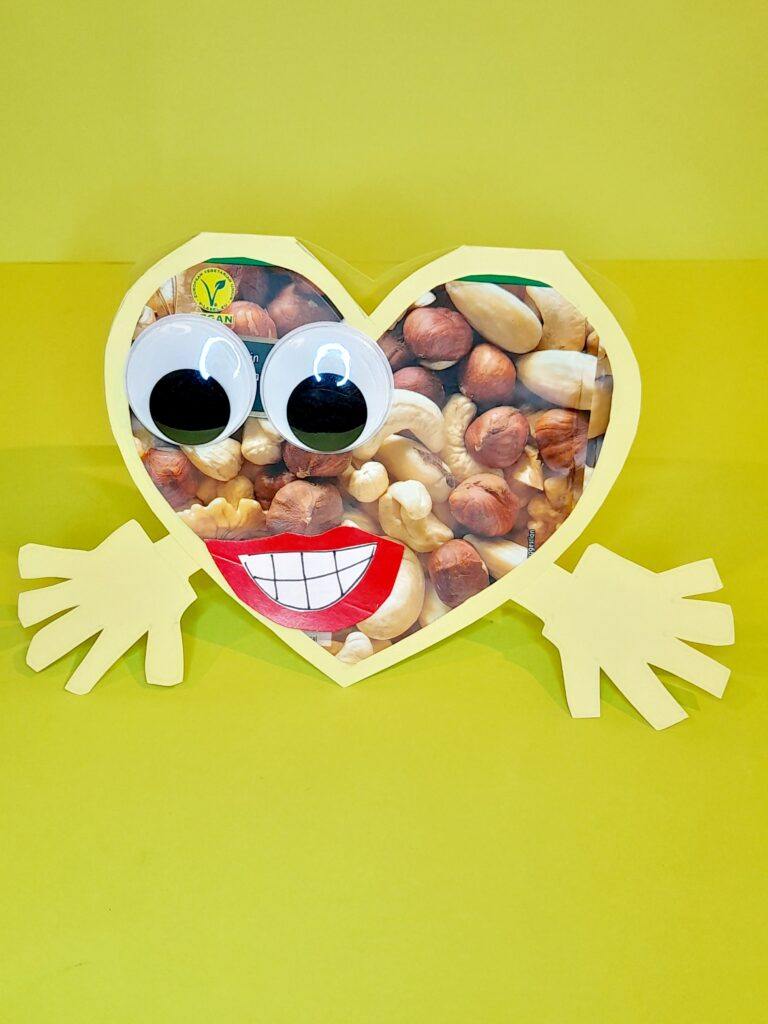 Same card with hands. They will hold the card
upright

, with the same message.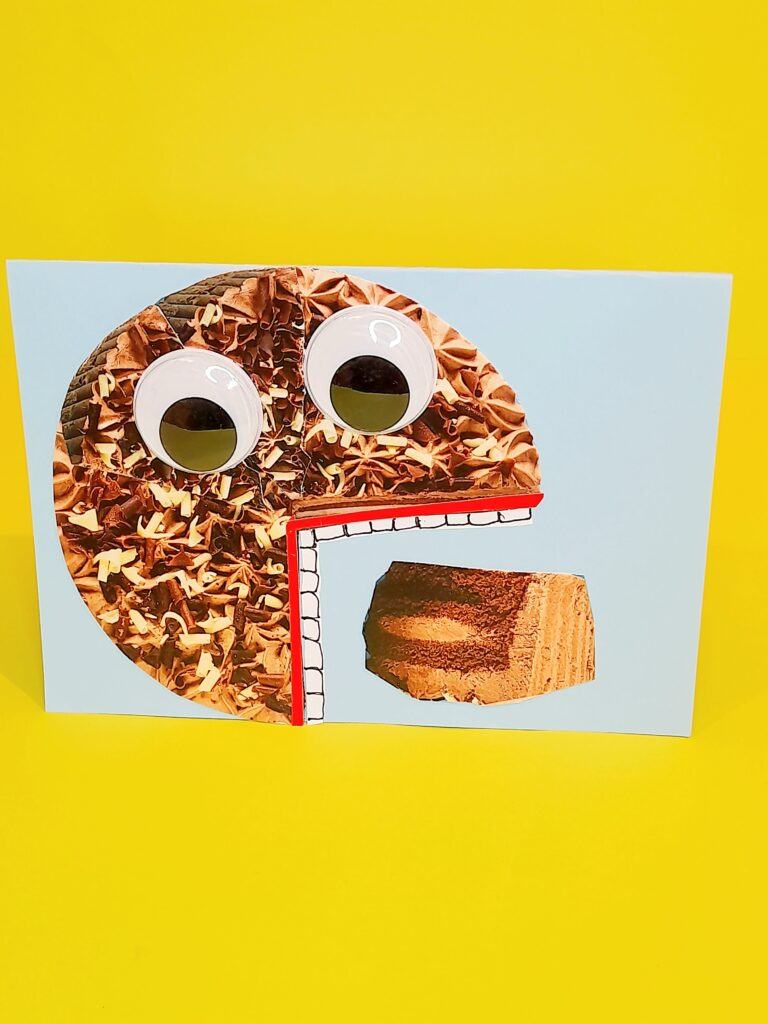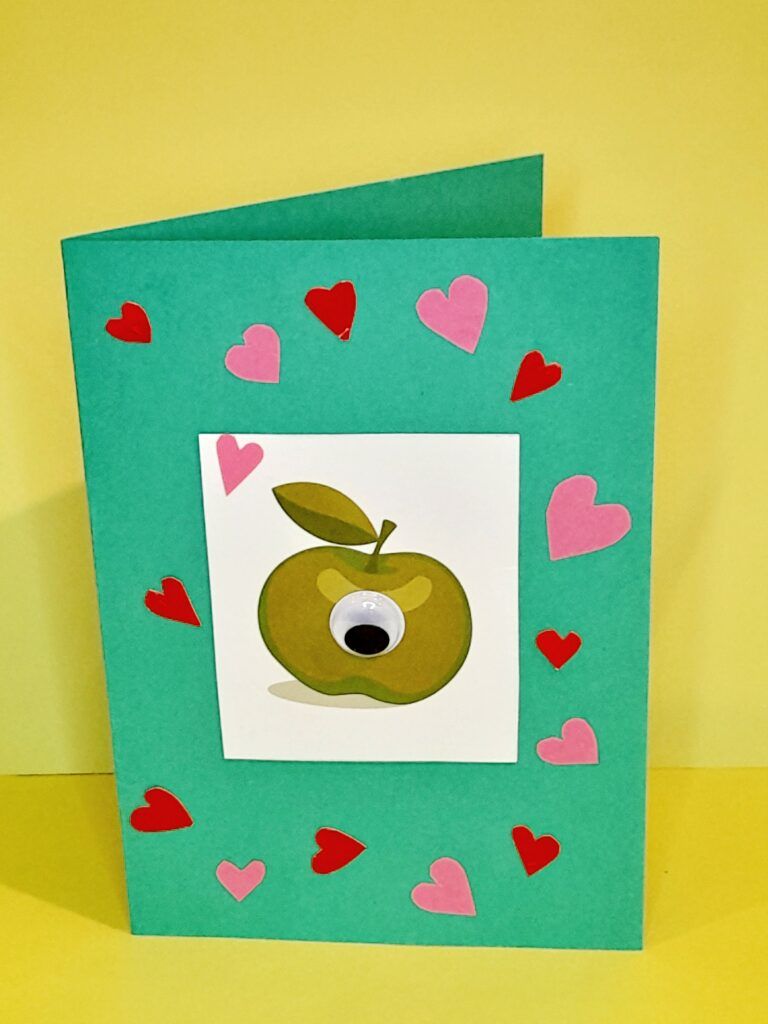 YOU ARE THE APPLE OF MY EYE!
ABOUT THE LAST TWO CARDS!
For these last two cards, I have cut and rearranged part of the image.
With the cake, I had to shuffle sections around to make a whole cake and removed bits with text to make an image that works with the intention I had.
The apple image was much more straightforward, simply cut it out and decorate around it.
DECIDE WHAT PACKAGING!
When you find your food packaging decide how you can use the images for Valentine's cards.
USE A4 FOLDED CARD!
Make sure the image that you can use fits on an A4 folded card.
COVER UP!
Remove branded names or cover them up with features, or body parts, using coloured bits of another package, like red card to make lips, legs and arms.
LARGE GOOGLY EYES!
The googly eyes can be used to cover up text and enhance the image

.
3D EFFECT!
To make an image 3D cut out the same shape of an image, (as shown with the pizza card), and a thicker brown packaging card to elevate the image, thus making it stand out more from the image behind it.

 I hope my examples give you an idea of what you can make from your recycled packaging.
Looking for unique, fun, cheeky, or exploding cards? then look no further BOOMF cards can offer you super
Valentine's cards

personalized to your taste!
If you are looking to make your own take on Valentine's cards, for resources, check out Baker Ross there you can find the card stock and all the embellishments you can use to decorate your cards!
Hey there, when you click on links in this post and you make a purchase, I may earn a small commission that l can use towards resources (other than throw-outs) for project making within my website😀
TO CONCLUDE!
In this post, I show you how you can make use of your recycled food packaging.
Cutting out relevant parts of the images and upcycling them into fun tongue and cheek Valentine's cards.
With just a few resources you are good to go!
Remember when you hand-make your own cards, you can do what you want, write whatever message you like, and personalize it too!
So have you got the 'love bug'? there is no time to waste start collecting your food packaging and get crafting!
In a previous post, I show how you can use cardboard inner tubes to make another fun Valentine's craft project, check that out as an alternative activity for your kids to do!
In the next post, I will show you how to make '
Valentine

lollipop craft!' that your kids can do over the holidays! 
Here is a teaser!