Run run as fast as you can......
You can't catch me I'm the Gingerbread man!
That's what this little fellow would call out as he ran away from being eaten all up, and so goes the fairy tale by the Brothers Grimm.
MY IDEA!
Within this post, we shall be using the Gingerbread man as the subject of the planned activity ahead!
I shall be incorporating him in a simple Christmas pop-up card!
MY THOUGHTS!
This reminds me of what goes on this time of the year, as Christmas is looming ahead of us, where panic sets in to buy, buy, buy those gifts!
The hustle and bustle have started again! Run, run, quick, quick don't miss out on those deals!
CHECK OUT THOSE DEALS!
I can still see it, I am no exception, heads bowed down eagerly swiping through our smartphones, trying to find Black Friday, deals, and then there's Cyber Monday, and don't miss out on the deal of the day!
Finally being elated that you got in on time and bagged yourself a bargain! Phew!!!!
DUST DOWN THOSE CHRISTMAS TREES!
The Christmas trees have come out again hiding away in some secluded place like the attic or garage!, where they will be eagerly decorated with Christmas lights and colourful baubles!
SHOULD YOU PANIC BUY?
What about presents, who do we get them for? what do we get? There are so many temptations out there with quick buys and sometimes unnecessary gifting!
WHAT TO GET?
So what's the answer? simple just ask what they would like, or need for Christmas, and suggest your budget possibly?
It might work, and it also might help get you out of a bind!
FAMILY TIME TOGETHER!
What's important is the time you spend together with your family at the family table to share stories, eat together and just be one with each other. A time to get out those Gingerbread men for a nibble! Whoops!
THINK ABOUT!
But also a time to reflect on those not with us anymore and on those who are unable to reunite with one another over this festive occasion, because of unfortunate circumstances.
CHILDREN'S STORYTIME!
So what are we looking to bring to this post? Currently, in school at story time, the children have been listening to the fairy tale of the Gingerbread man and his demise, and I found this did capture the children's attention.
I thought why not make this theme to be a super subject for our Christmas card-making?
MY INTENTION FOR THIS ACTIVITY!
There are different ways of presenting our little character, but for this project, I shall show you how to make a Gingerbread man Christmas pop-up cards!
CHECK OUT YOUR RECYCLED PACKAGING!
I will be using recycled brown packaging paper to write the message on, and some soft drink packaging card that has the right thickness, flexibility, and colour, that of a biscuit shade, to cut out a gingerbread man that you can insert within the card.
Before we move on here is the story of the Gingerbread man!
As this fairy tale is aimed at children, what lesson do they learn from it?
The moral of the story is not to be too trusting and to be careful even with prominent characters.
GINGERBREAD MAN ORIGINATED.
Let's rewind all the way back to Elizabeth 1, where it is known that a monk made ginger biscuits to help with the Queen's indigestion.
QUEENS CLEVER IDEA!
From there the Queen had an idea to make Gingerbread men in the image of her guests at the courthouse. That does sound like so much fun!
WARMTH SPICE!
The Ginger spice was associated with Christmas, being that the winter season was cold and the warming effect of the biscuit was comforting.
I thought it would be nice to include a simple gingerbread man recipe, and if you don't have a gingerbread man cutter, you can make your own as shown in this video. How about replacing golden syrup with honey instead?
GINGERBREAD MAN POP-UP CARDS!
---
I played about with this idea and in my efforts to make the right gingerbread man, I had many takes on this.
CUT-OUTS OF GINGERBREAD MEN!
As you can see in the picture below, I cut out a variety of gingerbread men, to find the right size and shape that would work in a pop-up card, and I got there in the end phew!
STICK WITH A4-SIZED CARDS.
I initially wanted to make two sizes, one of A4 and the other A5, but it would be too fiddly for small hands to attempt cutting a smallish gingerbread man, so I decided to stick with just A4-sized cards and envelopes would be C5, which would accommodate an A4 folded in half.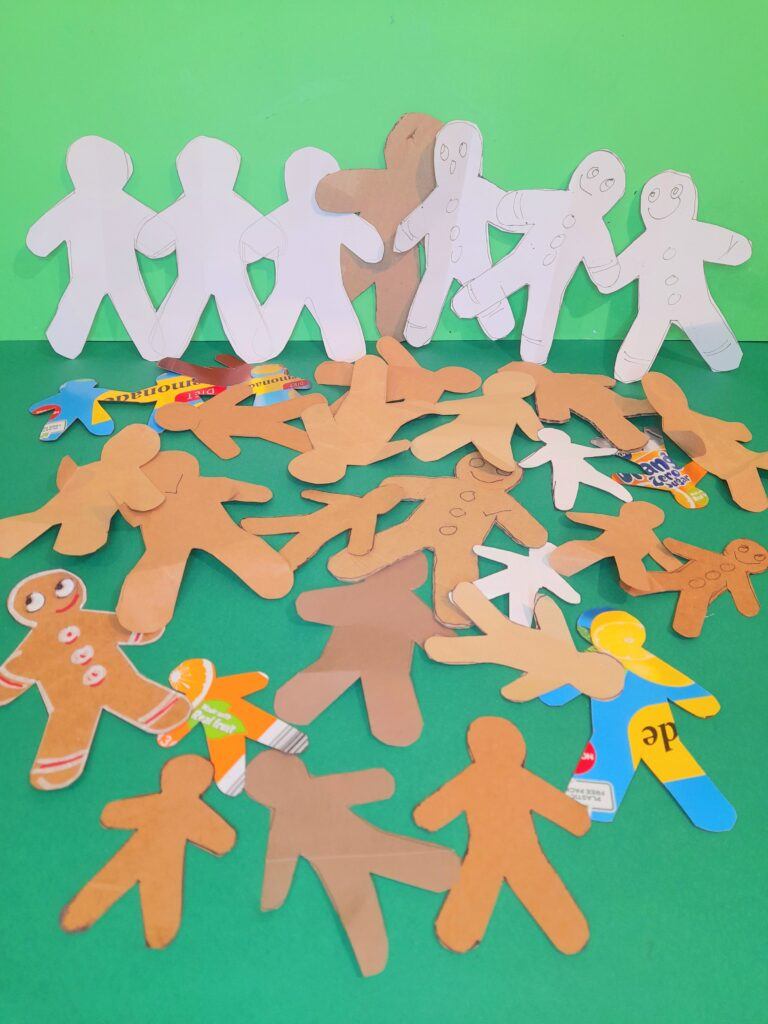 The style of your gingerbread man can vary, after all, it's just a biscuit but for the purpose of this activity we want it to look like a gingerbread man, and at the same time that it works as a pop-up within the card.
So when you open the pop-up card, the gingerbread man will pop up, but when closed he has to be concealed so no peeking.
This type of pop-up I have used many times in my Art Club and I found it to be the easiest.
STAND-UP POP-UP CARD!
There are other ways of doing pop-up cards, which I may touch upon in a later post, but for this activity, I found this version of a stand-up pop-up card to work well!
DOUBLING UP!
The only thing to take note of is that you will need an inside and an outside sheet of card, hence two sheets of A4, that would add depth or thickness to the greeting card, which will make it costly to send, but not a problem if you hand-deliver!
ADDED NOTE.
Within the resources I have included A4 and A5 cards, On this occasion just go for the A4 sizing it will be easier to work with especially for smaller hands.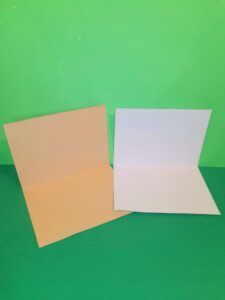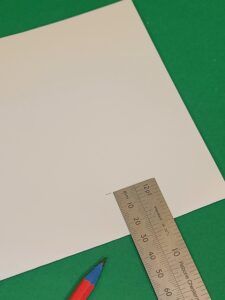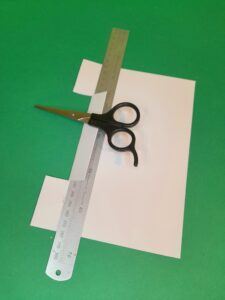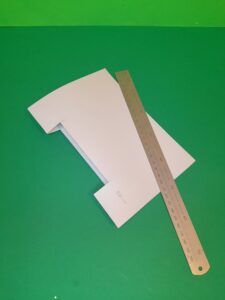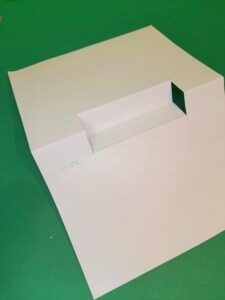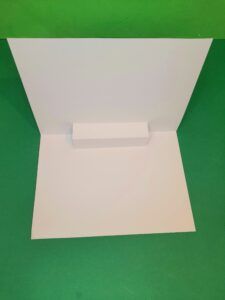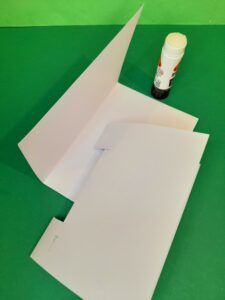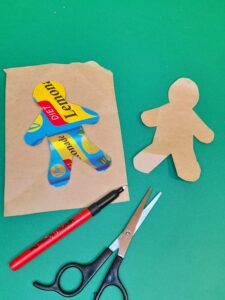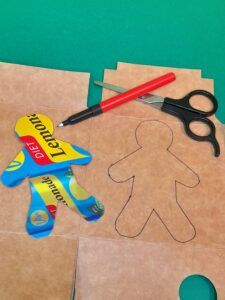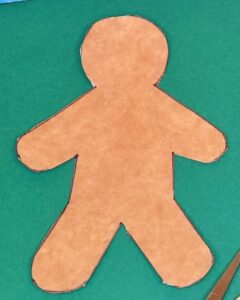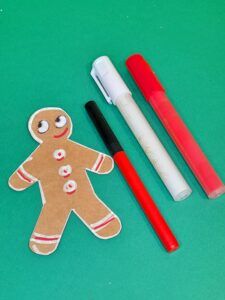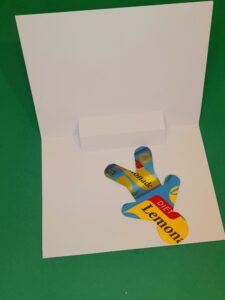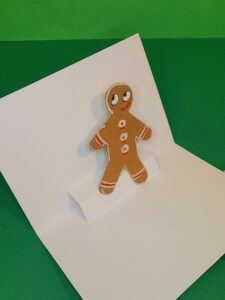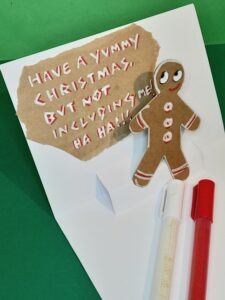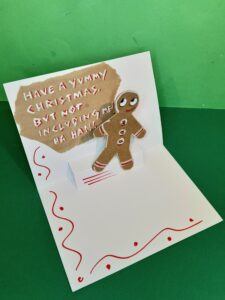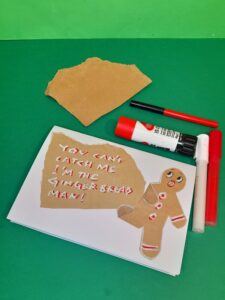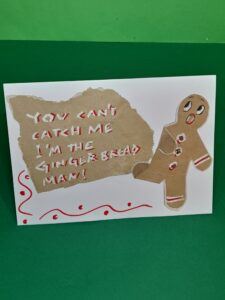 OPTIONS!
The whole idea of this gingerbread man pop-up card is simply that, a pop-up, but if time is short and you just prefer to do a simple open and shut card, then just go for the gingerbread man running away on the front of the card.
CRAFT EITHER OR!
I may choose to do some with only the front part and just a few pop-ups for a few special friends and family. The choice is yours. 
TEMPLATE.
Below I have added a template of a gingerbread man. Right-click, save image as and then print it out as an A4 size, which should be in proportion.
HOW TO USE.
If you are using the template, you can cut him out and stick it onto some card and cut him out again, which will make it a more solid medium to draw around then you can make more gingerbread men using a tougher cut-out.
SHADES.
The biscuit colour of the gingerbread man will stand out if stuck on a white card, but you can use a darker shade of card if you prefer.
PRACTICE
.Practice writing your words before using the brown packaging paper, to get sentences to fit on the face of the card until you get used to using the acrylic pens.

If working with acrylic pens is a bit cumbersome, then just use any felt-tip pen.
HOW TO SHOW.
With the wrapping brown paper version of the shape, fold his leg and arm to make him look like he is running, then glue down next to the torn paper.
DECORATE.
Less is more, but you can decorate how you like.
TECHNIQUE.
Decide how the gingerbread man will stand on the box and when you open and shut the card he is still hidden, so he may be on a slant, then glue him onto the box.

   
GLITTER IT UP.
I have included glitter, where you can dress up the buttons and elements on the card, your choice.
WHAT GLUE.
I included double-sided tape if you prefer, but using a glue stick is sufficient.
Below is one of the card gingerbread men, I made a copy of. You can use this as a guide or draw up your very own!
Here is a template of the gingerbread man. You can print it out as an A4 size (whole sheet 210mm x 297mm) and cut out the shape to use as a guide to draw around on the wrapping paper and card.
MEASUREMENTS.
The gingerbread man size should measure 125mm from the top of the head to the base of the feet and 80mm from the end of the left arm across to the end of the right arm.
Introducing Boomf! a UK card company that provides unique card bombs!
Check out their card bombs in action. See their videos. Scroll across the top and see more at the end of this link!
Hey there, when you click on links in this post and you make a purchase, I may earn a small commission that l can use towards resources (other than throw-outs) for project making within my website😀
A CARD WITH A DIFFERENCE!
SOMETHING TO WOW YOU!
So do you like pop-up cards, then how about 'Exploding cards?'
Where your recipient opens up their special card and BOOMF!!! there is an explosion of confetti within a message!
Does that sound appealing?
FOR YOU!
Yes, this UK card company will provide customized boxed exploding cards in a package!
THERE'S A SURPRISE!
The gifted card will come flat and when opened up there will be an explosion of confetti or a surprise will jump out at you!
POW!
A bit like a jumping jack in a box, but here you have an ingenious version, that's cleverly put together, fun, colourful magic, and has that WOW factor.
HOW IT LOOKS!
You will gift a personalized 3-dimensional package, that you have designed yourself!
HOW IT WORKS!
They provide images and text that you can choose from their photo gallery, alternatively, you can use your own photographs, and the rest is done for you!
SOMETHING ELSE!
Boomf also provides greeting cards for any occasion and treats to please too!
Something quite special is Personalized Marshmallows, how about that?
Christmas is around the corner and what a treat any of these gifts would be!
TO CONCLUDE!
Just by using your simple throw-out brown wrapping paper and soft drink packaging, you can put together a very simple Gingerbread man Christmas pop-up card!
IT'S SIMPLE!
I show you how to devise a very simple technique within the card to help pop up your character!
CHECK YOUR RECYCLING!
So hold on to all that last-minute brown wrapping paper and packaging and……Run, run as fast as you can… as time is running out and posting is short so act quick now and get crafting, even to hand deliver!
FINALLY!
Here's wishing you a very Merry Christmas and a very, very happy new year and Happy Crafting!
Here are links to other Christmas projects that might be of interest to you, so enjoy!