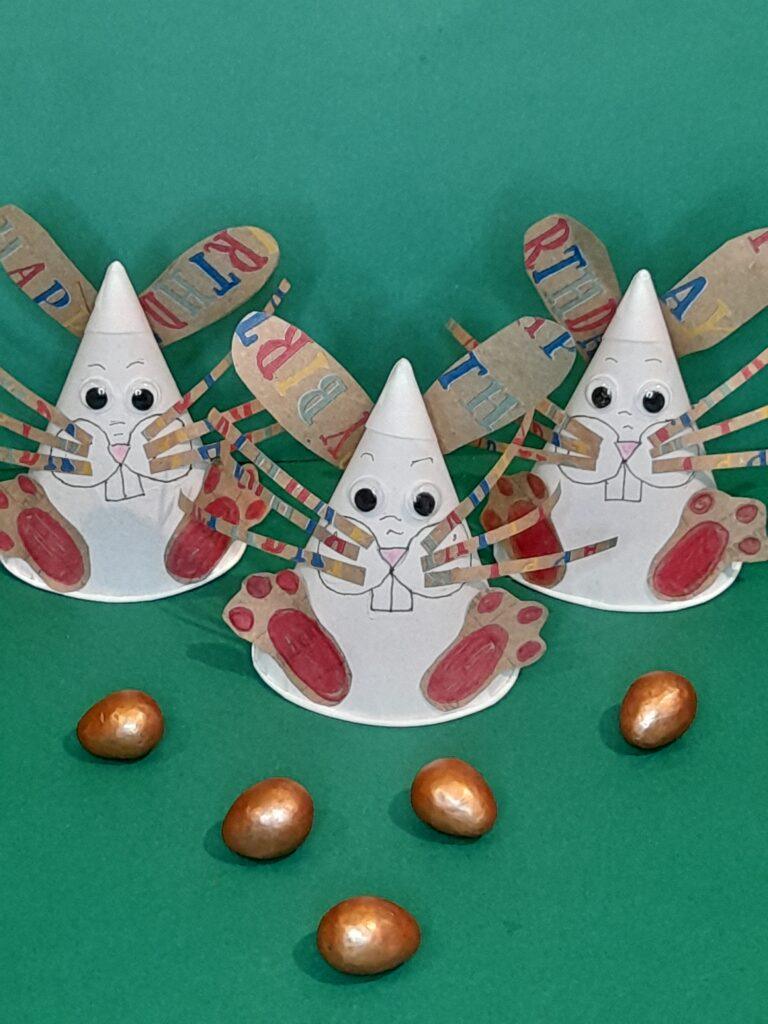 Have you ever thought of using paper cones to make Easter bunnies?
Recycled Bunny cone craft!
What do you do to entertain your kids over the Easter holidays?
I have a quick and Easy Easter Bunny craft for your kids to dabble in and the final result will be a fun game they can play and win a chocolate Easter egg!
I was given a pile of these little water cones that pop into each other and if you turn one upside down, it becomes an excellent base to decorate and then be part of a game.
I kept hold of these cones, knowing one day I will use them in one way or another, and here we are!
When your turn them upside down they would make a very good vessel to hide something inside them!
As we are diving into Easter, it wouldn't surprise me the amount of chocolate Easter eggs dotted around the supermarkets, so don't worry for those who absolutely love chocolate as I will be keeping the chocolate part in this project!
TO COME……..
But also, later on, I will be introducing to you an amazing chocolate company that has delicious chocolate treats that are suitable for everyone!
In this post I will show you how you can up-cycle simple white paper cones into fun Easter bunnies, making three of them exactly the same, and under one bunny cone, you will hide a Chocolate egg!
So we are looking to make an Easy Easter Bunny Craft cone game!
This game is so easy and simple to make. You have three cones, that become three bunnies and one or more chocolate Easter eggs, and some colourful wrapping up paper.
The player your child, will have to guess which bunny cone has the chocolate under it, but there is more!
Once you have placed a chocolate under one of the bunny cones, you then shuffle them all around, making it more difficult for the player to choose the one they think it's under!
This type of game resembles the 'Shell game' That has been played as far back as Ancient Greece. This method has been used to trick people into losing their money over a guess where the hidden object is, after being shuffled around.
KEEP ON GOING!
You keep moving the bunny cones around mixing the order they are in and the player has to choose another bunny cone, if they still haven't found the chocolate egg you keep on shuffling until they find it, and that's their prize!
Before we move on, let's have some fun. I have included these two short videos in the world of magic, showing their version of the       Shell game.
In the first video, the magician demonstrates how to play this game, but in this case, it's all about the magic and how he shows the technique used to fool his audience.
ALL ABOUT THE MAGIC!
In the second video, Jason Latimer an established magician shows his magic with a fun element, maybe you too can pick up some tricks, although in our case, distraction might still be the best option lol!
Okay, I know you can't just magic up these tricks, but you will need to be clever in distracting your kids, or if you are the kid find ways to distract your dad, mum, siblings, or friends so you can whip out the chocolate, or put it back in!
Now you can have a bit of fun by making them look away, like 'look behind you' or 'whose at the window', and hopefully, they turn around and they lose their focus, then you can remove the chocolate egg quickly and conceal it somewhere.
CARRY ON.
As the game continues, they will get to choose the cone they think the egg is under, you keep shuffling the bunny cones and if the egg is no longer there, even after all three cones have been lifted, you distract them again and place the egg back, so eventually, they find it!
If you have more than three bunny cones it will make it harder for them to choose, although you will have to shuffle them a bit more quickly and change your tactics in distracting the player!
If all the bunny cones are decorated differently like having different coloured noses, then it will make it easier for the player to follow that colour nose you put the chocolate egg under, but if you decorate all the bunnies the same then that would make it harder for the player to decide on which one it is.
Having played a similar game with children as young as four years old, it would take quite a few goes for them to understand how to play this game, they would just make a wild guess.
Your job is to keep showing the children the way this game is played, although we know for them, it's all about getting that chocolate egg!
Are you ready to start our Easy Easter Bunny Craft?
This is what you need :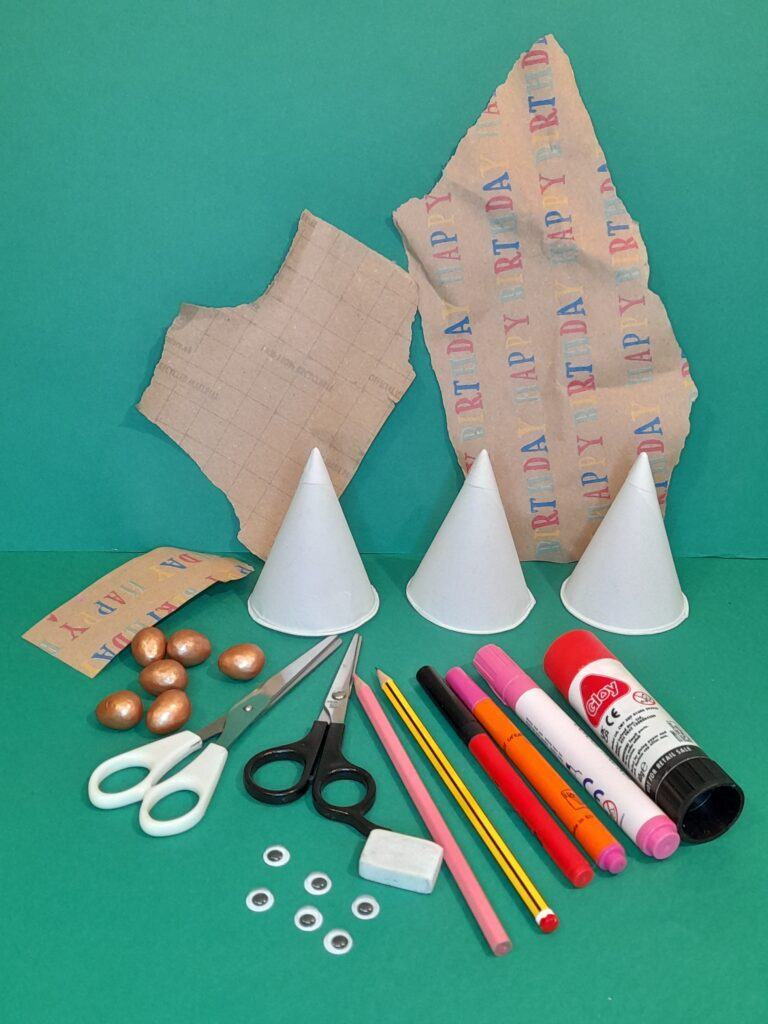 RESOURCES.
3 white paper cones.

Some recycled packaging paper or paper of your choice.

Scissors med/small.

Glue stick/Rubber.

Pink felt tip pens/thick/fine.

Pencil/black fine felt tip.

6 Googly eyes.

Chocolate easter eggs/sweets.
I was lucky to have these little paper water cones, but if you haven't got anything like this, what you can do is:
Grab a plate, decide on the size you want your bunny to be, and use it as a template to draw a circle with on some medium-weight card.
Cut it in half and carefully twist it to form a cone, then glue it in place, and voila you have your very own hand-made cone.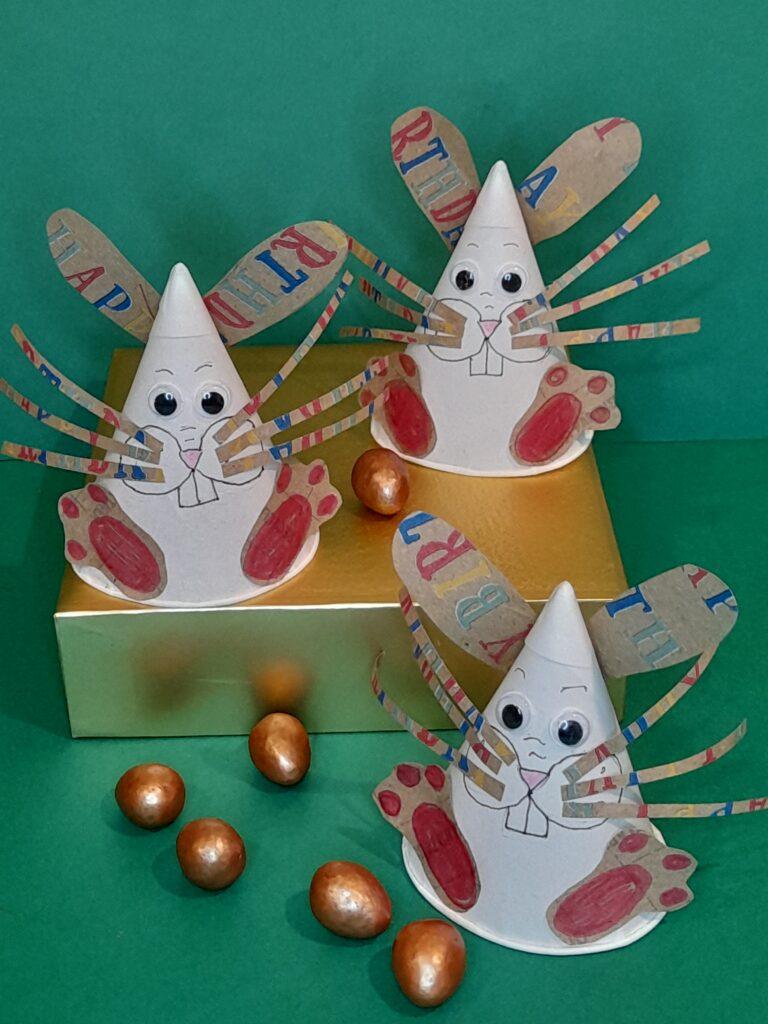 Here are the three finished cone bunnies. They are ready for the chocolate egg game.
You can use one or more chocolate Easter eggs, although it may be a little bit more difficult to quickly grab more than one and conceal it!
HOW TO START.
First of all, decide where you want to glue the googly eyes, this will be your starting point, then you can draw the nose, large cheeks, and teeth according to the position of the eyes.
FIXING EYES.
You may need to re-apply the glue to the googly eyes until they adhere to the paper cone, as they may drop off.
USING PVA GLUE.
Or you can use PVA glue, but I found it to be too messy. and you would have to lie the bunny down until it dries.
WRAPPING PAPER.
I re-used saved Birthday wrapping-up paper, with its colourful text and it worked quite well for the ears and whiskers.
DECIDE ON SIZE.
The size of the ears, paws, and whiskers is entirely up to you. Leave some space around the paws so they stay intact and use medium size scissors to cut the whiskers in one long cut.
EARS HELP MOVE.
When moving the bunnies around you can hold their ears and lift them up, holding the ears will help move the cone.
MATCH UP.
Try to replicate the bunny as closely as possible, so one does not stand out more than the other, this way they don't identify with any particular bunny.
Hey there, when you click on links in this post and you make a purchase, I may earn a small commission that l can use towards resources (other than throw-outs) for project making within my website😀
You may not need to look any further, this outstanding Chocolate company has beautifully made delicious chocolate treats, that are made with the best quality cocoa and outstanding recipes, the design and finished look will appeal to anyone for any occasion!
Look out for Easter treats for your kids, or even for just fun original kid-friendly novelty chocolate treats!
Here are a couple of fun novelty treats that come in bags of 10 or bags of 50 great for those kids' party bags or as a giveaway!                 
Check out their range for more ideas!
Do jump in and check out what this company is all about!
In this post, I have shown you how to put together a very easy Easter bunny cone game.
With a simple shuffle, you can confuse the player about where the hidden chocolate egg is, the player then has to choose the bunny that may conceal the egg!
This is a simple activity for your children to craft and have some Easter fun making and playing the game.
So now is the time to check out your resources and get crafting!
Here's wishing you a Happy Easter and lots of fun crafting and playing this activity!
Are you looking for some inspiration or other ideas for Easter crafts, do check out these previous posts, there may be something of interest to you or your kids!