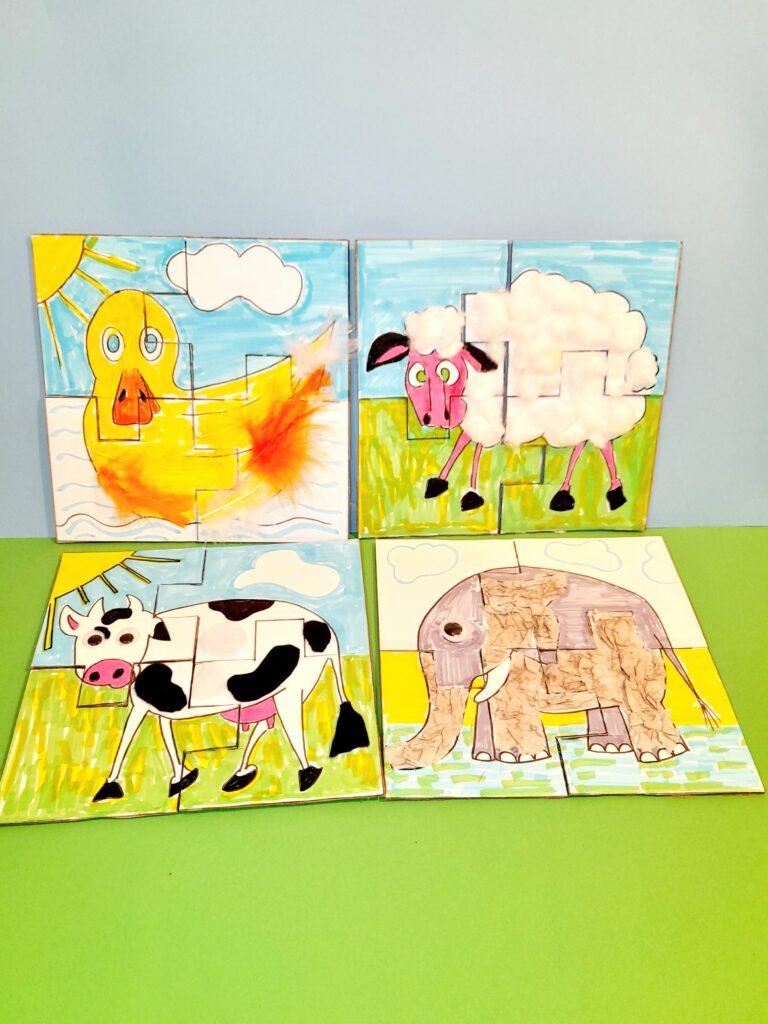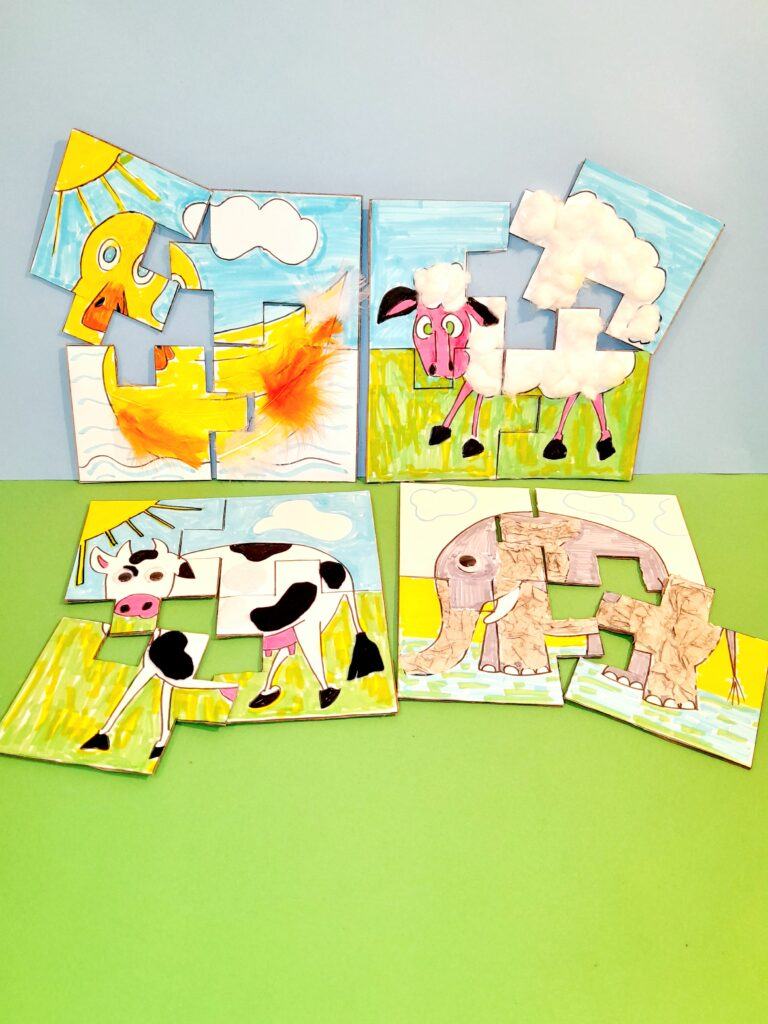 Let's make animal jigsaw puzzles, with a sensory finish to them!
Jigsaw puzzles, easy or hard?
When you look at a kids' Jigsaw puzzle your either think, easy peasy, or WHAT! that's hard!
WHAT ABOUT THEM?
Some can have many small puzzle pieces to find, match up and fit, or the easier ones with a few, chunky parts that are child-friendly and slot together as easy as clicking your fingers!
JUST IN THE NICK OF TIME!
In class, may labour over completing some of these kids' puzzles, with trials and errors, and occasionally there is always one little genius that will drift in and quickly smash it! 'Great work, and clever you' I would say.
MY INTENTION!
Well in this post I will be making not-too-hard and pretty easy Animal Jigsaw puzzles, 

although they will have a different finish to them.
TEXTURED FINISH!
Made up of four pieces that have a touchy feel to them, enabling the child to experience some sensory moments.
These will be child friendly, and I will be using recycled packaging cards and odd resources that I already have to give a textured surface.
AIMING.
I will give the puzzle pieces textures that will reflect something about that creature.
WHAT IS THE POINT OF A PUZZLE?
Before we move on, let's find out a bit more about the history of a Jigsaw puzzle.
So it goes to show how entertaining it was to obtain a jigsaw puzzle that would keep you busy for many hours.
The jigsaw puzzle also got its name, 'Jigsaw' because it was originally cut by using a Jigsaw!
The name 'Jig' is the movement the saw would make by going up and down, rapidly.
Imagine an old fashion sewing machine and instead of a needle, there would be a blade.
The 'saw' is the tool used to cut with, so together it formed the word 'Jigsaw'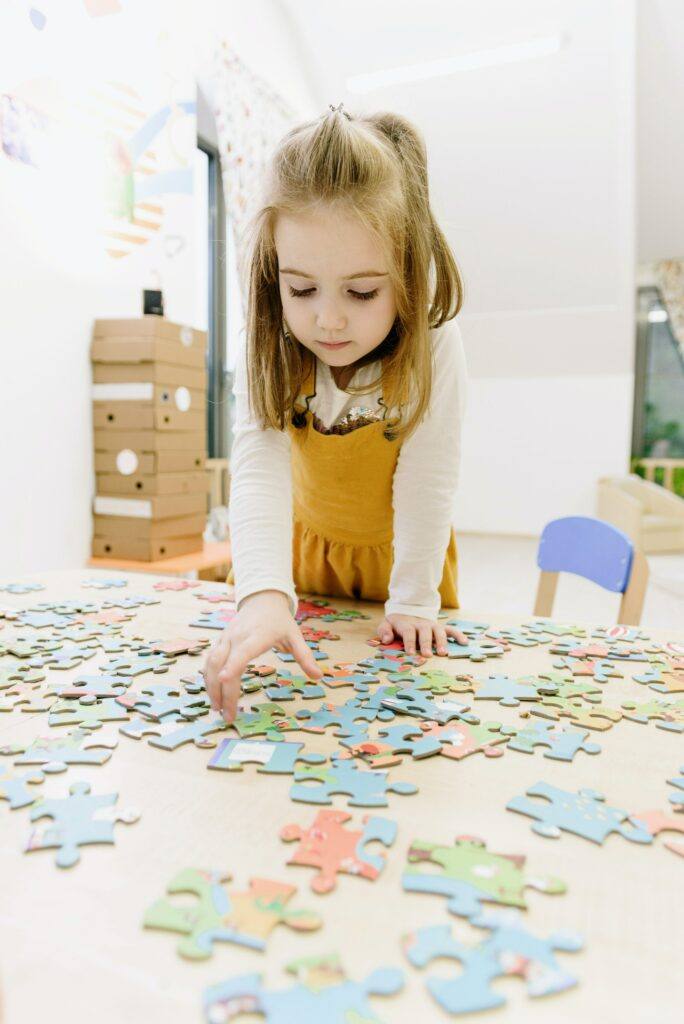 All puzzles have the one thing in common, to take apart and to put back together again recreating the picture on the box.
Puzzles may come over as old hat now, because of all the high-tech games and toys that are available these days, but really there is a lot more to puzzle-making than you think,  so let's take a look:-
PUZZLES ARE GOOD FOR KIDS!
    This is what stands out, whilst puzzle forming:
Social development.

Cognitive development.

Intellectual development. 
This is a great opportunity for kids to work together to accomplish their ultimate goal. This kind of play promotes cooperative play.
RESEARCH SUGGESTS.
There is research that suggests that a child's brain development is influenced when they get involved or work with the environment around them.
Also working with others as part of a team, allows your child to rely on others for help and guidance.
In this way, they would be checking others' feelings and moods while at the same time promoting verbal and non-verbal skills and being more empathic.
This is a process where a child will evaluate their ideas and work things out, organizing their ideas and applying what they know.
*
INTELLECTUAL DEVELOPMENT.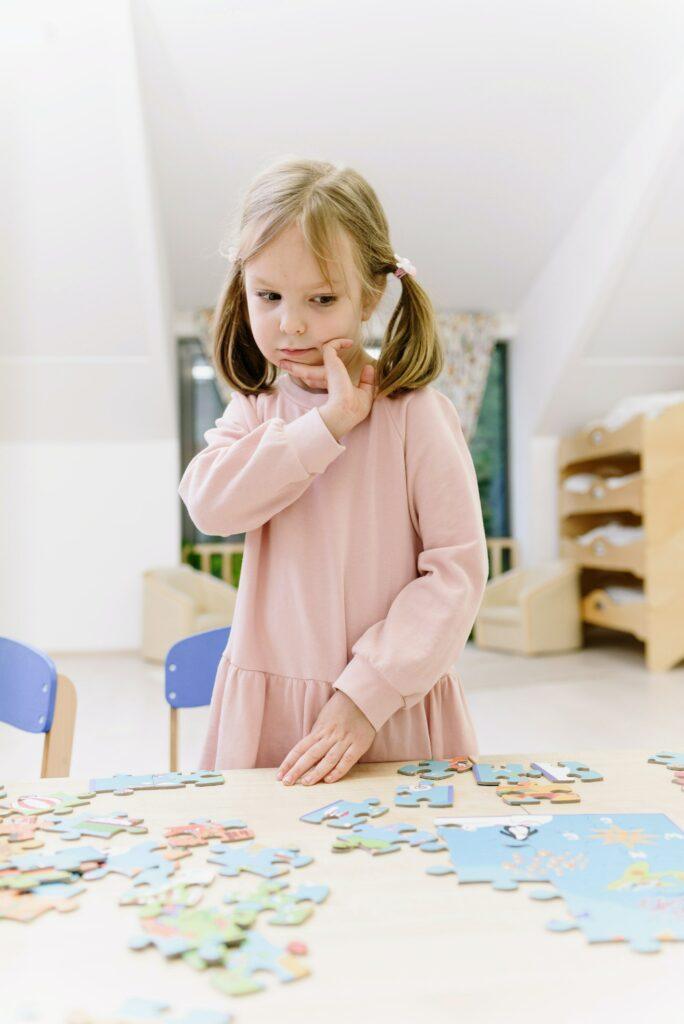 When it comes to puzzles it's really the ability to think for themselves, reason, and how they organize their minds.
This includes memory, problem-solving, abstract thinking, and language development.
HEARD OF DOPAMINE?
Playing with puzzles improves mental speed and short-term memory, and concentration.
When a puzzle is solved a chemical called Dopamine is produced.
This chemical within the brain, regulates moods, memory, and concentration!
MAKING CHOICES.
When your child plays with a puzzle, they learn through the power of choice and strategy.
HOW SO?
As they begin they understand and recognize how these jigsaw pieces fit together in hand completing a larger picture.
DEVELOPING THOSE SKILLS!
Your child will develop memory skills plan and test ideas and ultimately solve problems.
This leads to remembering shapes, colours, positions, and strategies to complete them.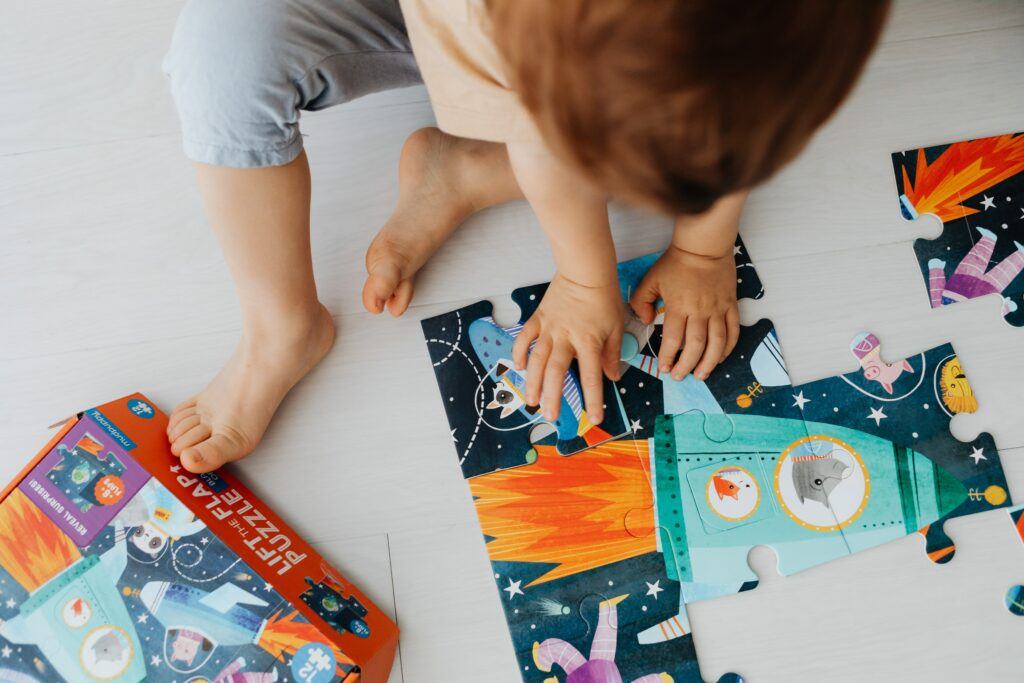 Playing with puzzles develops hand and fine motor skills. This enables a child to use their small muscles and their hands to pick up, grasp and move pieces with confidence and precision.
Little hands will find it easier to hold large chunkier pieces and slot them together.

As they get the hang of it they can try harder puzzles.

Start them off with matching, and finding pairs.

If they are familiar with the subject like farm animals, jungle animals, fruits, vegetables, and pets or vehicles they can easily match them up.
Basically whilst your child is playing with a puzzle, they need to remember the picture on the box, and the position of each piece, and try to create the same scene.
Or they might work it out and complete the puzzle without looking at the picture on the box, as the picture demonstrates above.
So playing with puzzles does this:-
DEAL WITH FEELINGS.
Your child will learn to overcome problems, deal with frustration, and accept challenges.
TEAM PLAYER.
Working with a puzzle encourages children to be independent, interact with others, and make decisions.
INTERACT.
This is a good way to encourage kids to talk, ask questions, and use their observation skills.
LITTLE HANDS.
Helps a child build cognitive and fine motor skills.

Overcome problems and deal with frustration.
CONCENTRATION.
They have an objective, and that is to build the picture on the box.
TRY, TRY AGAIN!
If they make errors, they will keep trying, until the pieces slot in together.
   

BE AN EXAMPLE.
If an adult helps lock in the right piece, the child will build on that.
We can appreciate the workings of a puzzle a bit more now don't you think?
Now that we have got all the important stuff out of the way, let's move on!
In this post, I will choose animals that kids are familiar with, and craft Animal Jigsaw Puzzles.
I am going for four types of species, cow, sheep, duck, and lastly an elephant.
I will endeavor to craft different types of textures that represent them.
POPULAR CHOICE!
Even though the elephant is an outsider, they are a good mix, and my grandson loves them all!
RESULTING.
We will be finishing with four textured animal puzzles, and each one will be made up of a four-piece jigsaw.
Your child will be able to slide and slot together the four pieces to create their animal.
Here are the different types of species, that we will be referring to for our animal puzzles!
Pictures from Pexels.com Cows by Byron, Sheep by Paul Selling, Duck by Vanja Lazic, and Elephant by Magda Ehlers.
Adding texture gives a child an opportunity to explore and use its senses, that being vision, and touch, to see, feel, and explore the texture that might represent that animal.
Hold on to any flat A4 size packaging, not too thick but strong enough to cut out a jigsaw puzzle shape.
SIZING UP.
I formed a square shape within the A4 card, approx. 210mm wide X 210mm deep and then divided the square into four parts.
Rule approx, half and half again in proportion, although I drew up the puzzle to look good visually.
Each animal was drawn within the square area in a simplistic way.
I will provide a template for each animal.
ANIMALS COATS.
I looked for resources that are similar to the texture of each animal's coat, or as near to as possible.
SHEEP, COW, AND DUCK!
I used cotton wool for the sheep's woolly coat and for a cow I am using black and white felt fabric it has a rough and smooth texture.
FAUX LEATHER?
If you can find something that resembles cows hide like fake leather or a rubber type of material that could work.
CRAFT FEATHERS.
I will use feathers for the duck, these craft feathers are available at Baker Ross. (see link below)
Ducks aren't really yellow in colour, ducklings are yellow, but because kids are familiar with yellow ducks, that's what we are going with.
FOR ELEPHANT!
I made up a crepe-like texture for elephants' skin, crumpling grey paper, and covering it in  PVA glue, then crumpling it up, allowing it to dry and have a toughened feel.
(Resources you require can be found at Baker Ross, see link below.)
Click on each image to enlarge.
The animals are shown in the order I made them with the added textures, to give a different experience.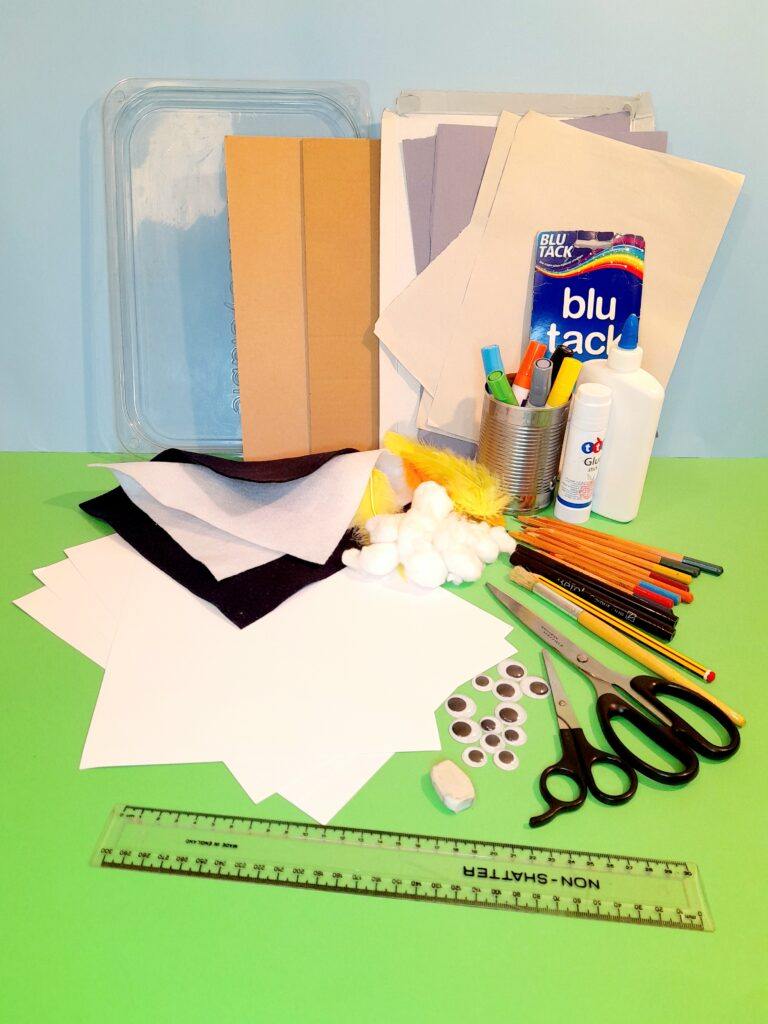 4 A4 packaging cards.

5 A4 white sheets of card.

Grey-buff coloured papers.

Broad-fine felt tip pens, black, yellow, pale blue, green, pink, and grey/Coloured pencils

Scissors, large/small.

Pencil/rubber/ruler.

Different-sized googly eyes.

Cotton wool balls.

Feathers, yellow, white, orange.

PVA glue/Glue stick/blu tack/plastic tray for gluing.

Black and white felt fabric.
LET'S MAKE ANIMAL JIGSAW PUZZLES!
Click to enlarge any image.
Here are templates of all the animals and the plain jigsaw puzzle, which you can print off and draw your own version of an animal.
With each template, first click on it, then right-click, save image as, open up, and print out on white A4. card.
Click to enlarge any image.
USING WHITE CARD.
If you decide to print off any of the templates use a white card you can keep or cut off the bottom section, this is to stick on the different materials.
PACKAGING CARD.
The copy of the animal puzzle can then be stuck on to packaging card, thereafter the whole lot is cut out to form your puzzle.
DRAW YOUR OWN ANIMAL.
Print off the plain jigsaw puzzle, and draw your very own animal!

Each puzzle can be coloured in how you like, with felt-tip pens or coloured pencils.
USING TEXTURES.
I found some cotton wool balls, that I used for the sheep coat, as for feathers I had a selection of those, but if you don't have any then look out for some pigeon feathers, ok may sound yukky, but great to use just for sensory purposes.
SECTION BELOW.
The section below the puzzle can be used to add texture, instead of sticking textures onto the animals, or cut the bottom section off and keep the puzzle as a square.
KEEPING IT CLEAN.
In time touching the textures may become grubby. so you can just keep the bottom section as the sensory part, and when the child has completed the puzzle, they can then experience the texture of the animal in question.
WAYS TO CUT.
Cutting the puzzle out can be a bit tricky, you will need small sharp scissors to get around awkward corners.

It may be difficult for your child to cut out the puzzle, so they will need guidance and some help, especially with sharp instruments.
ALTERNATIVE.
If your child finds it difficult to cut out the puzzle pieces, you can keep the four jigsaw pieces per puzzle as squares, which might be easier for your kid to cut out and slide into place so you end up with four equal squares forming a larger squared puzzle.
Here is something that might be of interest to you!
Hey there, when you click on links in this post and you make a purchase, I may earn a small commission that l can use towards resources (other than throw-outs) for project making within my website😀
Check out KIDLY UK, sensory puzzle, this is a Vilac Jungle touch-and-feel puzzle.
It contains 5 animals that can be lifted out of their holders and underneath is texture that likens the creature on top.
KIDLY UK

, never fails to provide just the perfect interactive sensory piece of a well-crafted toy.
A long-lasting wooden puzzle that can be wiped clean and use time and time again!
Suitable for 18 months upwards.
For all your resources you can find:-
TO CONCLUDE!
In this post, I hope I have inspired you to take some of your recycled packaging cards combined with a few simple drawings or printouts of popular animals, and some textures and transform them into easy
'Animal Jigsaw Puzzles!
GREAT FOR KIDS!
Jigsaw puzzles are a great resource for the development of children's thinking process, working things out, decision-making, and achievements!
DISCOVERY!
Also for little hands encouraging them to use their fine motor skills in picking, gripping, and attaching finalizing their accomplishments!
TEXTURES!
Using texture to bring to life the animals, gives the child an experience of what the animal would feel like.
RECAP!
So hold on to your recycled cards, and follow the steps I show in this post, and you can create with your kids some super simple four-part Textured Animal Jigsaw puzzles!
Check-out some previous posts on some fun puzzle type of games for kids. Below are the links.
⇓