Fancy crafting a cup of tea for two?
Let's craft a teapot, cups and saucers!
Ever thought of going posh and crafting a tea set? I shall be using packaging that is easy to work with and transform it, into a fun project for kids to do!
Having a cup of tea is a very British thing wouldn't you say? 
Can you imagine, the thousands and thousands of cups of tea that the British drink is inconceivable, although I think Coffee is now on the rise and becoming very popular too!
MY INTENTION!
In this project, I am going to show you how to use branded cereal and soft drink packaging to craft teacups made from recycled cards, and the images and lettering will be the design of the tea set! So no need to do any painting or embellishing!
Reduce, Reuse, and Recycle into crafts!
Before we move on, let's remind ourselves of something quite important.
WHY DO I DO WHAT I DO?
The basis of this website is to provide fun, creative projects for kids and parents to partake in, but to use rubbish, junk, or throw-outs as a resource.
THINK ABOUT OUR ENVIRONMENT!
So in hand, we are doing our bit for recycling where we can, by reducing waste that we would otherwise be contributing to the never-ending piling upon landfilled sites.
OUR OCEANS!
Furthermore, the consequence of this mindless damping has been contaminating and damaging our oceans, which can ultimately lead to destroying our beautiful sealife and creatures that lie beneath!
Check out the 'Milk Bottle Whale' post and see a 'Whales Tale' video!
Here is a catchy tune that really conveys that message!
Click on the link above, to see how to beat plastic pollution with the UN environmental program.
THE 3R'S
Have you heard of the 3's, Reduce, Reuse, and Recycle?
Let me explain more. when we talk about reducing this implies the amount of rubbish we generate.
EDUCATING OUR CHILDREN!
This means being kinder to our environment nipping it at the source, and thinking before we drop that litter!
So what do we have to do? we have to try to Reuse what we can in other ways and not be so wasteful.
PLASTIC BOTTLES!
One example is, Reusing your plastic water bottle and refilling it with water, instead of buying the same again and again, leading to you having to dispose of your plastic bottle, hence resulting in more throw-outs!
CRAZY DRINKERS!
The same with coffee, tea, or chocolate drinkers purchasing their fix every day, for example when going to work, repeat buying, and consequently a build-up of disposable cups!  Let's not forget the leisure drinkers too!
WORK THIS OUT!
Say a consumer buys one a day, in a month that's twenty disposable cups, and if you are looking at a year's worth that's at least 240 cups, less or more not including holidays, but more if it's twice a day!
Can you imagine what that would cost you?
Later on in this post, I will be recommending a great idea to address this!
ABOUT RECYCLING!
Now moving on to Recycling, I am glad a lot more established manufacturers are looking into this, providing a solution to deal with their packaging. Go to 'What happens to our plastic waste?' to see some of the branded companies supporting this cause!
Also, you can get to see what I turned some of the plastic bottles into!
ABOUT PAPER!
A very good way to recycle throw-outs when it comes to any type of paper is, for example, a collection of old newspapers, magazines cardboard and repulping it into new paper.
Check out 'Newspaper craft for kids!' where this is demonstrated, and what you can do with your newspapers!
ABOUT EGGBOXES!
I have shown this process in a previous post 'Learning game for kids!' on how they make eggboxes by recycling all types of used papers, including cardboard into a pulp and then into eggboxes! Check out the easy super learning game for kids too!
A QUICK NOTE!
I practiced trying to work out a template that would be easy to follow in making the teapot and cup, but it all depended on the amount of packaging once opened up flat, would allow me.
EASY TEAPOT.
So instead I drew a basic teapot that works well when transferred onto the flat packaging.
Also, I tried to keep the design of the package to be equal on both sides of the packaging, so that it looks similar when you turn the teapot around.
CUP DESIGN.
As for the cup, even though I worked out a circular shape to curl into a cup, I found that making a cone would work just as well.
Also, I discovered that cutting off a tiny piece of the bottom section, (the point of the cone), then snipping all the way around, and pushing these parts inward would make a perfect base for the teacup.
GLUING ON.
You would have to stick these parts together, then the cup would be secured onto the saucer, after using double-sided tape.
The handle and saucer are separate parts and stuck on after the completion of the cup.
Now we have got that out of the way, we can get on with the 'Teacups made from the recycled card!'
RESOURCES!
Any packaging.

Sellotape/double-sided tape/masking tape.

A4 paper/tracing paper.

Scissors/large and small.

Scalpel/Ruler.

2B pencil/charcoal pencil/black pen.

2 plates one approx. 200mm and 150mm.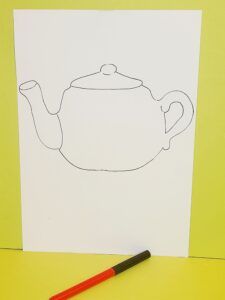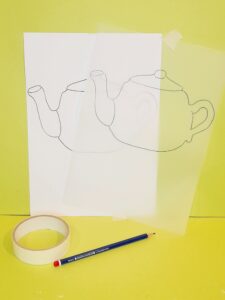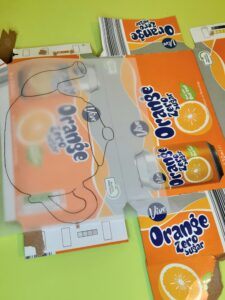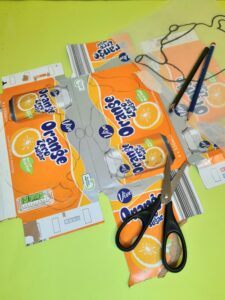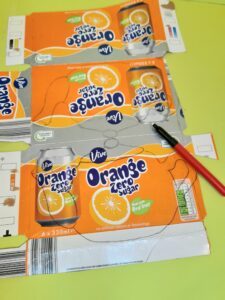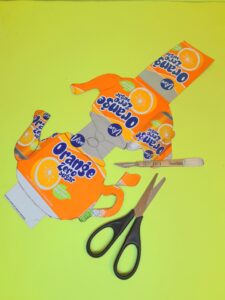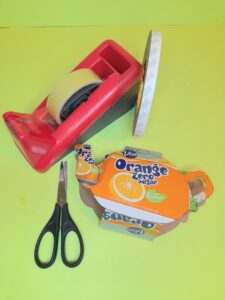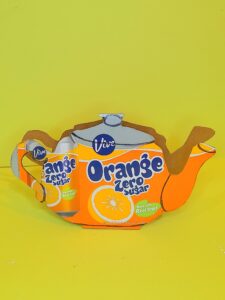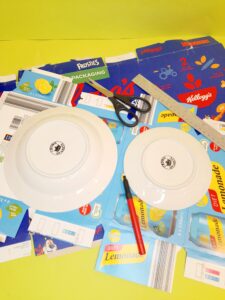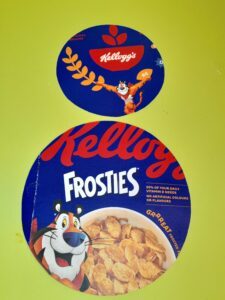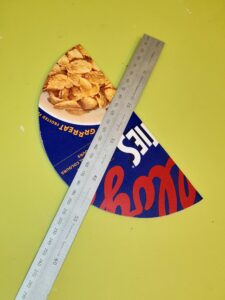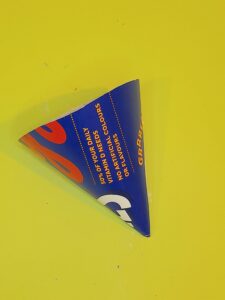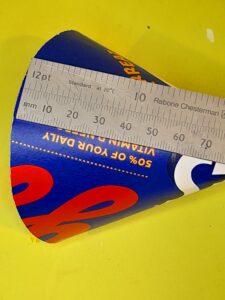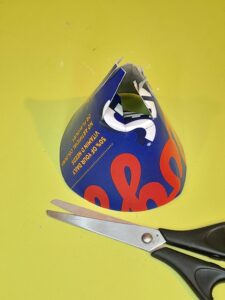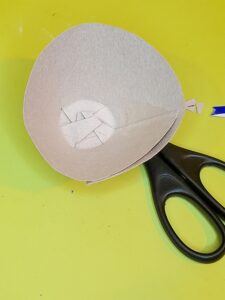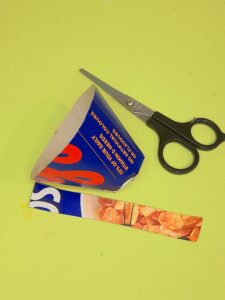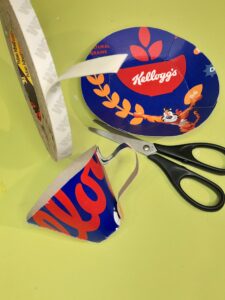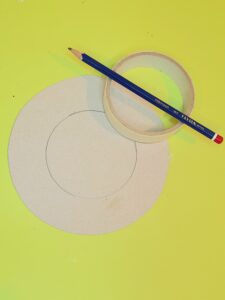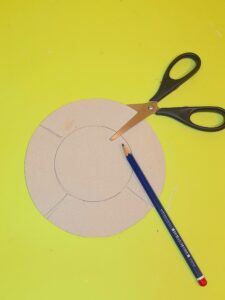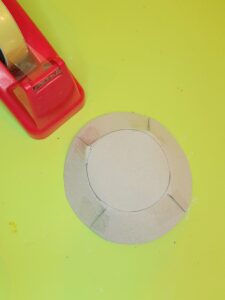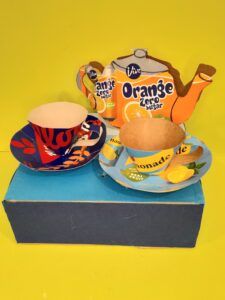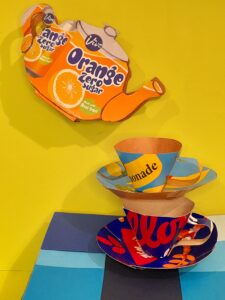 RIGHT CARD.
I chose cereal packaging, and soft drink packaging, as this type of card is bendable and can be converted into shapes a bit more easily.

I also like the graphics on these packages, which give your teapot or cup a cool look!
CAREFUL HANDLING.
Although these cards can crack slightly, you have to be accurate in your curling and cutting.

When making the cone you need to practice curving it into shape, aim to have an opening of at least 80mm.
   

ABOUT THE SAUCER

.
The saucer is tricky, as you need to convert the flat shape to bow a bit, so snipping four areas opposite each other and slightly, and overlapping when taping it into place will look more like a saucer.
   

USE FINGERS.
When pressing the circular reel of masking tape to make the hollow of the saucer, will need to be more of a trial and error until you achieve the molded effect.

Use your fingers to push and engrave the circular reel within the saucer.
HOW TO ATTACH.
Use double-sided tape to secure the cup to the saucer so it holds it tight to the plate.

I found you can get away with a two-sided teapot, but the teacup looked better if it were 3D.
CUTTING HANDLE.
Cutting the inside bit of the teapot handle, with the scalpel can be a bit tough, so maybe groove out a large hole and use the smaller scissors to help with the removal of the surplus card.

Adult support will be needed if using a sharp tool.
CUTTING THE LID.
The very top part of the lid is what holds together the two sections of the teapot, so with your scissors cut away from the knob, leaving a border that will act as a hinge, and keep the whole teapot intact. (see image carousel).
So how do we reduce our beverage containers, that of coffee, tea hot chocolate, and anything else that needs a paper cup to carry your drink in, as well as those endless plastic bottles?
SOMETHING A BIT DIFFERENT!
I have just the thing for you. A flask/bottle that is re-useable! but this is no ordinary flask, its outer covering has been made with recyclable material!
WHO ARE THEY?
Soon to be revealed they are a re-useable brand that offers great alternatives, to your everyday throw-out cups, from Water bottles, Coffee cups, Travel mugs, and Thermos too!
ETHICAL AND SUSTAINABLE!
Have I tempted you? Check them out for yourselves and see what they are all about! Coming soon! 
MAKE IT YOUR OWN!
Their products look good and are quite trendy too, and come in super colours, and most of all being proud, of showing that you are doing your bit in helping to protect our planet!
        Here are some of the features!
It's Lightweight.

Has a Leak-proof lid.

Insulated interior.

Keeps drink hot for up to 60-90mins.

With 360 degrees no spillage lid when on the go!

Easily removable screw lid.

Push down the lid to open, and push again to close.
The recycleable material in the making of this travel cup is out of single use paper coffee cups!
In my search to find a suitable product that addresses this worrying issue of re-useable paper cups, I came across the Circular&Co. travel mug!
MY REVIEW!
So I went ahead a bought one for myself, and I couldn't be without it!
Ioving tea and coffee, I literally drink a couple of sips from my cup, and my beverage goes cold, as I may take some time to drink it whilst working!
But, with the circular&co. travel cup, my drinks stay hot for much longer, up to 40 minutes, long enough for me to drink the whole lot without it going cold on me!
The best part is that it's leak free with a 360° sipping feature and a clever push up and down lid!
I love it, if you are interested do check it out for yourself!
This is purely on my recommendation no commission will be made from any purchases!
Hey there, when you click on links in this post and you make a purchase, I may earn a small commission that l can use towards resources (other than throw-outs) for project making within my website😀
Are you looking for some fun, cute adorable kids tea-sets?
Then look no further KIDLY, have just the sets for you!
Coming back to teatime, let me remind you of this very quaint and quite bizarre children's story……
Guess who came to tea?
This is the story of The Tiger who came to Tea!
Check it out!
Books and Pieces is a lovely children's book store online that has a great collection of children's books.
 One of which is the story of The Tiger Who Came to Tea!
They provide not only a book version of this story but in hardback too!
WHAT ELSE?
There is a Tiger who came to Tea Gift set!
A two-in-one board game, that encourages children to learn through play, matching up, working on fine motor skills, hand and eye coordination too! And a Jigsaw puzzle depicting the story!
So jump in and take a look Books and pieces have a super variety for kids' books from:-
0-6mths – 5 yrs+
TO CONCLUDE!
I have shown you, how you can use your ordinary cereal packaging and craft a Tea set for two!
Simply using an elaborate drawing of a teapot, and transferring it onto flattened-out packaging you can make a nifty teapot!
TO MAKE A SET!
Also, to complement the teapot I show you how to make two cups and saucers out of similar packaging, which once completed will not need painting as they already have their own style of graphics.
So is anyone ready for Tea for two?
An added note!
I would love to see your version, and then I could feature it in an update in this post!