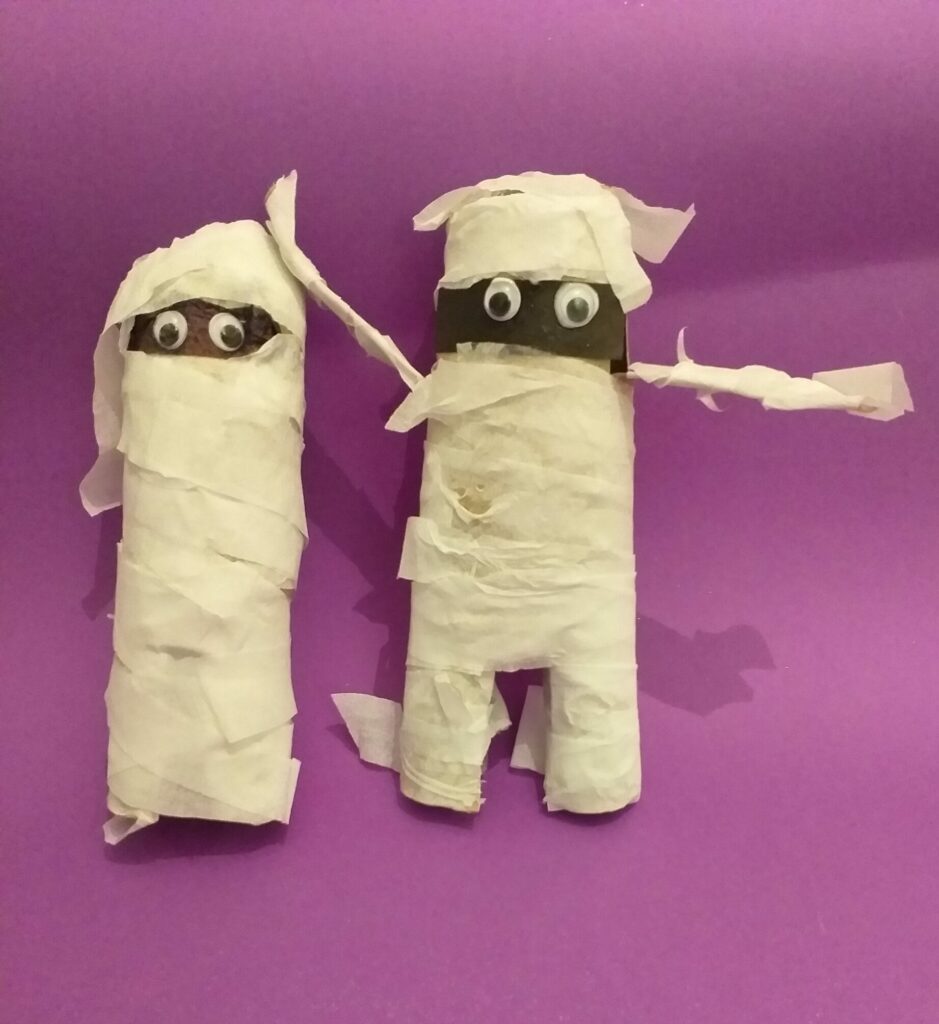 Easy Mummy crafts for kids to do for Halloween!
It's quite hard not to look at cardboard inner tubes again, they are so versatile and make easy mummy crafts for kids to do for Halloween!
Inner tubes are always in abundance, as they are what hold our toilet paper together, or our kitchen paper towel!
I have written many articles where I have used cardboard inner tubes, they can be used for so many projects.
Within this post, I will show you how you can make a couple of super easy Mummies.
This time I have up-cycled

these inner tubes into two types of MUMMIES! 
Whether it be Halloween or simply for fun, all you need is to gather your resources and you are good to go!
What Kids like!
Kids love spooks and this is an addition to our Monsters inc. We have looked at Ghosts made with cardboard inner tubes, in a previous post, and now we shall look at Mummies.
Here I shall show how to make two versions, a very simple one and the other with just a little bit more to it with arms and legs.
My intention!
 I will demonstrate in easy-to-follow images, showing how you can knock these out quite quickly, the only thing is allowing them to dry in between stages to set.
What we know about Mummies!
Before we start why are Mummies called Mummies, have you ever given it some thought?
Well, the name comes from Mummifying Egyptian kings, princes or high priestesses, or any Egyptian who could afford to be preserved for the afterlife.
Mummies don't really attack, their story is more of vengeance or revenge. They would be preserved in this way because they believe in keeping the body intact to be transported to the afterlife.
To be Mummified!
In a gruesome way, all the entrails or moisture would be removed, that's all the inside bits of the body and they would leave the hard casing, that's the outside of the body, then it would be embalmed in oils, and finally wrapped in cloth.
This was an Egyptian ritual carried out during that period of time.
Before you get to make the Mummies, here is a quick video on the history of Pyramids and Mummies.
Here is a series of 12 images showing from start to finish how to make our two easy Mummies crafts for kids to do for Halloween!
This is what you will need!.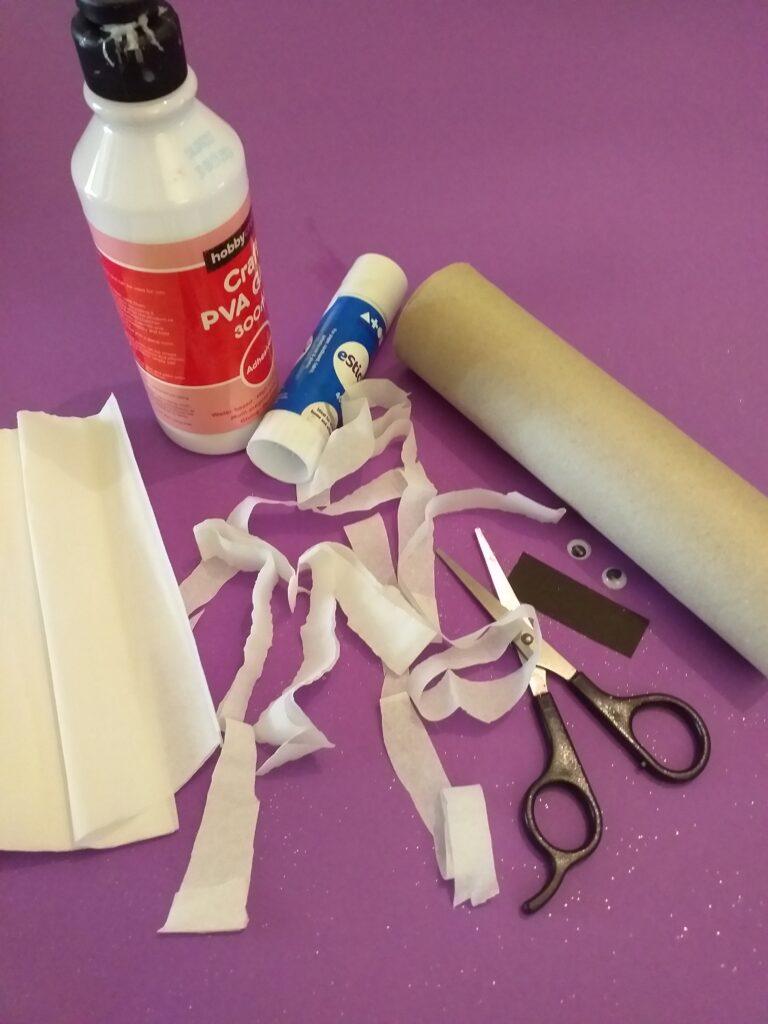 Resourses!
1 long cardboard inner tube, for arms and legs Mummy.

1 smaller tube for basic Mummy. (not shown)

White crepe paper, cut into stripes 10mm wide.

PVA glue/glue stick.

Scissors/Sellotape (not shown)

Black paper 30mmx10mm.

2 Googly eyes.

Tape measure/pen (not shown).
  

Block mummy
    Use, long or small tube.
If you decide to make the block-wrapped mummy, you can cut off some of the long tube to shorten it, or instead use a smaller inner tube, (not shown), that of a toilet roll.

I prefer to give the mummy a rounded head, hence cutting all the way around like a frill to push down and form the top part of the head, then secure it with sticky tape.
   Mummys body
    Use the long tube.
To make the mummy with arms and legs, you will need the whole length of the long tube.
    To make the arms.
So when cutting the top part for the head, pull down two sections on either side and cut further down to form the arms. (shown in image 4).
    Cutting out the legs.
Cutting out the legs, at the other end will give this mummy more of a body shape.

Squeeze the tube together and hold tight to flatten the hollow section whilst cutting out the legs, they will be even front and back.
    What glue to use?
Wrapping with the crepe paper I found PVA glue wetter which took some time to dry and appeared to be a little bit transparent.

You can do the initial part with wet glue and when finalizing the wrapping of crepe paper around the body, use the glue stick.
    Glue stick to finish.
Using a glue stick will look less transparent when dry and less messy to work with, take care as it may rip the crepe paper whilst applying it.

You can leave a bit of crepe paper to hang loose giving it the effect of the bandage trailing behind the mummy.
Wet glue might make the crepe paper a bit transparent, so you may prefer to use the glue stick instead. It's really trial and error.
This might be of interest to you and definitely, your kids!
I have found two super Mummy projects that you can do with your kids!
Light up those scary nights!
The first is an easy Mummy lantern, that's super quick to make, and suitable for all kids!
This is fun and easy to make, only requires a few resources, and is very much something you can light up during those dark Halloween evenings!
The second is an opportunity to make a Mummy and a sarcophagus.
Your kids can learn a lot about the type of Mummy coffins that Egyptians were buried in, and how they were decorated, with hieroglyphics.
What are hieroglyphics?
Generally, hieroglyphics would include four key elements.
This would include the name and title of the deceased, a list of food offerings, and door which they could pass through, and eyes to see outside the coffin.
Here are some more authentic hieroglyphic symbols that you might want to check out if you want to make up your own.
This would be a super project for your kids to get involved in and show off in school, and having watched the video I have included above, 'Pyramids and Mummies', they would have some interesting facts to talk about!
These excellent projects and super Halloween resources are available at Baker Ross at affordable prices and with quick delivery!

Hey there, when you click on links in this post and you make a purchase, I may earn a small commission that l can use towards resources (other than throw-outs) for project making within my website😀
To conclude.
I have presented two different styles of Mummies made from recycled cardboard inner tubes.
One is easier to make and the other just with a little bit more to it, with arms and legs.
Both have the same resources and you will become more skillful as you proceed with the turning and tacking in the strands of crepe paper, which in this case represents the bandage.
For kids, it's a good practice of dexterity and it's all about practice, practice, practice which ultimately, makes perfect.
They are discovering tools, cutting handling, and moving, a skill that will get better with time.
So let's have fun making these Mummies galore, with recycled inner tubes!
On a final note, I thought to include this video as a bit of fun!
Have you seen a dancing Mummy on Ice?
Here is Todd Eldredge doing the Mummy Walk!
Would you like to see more posts on Halloween projects to do with your kids?
Then do checkout these links and have a go with some other projects, you can do with your kids over the half term holiday!