Hey, shall we move on to Spooky Halloween Ghosts! Boooooo. With the Halloween Theme, you are going to see Spooks, Ghouls, Witches, Monsters,Vampires and not forgetting our white clouded spooky ghosts.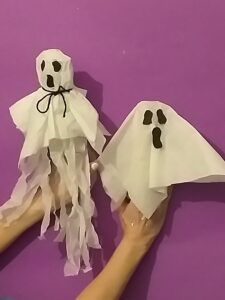 Today I am going to talk you through stage by stage on how to make a ghostly image, using our friend the cardboard tube of a kitchen towel or toilet roll. Inner cardboard tubes are so versatile and plentiful, they call out for so many projects to be made with them, tempting as it is. So for now we shall be making Spooky Halloween Ghosts!
will be looking at other scrap or throw outs that we can use when it comes to making other projects, although I may be tempted to come back to our friend the inner cardboard tubes when the need requires for them to be used.
Our first take, will be a quick and easy version for the younger kids. The second will be a bit more advanced for the older children.
        WHAT YOU WILL NEED FOR EASY AND EXTENDED SPOOKS:-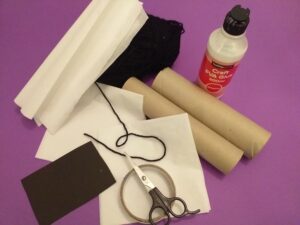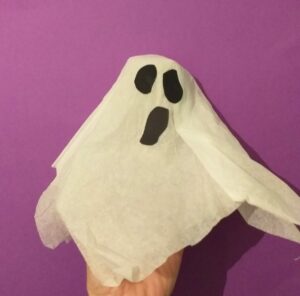 1-2 Inner tubes (kitchen towel)
Small piece of black card
Glue stick/PVA glue
2 White Soviet
Sticky tape (Selotape)
1 stripe of black yarn (30cm)
Scissors
White crepe paper
For the easy version follow the 7 images below as shown, its pretty straight forward. I suggest to cut top part of tube all the way round so when turned inwards it gives a rounded effect for the head, so you don't have that flat head look.
For the 2nd version of spooks, repeat the phase 1 (easy version) only this time the inner tube has less cut off the bottom, so as you have the length for the body to glue the strips of cut crepe paper around it. This is demonstrated in the next 6 row of images. So when you hold it up and the hand is inside the tube, the trail of crepe paper would hang in the air, when moving around giving it a spooky feel, as if floating in the air!
You can follow an easy step by step guide below.
Gather resources for the extended version.
Follow the 6 images below for the extension, its a little bit more fiddly as the strips of crepe paper would get tangled up, but stick each strip separately around the tube. When cutting the strips decide how long you want them to hang down.
Another way to do the extension, would be to glue the crepe paper around the bottom of the tube first, so you get the sticky part out of the way and then finish off by covering the tube with the soviet then stick the eyes and mouth on and tie around the neck part with the black yarn into a bow. This would secure the soviet, you may not need to use glue here, although a little bit will secure the soviet to the tube.
Remember to allow to dry if you use wet glue.
Did you know that Halloween means 'holy evening' which dates back to pagan time. It was thought this originated with the Celtic pagan festival of Samhain. This festival was a celebration of the end of harvest season, that meant 'summer's end' It was believed that the walls between two worlds were thin and it allowed spirits, or ghouls to pass through and that they would damage their crops for the next season.
So to pacify the spirits, food and drink was placed as an offering and bonfires were lit to scare the spirits away. The dressing up in costumes or impersonating spirits in this way, they thought would offer protection from them.
So bringing this tradition up to date, when 31st October arrives, children would continue to dress up in supernatural costumes and knock on peoples doors, saying 'trick or treat' and if you didn't give them a treat they would cause mischief to you or your property, although that rarely happens the majority of people would just offer treats which may include anything from chocolate, chews, lollipops, crisps, fruit, the (healthiest option), or even money.  So be prepared, if you refuse to offer treats or simply ignore them you may have a few eggs thrown against your house or car.
Also lets not forget our bright orange friends the Pumpkins, which are in abundance this time of the year and a good food source. The pumpkin is recognised as a symbolic image and connected to Halloween. These would be portrayed at the front of the house with carved faces and a lite candle inside them, which would make them glow at night from afar, enticing our little characters in their spooky costumes to come for treats. The idea behind the pumpkins originate from the Celtics, who did this to welcome kind spirits.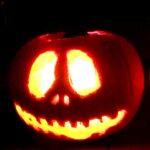 I hope you enjoy making this quick and easy project. Once you have a base or a structure as a foundation to work from, there are so many more ideas you can implement all you need are the right resources.